In the world of Japanese fast prepared recipes or more common lunch boxes, you would have seen things like furikake very often. They're typically dried fish, seaweed, vegetables, and seasoning combined together to go directly over white rice or pasta. What if you like to control and mix your own furikake for your kid? Let's try with the easiest, salmon furikake.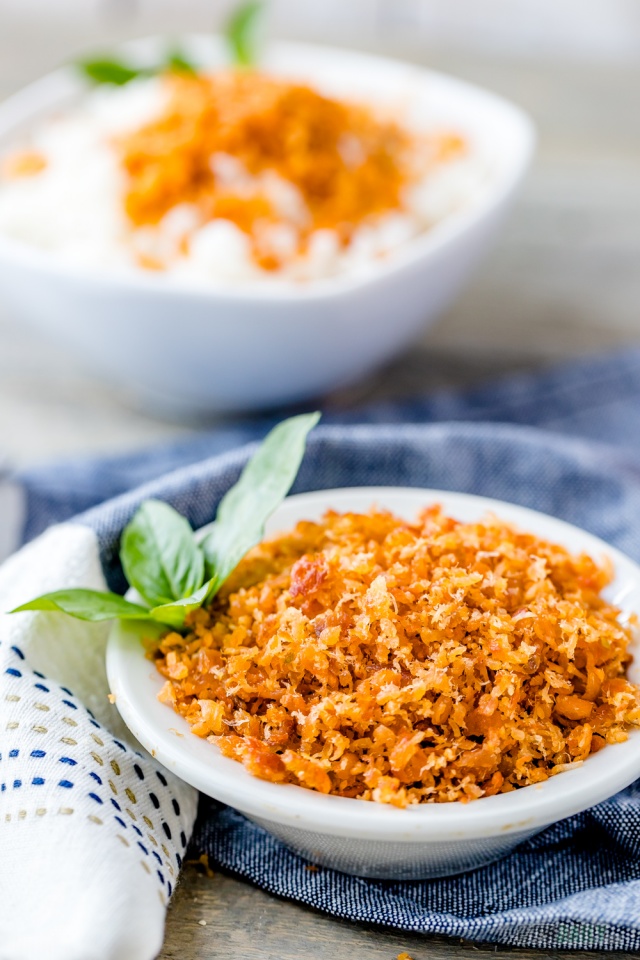 In the course of this article, we would work on turning the usual salmon fillet into furikake. The finished result will be nicely dried flakes that can be mixed with other ingredients and/or seasoning or just go as-is on top of rice/pasta.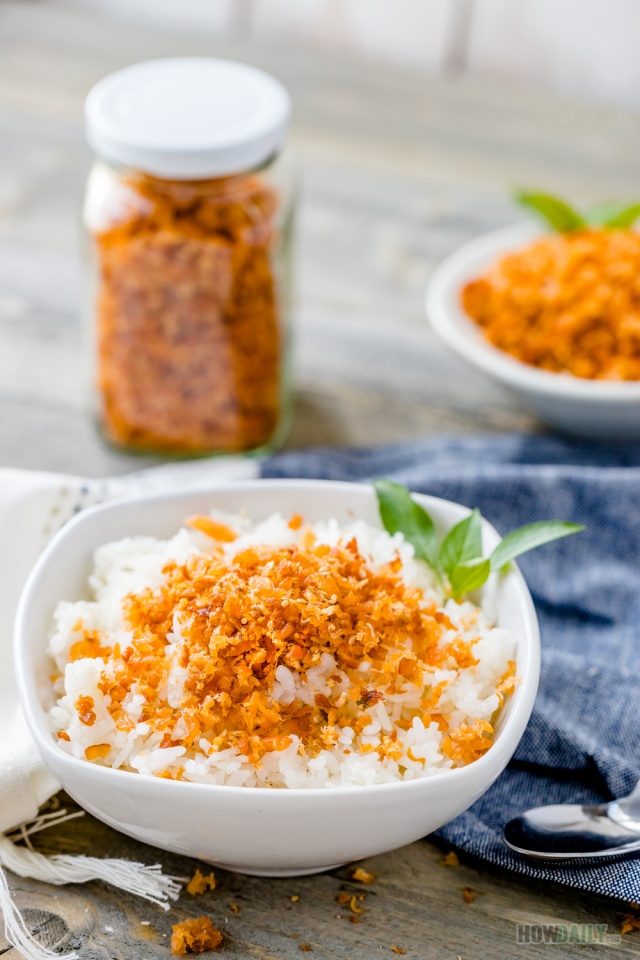 First, you would have to pick up some salmon fillets at the grocery store or local fishmonger. Make sure that they are fresh and free of those old fishy smell. One more thing is, to ask if they can get the skin off for you, otherwise, a sharp chef knife with some time  & patient will do.
So, once your salmon fillets are free of skins, scales, and stuff, cut them into smaller chunks for easier handling. You would need to soak them with whole milk and a pinch of salt, this step will help to get rid of the fishy smell if any.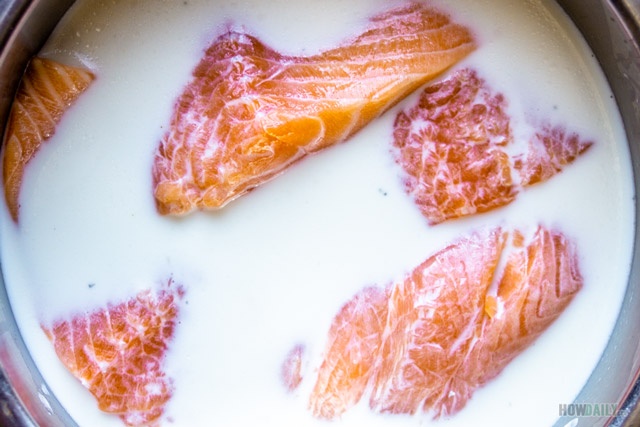 To make the flake more edible or if you will not mix any seasoning into the final product, then you would need to marinade these with some garlic salt, and other ingredients. Otherwise, you can skip this step and just go straight to steam with ginger and scallion.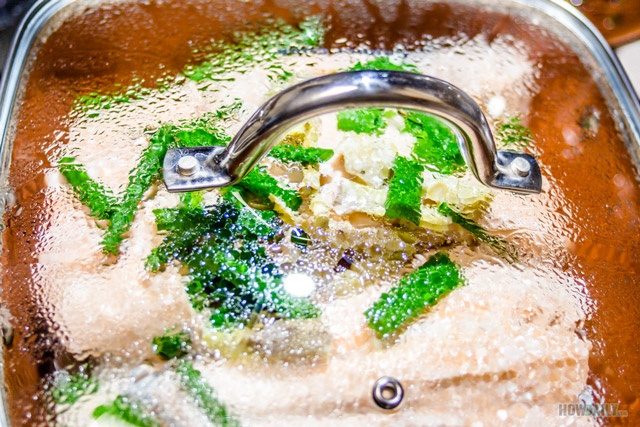 After steaming, fluffing with a fork or potato smasher is necessary. Don't skip this step or you won't be able to correct it after the whole thing is drying. I once put a whole tray of unfluffed salmon into my food dehydrator, and guess what, they all so rock hard that I can't do anything except for grinding into the seasoning.
Oh well, fluff your fish good to avoid all the frustration later. Now, many of you would have tempted to just throw these into a food dehydrator, but I would say a good spatula and wok over medium heat give you better control on the dryness. Not to mention that you can also fluff and break clumps along the process if any still existing. About 30-40 minutes of constant stirring, fluff, and breaking clumps is what you'll need.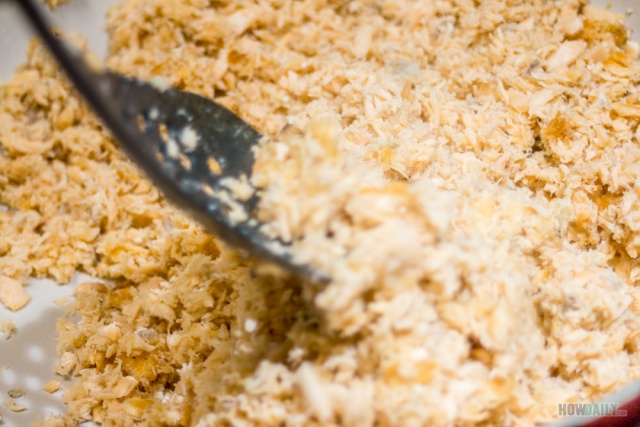 So if your wrist hurts, break the process with a hand blender. You can dry the flake for 10 minutes or so, then use a hand blender to break the clumps. Repeat and rinse afterward. The result will be finer grains, but it's still fluffy and look fabulous atop anything.
Finally, remember to let them cool off completely before adding to a tightly lid jar. Throw in a bag of moisture absorber as well to make them last longer.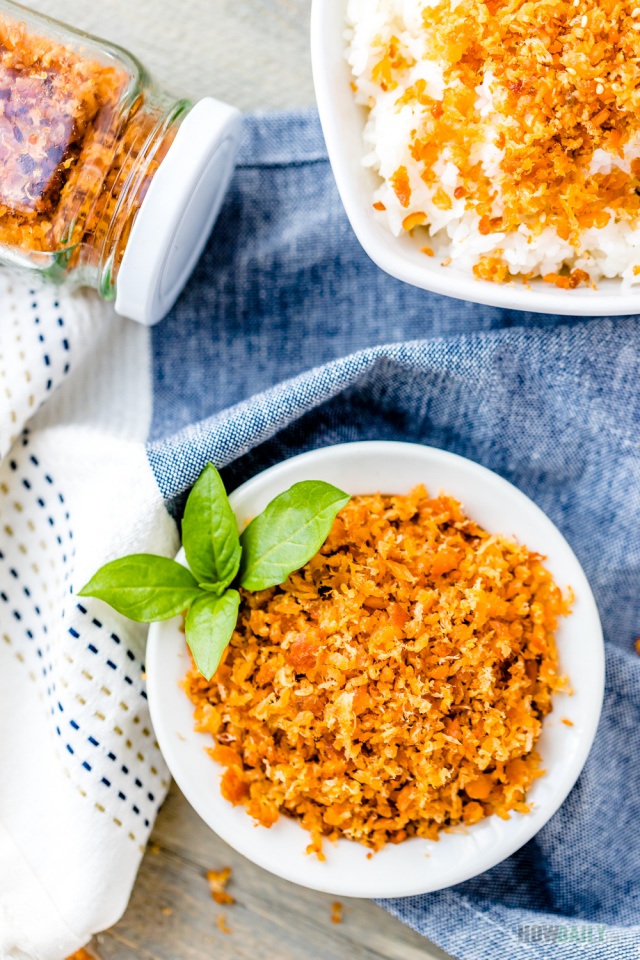 Application? Just spread these flakes directly over white rice or sprinkle atop pasta. You can also mix them with seaweed, sesame seeds, and other seasoning powder to match that of the furikake bottle in the store. But for the kids or older people, I would say just add some roasted sesame seeds to enhance the flavor. You would want to keep the sodium and sugar intake low for them.
These will be used so widely if you're boxing lunch or making bento box for your kids. I would say as much as Sakura denbu, with different flavors and tastes to variate the joy of packing food.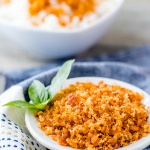 Recipe for dried Salmon flakes or Salmon furikake
Simple salmon furikake (dried salmon flakes) that are healthily made from home. Just get your favorite salmon fillet and you'll have a jar of topping in no time

Print
Ingredients
3

lbs

salmon fillet

2

stems

scallion

1

quartersize

ginger

slice

2

Tbsp

mirin or white wine

1

Tbsp

garlic salt

2

cups

milk

1

bag of moisture absorber

1

large enough jar with tighly seal lid
Instructions
Wash, clean and slice the skin off of salmon fillet if it's still there.


Soak salmon with whole milk and pinch of salt for 30 minutes.


Afterward, strain and pat dry fillets. No need to rinse.


With a steam-able container, add all the other ingredients along with salmon fillet.


Combine to marinade for about 20 minutes.


Steam until salmon turn pale. Then let sit to cool down.


Discard all ginger and all other solid (except salmon of course).


Use a fork or smasher to break and fluff all the fish flesh.


Use a non-stick wok or deep sauce pan over medium heat, add fluffed salmon.


Keep stirring with a spatula while breaking any clumps that might come up.


Do this until all salmon flakes become dried and its color becomes more brighten. The dryer the flakes are, the longer you can keep them.


When done, wait until salmon flakes are cool down to room temperature, then add to jar with lid. You can store this outside or in fridge, just remember to add a bag of oxygen absorber in there to wick away moisture.