Rice cooking is a long tradition in East Asia. In fact, rice is the main ingredient in most daily meals for the eastern family. It is similar to pasta, bread, or any wheat-products for the Western counterparts. Have you ever try a rice dish at an oriental restaurant, or if you're interested in the Mexican yummy dish and want to bring it home? Cooked rice could go together well with any sort of entries and varieties. It's a fairly simple cooking procedure that anyone can do and the final product should match or even better than what you have tasted in that exotic restaurant.
Cooking white rice recipes
Cooking brown rice
If you already know about the rice varieties and how to treat them, then skip on to the practical procedures on how to cook white/brown rice perfectly at the very bottom of this topic. Otherwise, let first familiarize ourselves with some basic, before getting onto the pot and pan.
Varieties
Come in many shapes and colors, from fully mill to unmilled, rice is typically classified as three types: long, medium, and short-grained, each will yield a different result in taste, scent, and texture.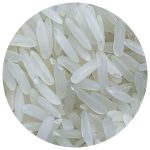 Long-grain rice
is slim, slender very long compare to its width. It includes long-grain white rice, brown rice, Basmati, and Jasmine rice. Long-grain­ rice has a firm and dry texture, tend to remain intact after cooking. It is best for side dishes with other protein/meat entries, pilaf and salads too.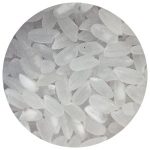 Medium-grain rice
is shorter, kind of chubbier in shape, and after cook become stickier, moist, chewy compare to long-grain type. It includes Arborio, Valencia and Bomba rice, mainly used for risotto, and paella dishes.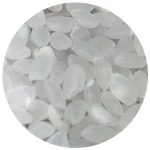 Short-grain rice
is short, its length is just a tad bit longer than its width. Many could make substituted between the medium and short grain types due to their similarity. It cooks soft, tender, sticky and a bit sweeter than the above two types. This grain type is a perfect call for sushi, onigiri, and other Japanese rice dishes. It is also great for molded salads and rice pudding.
Preparation
In most South East Asia countries, rice is typically rubbed and rinse twice before cooking to remove excess starch, dirt, or other foreign objects/contamination. In the US, most of the rice, both domestic and imported are usually clean and free of dirt, mine, and safe to some degree (usually through extra UV light/ray to disinfect from parasite/pest). Domestic rice also fortified with mineral and vitamins, thus too much rubbing/rinsing will result in nutrient loss. Though if this is not your concern and firmer texture/shape is your desire, then a rinse or two won't hurt. Note that the rinse-off water, in this case, will contain a lot of vitamins/minerals and starch, one of the best solutions for your face/body skincare desire.
Another pre-treat method is to soak the rice to reduce stickiness and decreased cooking time. Soaking also helps expanding the grain itself, and thus enhance its texture.
Typically white rice is soaked from 30 minutes to a couple of hours, while brown rice needed to be soaked at least 8 hours to overnight to stimulate its germination process( to activate enzymes and amino acids within brown rice)
So, after familiarizing yourself with some type of rice and its preparation processes. It's time to get yourself to some cooking. The procedure is fairly easy to do and took up less time than you think as you could multi-task when the rice is cooking too.
Cooking understanding
If you have an electric rice cooker, then, everything is fairly simple, just prepare the rice, put in enough water, and let the rice cooker does its magic trick. Well, some rice cookers are better than most, hey, you can't expect a $20 generic rice cooker to cook as good as a Tiger/Zojirushi brand name right, but still, it makes rice with not so much effort on your part.
Now, if rice is not part of your daily main dish, and you just occasionally make one or never have before, then obviously you don't have a rice cooker. Don't worry, as long as you have a pot or pan and a stovetop, be it electric or gas or wooden log, you will be sure to cook up some good rice, and an extra great appetizer dish too (I will talk about how to make use of this extra dish, yum).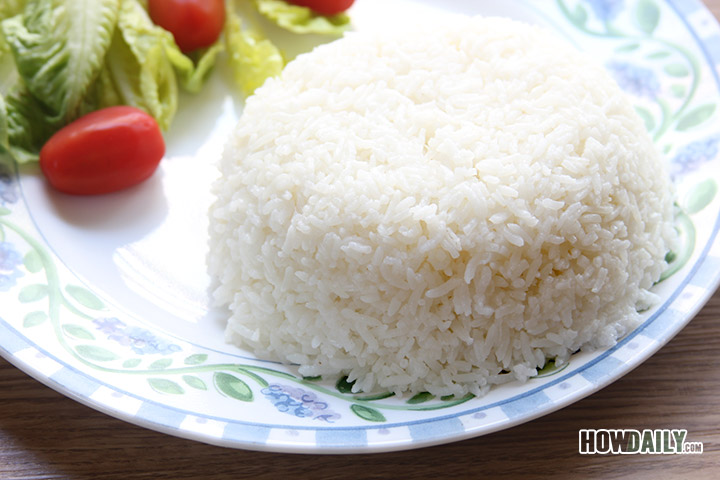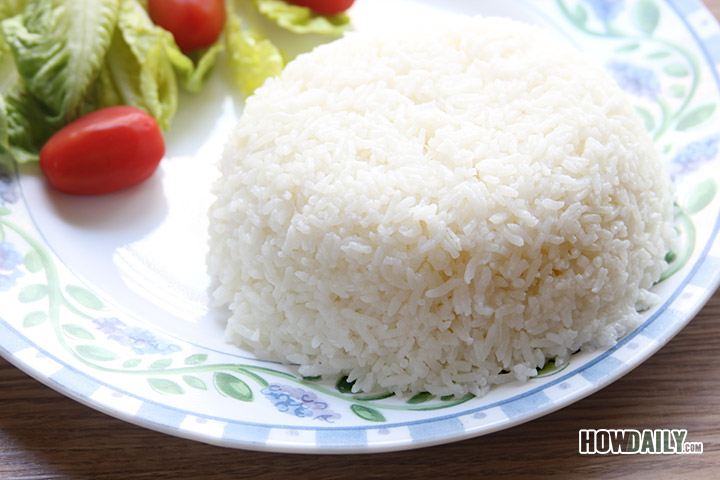 Generally, rice is cooked through water absorption and boiling/steaming methods. In some countries like Iran, Afghanistan or India and Pakistan, rice is quickly fried in fat before boiling/cooking to remove stickiness. Since boiling the rice will mostly remove all the enriched vitamins and nutrients and thus make the rice more undesirable, this article will mainly focus on the water absorption procedures on both White and brown rice.
Cooking is an art, and so does making rice. Before getting to the pot, you have to know about your desired outcome, as in what your recipes/dishes called for. Knowing that, then with some of the given guidelines above, you would be able to control the level of stickiness, texture, moisture, sweetness, etc. all of these will contribute to that perfect rice dish. For example, a combination of fried rice would require the cooked rice to be somewhat firm, with no sticky, dry, and intact grain shape, while a rice pudding would be somewhat sweet, soft, and super sticky. Understand your recipes first, then adapt what you read and adjust these below procedures to meet your need.
General Rice cooking tips
Each raw rice cup = 3 cooked rice cups.
Longer pre-soak time = less water need to add + less cook time.
Rice could be boil, steam or cook with water.
When cooking using an electric cooker, it typically requires an extra half cup of water for each cup of rice/water being cook. That is, if you cook 1 cup of rice, then 1 and ½ cup is needed, if you cook 3 cups of raw rice, then 3 and ½ cup is needed. Or you could use your hand, the water level should be ½ inch above the rice level.
Similar, when cooking on a stovetop, an extra cup of water is needed for whatever 1:1 water to rice ratio you cooked up due to more water being vaporized during the process
When cooking brown rice on stovetop, a pressure cooker is needed to reduce time and energy consumed.
Newer harvested rice requires less water than older crops when being cooked to produce similar texture.
Newer harvested rice also smell better and required less time to cook/soak, so pay attention to the manufacturing date when you buy them.
You could add a small amount of salt, oil, or butter when cooking to enhance the rice flavor, this is essential when cooking older rice.
Brown rice, in general, contains less bad carb and thus fit more for people with Paleo or Atkins diet compared to white rice.
Sticky (Gluttonous) rice is a special rice type that has extra stickiness and contains event more carb then traditional white rice.
Cooked rice can combine with any type of dishes include fish, meat, poultry, seafood, vegetables.
Rice can be made into dessert when combined with milk, and honey. Some country even fermented cook rice into wine rice cake, rice vinegar, etc…
Cooked rice can be made into congee (rice porridge) by simply adding more water and cook for extra time. Like chicken noodle, congee is a common food in the East for the sick or elderly.
Rinse-off water from rice can be used as skin cleanser or moisturizer, so save it.
A decent rice cooker is not cheap, but could perform far more than you could imagine: from traditional rice cooking, brown rice cooking, congee, steaming, and customize for some baking recipes due to it all over well-round distributed heat and pressure maintaining capabilities.
If you don't have a rice cooker yet, instead of getting those cheap ones, try the cooktop, it's harder and more effort, but the result is way better than from those cheapies.
Store you uncooked rice with a cup (so you don't have to look for one every time you cook), an empty condensed milk can will do.
Store raw rice in a cool, dried place, make sure to keep it free from dirt, pest, mice, etc…
Most, if not all, East/South East Asia consume rice in their meal every day, they have quite a bit of nutrient values while being fulfillment. However, white rice is a definite no-no to diabetes patient. They, instead consume product made from rice that has lower carb content.
Tea: you could also cook rice with diluted tea instead of water to enhance its scent and colors. This is also very good for your digestive system too.
Following are several rice cooking methods that fit most of the recipes that call for cooked rice.
Cooking white rice on stove top
This procedure introduces a fully proofed way on how to cook white rice perfectly every time using your own pot and stovetop, no electric cooker is needed. It's noted that optional condiment or ingredient could be added to enhance the rice flavor/looks per your main dish recipe calling.
What you need: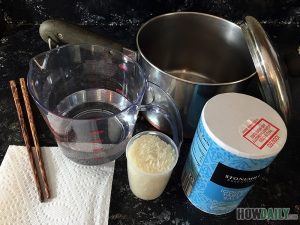 1 cup long-grain white rice any brand (Jasmine is preferred)
2 cups water
½ tsp salt – optional: to enhance the sweetness
1 Tbsp butter or oil – optional: for older rice to help the rice flavor and distribution
Pot with lid
Wooden(prefer) spatula or chopsticks
What to do:
1

Rinse: fill the rice with water, gently stir, then rinse off, do not rub as this may unnecessarily remove the rice nutrient and vitamins.

2

Fill your empty pot with the required amount of water in ratio 1:1+1 (1 cup rice = 2 cups water, 2 cups rice = 3 cups water, etc)
3 Place the pot on the stovetop, cover, and boil the inside water.

4

When the water is boiled, add rice.

5

If you want to add those optional ingredients, add them now, and stir.

6

When the rice/water combination is boiling, turn the heat down.

7

After 10-15 minutes, when most of the water was absorbed, turn off the heat source. Keep the cover in place, and get the pot/lid away from the heat source for about 10 minutes.

8

Now gently stir your cooked rice, remember do not stir to the very bottom layer, unless you like the burnt smell all over your rice. Replace the lid and let it sit until being served.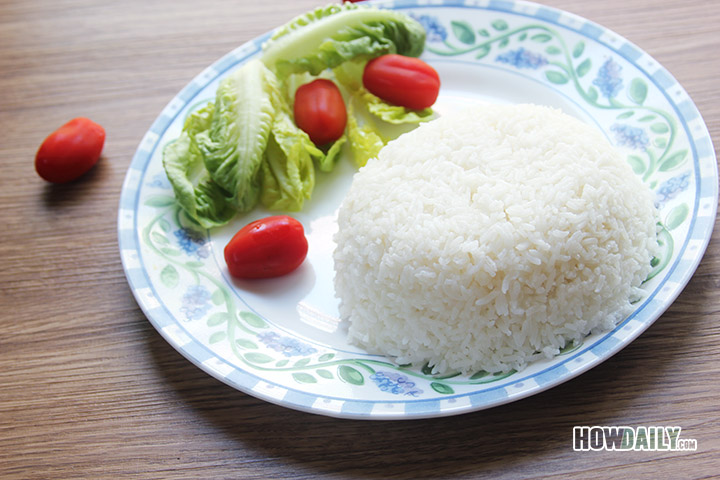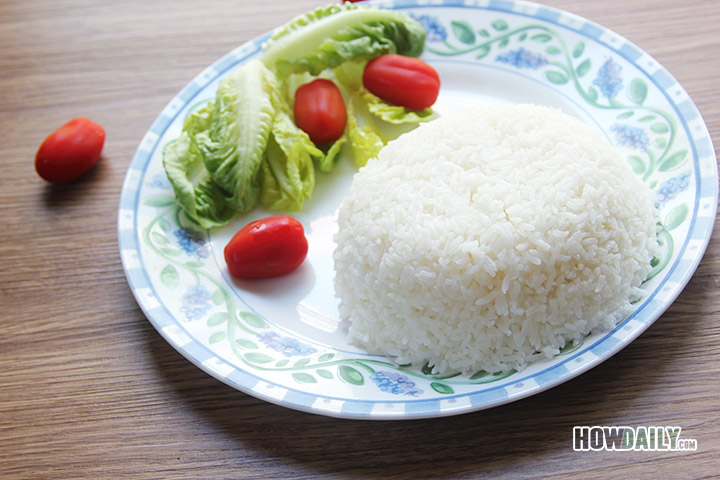 Problem solving
Rice too soft/mushy: open your pot to let the moisture out, stir the rice. If it's still too mushy, place all your new cooked rice on a plate to let it cool down. This will help to remove some excess water. When it's time to serve, just place the whole dish in the microwave to heat it up.
Rice half cooked/undone: if your rice feels like it's half done, you could try this method. Use a wooden spatula to stir and segregate all the grains apart. Then in a 10:1 rice/wine ratio, add in cooking wine into the pot and heat at low power. When the rice is done, all the wine will be evaporated and no extra moisture is left.
Rice is burnt: on step 7-8, if your cooked rice is burnt, or have a burnt smell all over, then you could try one the following methods:

Put some cold water in a small bowl, then place the bowl in the middle of your pot, press it so that the bowl top is level with the rice top layer. Close the lid, and let sit for 2 minutes, the smell should have gone.
Add 3-5 green onion into the pot and replace the lid, this should help absorb the smell too.
Place a piece of bread on the rice and replace cover for 5 minutes, then remove the bread.
Tips
All cooked rice should be consumed when finished for full texture, scent, and flavor.
Leftover should be cooled down fully, wrapped before refrigerated.
Cold leftover cooked rice is perfect for fried rice or congee recipes.
To warm up the leftover rice, you could microwave it while being wrapped or the best way is to put it back in the electric cooker (if you have one), add in small amount water, cook for 10 minutes, then stir and close the cover, turn back to warm. The rice should be back to its soft and fluffy state.
When cooking on the stovetop, a harder golden-brown layer of rice will be formed at the bottom of your pot, be it non-stick coated or not. Don't discard this layer, as it could be fried, roasted, dried, etc…and make a very good snack for your guests.
Clay pot: If you happen to have a clay pot in hand, why not use it to cook your rice. In fact, Clay pot is the best type to cook rice; the result will be fabulous and smell wonderful. Just remember to add less water, 1:1 ratio, and to heat your pot slowly. It took twice as long to cook rice in the clay pot though, but the result is so much different that you won't want to look back.
Vinegar: In the summer, when it's hot and humid, it's best to add in 1tsp of vinegar or lime juice to your rice after rinsing and before cooking. This will help the cooked rice to be whiter and preserved its scent and taste longer too.
Cooking white rice with a rice cooker
Rice cooker has been one of the most used small appliances in the East/South East Asia families for long. Firstly came out with just the standard feature: cooking white rice, now, rice cooker capability is so versatile that it's become an indispensable piece to have. Rice cooker has many functionalities, from the simple analog with standard white rice or brown rice cooking to the super digital with multi-cooking features include white rice quick cook, normal cook, multi-grain, steaming, congee, etc. Some even equipped with the slow-cooking/roasting ability. Some of the long-trusted brands are Tiger and Zojirushi, both have their products made in Japan, and famous for their outstanding product and its longevity.
It's very simple to cook with a rice cooker. If this is your first time, read on to find out how.
1

All rice cookers come with a measuring cup, use this for your convenience and accuracy. Remove the inner metal pot from the rice cooker, measure your rice, and add them in the pot. Just remember not to go over the maximum cup limit by your rice cooker

2

Put some water in the pot, gently stir so that all the grains are wet, and then rinse off. This will help remove any if present dirt or unwanted particles

3

Measure and add water into the pot at the ratio of 1:1+0.5 rice/water ratio or at the water level on your rice cooker marks. Adjust the water per your rice instruction.
4 Pat dried the pot bottom and laid it back into the rice cooker. Let sit without power for about 30 minutes to let the rice soak if you have some free time, or if your cooker has a timer feature, then set it to cook after 30 minutes. Then turn on the rice cooker and let it cooks.
5 After the cooking is done, and the cooker just turns to warm, open the lid and stir to separate all the grains. Close the lid and let it be for at least 5-10 minutes before serving.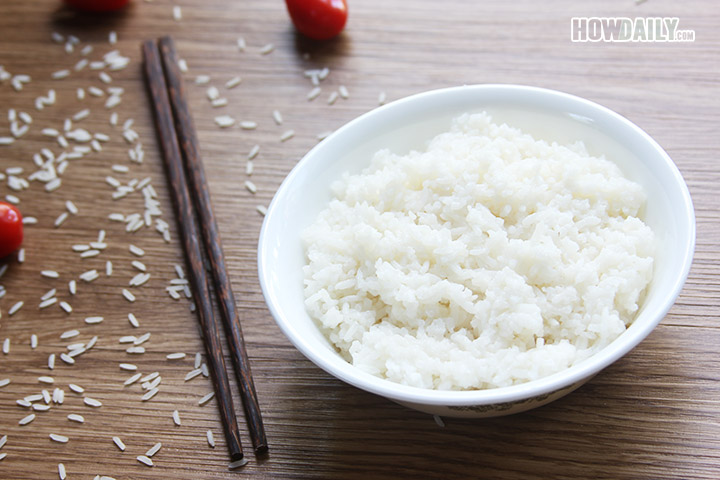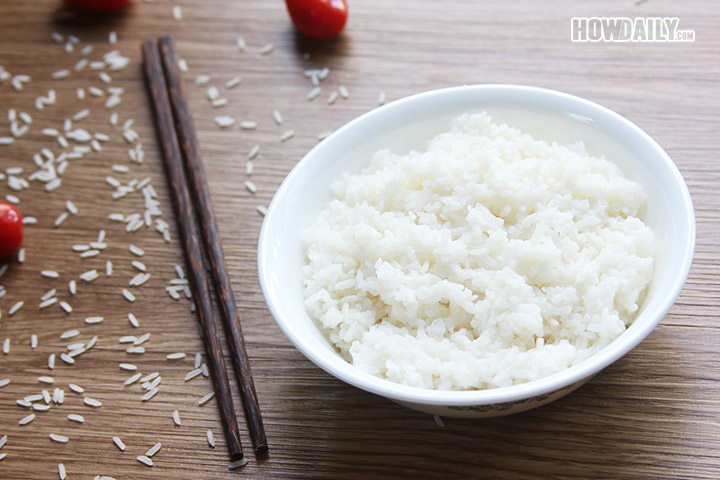 Cooking white rice with your microwave
If you don't have a rice cooker and don't want to use your stove top, then a microwave could do the job as well in a short time too. It's very important in this method that you know your microwave and your ingredient (i.e. rice to water ratio) well. All of the below is for your information, please take the measurement and adjust to your own equipment.
What you need:
1 cup long-grain white rice
Water
A microwaveable container with lid that has ventilate
And of course your microwave
What to do
1

Rinse the rice with water.

2

Place the rice in the microwaveable container, fill with water, and make sure that the water level is about a knuckle of your pointer over the rice top. If your finger is long, use your pinkie instead to measure.
3 Make sure that your container will be large enough to hold 3-4 cups of cooked rice with space to spare. Close the lid tightly with the ventilated hole in use.
4 Microwave at high power (700W) for 9 minutes. Note that depending on your microwave wattage, the time might be varied, so adjust cook time accordingly.

5

Then cook/microwave at medium power level for an additional 3 minutes.

6

Let the whole thing sit still and rest for 5 minutes, then fluff and enjoy.
How to cook Brown Rice
Like white rice, brown rice also divided as long-, medium- and short-grain. While similar in most, brown rice is actually white rice that's in its un-milled form. That means that all of the "good" fiber, vitamins, and nutrients. So let's get your hand on some and start cooking.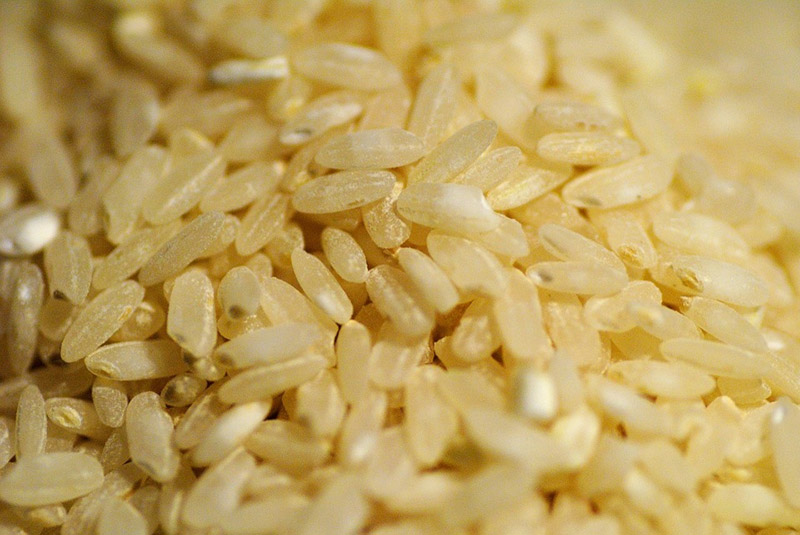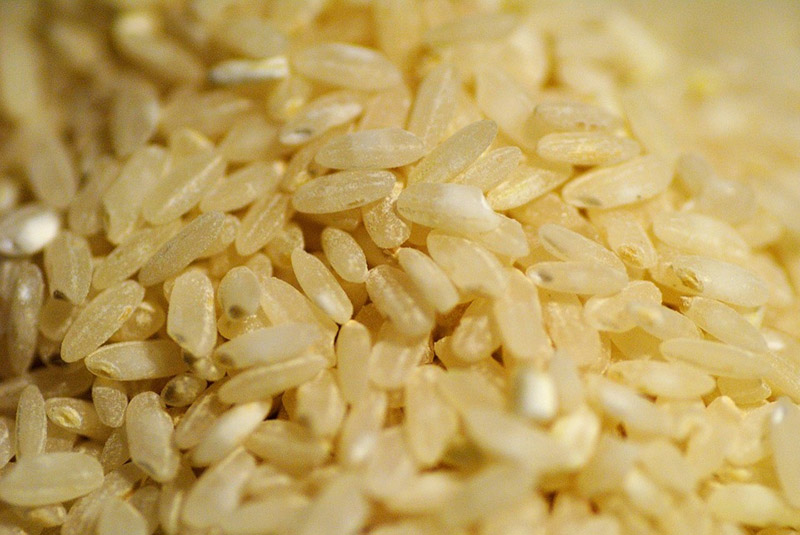 What you need
1 cup brown rice
1.5 cup water
¼ tsp salt
Option additive: Kombu seaweed, bean, turmeric, etc…
Tight lid pot or pressure cooker or brown rice cooker or regular rice cooker, etc…
What to do
Pre-soak: soak brown rice with water at least 8 hours or overnight to save time cooking while bringing out its best quality through activating the rice germination process. It is found through scientific study that brown rice once soaks for enough time, will go through germination, a process that activates its enzyme and amino acid.
If you choose to add in an additional ingredient like beans to enhance the rice flavor, then you should soak those beans too. The recommended amount of bean is about 15 – 25% of the rice.
Add soaked brown rice, water, optional ingredients (bean), salt into your pot, close the lid tightly, here's how the instruction for each type of pot differ.
Choose your way
Stove top
1

Add an extra half cup of water into the pot, bring the whole thing to boil, and then reduce heat to as low as you can and let it simmer while being covered until most of the water is absorbed (around 40-50 minutes).

2

Turn off heat and remove the pot (while being covered) away from the heat source and let it rest for at least 5 minutes. Now use a spatula to stir and fluff it up then replace lid until served.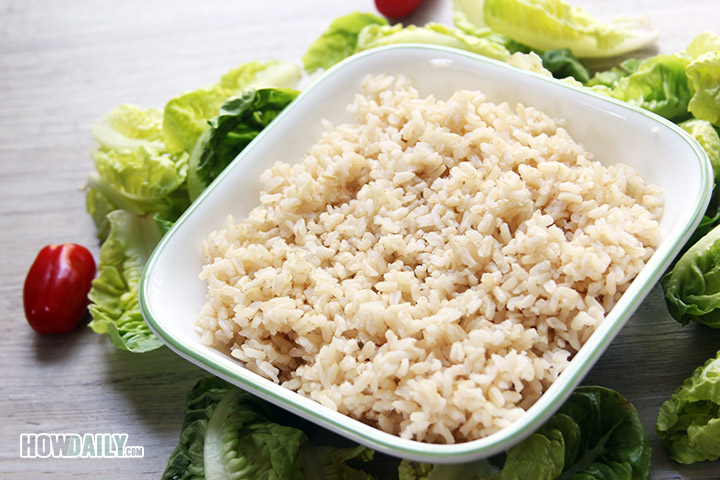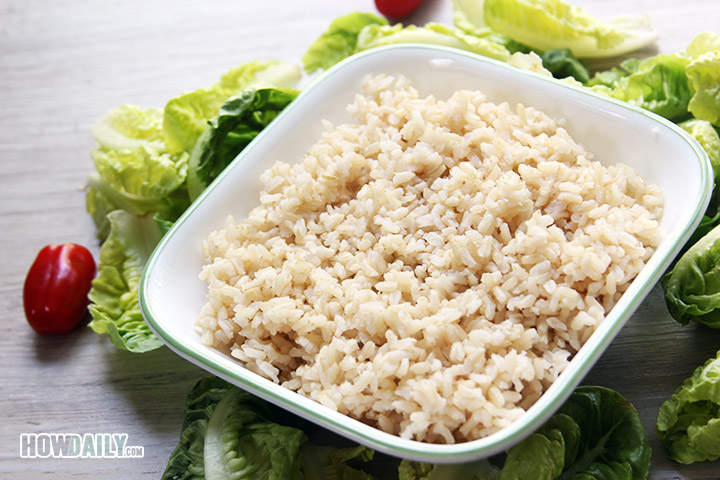 Pressure cooker
1

Bring the rice and liquid to boil, when the regulator comes up (about 15 minutes), turn off the heat.
2 Let stand for 15-20 minutes. Then turn on the heat and bring back to boil the second time (around 5-6 minutes).

3

Turn off heat and let stand for at least 20 minutes. Carefully open lid to check, then stir fluff and replace lid to preserve the heat until serve.
Brown rice capable cooker
This is the easiest, just load the whole pot into the rice cooker, set to brown rice cook function, and cook.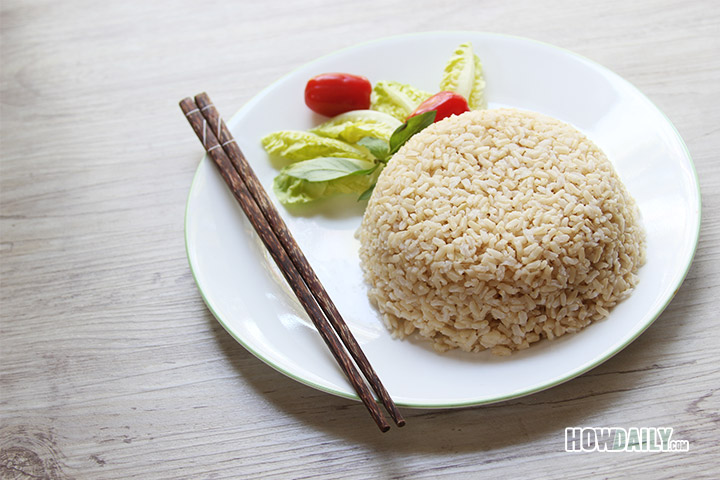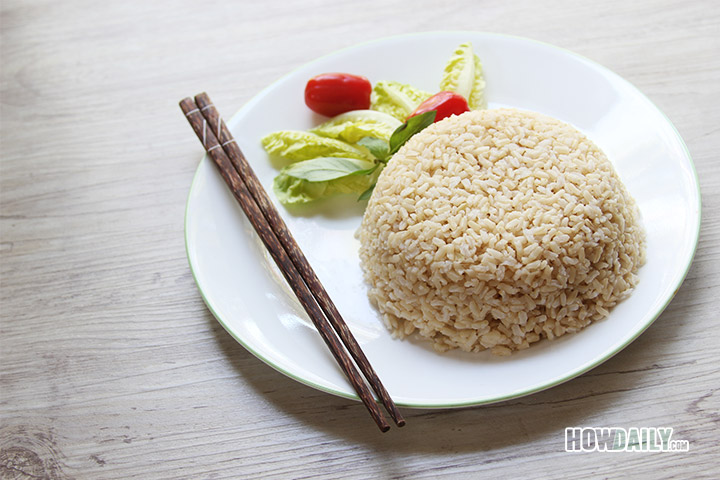 Regular rice cooker
If your rice cooker happens to lack the brown rice cooking feature, don't worry, it could be used to cook brown rice with just a little modification.
1

First pop the pot with rice/water/salt/… into the rice cooker, then cook until boiling or you could see some vapor come out.
2 Turn the cooker OFF (not warm), let sit for 45 minutes.
3 Now turn the cooker ON and cook until done. When the cooker automatically turns to WARM, don't open it yet, let it sit still and rest for another 30 minutes. Sit and fluffy with your spatula and enjoy it.
Tips:
Add bean to you brown rice will make an awesome side dish and taste a lot better
If you use beans in your brown rice cooking, then do add in a piece on Kombu seaweed. This will help the bean to be softer and cooked faster.
Turmeric will enhance give the rice a golden look while smelling great too. It's also very good for your digestion and eases your stomach due to its curcumin source.