One of the most popular ingredients in those beautiful bento boxes would be Sakura denbu or fluffy sweet fish flakes. This is the kind of topping that serve on top, sprinkle, or simply mix with rice to create that lovely pink hue. Sakura denbu, or simply fish flakes are made from drying finely flaked fish. Though it often colored with pink, you can use any vibrant shade to decorate your lunch box.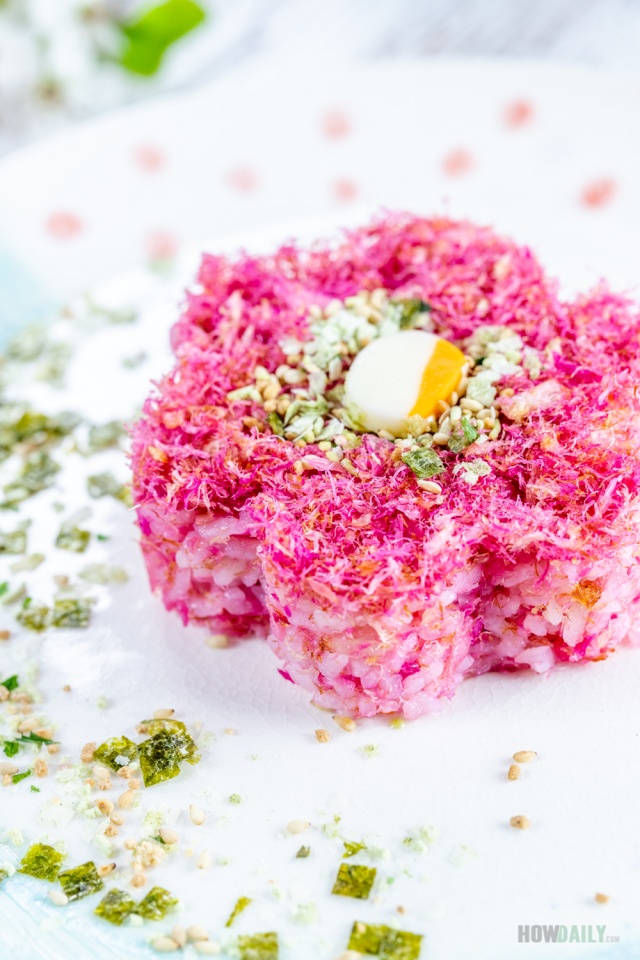 Depend on the drying time and the method of flaking (i.e. mash, fork flake, puree…) the texture vastly differs from silky cotton string to finely powder. The taste should be sweet with some saltiness, which would perfectly complement any rice dish.
Store-bought Sakura denbu is not cheap, in fact, it quite expensive in the US though. So I often buy fresh fillets and just process them in batch. You can store these fish flakes in an airtight container in the fridge for 1 to 2 weeks or even longer depend on how much dry the flakes are.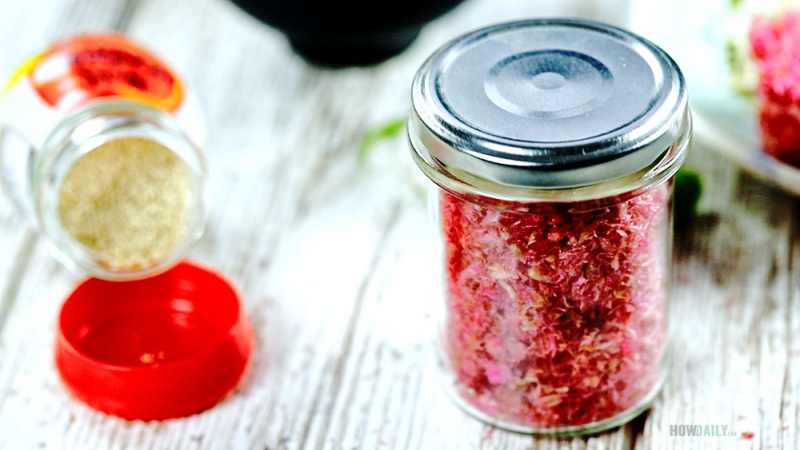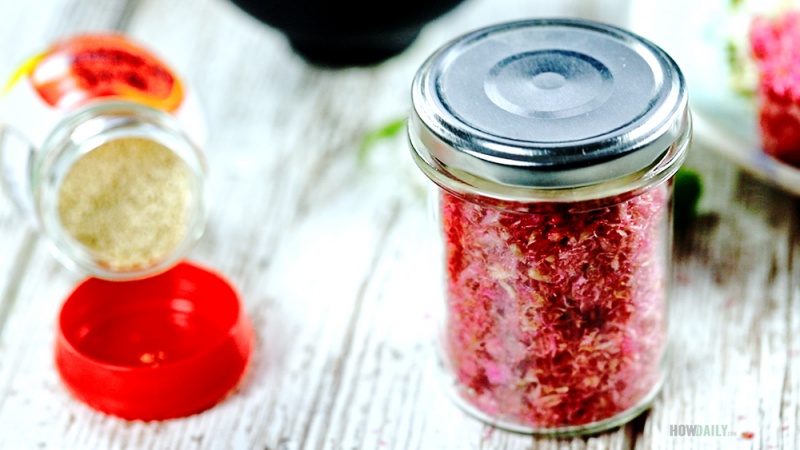 There are lots of applications to these flakes, from character decoration to simply just topping over plain rice. You can make a quick meal out of these. Grind these and mix with some sesame seeds, nori flakes to create a delicious Furikake ever.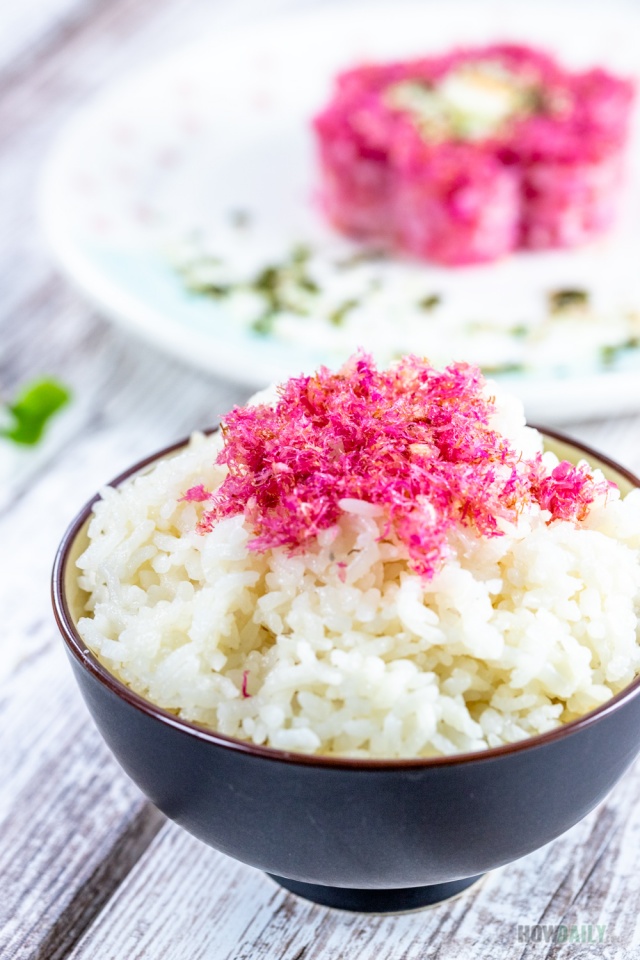 The kids will enjoy these so much, so if you are concerned about the alcohol content, substitute with finely chopped ginger, onion, and rice vinegar. These would help remove the fishy smell while leaving the good umami. Just make sure to strain out these solid bits before the final drying steps.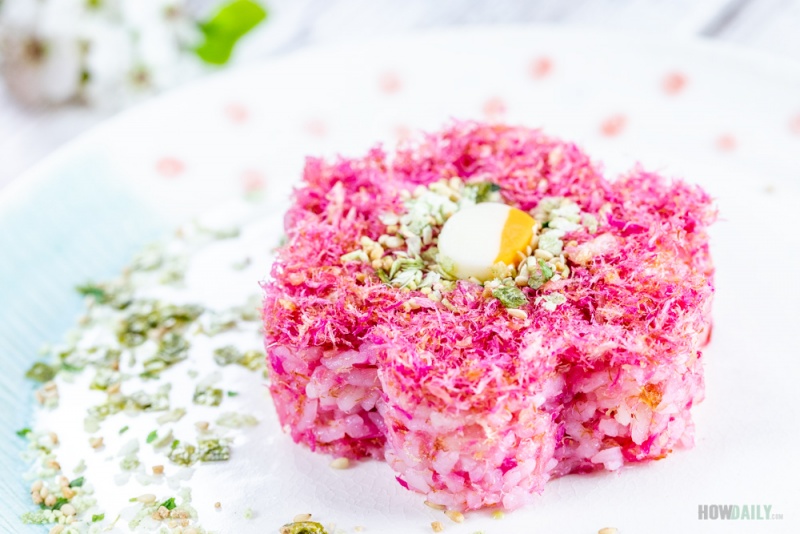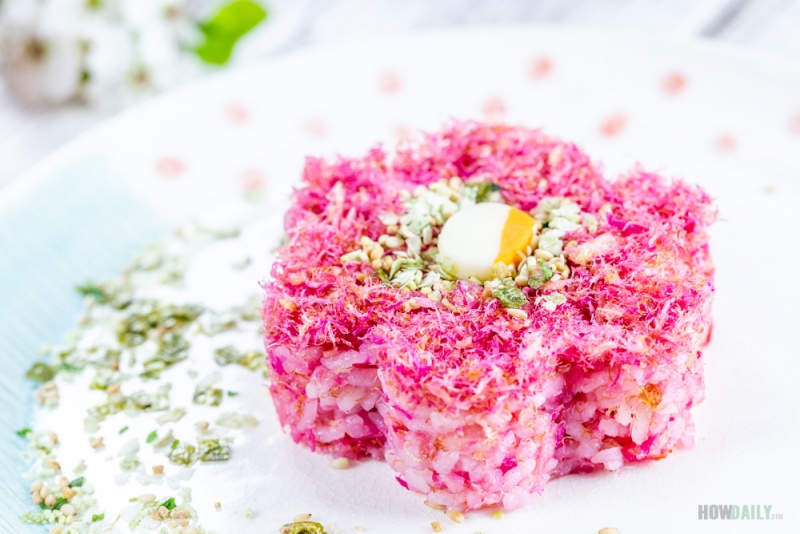 For the fish, any type of oil-less white fish would work. This is to prevent the fish from turning brown/gold so that when mixing with red colorants, you can achieve a vibrant pink shade or any color of choice. Now if true color is not what you're hard on, then any type of fish can be used, really. I often dry cod, tilapia, snapper…and salmon. Of course, with salmon, your final shade will be somewhat orange to maroon. Till they look pretty though.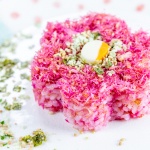 Sakura denbu – the cutest fish flakes for many bento, snacks & sushi toppings
The most beautiful topping ever to amplify your bento, lunch pack, sushi, rice dish…. with a lovely shade of pink. It tastes kinda sweet with bit of saltiness and can compliment any dish easily.
Print
Ingredients
1

lb

white fish fillet: cod, tilapia, halibut, bass, grouper…

2

tsp

minced white onion

1

tsp

sea salt

1/2

tsp

dashi powder

2

Tbsp

mirin

use aji mirin for non-alcoholic

1

Tbsp

sake

or rice vinegar + extra sugar + pea size ginger

4

Tbsp

sugar

natural food colorants

e.g beet or berry color powder
Instructions
Transfer the fish fillets into a clean bowl, use a fork, smasher or stick blender to smash and flake them. For the juice (from the steamed fish dish), strain out all the solid (onion) and reserve this fish juice.

With a wok or large sauce pan on low heat, add the flaked fish fillets and stir constantly.

Keep stirring and flaking to break all the clumps.

Dissolve color powder or food color with the preserved fish juice. Pour this juice into damp fish flake. Less for lighter pink or more for deeper hue.

Keep stirring and applying pressure to break up clumps so that flakes look finer. Adjust taste if need.

Let air cool at room temperature before storing.