What is a bento box? Is it different from your usual lunch box?
Okay, I admitted it, this is nothing new: bento is simply just a term for single portion take-out lunch, packed in boxes which through many creativity and dedication, become an artistic trend in the Japanese homemakers. This trend is populating over the world, and as our little kids are back to schools, many moms are joining in too to make their kids' lunch look more appealing and feasible.
My story started a couple of days back. After three days of school, my little sunshine came home and asked for a lunch box so that he could sit in with his "packers" friends too. Being a new kindergarten mom, I was amazed, and after our "love" conversation, promise to give him packed lunch once/twice a week so he can be friends with both the "packers" and the "buyers" groups.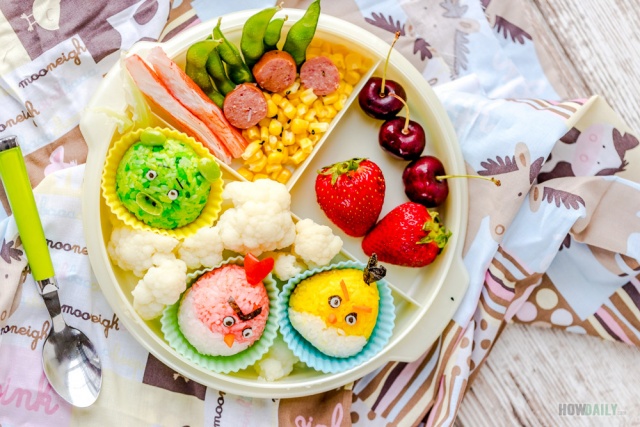 Obviously, I can't just give him an all-"dump"-in-one boxed lunch like mine used to be. To encourage him to eat more and have quick, easy access to his food (school lunchtime is short), a neat, nicely arranged lunch box is a must. Hence, now I have to search high & low on bento lunch boxes and craft matching recipes for them.
So yeah, here are my hunts for the best lunch boxes for kids and adults (to upgrade mine too while I'm at it of course).
Reviews of The Best Bento and Lunch Boxes
PlanetBox ROVER Stainless Steel Bento Lunch Box
One of the most popular bento boxes with a bag. This bento lunch box set comes complete with one large 5-compartments lunch box, two round leak-free containers with lids, a soft carry-all bag, and set of decorative magnets. Though it is designed for children(preschoolers to k12), adults can use this lunch box too, especially those with portions control.
This lunch box is definitely a better make for any packed non-wet & cool food (fruits, nuts, sandwich, sushi, taco…). The separate compartments make it so easy & quick for a child to open & eat food in a presentable manner (instead of going through multiple boxes). The two provided cups are good as dippers and saucer.
The tray and cups are all made out of stainless steel, so they're free of toxic, BPA, PVC…They are also free of smell, mold, or other health issues that many other boxes have. The lid is attached to the tray, so you won't have to worry if kiddo forgets to bring it home. The magnetic stickers are there to decorate and probably tell the top side apart.
The included carry bag is a nice touch with lots of color options to choose from. It has a separate compartment for a water bottle and another one for a snack bag or utensil.
Obviously, these can not be going in a microwave or oven, which is the main downside. If you're concerned about food to come in contact with plastic or just want a very durable lunch box, then this is definitely it.
GRUB2GO Japanese Traditional Bento Box
The minimalist design lunch box that would fit into anyone packs out, from adult to kid. This lunch box is leak proof with lined silicon, 100% food-safe BPA & PVC free. Best of yet, it is dishwasher, microwave, and freezer safe. That means you can prepare the night before, freeze and just take out the next morning to go to work.
This lunch box has 2 layers, you can use both to contain a variety of types from main food to snack or dessert. You can also use a single tray if just need to carry a small amount. There is a separate top layer for containing the included utensils (knife, spoon & fork).
Though this lunch box work just fine for making cute bento artwork, I would recommend for older teens, colleges or adult.
Skater Japanese Traditional Rabbit Blossom Bento Box Set
If you like a bento lunch box that has some Japanese traditional feeling with the convenience of minimalist design, try this rabbit blossom bento box set.
This lunch box set contains two tiers, each with a removable divider to separate & control food space. Each tier also has a separate lid then all tie-up with a rubber band to hold them tight and hence quite leak-proof in some sense.
It also comes with an extra piece of rice mold to divide rice into bite-size. A matching carrying bag is accompanied to enclosed and carry extra utensils or napkin as needed.
This lunch box is made from food-safe plastic and produces in Japan. The only downside is that it can only wash by hand and not microwave-able. However, its newer version fixed this inconvenience with being both dishwasher-safe and microwaveable, though the design and outer shape are a bit different.
There are two color choices: blue and red. The red one looks good enough to fit both adults and children, while the blue is a little on the man's side. You can get both for his & her kind of lunch boxes.
BentoHeaven Bento Box Bundle
A pretty good and well-known lunch box for working adults and college students. This lunchbox comes in two colors: black and white with a bamboo top lid, with a matching band.
Like many tier-strap constructions, this lunch box has two tiers with silicone lids to prevent leak and a tying rubber to tightly seal them. Utensils like spoon, fork, knife, and a pair of chopsticks are included and stored in a separate top compartment.
This BentoHeaven lunch box is safe to use in microwave, dishwasher, and freezer. The material is high gloss, food safe which is free of BPA.
The only drawback is there is no divider included, so you either throw in your own (use silicone cup) or ok with food touching one another.
Zojirushi thermos vacuum lunch jars: featuring Classics, Mr Bento, Ms Bento, and Griffin box set
If hot or warm food is your top priority when packing lunch for your kid (or yourself), then these thermos vacuum lunch jars might work wonder. They're actually better than a regular bento lunch box with an insulated bag you might have, being that they can retain the heat without losing moisture and no need to reheat in a microwave.

Zojirushi has introduced their thermos vacuum lunch jars in four versions: Classic bento, Mr. Bento, Ms. Bento, and Griffin to target different needs of carrying hot food. For more details on the differences between those, take a look at this Zojirushi lunch box comparative chart.
All these Zojurushi lunch boxes/jars are made from food-safe BPA material, mostly stainless steel jars, plastic cap & silicone sealing rings. Depend on the model, each can come with 3 or 4 wide mouth food jars: at least one small leakproof (screw cap) for hot soup, a larger main jar, and side jars. Now the main and side jars are usually having a snap-on cap, which should only contain dry to damp food, sauce is ok, but definitely not thin liquid (the hot soup jar is for that).
All these jars are designed to retain heat or cold for up to 6 hours. They definitely need some preps work when packing to achieve this amazing heat reservation.
Bentgo kids children lunch box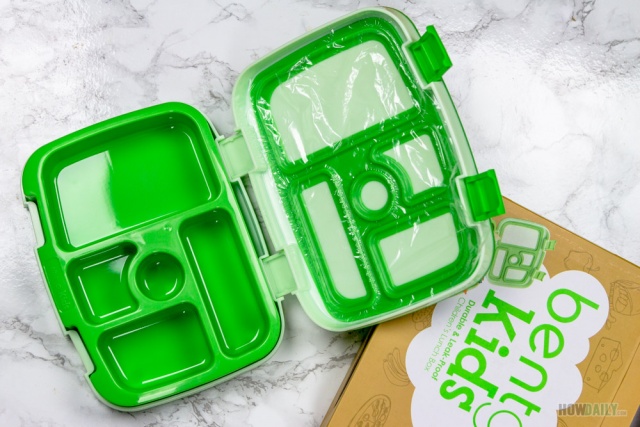 One of the most popular one-lid open all food tray to go, this bentgo lunch box is designed specifically for kids with its drop-proof feature. There are 5 varied sizes compartments, each with a respective silicone ridge attached to the top lid to ensure no contacting between food.
The outer cover has a latch to fully enclosed the inside food tray. It is made of hard plastic that is designed to be sturdy and could take force from 3-7 years old.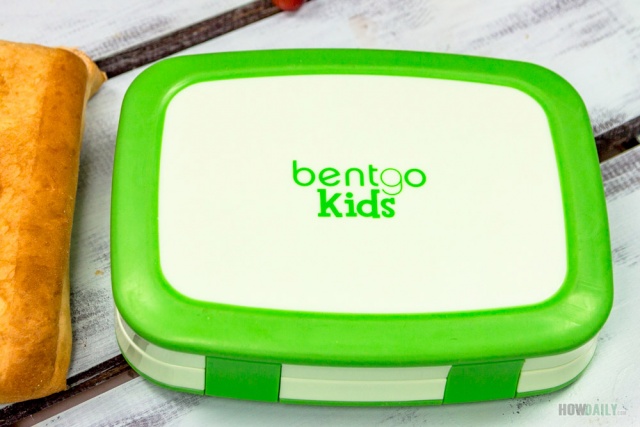 The inner food tray is dishwasher-safe and microwaveable. The outer shelves should be hand-wash to preserve its sealable properties. Those small amounts of thick sauce/wet food are okay, this box is not designed for thin soup or liquid as it may be leaked.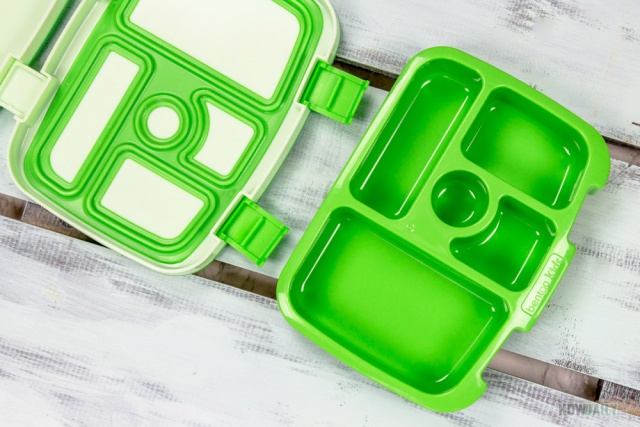 Bentgo kids children lunch box has 3 basic color choices: blue, green, purple, and 2 bright designs: neon citrus and orange. Their outer size is 8.5 x 6.5 x 2″, and will need a lunch bag or carrying case with handle for your kids to transport to school.
OmieBox insulated thermos lunch box tray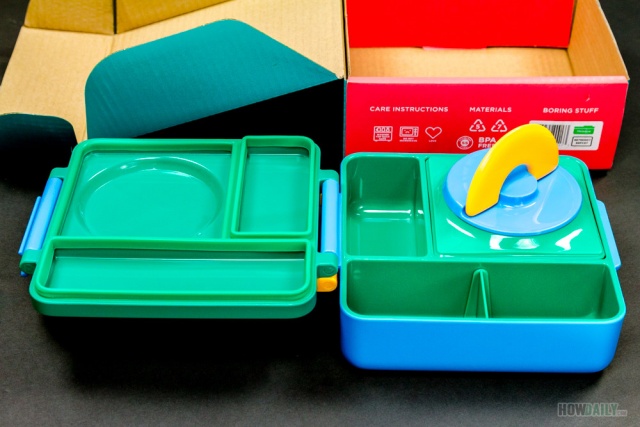 If the tray-type of lunchbox has the advantage of one-lid open all and neatly displays everything, this Omiebox takes that to a new level with the addition of a detachable thermos pot for keeping the main dish hot or cold. From the outside look, design, and color choice, OmieBox is surely targeting young children (3-9 years old) or light eaters on portion control.
There are 3 pre-divided compartments and an adjustable divider, which make it 4 total if need. The main compartment contains a detachable thermos vacuum wide mouth jar (with screw-on lid & collar). This jar beside completely leak-proof, enable the user to pack hot food while other compartments can be used for cold or chilled sides/snack. Walls between compartments are double-wall, which is to ensure food is separated while preventing heat transfer.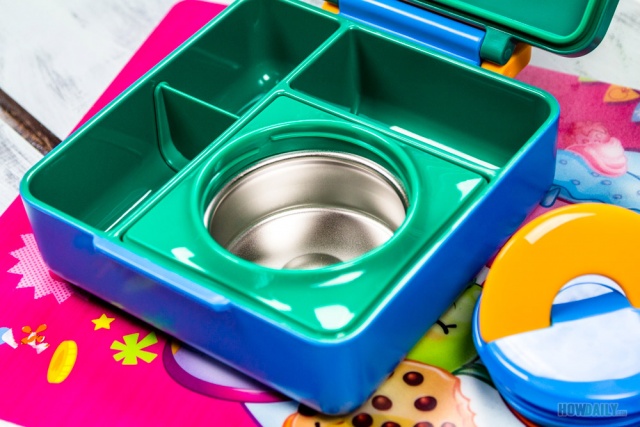 The attached overall cover has several ridges extruded to encapsulate the tray compartments and prevent food from shifting on the go. The whole lunch box, when closed can be carried easily with a built-in handle, thus there is no need for an extra lunch bag.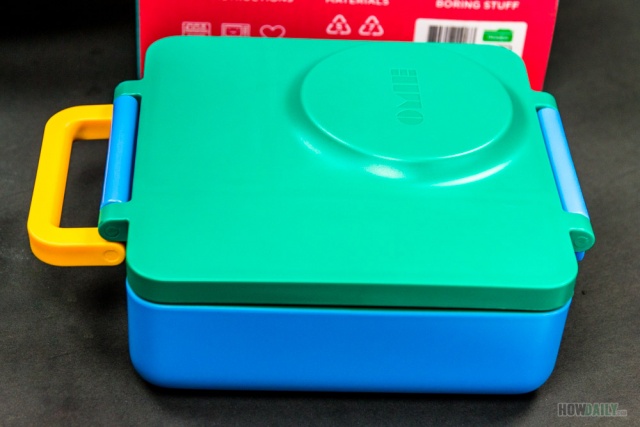 There are five color themes: blue sky, green meadow, purple plum, pink berry, and yellow sunshine. All materials are either stainless steel (thermos jar) and food-safe plastic (BPA free).
ThinkFit Insulated Lunch Boxes
This is not just a lunch box, but rather a complete and extensive kit for take-out, whether it's for lunch, dinner, or multiple courses. In fact, with so many things included, this will probably be the only thing you need to buy if you decide to trust Thinkfit for your packed food.
The whole package comes with 6 snap lids containers(2 small 1.5 cups and 4 large 2.5 cups), an ice pack, a shaker cup, 7 compartments divided pill cup, 3 small cups, and a double insulated bag to carry them all.
This is all neat to prepare multiple meals throughout the days, from breakfast to lunch then the gym afterward. All materials are BPA free plastic and work well in the dishwasher, microwave, and also freezer. Extra pocket on the bag allows for additional items, like a utensil, napkin, headphone, etc.
GRUB2GO Premium Stainless Steel Lunch Container
From the outside, the Grub2go lunch container is like a makeover of the traditional Chinese take out. It is completely made of stainless steel, has three layers stacking on top of each other. Those three-tiers are finally covered by a dome lid with 2 overall locking latches.
The total capacity is 1.6 Liters, which is that of an xl to XXL bento box. Each tier is a whole container per se, so there's room for lots of decoration if need. Use your own divider as there isn't one available.
Since everything is stainless steel, this lunch box is naturally resistant to stain, mold, and odor. All parts are dishwasher-safe but not microwaveable.
This lunch container is designed to be durable and handle dry food well. No insulation or leak-resistant though.
Modetro Ultra Slim Leak Proof Bento Lunch Box
Designed for the working adult with sleek, simple, and modern features, this lunchbox can also work as a child's pack as well due to its convenience and ease of use.
The lunch box is like a shallow tray with three compartments to hold a variety of food while being portion control. The lid is snap on and clear with a gray frame to provide a vision of the food within. This lunchbox came with a sleek zipper carrying case, with extra pockets for ice packs as well as utensils. Size is at 9 x 9 x 2″, so very convenient and easy to just throw in your bags or backpack.
All materials are food-safe, quality construction while being stylish too. It's safe to use with microwave or freezer.
EasyLunchboxes 3-Compartments bento box set of 4 with mini dippers
A very budget option bento lunch box for older kids, teens, or working adults. The lids are easy to open and snap-on closed, making the box lightly leak resistant. Things like thick sauce, dipping, or spaghetti would be fine, but definitely not for liquid or runny soup.
The box is made of clear, food-safe plastic (no BPA, PVC, phthalates) and has 3 compartments to organize your food in. Lids are made of bright color plastics and have some ridge on top to better hold & stack multiple boxes. The accompany mini dipper containers are better at leak-resistant but still need to be handle with care.
All containers and lids are freezers, microwaves, and dishwasher-safe. A carrying case or leak-proof bag might need to carry these containers up-right, prevent leaking mess, and hold additional utensils.
How To Choose The Right Bento Box For Lunch
One would have argued that if bento is simply just packed lunch, then I have done that like thousand of times. That's true, in some ways. We packed for school, picnic, work, pre/post-exercise, etc. By packing, I mean literally putting leftover or prior prepared food in tight-closed containers, maybe with an ice pack or two. Now, the Japanese homemakers took these steps further and develop them into art by elaborately decorating and arranging their packed food for a more pleasing appearance. That's what we called bento (in Japanese) or baon (Phillipino), dosirak (Korean), bian tang (Chinese Mandarin), and tiffin (Indian). Wikipedia is a good place if you would like to learn more about the history and culture art of bento.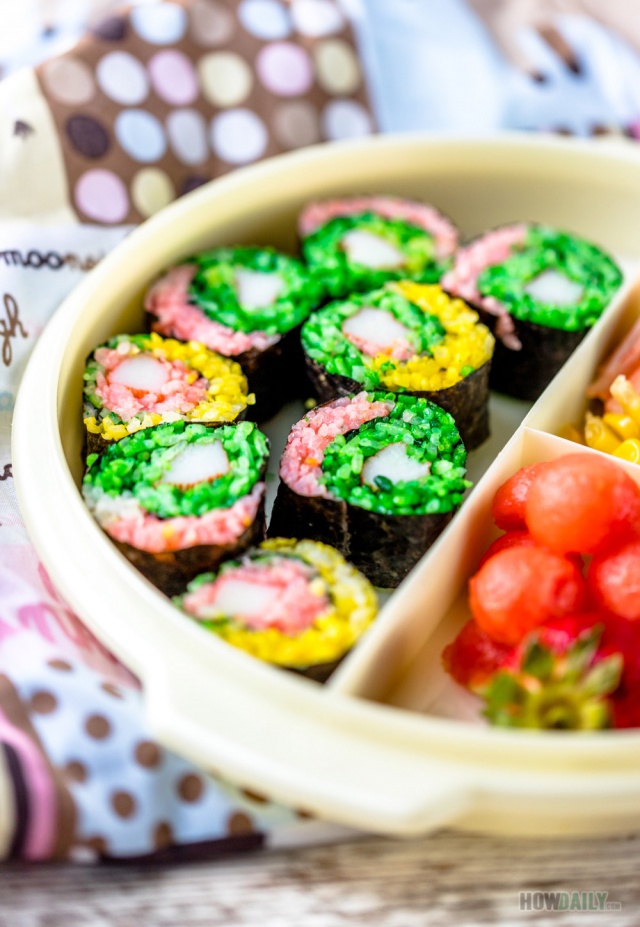 Back to the topic, you know that you need a lunch box, how do you pick them out? There are just so many lunch boxes out there on the market, each with different types, purposes and serve different needs. Let's first take a look at some of the common types of lunch boxes available on the market.
Types of lunch boxes
Soft carrying lunch bags
These lunch bags can be as simple as a brown paper bag to as neatly sew water-proof zipper carrying case. Simply put, you just place your food (often dry, cool, zip lock…) or fruits directly into the bag and bring to school/work. Common lunch bags have extra pockets to store utensils, napkin, and other necessities.
Some higher range lunch bags come with built-in should straps along with a carrying handle (for easier transport), leak-proof vinyl, net bottle pocket…Some even come with slim or regular ice packs. Most quality bags are washer compatible.
Simple rectangular lunch box w/ lid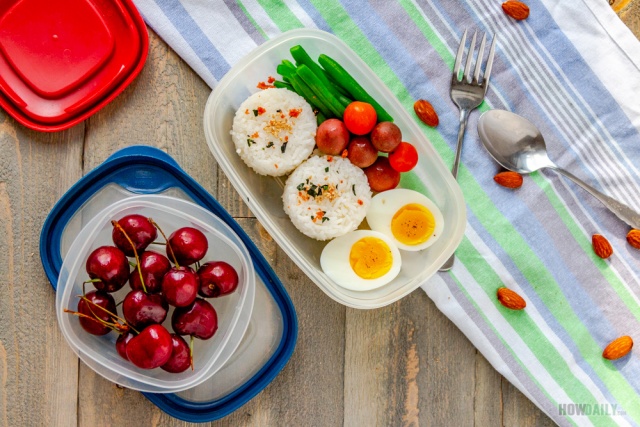 The most common form when it's come to bento lunch boxes is a simple rectangular or oval box with lids. These boxes are often made with food-safe plastic, beware that cheaper box might not be BPA free though.
These lunch boxes are often single compartment, others might come with adjustable or fixed divider. Lids are often snap-close, which means that it's somewhat leak-resistant, not proof(e.g. mildly wet or sauce, definitely not liquid). These lunch boxes come in so many colors and designs to fit from adult to small child.
Food tray lunch boxes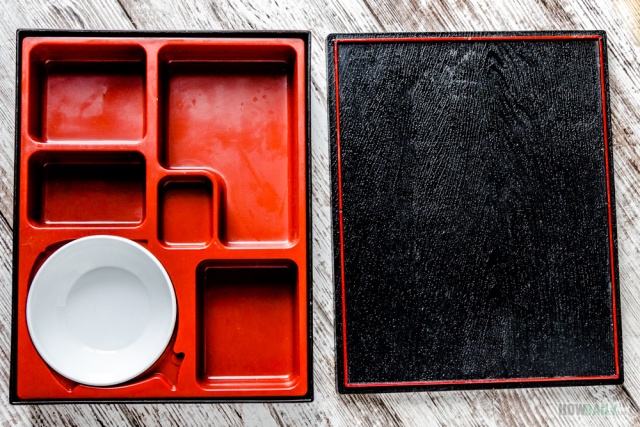 Similar to the regular lunch boxes but divided with many fixed compartments instead, this is the type of one lid opens all kinds of the lunch box. This type of lunch box often has a larger surface area but more shallow (2-3 inches deep). They usually have a lid with the latch on 2 -4 sides to fully secure and provide somewhat leak resistance.
The wall between compartments are often fixed and fully separate food, which fit people who don't like their food touching or who love to pack full course/portion meals.
These food tray lunch boxes often used for packing dry to mildly wet food. Most are dishwasher safe, but not microwaveable. A carrying case and/or ice bag might be needed to purchase extra if didn't come in for easier transporting and preservation.
Stackable or multi-tiers lunch boxes
The multi-tier lunch boxes offer similarity in full course meal/portion control and food separation as the tray type, however, it costs less in storage and often easier to carry by stacking all the compartments on top of another.
These stacking tiers often have better leak-resistant due to the way they attached to one another. Traditional bento lunchbox has two tiers with a silicone lid to seal in between and tie together with a rubber band. There are also larger 3 or 4 tiers that are tied together with a latch mechanism.
Due to the natural standup design, this type of lunch box can be carried the up-right position, which helps to keep food turn upside down during transport and effect visual appearance.
Thermos vacuum food jars
Shaped like a cylinder, this type of lunch boxes or food jars to be exact is often made of stainless steel or sturdy food-safe plastic. The simplest one is just a tall vacuum jar with a screw cap, designed to contain soup and liquid. These jars are double walls, thermos vacuum, and claim to keep food hot or cold for up to 6 hours.
Then there are the more complex food jars that come with several smaller sizes and shallower jars inside. These smaller inside jars can have a snap or screw-on lids (depend on model) and required a specific placing order to function properly.
The positive about this type of lunch box is that in addition to carrying a variety of food separately, you can have them hot/warm. This is especially useful for those who don't have access to a microwave, short on lunchtime or outside trip.
Insulated lunch kits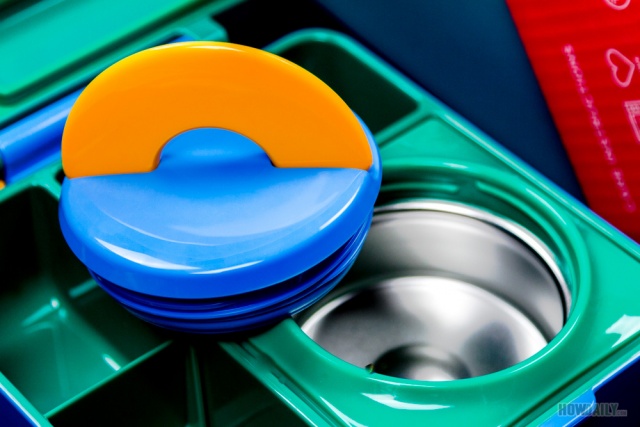 These lunch kits are composed of an insulated bag and multiple containers with lids inside. Most of these kits would be ready to use with ice packs and necessaries.
This type of design gives users the ease of expanding/removing inside the container to fit their appetite and needs.
Lunch boxes' Sizes
After having a picture of what is available on the market, let's take a look at your needs. First and foremost, ask yourself, who will be using this lunch box? Is it for you, your partner, your child, teen, etc? How many meals or portions do you need to pack? Is it just for lunch or breakfast & snacks will be included too?
Depend on the user's appetite and food quantities, you could filter out some of the smaller sizes. Remember, your lunch box capacity should be a little bigger then what you actually need, but not too oversize as to deem a waste of space. If it's still too vague, use a bowl to contain all your food for a meal in and get something with a larger capacity than that bowl.
Compartments & Tray
Do you prepare just a single entry? Or would it be multiple dishes with snacks & side? Depend on needs, you might have to look into multi-compartment lunch boxes.
For instance, if you or your kid prefer the food to be separated completely, then a hard wall-divided compartments lunch box is needed. Look into though that have silicone liner to make sure food or liquid do not shift or leak into one another. Those are especially true if you prepare multi-portion (e.g. breakfast & lunch) in one pack.
But if you only have one entry for lunch, then just use a simple non-divided bento box, you could always use cup cake liner or plastic sauce cup as divider though.
Temperature & Leak resistant
Another important factor to watch for is what kind of food do you usually packing. Are they all dry food like a sandwich, sushi, cold salad? Or do they have to be hot & runny like chicken soup, grilled meat, etc? Would you or your child have access to a microwave if need?
Most lunchboxes that are designed for dry/cold food are microwaveable, however are not leak/spill-proof. That means they aren't mean for soup and liquid food. So if you're packing for outside work, school field trips, or younger children (who unable or have limited access to a microwave) and desire hot food, you might want to look into higher-end vacuum thermos capable lunch boxes. Those would ensure to serve you hot food even on the go and minimize the chance of disaster through spilling and liquid leaking mess.
Other features
There are some other features of a lunch box you might want to look into, like how do you transport it, maintenance, durability, and ease of uses…
Many lunchboxes already come with a matching carrying cases, handles, or some sort of mechanism to easily commute. If not, you could look into some of the soft cases available on the market. Just make sure to check for the size carefully, and buy a size larger or so just in case if you need to use an ice pack or have extra things to carry.
On maintenance, look for the dishwasher-safe to reduce some work. However, even though the box says so, beware that the silicone or soft plastic sealer on the lid might shrink or warp during machine washing. These should be treated carefully by hand though. Also, please check for mold, mildew or rust might accumulate in ridges.
Durability: obviously those lunchboxes made with stainless steel will last longer due to stronger material. Also, higher range lunch boxes made with high quality would last through years of usage too. It's just a matter of how you're using and caring for the item. Just a note on the younger kids, since they can't be that careful yet, some lunchboxes do have an extra layer of shock absorption to prevent breaking and dropping.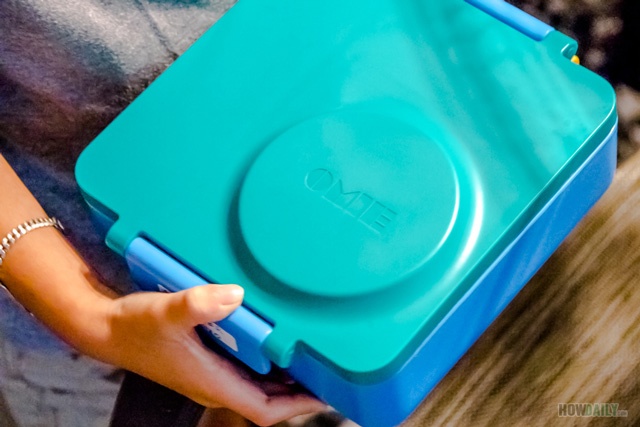 Another note on children's lunchbox: as some schools have quite a short time for lunch, you might want to get their food preparation in a tray type of lunch box, just so that everything presented clearly when open. Your kid will have more time to eat instead of going through all containers one by one. For the adult with easy access to a microwave/fridge, any type of lunch box is fine, just the stacking type might be easier to store and carry.
What to pack in a Bento lunch box
Once you know what lunch box to go after, let's look at what to prepare. Similar to what you would pack in a normal lunch box, your bento lunch should contain a bit of everything in the main food groups: starch/grain/legume, meat/seafood, vegetables, fruits, and dairy.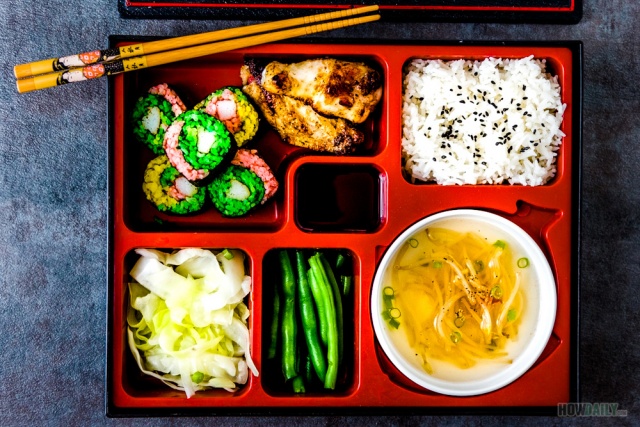 You can always prepare the night before. If your workplace has a microwave, just prepare food, pack in the lunch box then store them in the fridge. The next morning, get the lunch box straight from the fridge to work and heat up only when you eat. If hot food is a must, make sure to prep your thermos with hot water, then add hot food and seal tight to retain as much temperature as possible.
If you're preparing packed lunch for children, make sure to cut them into edible bite size. Thicken your sauce as much as you could to reduce leaking mess. For small children, slice anything round (grape, tomato…) into halves and always have a spoon if you're packing jello. You can also look into spork, a short for those small spoons that has the fork tips, this would save packing space while allowing your child to eat all kinds of food conveniently.
Here are some bento box ideas:
Looking for the best lunchbox to fit your or your child's needs is not hard, just a little bit of information and detail you might want to watch out for. If your budget is not tight, look for the best quality one, those might save you or your loved one from unnecessary frustration. On the other hand, going the economical route is not bad either, just look carefully to see if it meets your need or not. Don't forget to account for additional accessories like a carry bag, name tag, insulate, ice pack… as those when sum up could be a notable amount to compare to buy the whole all-in-one package.
In the very end, I happened to pick out the perfect lunchbox for my boy and the best thing is, he seems to like it a lot too. What about you? Which one do you think worth more?