I've missed all the trips this past year due to the global pandemic as much as all the new flavors and experiences those would have brought. Entered Sakuraco Snacks & Giftbox, which lessen my yearn for new destinations and local experiencing, at least in the treats department.
So 2 weeks ago, I've received an offer from Sakuraco to try one of their snack boxes. To which 3 days later from my reply, I've received a nice-looking esthetically zen style box, directly from Japan. Their shipping is marvelous to me considering we are in the holiday season, and my "in-state" order took 3 weeks to arrive.
Disclaimer: this Sakuraco' snack box was offered free with no string attached. All the reviews below are based solely on my personal experience and thought after trying all the samplers.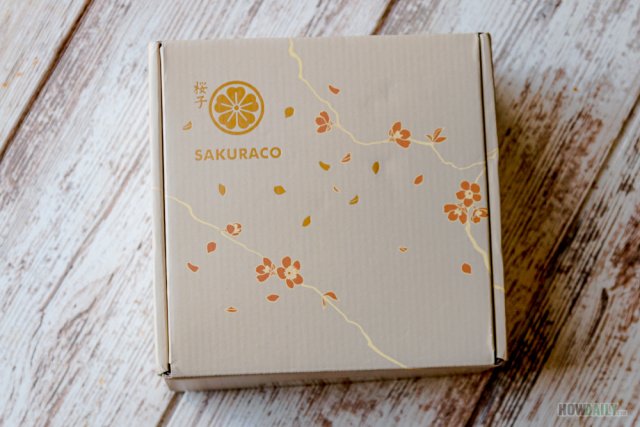 In case you're wondering, Sakuraco is the monthly subscription service for Authentic Japanese Snack, belonging to the same company as Tokyo Treat, YumiTreat, etc.
Now let's get back to the real deal, which is my first experience of the snack box. The packaging is in pastel-green (sort of lighter shade of matcha) with scattering sakura petals. There are 20 snacks (with some dupe) following the Hokkaido Winter Festival theme.
As you can see, all the items are labeled in Japanese, but fear not, the accompanying booklet is there in English to explain all the culture notes, fun facts, and common allergens for each item.
There're 2 packs of white chocolate cookies or milk cookies to be exact, they're sort of similar to our Oreo, without the chocolate. Despite the name, the curry shrimp rice chips weren't spicy nor bold with curry flavor, well Japanese curry is mild for a start, compared to Indian curry. You can feel the taste of salty soy flavor and spices, but mild enough.
The walnut mochi stick is one of my favorite in this batch. It got the yabber texture of all the mochi, light walnut bits but without being too sweet. It was wrapped in a thin edible rice paper, very thoughtful and convenient to eat. It's one of the best walnut mochis I have ever tried. The only downside, it came with only one (1) stick, which adds to my torture, now I have to find where to buy more of this. This mochi definitely pairs the best with my trophy Genmai tea that I bought from Japan the year before, ah, simply put: indulging and really relaxing.
The Yamaoyaji Senbei is thin, crisp with a hint of eggs, sort of like our fresh baked waffle, only on the firmer side. Ours came with 2 out of 3 in the pack cracked, probably due to shipping, but the flavor is enjoyable. The scallop senbei tastes like Korean shrimp cracker to me, but on the sweet side instead of salty. It's nice for the crunch though but a little bit bland, probably cause I have this right after the Curry Shrimp crackers.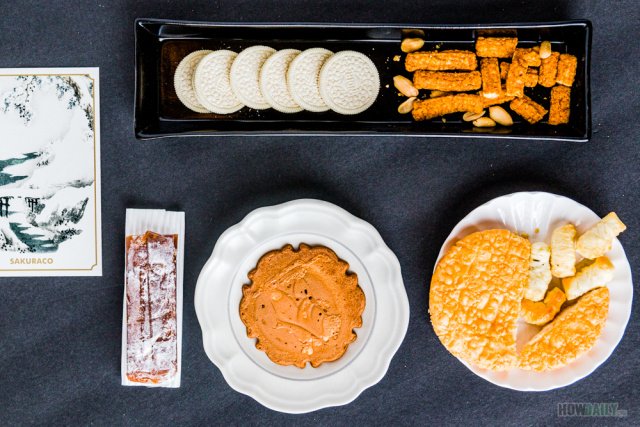 Okay, so this is here per Alex, my 8-years old's request: "Mommy, you have to write that these Rice crackers are delicious and the most favorite of Alex, your only son," so there it goes. These salty-sweet crackers are actually from the 2 packs of Corn Potage Senbei, which are entirely made out of corn, soybean and I guess chicken stock?. What's great about this cracker is that each bite brings you layers of flavoring, starting from umami, then sweet, nutty rice/corn hint, then finally creamy like milk or thick congee. My son loves these crackers too much, so does hubby, thus, leaving me only a quarter-size piece to test-taste. However, these crackers will surely be at the top of our future shopping list.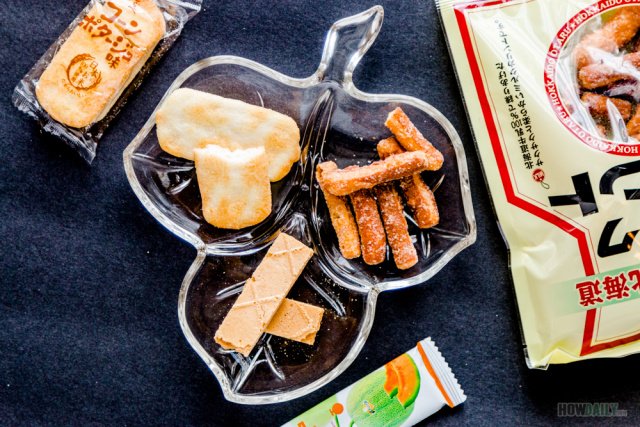 There're also 2 packs of Yubari Melon cookies, but they tasted like cream waffle sandwiches with honeydew flavor. They're nice as variant.
On the cake/bread side, there were the sweet castella, banana Baumkuchen and the Hokkaido cream bread. The castella is moist and somewhat sticky on the outside, but the inside is too dry. While the banana Baumkuchen texture and thickness are great, the banana flavor might be over-power to some, unless you're a banana fanatic. This reminded me of the everything goes banana trend a couple of years back. The cream bread is okay, on the bland side.
Yuzu Kuzumochi is soft, mildly sweet with the fruity citric scent Yuzu. Its texture is somewhat softer than the regular konjac jelly, and taste even better chill (but we have no time for that). The red bean pudding is too sweet, I like the bean, but still, way too sweet.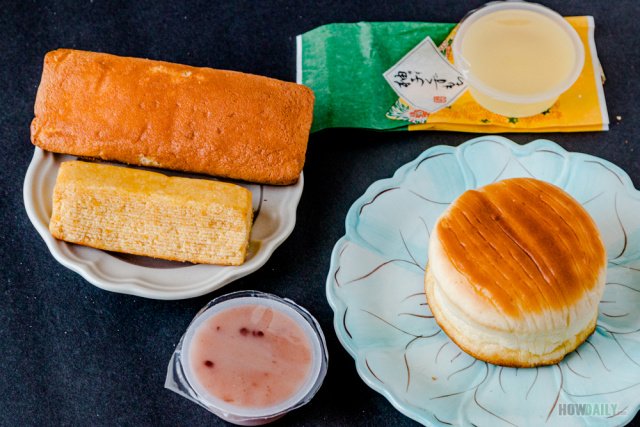 There are two genmai tea bags included in this box. The presentation is more premium as each bag is made of a pyramid shape fabric filter bag to encase the loose tea inside. The string is short, but the paper tab has an indentation to latch onto your cup. Once steep per the accompanying instruction, upon the first sip, a strong matcha flavor is coming out as the first layer, then the mild green tea and the weaker roasted brown rice note. To be honest, this is a nice on-the-go tea bag, which is convenient to carry to a work setting. However, at home, I'd still prefer the traditional loose leaf.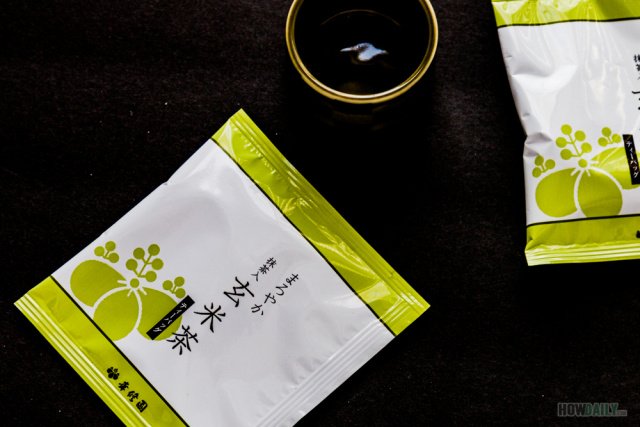 The last item in the box is a nice and high-quality sake cup that can also be used as a medium-size sauce cup.
Overall, the entire box is very interesting in that it carries lots of regional variations and flavors. Everything is just packed together with care and aesthetic that help elevate mood and bring home the cultural experience. This would serve as a nice gift box as well, just note that it's full of allergen though.