Sushi is so popular nowadays that you would be able to find Japanese restaurants everywhere in the States. Tuna, salmon, or any seafood are standard toppings and the basics.
This dish was first made when my mom was on a 10-days-per-month vegan-eating period, not for diet but rather religious belief. So when we have a family sushi-gathering, she could enjoy with us as well.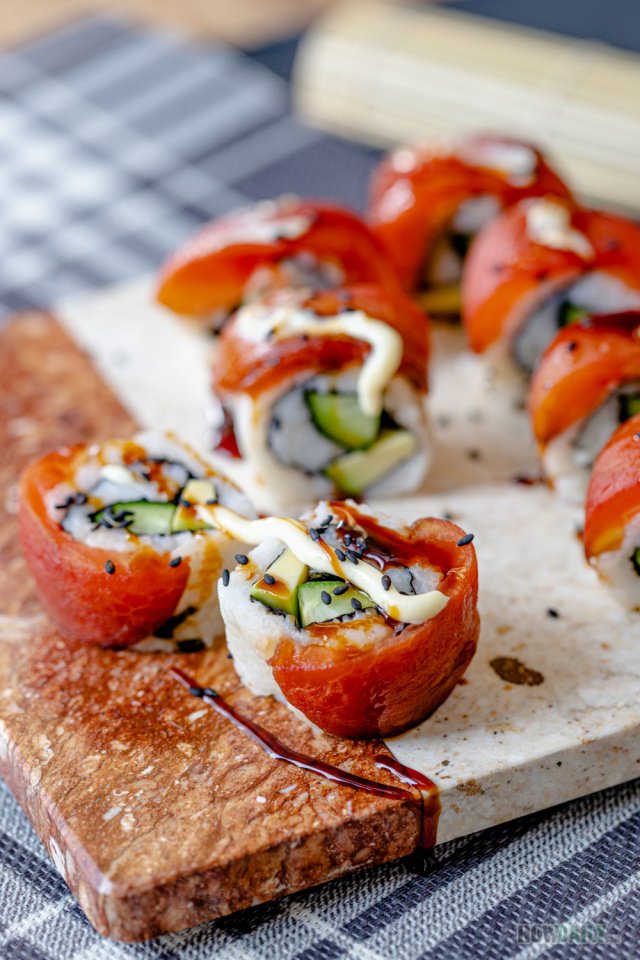 To be honest, I'm not on any special diet, nor I'm 100% vegan/vegetarian myself, so please don't judge. However, with experience cooking and wholesaling vegetarian food since 6 yrs old (and all my teen-hood, so to speak), making imitation food is fun and quite reminiscent for me.
Many ingredients resemble the look of tuna red flesh, such as carrot, tomato, sweet potato (red)… If you want strict tuna flavor, well, you won't find it here. It's impossible, if not, to replicate the texture and taste in a home kitchen anyway. There are commercial products available for that, but I would still say it's only 70% in similarity.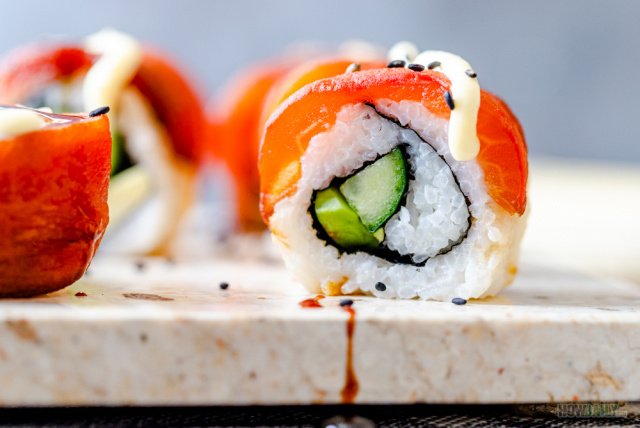 Anyhow, to add the "umami" flavor to the vegetables, I used vegan nori. Most nori nowaday are farm-harvested; they're all naturally vegetarian-compatible. However, if you're strictly vegan, look for the kind explicitly marked, where the farming environment is precisely controlled.
To increase the hue since most tuna is dark red, I used tamari soy sauce, the darkest to season the tomatoes. I also add a little bit of sugar, this after baking, does give a nice brownish caramel to the slice, making it easier to stick to the sushi base.
The base sushi is just a plain vegetable-only sushi roll with cucumber and avocado. You can add any other to your liking.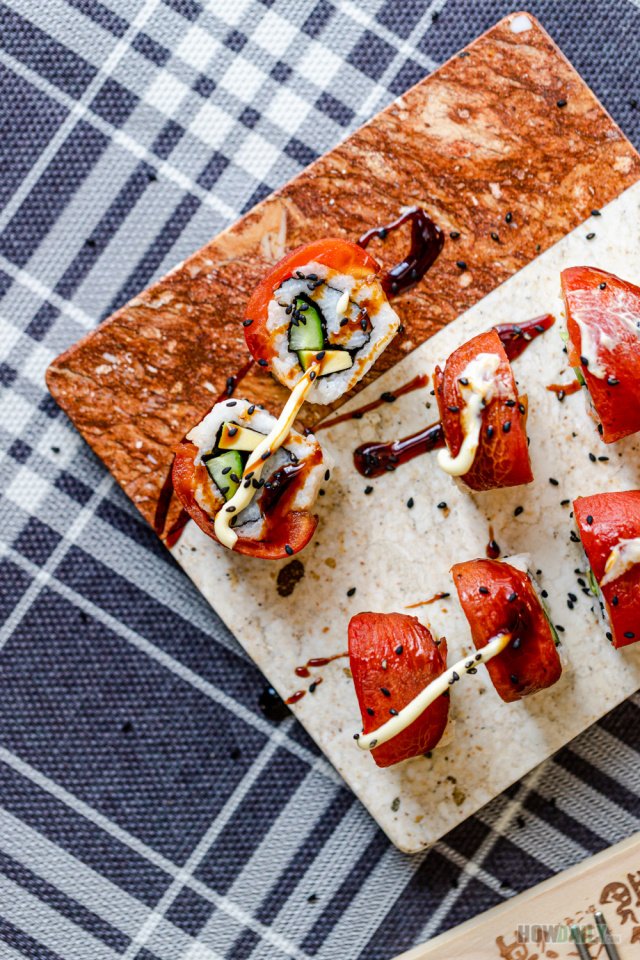 The result: I'd say it's a blast. My mom loves it. Even my son, who always steers away from anything starting with "vege-" can eat the whole roll without realizing it's tomato. On the other hand, I also made imitation- eel, imi- salmon, and imi- white fish to variate the topping selections (and to sneak some veggies into my boy's dishes), but that will be another post in the future, maybe.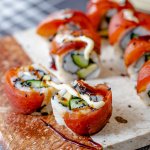 Imitation-Tuna Sushi roll
Imitation tuna sushi roll for vegan and vegetarian from easy-to-find ingredient. Flavorful and tastety, just a change from the usual tuna favorite.
Print
Ingredients
Imitation Tuna
4

tomaro - roma

1

sheet

nori

pick vegan

2

Tbsp

tamari soy sauce

1

tsp

sugar

1

Tbsp

oil

for glazing
Sushi Roll base (2 rolls)
1½

cup

cook sushi rice

2

Tbsp

sushi vinegar

2

sheet

nori

pick vegan

½

mini cucumber

¼

small hass avocado
Instructions
Imitation Tuna top
Bring a medium pot of water to boil (enough to submerge tomatoes).

Wash and Score an X mark on each tomato.

Prepare an ice water bath.

Carefully drop all the scored tomatoes into boiling water, submerge for 30 sec.

Transfer the tomatoes into ice bath to chill down quickly.

Peel the skin off, cut into halves or quarters and add to a container.

Shred a sheet of vegan nori in (to add flavor).

Add in all the marinade ingredients, mix well.

Cover and let sit for 30 minutes.

Preheat oven to 350F, glaze a baking dish.

Arrange each tomato halves onto dish, glaze with marinade soy sauce.
Sushi base
Slice cucumber and avocado into thin long strips/sticks.

Season cook sushi rice with sushi vinegar, mix well.

Lay a piece of plastic wrap on a flat surface or on top of bamboo mat. If you're using non-stick mat, skip this step.

Tear a sheet of nori down to ¾ of its size.

Spread half the rice evenly onto Nori.

Flip the nori upside-down.

Arrange cucumber and avocado slice on top of the nori.

Lift, tuck and roll into uramaki-style sushi roll.

Uncover the wrap, arrange marinade tomato slices on top of sushi roll.

Recover w/ plastic wrap and bamboo mat, lightly apply pressure to shape.

Slice and serve with desired vegan sauce.
Video