Jackfruits and Durians are both the prominent king of fruits in South/South East Asia and have similarities as in thorny outer rinds, overpowering scents, strong & bold flavor… But which truly is the best in terms of flavor and nutrition, how to differentiate them or how to pick the best of them?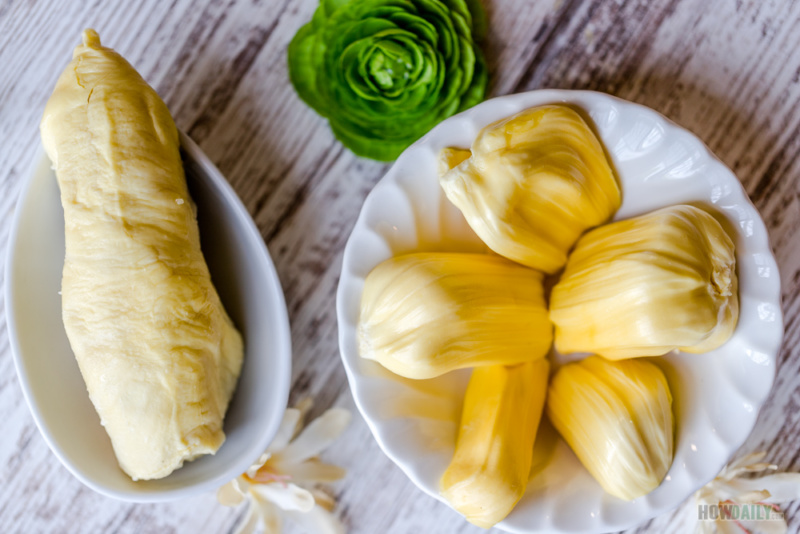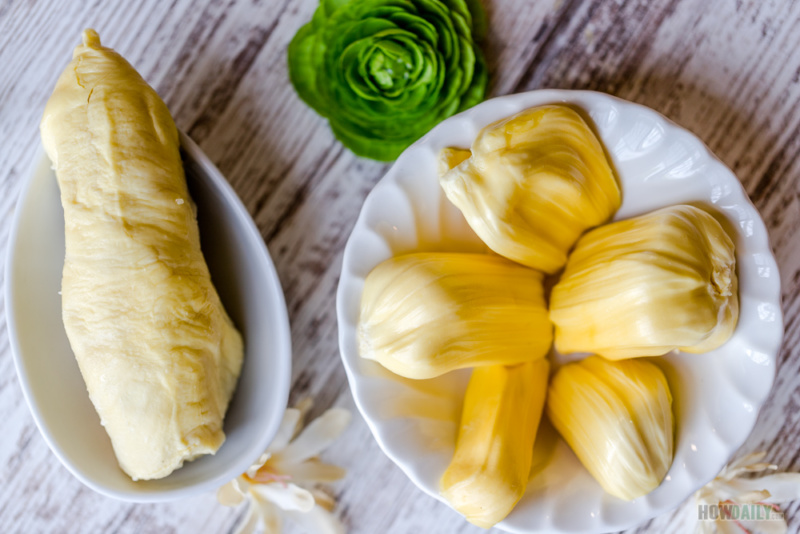 When I say differentiate them, I literally mean it. A couple of years back when I was working in a social media company branched in Vietnam, my boss called me from his trip that he'd be sending in his hand-pick souvenir: a case of fresh durians, which is my most favorite fruit of all time. He sounded so exciting, and to my surprise after opening, it's actually was a whole pack of the small variety Jackfruit. We're all had a good laugh about it, honestly!
See, it's confusing if whether you haven't eaten them before or you have but never touch/see the fruits in as a whole in their rinds. Okay, let's first start on their differences.
Appearance: Jackfruit & Durian at a glance
Both Jackfruits and Durian are ported originally in South/South East Asia with lots of varieties. Their colors are ranging from green to golden, brown,…
Thorny Rind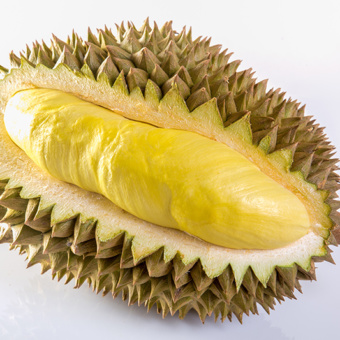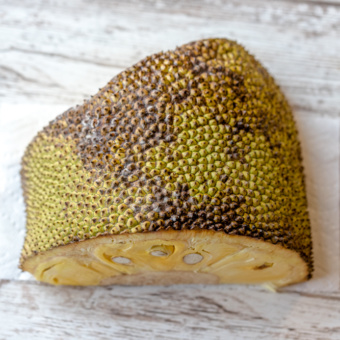 From the outside look, both Jackfruit and Durian's rinds are covered with thorny spikes (big and small) with Durian's thorns that are definitely larger, sharper, and pointier.
Jackfruits' tend to be more flat/shorter, "safer" – meaning you can easily carry it around by the rind with your bare hands. You won't be able to that with durian though. There's used to be an old joke going about a husband kneeling on durian rind for punishment though. So you know how hard and strong the spikes of Durian are compared to Jackfruit.
Size
Durian tends to be smaller (compare to Jackfruit), mature at 2 to 7 lbs on average with 6-12 inches in diameter.
Jackfruit, though has some especially small varieties, is known to be one of the largest fruits on the planet. It can reach anywhere near 120lbs with 35 inches lengthwise. As mention above Jackfruit varieties is naturally smaller to about Durian size, not to mention the popularity of young Jackfruit (immature/unripe ones) which is where most of the confusion attributed.
Dive-in to Jack: not just a fruit on the table
Jackfruit is more familiar than you think. Aside from wheat, gluten,… young Jackfruit's pod, rag and all are often used in vegetarian's meat substituted products. This is due to the fibrous texture and mildly sweet with a resemblance that of meat.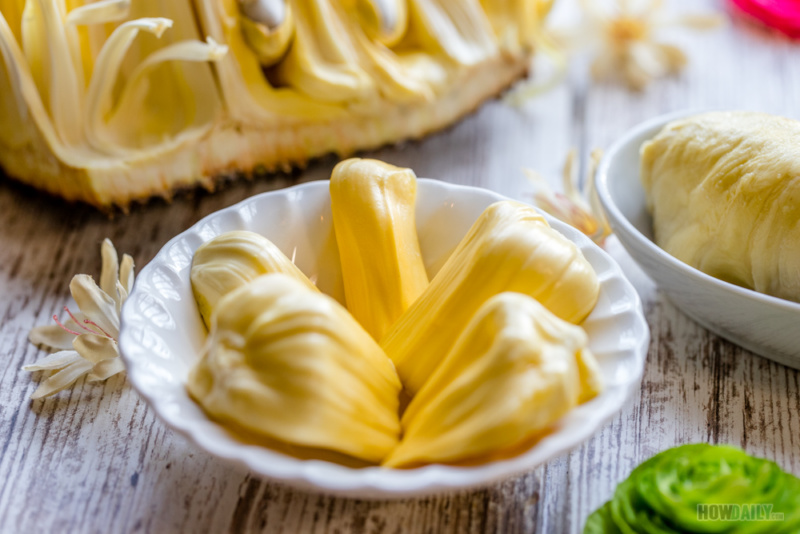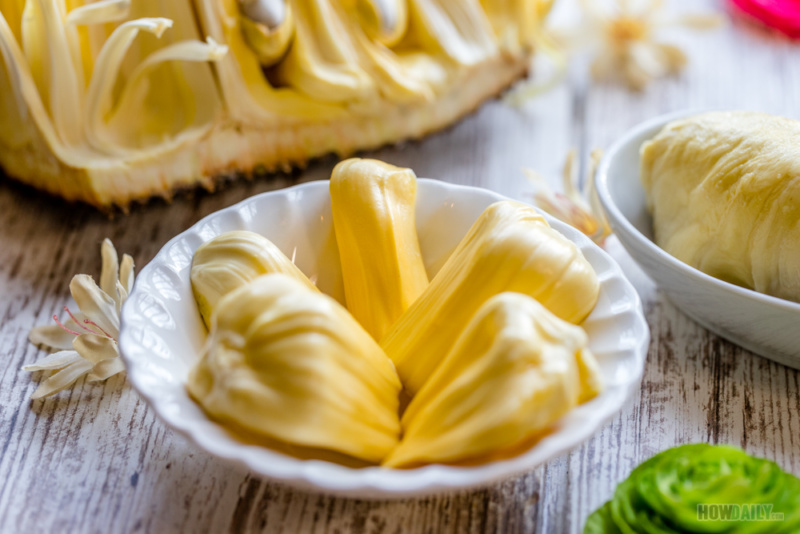 In addition, Jack fruit is full of nutrition and can help in feeling full longer after consuming due to the high content of Potassium, Calcium, and Iron. 10 bulbs are all you need for a meal per se. Its seeds are also edible after boiling, steaming, or similar, the seeds' outer shell/skin can also be consumed in some varieties.
Aroma-wise, Jackfruit has a really sweet fruity scent, though not oppressive is far spread and lingering as well. Yes, note on the lingering, it's like eating one ripe bulb and you can smell it 3 days later. Not that much, but you got the idea.
There are many varieties of Jackfruit, but it's mainly into two types, one with larger fruits, mildly sweet yet firm, and dry bulb. The other kind bears smaller fruits, probably the size of a football, with its flesh is soft, mushy, high fragrant, and extremely sweet.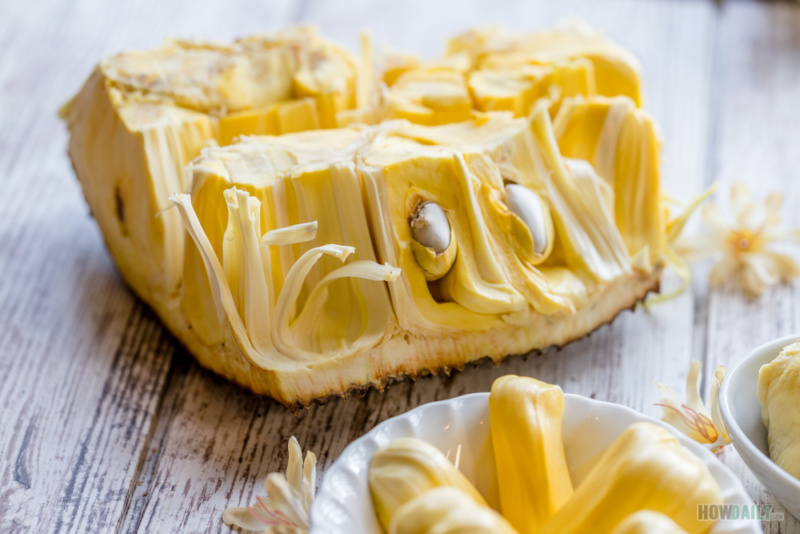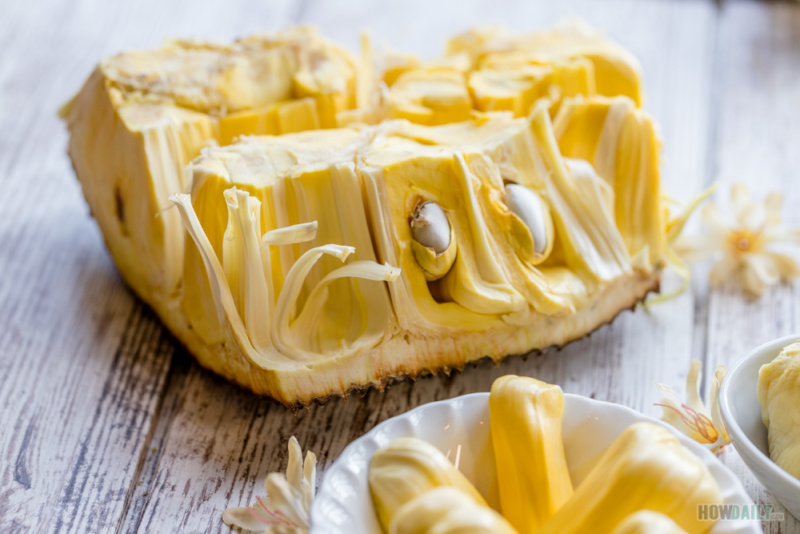 The firmer kind is usually what used in making Jackfruit chips, freeze-drying products while the latter's immature fruit is a culinary product such as meat/bread replacement.
Young Jackfruit has a latex that keeps oozing out of the core once being cut. This latex is kind of annoying to get rid of, which is to deter most people to try Jackfruit for the first time. To enjoy fresh Jackfruit, it's best to find a ripen one which is determined by its heavy flowing scent, darker outer rind, and the stem freshness. The ripen Jackfruit always has little to none of that latex.
Wipe your hand against the rag of ripening Jackfruit is a way to get off the latex, another is to rub your hands with some rice/grains, the powder from them do help latex to come off.
How to open Jackfruit? With the larger Jackfruit kind, just cut it in halves or quarters, then remove the core. Note to keep your knife clean during this process, wipe it against wet/damp kitchen towels. After the core is removed, just apply some pressure to help separate the pods from a nearby rag. This would help it easier to extract Jackfruit meat with a pointy paring knife.
For the smaller, wet pod type of fruit, it's actually simpler to open than you thin. Use a pointy paring knife to slightly make a groove around the fruit. Now use your hands to pull the rind off. All the pods should be stuck onto the core, which can be pull off easily without any latex to worry about if the fruit ripens enough.
Inside a Durian: the King of fruits
When talking about durian, the most popular yet also controversial about it is the scent or "stench". It's the kind of "totally love or truly despite" it.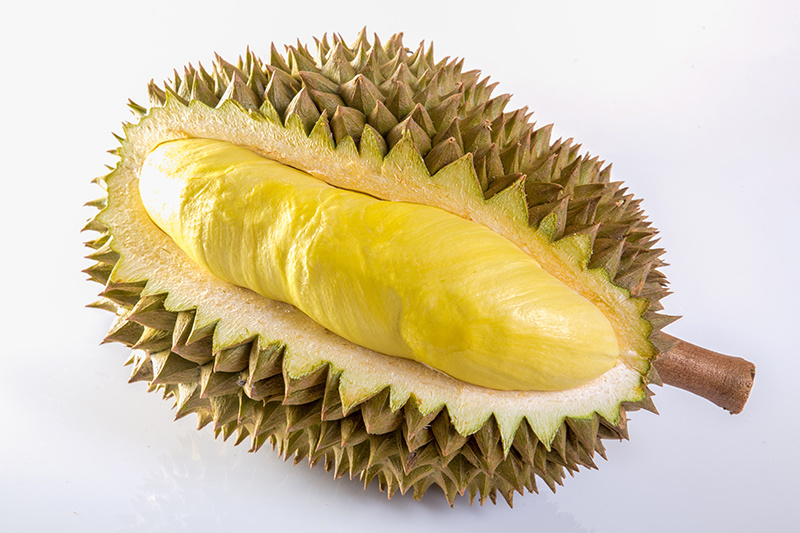 Durian's Scent vs. Stench ?!
Strong, bold, intensive, potent, etc are some of the words you may hear about it. Even in their shell/husk, covered, wrapped-up… the smell still gets around, you can't hide it, simply. In regard to the smell of durian, you can dive deeper here, just ignore their comments though, lots of war on good haters.
If one loves durian, its smell to them is like heaven. Back in the old days, I know they used to dry the shell of durian (after emptying out the flesh) and leave them under their beds. I slept on one too, gosh, so many memories there.
With such divination, This is why we're all divided about durian and why it is banned on most airplanes, trains, or public transportation in Thailand, Vietnam, Malaysia…
So if you're traveling to those countries, most places that sell durian will have seats to eat on-site. If you have to carry out, make sure that your hotel/lodging allows durian inside.
Durian Flavor, Texture, Taste & varieties
Okay, so let's say you pass the scent test, are you pondering if its taste worth all the trouble? If you're like me you'd have known, cause my other half's literally on the "other half" side of Durian. It's like a war every time I try to sneak one in. Did I just say that I love Durian? Double that, it's my guilty pleasure so I'll only speak for this side of the good half.
Durian's texture is a bit like custard, depend on the variety, it can be ranging from runny yogurt to harden cream cheese. In general, they are sweet with a hint and mix of other flavors. Durian can go bad too, and when it does, it becomes sour and mushy, which is what turning back many first-time eaters since it's harder for them to detect a good quality, Durian.
Anyhow, here's a list of some popular/common varieties grouped by destination:
Thailand: Monthong, Chanee & Kanyao
There are more than 200 varieties being found and cultivated in Thailand, however, the top three mentioned are massively developed for commercial purposes.
Among them, Monthong Durian would be the most popular in the States, any place here that sells Durian would sell the Monthong period. It's the top commercially export Durian variety in Thailand. This is due to its seeds' size on a smaller scale, which allows its flesh to be easily extracted and frozen. Aside from that, it has a soft meaty texture with creamy rich, and mildly sweet taste. Its smell is less intensive compared to other species, thus more acceptable to the mass.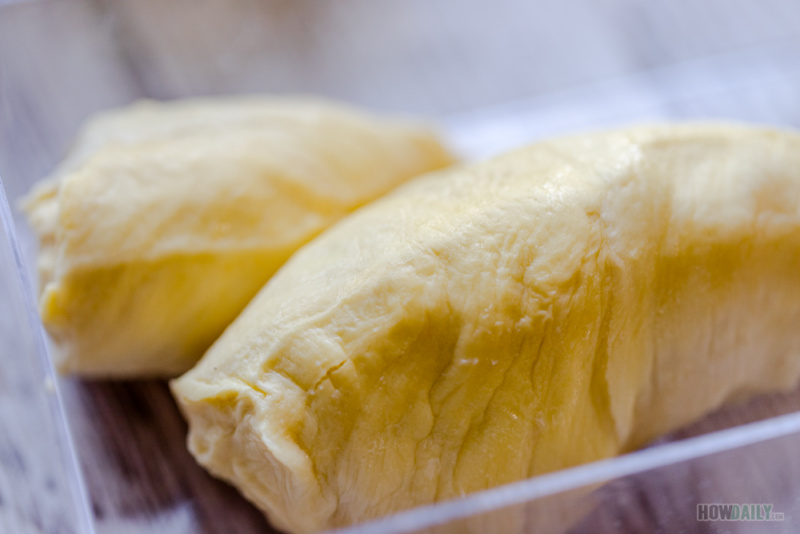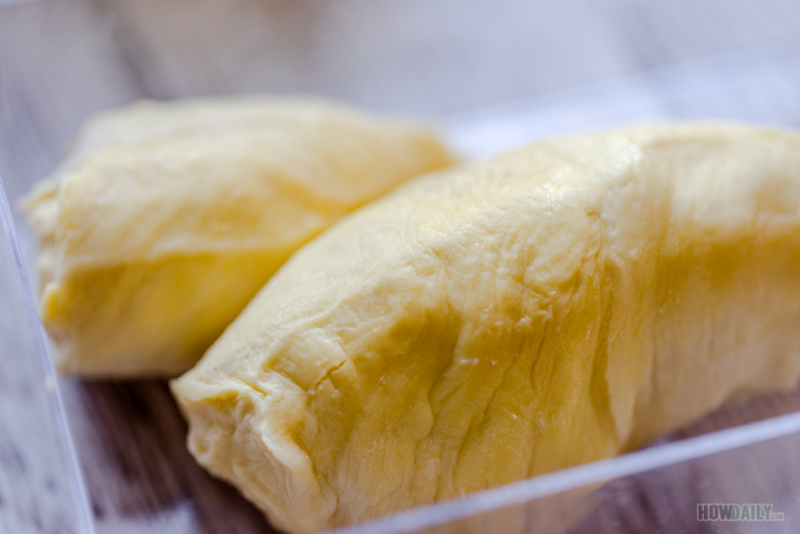 Chanee Durian on the other hand is more pungent with a hint of bitter behind its sweet and buttery texture. It's definitely a better choice for a serious durian lover who can stand against anything and love it.
Kanyao Durian is the most highly-priced of the three and looks more round with a long stem (imagine volleyball on a string). Its taste is super sweet and creamy but mostly prized for its long term of freshness. This means you can leave it there for a long time without worrying about discoloring, taste, or odor changing.
Vietnam: Ri 6, Chuong bo, Cai Mon & Kho qua
Popular in Vietnam, especially in the South with 200 + varieties, Durian here often can be found for better prices comparing to neighboring countries. There's less restriction as to where you can take/handle Durian on public transportation and they're even allowed on the plane if you have the box wrapped by the airport facility.
Ri 6 Durian was named after the man who successfully mutated its type from an imported one. This type is prized for its thinner rind, thicker flesh, small seeds to negligible, mild scent, large size, and high production. The flesh or meat is very high quality, as in bright gold color, medium sweet, creamy yet still being dry to the touch and hold shape pretty well. It's easy to eat and crack open this kind without getting your hands messy or hurt like other varieties.
Chuong bo Durian literally means Cow's den, named after the 1st place this variety was found. Very….hmm virtual right? It's funny cause the name match its scent quite well: strong, protruding, and lingering so definitely not for first-timers. This type has flesh that is light yellow and soft to a mushy texture. Its taste is mildly bittersweet but actually a lot creamier than most Durian. The fruit itself is smaller than Ri6 at a definite price on a medium budget.
Cai Mon Durian is actually a town within Ben Tre city where lots of this Durian type developed. The fruit itself is small with thin rind, thick golden flesh, and small seeds. To compare, its scent is strong but less intimidate like Chuong bo Durian. Its flesh is less creamy but a little sweeter than Ri6.
Kho qua (bittermelon) Durian is another type that mostly known for its super cheap pricing. Used to be widely grown in the wild with thick husk, little flesh, and larger seeds, this variety's quality is definitely nothing compared to the 3 above. However if budget is the only consideration then there's no match, it's the cheapest type, thus is widely known and exchange between the common.
Malaysia: D13, XO and Musang King
D13 is the recommendation for first-timer, as its odor level is low, the flesh is sweet and less fibrous. Its seeds are quite large though, but the texture is firm and easy to hold.
On contrary, XO is more for the experienced who love the bitter taste and fermented feeling. Of course, this variety's texture is very soft, runny, and definitely overpower for any newcomers.
Musang King is probably the most popular in Malaysia, due to its super buttery taste and texture.
Of course, there are many more varieties of durian, if you like to find out more, visit yearofthedurian. They even have tours on Durian tasting.
Jackfruit vs Durian: what's good and who should avoid them?
According to the USDA National Nutrient Database, both Durian and Jackfruits have an impressive amount of vitamin and minerals: vitamin A, B6, C, folic acid, thiamin, riboflavin, niacin, potassium, iron, calcium, magnesium, sodium, zinc, and phosphorus. Other nutrients such as protein, phytonutrients, and beneficial dietary fats are also found in Durian. And of course, aside from fiber, there are parts of water in them too.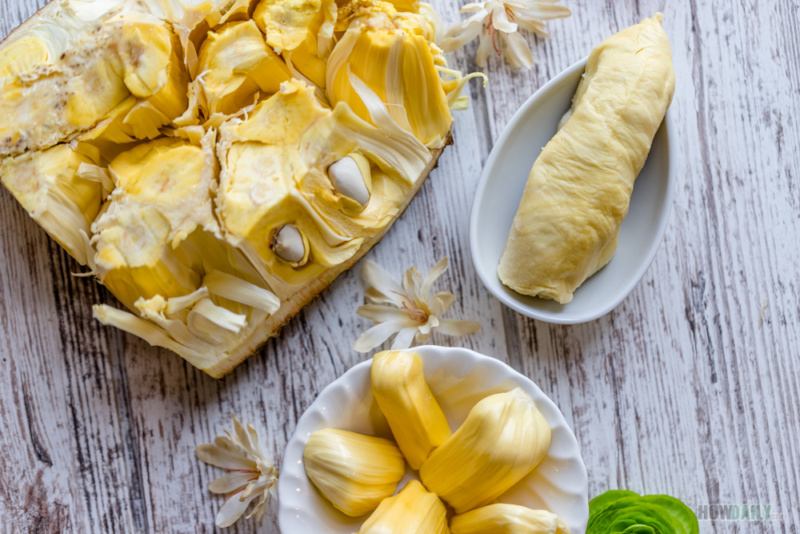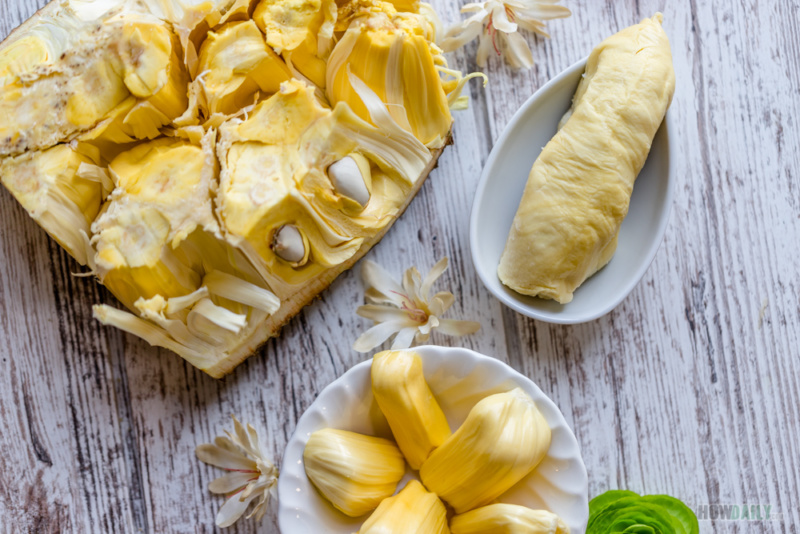 On contrary to many beliefs, Durian does not affect blood pressure levels nor increases heart rate. In fact, due to its splendid amount of potassium, it can help decrease the chances of heart attacks and strokes.
The fiber and dietary fat found in both made them the best in aiding digestion, reduce constipation, heartburn, and cramps. Many other benefits include anti-aging, boost memory/cognitive, reduce radical/mascular degeneration, and improve mood.
While these fruits are good, you shouldn't consume them too much at once. Due to the high amount of protein, they might make you full or stomach bloated, hard to digest with too much quantity.
Like any fruit, they contain sugar, which is, of course, off-limits to people with diabetes.
There's also a fore-warning due to the possibility of intoxicating while coupling alcohol drinking and consuming durian together. It would be dangerous for your body to workout and unable to break down chemicals in your drinks.
Eating Jackfruits and Durian both have their good and bad, but as long as you can control the amount in-take at once, you'd be good.
Now, the only problem is, where to find good source of Jackfruit or Durian…