Are you new or simply seasonal bakers who found yourself stumble upon picking out the best butter for your cookie, crust-pie, buttercream, etc? After all, better ingredients mean better sweet treats yet there are just so many brands and options available in store.
When choosing butter for cooking, I always prefer unsalted butter, that way I can have more control over the amount of salt and flavor manipulation. Similar to the usual salted kinds of butter, there are just as many options for their unsalted sibling.
I can't stress enough on how real butter works differently in cooking, you can substitute oil, shortening, and the likes, but you won't get the flavor, richness, and the taste of indulgent. It all comes down to the butter natural flavor (i.e the flavor of the milk source it's being made from), fat to water content, culture/churning process, color… All of these contribute and turn your work from being good to exceptional. To find out more about butter role in general baking, please visit bakerbettie's Function of butter in baking.
So over the last weekend, I scouted through all of our neighborhood groceries to pick out 10 common butter brands and a generic store brand making a total of eleven (11) unsalted butter. All these butter brands are produced in convenient sticks or blocks, graded A to AA for fine texture and flavor, priced reasonably, and easy enough to find.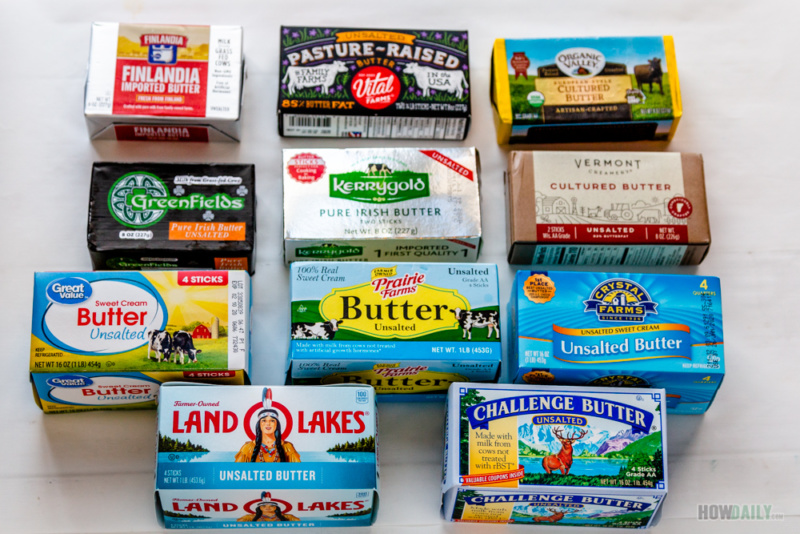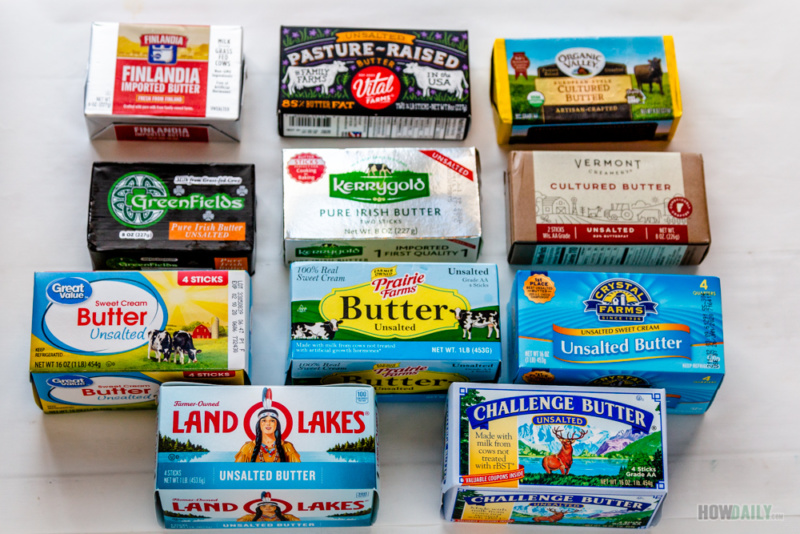 These butter are all purchased on the same days, store in a sealed airtight individual zipper in the fridge overnight. I will then do a fresh taste/flavor test immediately after taking out from the fridge and once again after softening at room temperature for 3 hours. They are also baked using the same recipes with other ingredients just to test how well they work for each task. So here are all 11 tested butter brands, in no particular order.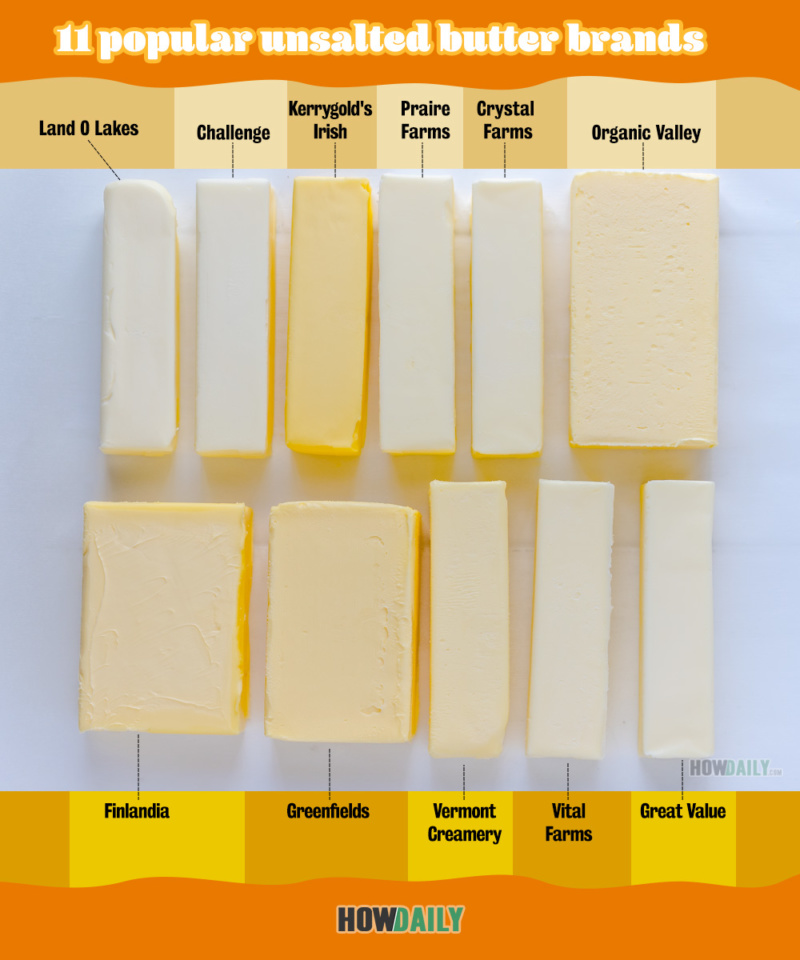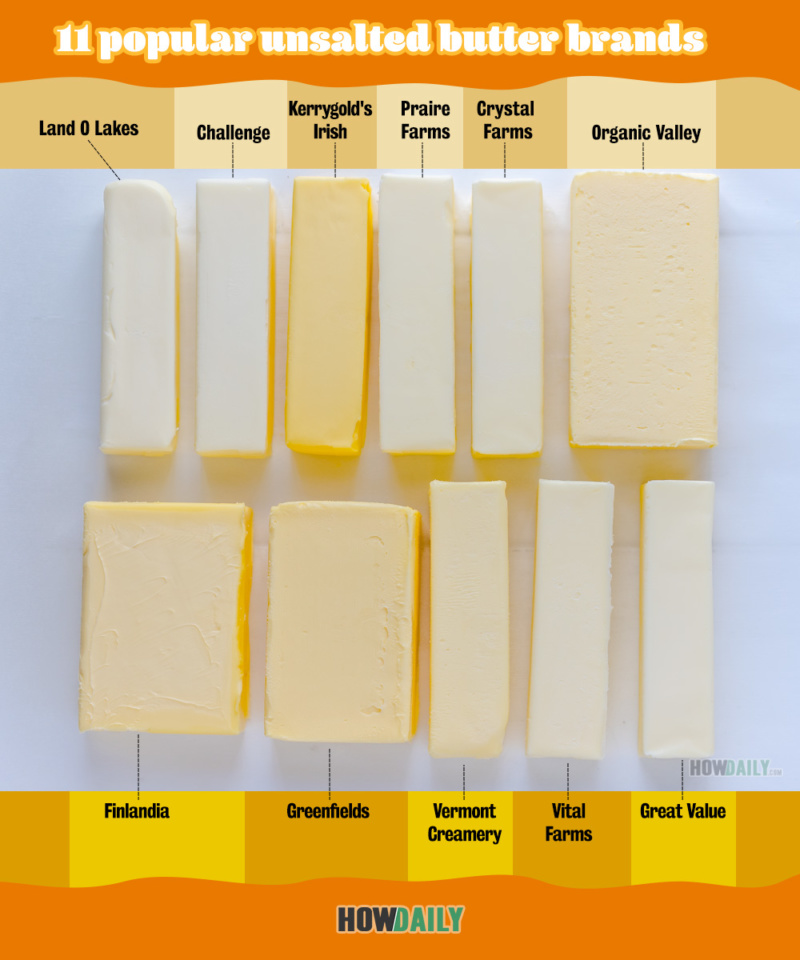 Popular & easy-to-find unsalted butter brands
1. Land O Lakes unsalted butter
One of the upper-priced butter on the domestic product lane, Land O Lakes unsalted butter is praised by many for its pale in color, crusty pie, and light texture cake.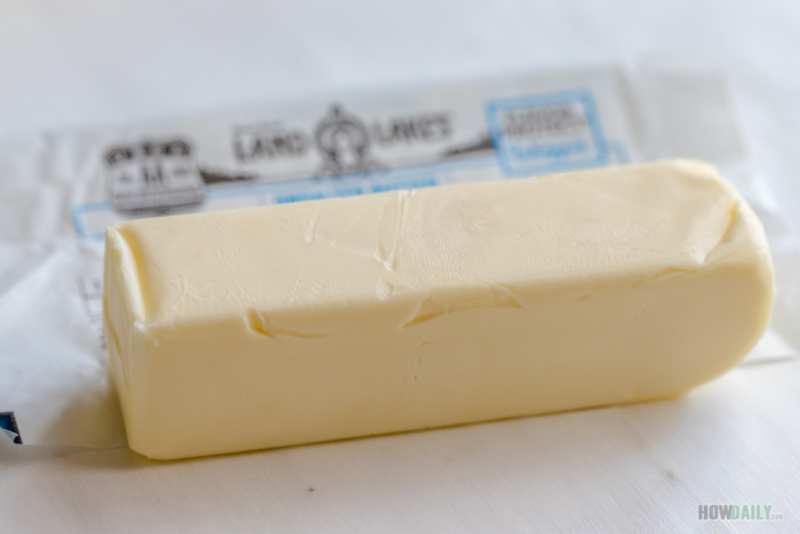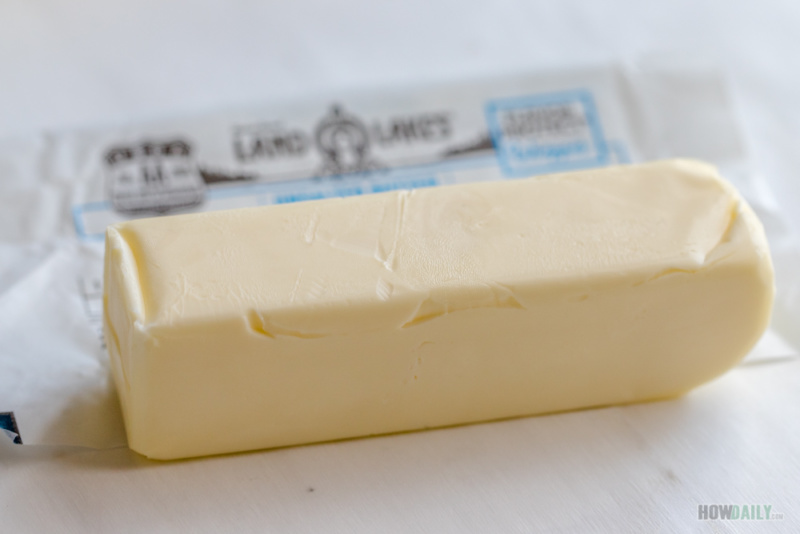 Land O lakes' unsalted butter contains pasteurized sweet cream (at 80% fat standard for American butter) and lactic acid for added cultured flavor. The taste is kinda bland to me, and the butter flavor is on the mild side.
When first taking out of the fridge, its texture is not as smoothly soft compared to those European style butter due to the lower fat content. But nonetheless, a pretty solid choice for baking as it produces one of the best crusts for pie and cream puff and recipes like that.
Land o lake also one of my go-to butter for simple white buttercream and sauce that required a balanced flavor. This is because the bland taste in Land O lake butter would not mask out any other ingredients while still providing some subtle hint of butter. Plus the brand is easy to find enough, light in color, and conveniently sticks packed.
Price currently is at $4.44/lb, might vary between stores and region.
2. Challenge unsalted butter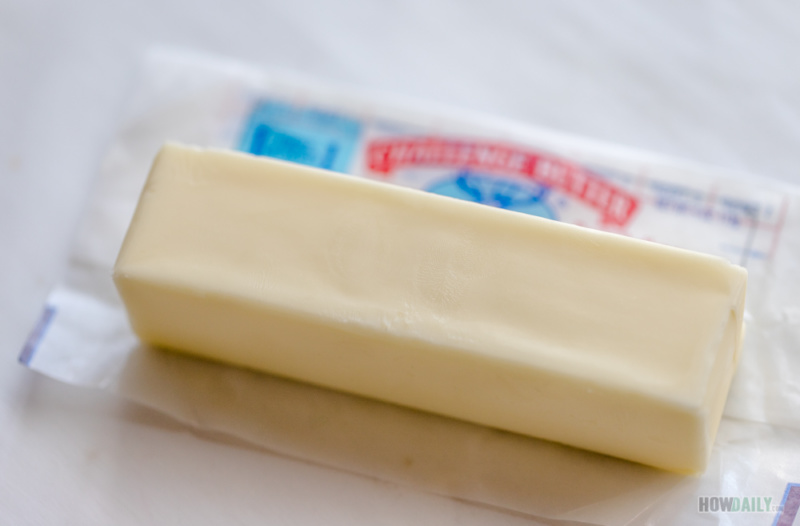 Comes in similar price range or sometimes 20-30 cents lower than Land O Lake, Challenge's unsalted butter is a good choice for general baking purposes too.
As shown in the comparison picture, Challenge butter is one of the two lightest shade. Flavor-wise, like most American style butter, it's pretty bland and mild. The sour flavor is mild enough that you can neglect it. Of course, fat is at 80% for standard grade AA butter.
Challenge also has a line of European style butter that is at 83% and cost about $3.48/8oz sticks. Taste and flavor are fine, but it's missing some of the bolder flavor and easier to fade away as compared to some of my favorites. Could be due to shelf-life, cause you know, butter flavor, taste, and aroma are really affected by how they are stored, displayed, shelf lives…
3. Kerrygold Pure Irish butter
Kerrygold's Irish butter, imported from Ireland, has been so popular in the States recent years, you could find this brand everywhere from online to local.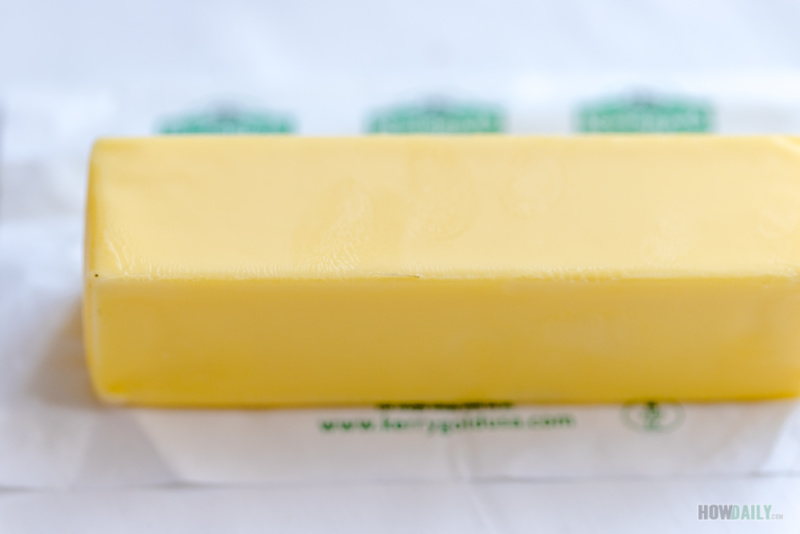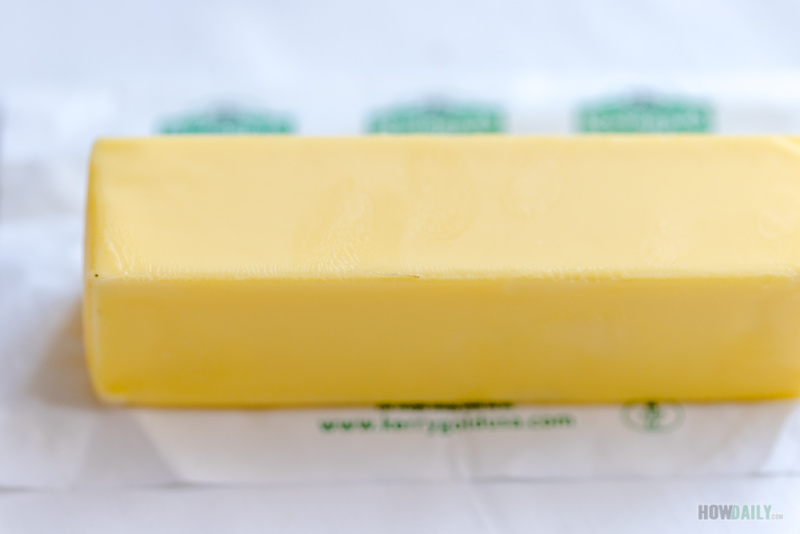 Kerry butter is vibrantly yellow, the darkest golden shade of all the unsalted butter we're comparing to. Per Kerrygold's disclaim, it's made from free-range grass-fed cow milk without growth hormones at 85% fat content. Nice thing is, Kerry's butter contains no additive, just pure sweet cream.
This enables Kerry's butter to be super smooth and creamy right off the fridge which is extremely good for spreading without the need to soften beforehand. Its taste is so rich with a very subtle hint of sour-cream. The buttery scent is so bold and flavorful, guess that's due to grass-fed cow's source.
Baking wise, Kerry's unsalted butter performed really good on high-rising & moist cake, flaky pastry, and evenly crust cookie. It definitely works well for any recipes that need the extra buttery flavor like thick butter sauce, coating, etc.
It also makes one of the best buttercream taste and flavor due to it's smoothing soft texture and flavorful sense. The only drawback is it's just too yellow for any color-correctional attempt.
The price at this time is about $3.44 per 8oz sticks packed, which is about twice of generic store brands.
4. Praire Farms Butter
Praire Farms is a USA based dairy inc, to which they're committed to no growth hormones, animal care, sustainability, and free of antibiotics on their products.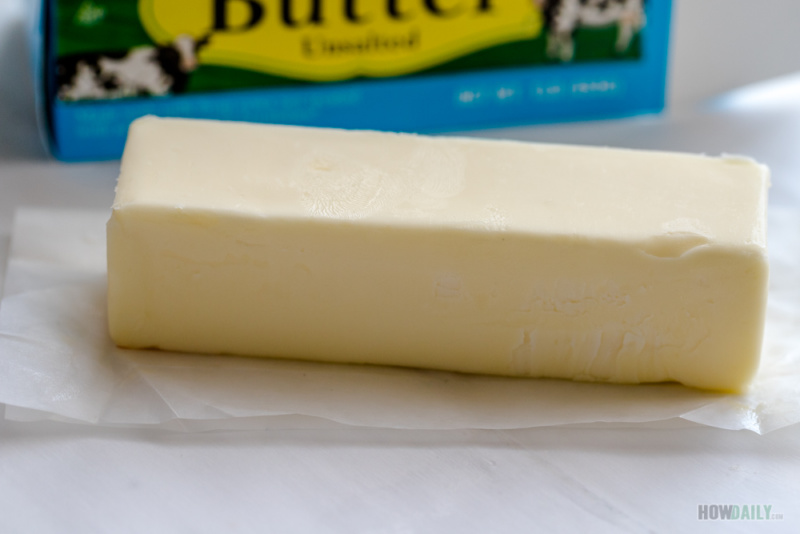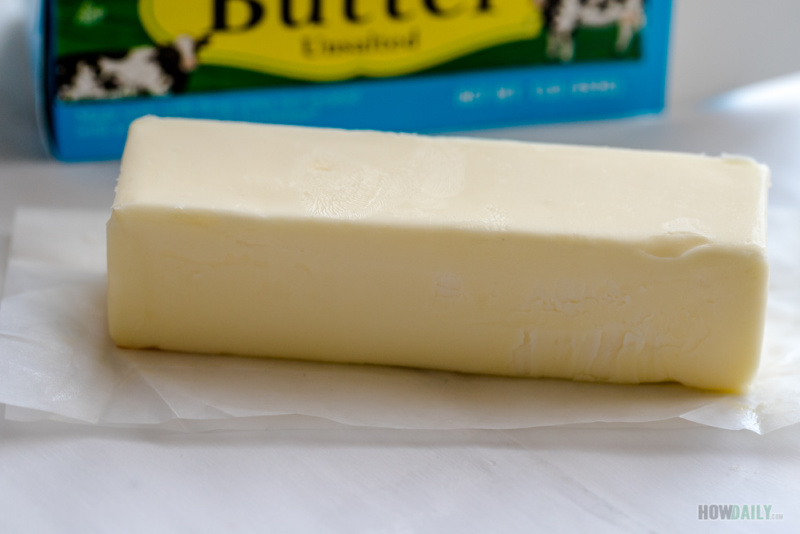 Similar to other American butter farms, Praire Farms unsalted butter comes at 80% fat, light color (a bit darker than Challenge and Land O lake), bland taste…
Their price is a pretty budget at $3.99/lbs, which is a tad bit lower as compared to Land o Lake and Challenge. This will fluctuate depending on the season and store location; however, a pretty budget choice for tasks where the butter flavor is not that important.
5. Crystal Farms unsalted sweet cream
Another budget unsalted butter from the USA based local prairie: Crystal farms. This one is so similar to the Praire Farms above, almost hard to distinct.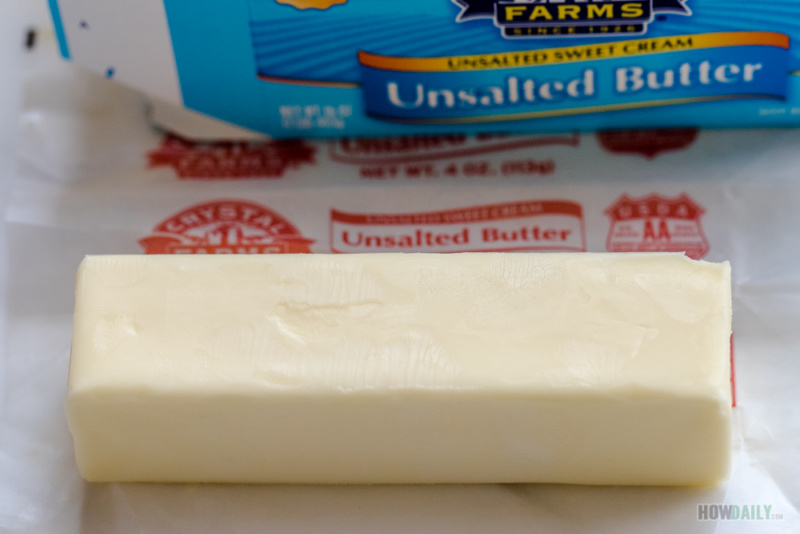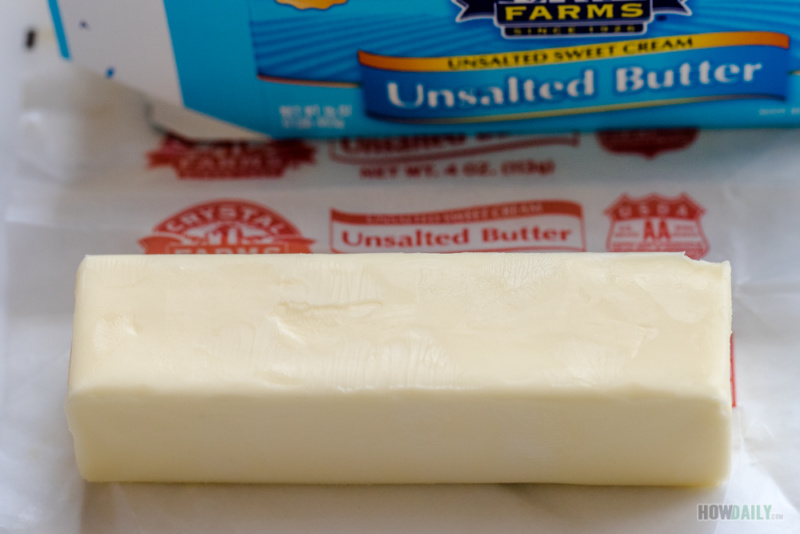 Price is the same at $3.99/lb of the unsalted sticks, and available at many Walmart stores and its affiliate.
Baking wise in general, it would be comparable to Praire Farms or Great Value (the store's brand). I would say its crust is a bit less in holding compare to Land o Lake or Challenge.
There's no information about milk sources referring to grown hormones, antibiotics, organic, or similar.
6. Organic Valley European-style butter
If you really care about your dairy products to be organic, then this is it. Organic Valley's butter is all made from non-GMO, hormone-free, pesticide-free, and USDA organic milk sources.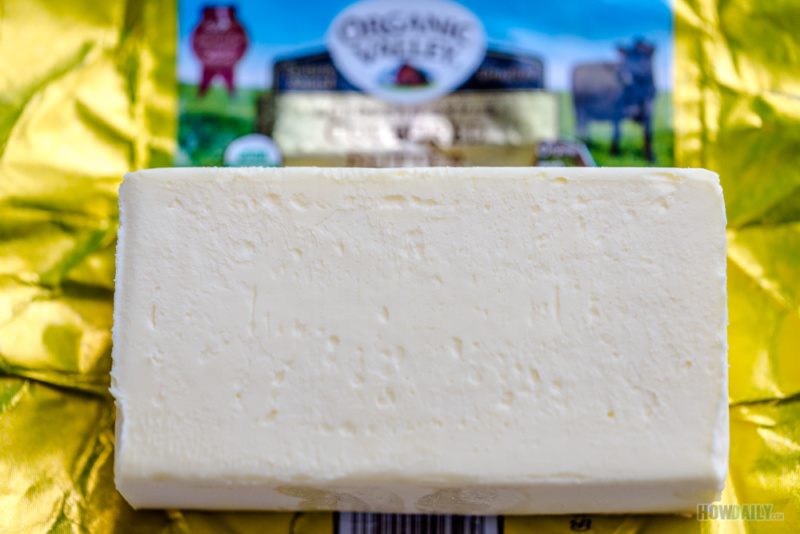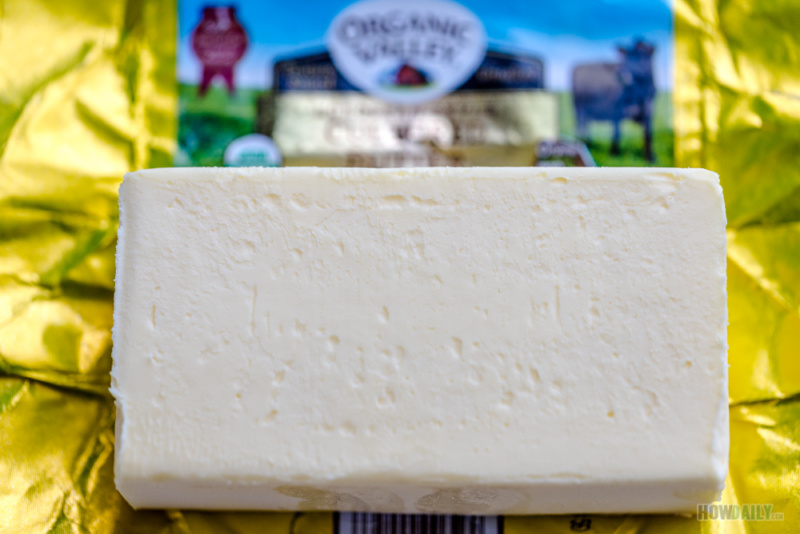 Their artisan line, which is for European style butter is rich at 84% fat, and taste super creamy with loads of butter flavor and mildly yogurt's sour. The butter is added with imported European cultures before churning.
Tastes are rich, I would say not as bold as Kerry Gold but its color is one of the lightest in European style butter we're comparing to. This makes Organic Valley European butter a perfect pick for baking projects that need precise color.
Organic Valley also carries a line of grass-fed butter (the green label) that may be seasonally available at your local store or online.
7. Finlandia Imported butter
One of my favorite of the grass-fed butter, Finlandia Imported unsalted butter are made from milk that is free of artificial hormones and GMO ingredients.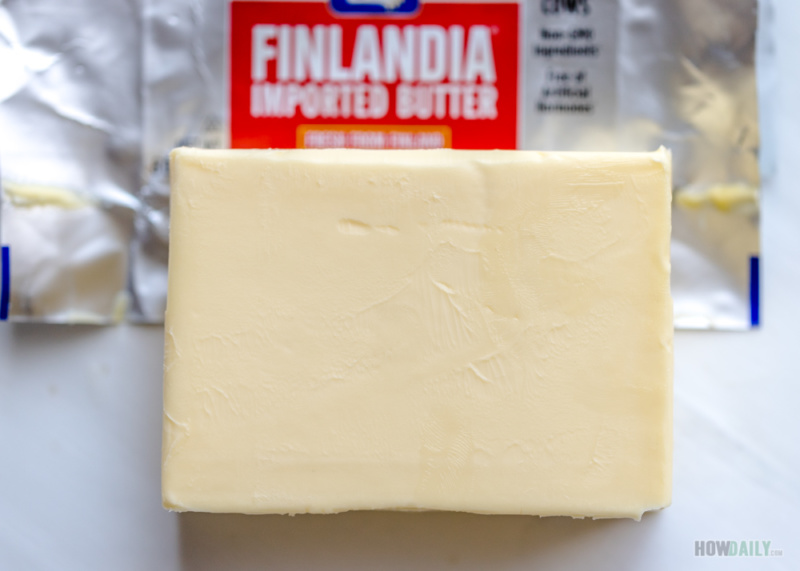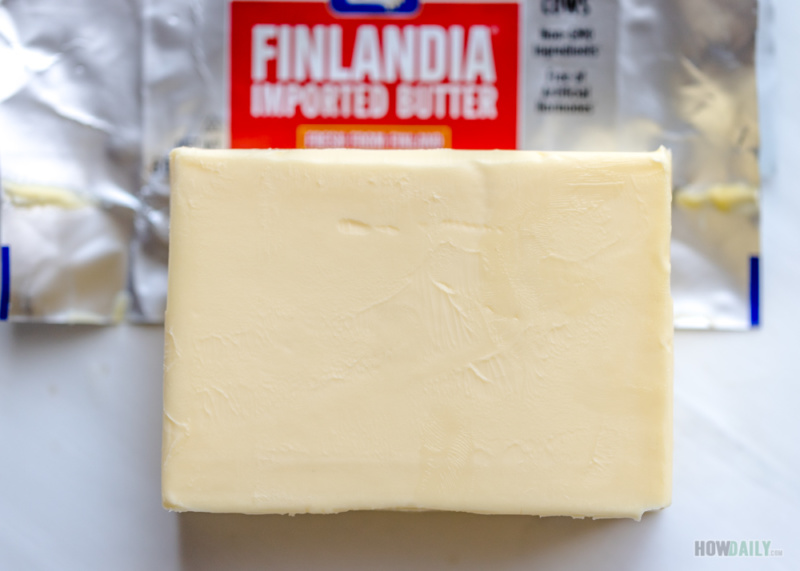 This butter is cultured so you have that benefit. It's pretty smooth and spreadable right out from the fridge. The scent it's giving off is similar to that of Greek yogurt, and the color is medium yellow.
Overall, a perfect butter to spread, whip or bake, as its fat content is situate around 85%.
8. Greenfields Pure Irish butter
Another grass-fed Irish butter, this Greenfields Pure Irish unsalted butter has its flavor so bold and buttery, that I would say even bolder than Kerrygold.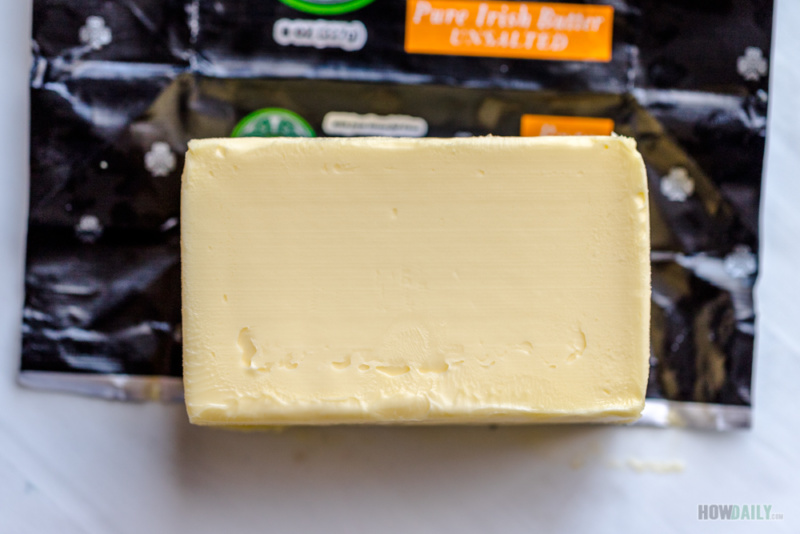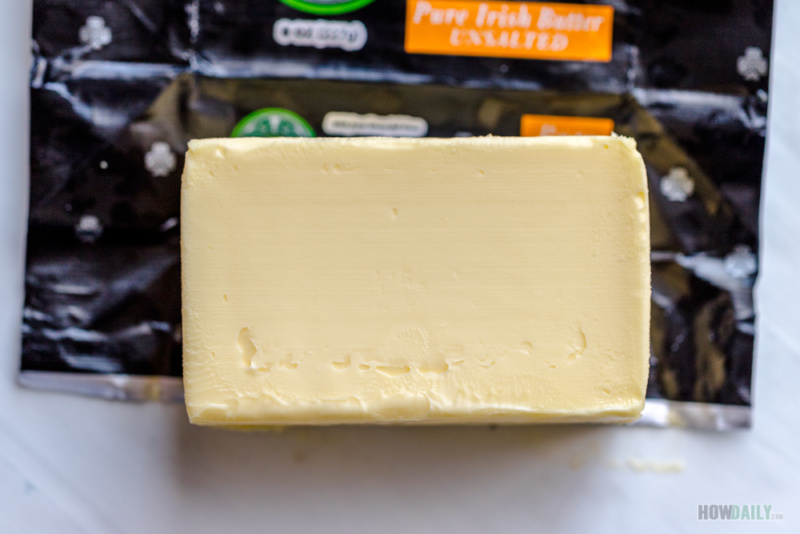 Price is comparable to Kerrygold, there's no added flavoring or anything, just pure pasteurized sweet cream.
The only drawback is since it's only available on blocks, it's just too creamy soft (which is good) but kinda harder to re-wrap it every time. This issue is similar to most other European style butter that is only come in foil or wax paper, without a carton to support. So instead of just zip lock, these butters required some extra care like a solid airtight container.
9. Vermont Creamery Cultured butter
This is also one of my favorites, but also more on the luxurious high-end butter. It's soft, fine with smooth and rich taste even being unsalted.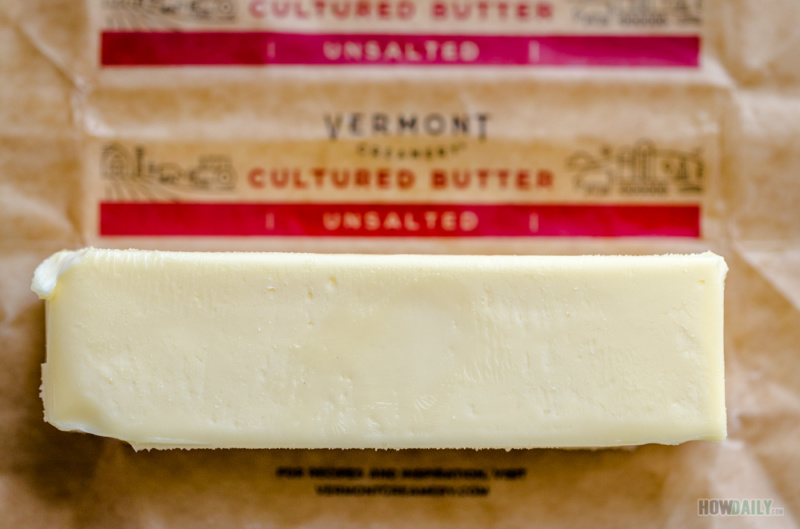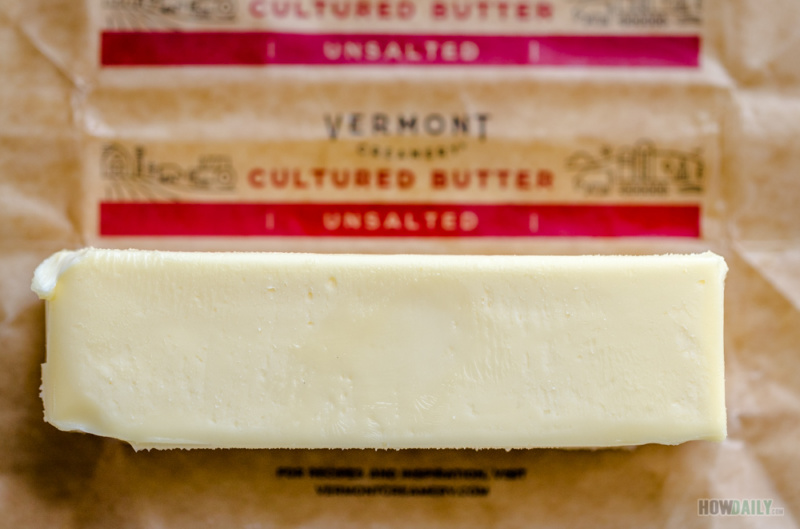 US-based Vermont Creamery produces two versions: butter sticks of 82% fat, and the European style roll in 86% fat. Both are delicious, though of course, the sticks are a tad bit easier for measuring, while of course, the roll is nicer to spread, bake and whip buttercream.
This butter is added with lactic culture before churning through the night. It is of course from rBst-free milk source and antibiotic.
Price is around $3.49/8oz sticks for the American unsalted and $7.99/8oz roll of the European style butter. The color is pale, not as light as Challenge, definitely need some color correction if you want white buttercream, white cake…, but it's still a lot easier to adjust as compare to Kerrygold
10. Vital Farms pasture-raised butter
This unsalted butter is so well-round and has become my recent go-to. It has 85% fat content, which is great for any baking, spreading, glazing …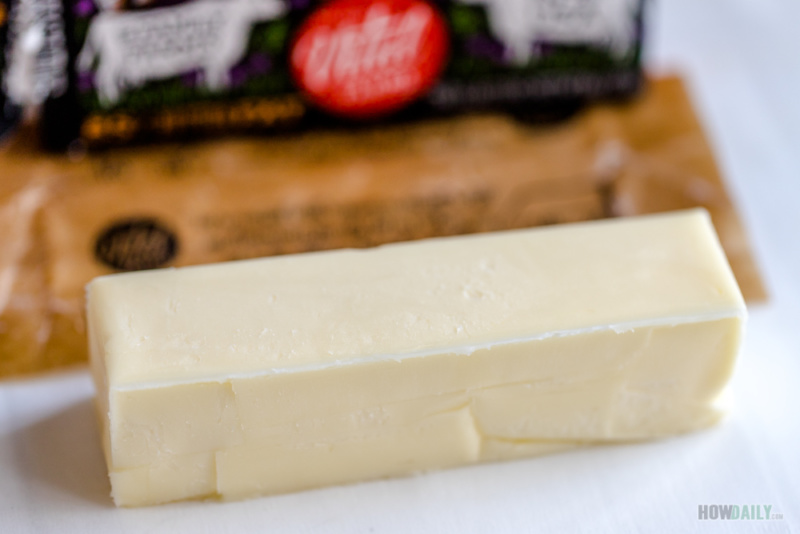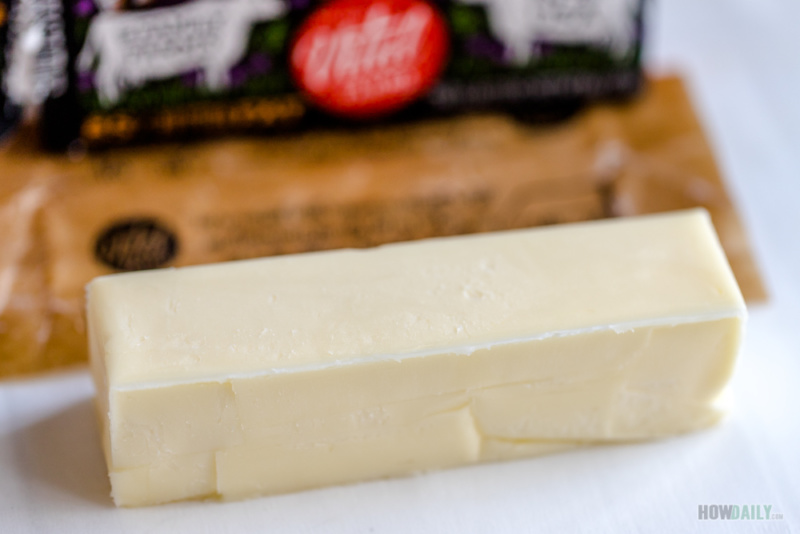 What great is that this butter is sourced from cows that are pasture-raised, free-to-range, and naturally feed (mostly grass). They even go further to make sure the grass/feeding is free of antibiotics and hormones. The butter is churned through the traditional method, the slower process without adding any additional flavor.
This butter is super great on sauce and recipes that required the butter flavor but still need the balance of everything else.
11. Great Value (Walmart store brand) Sweet cream butter
As the price of butter's increasing year-after-year, most major stores like Walmart, Meijer, Kroger… now carry their own brands, which is often the lowest price in their dairy aisles.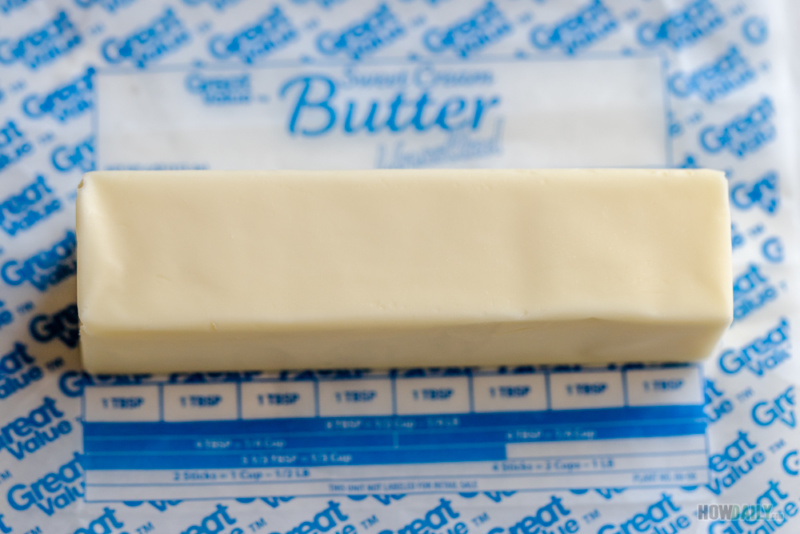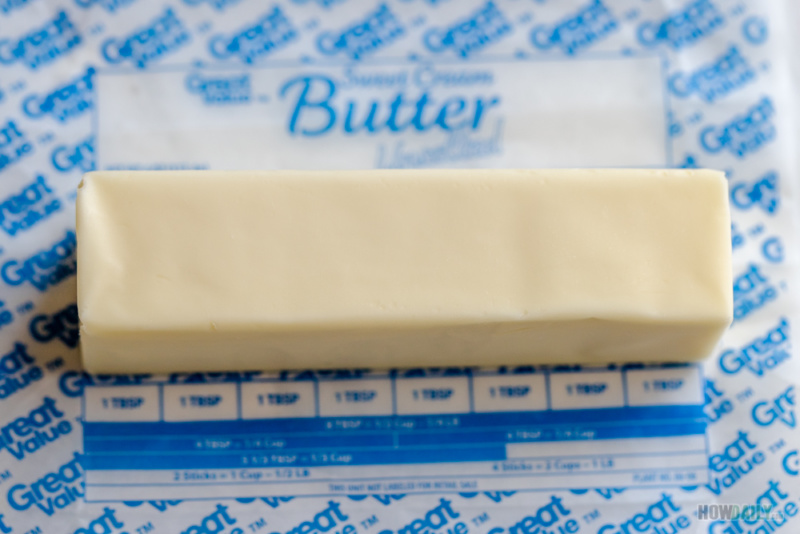 Budget-wise, this will be the cheapest price butter you can find for any store trip. For example, at the time of this post, the unsalted sweet cream butter from Great Value (Walmart brand) is only $2.98 per pound (similar to Countryside butter at Aldi), which is nearly $1 to $3 lower than most other brands.
Typically, there's no hint of milk source, fat content or whatsoever on the package. These butter are AA grade, so they all have a fine texture. Color is on the paler side with a very little hint of yellow, almost as "white" as Challenge or Land O lake. Taste-wise, they are not as creamy and rich as the upper-priced ones, however, depend on your needs, the differences are not that noticeable.
Our picks for Best butter for pastry, baking and sweet goods
Butter adds the richness & creamy flavor/taste to your cakes, cookie, and cream that can't be mimicked by other substitution. Butter also helps in soften up/lighten the inside of your bread/cake. Other uses include raising dough, batter or to glaze food before/after cooking.
So after sampling and reviewing the 11 unsalted butter brands (listed above ) here are our choices and ratings. Note that all the information below is based on personal experience and preference. There are just too many corresponding factors that would alter the result's taste and quality.
Best butter for buttercream: Vital farms pasture-raised butter
There are many factors determining the best butter for buttercream: color offset, butter flavor, subtle after taste, creamy level, milk source quality…Typically any higher fat content, grass-fed milk-source would taste great as buttercream, cause they're the creamiest, soft, and rich enough to eat raw.
Vital farms pasture-raised unsalted butter come out at the top for us mainly due to its flavor, texture, and how creamily soft it is. Its fat content is at 85% and since it's not cultured or added with additives, its overall light hue…all of this help it to raise on top.
Kerrygold, Organic Valley, and other European styles unsalted butter are great to the taste of buttercream too. However, their bolder color, flavor, and other variables demote them down to a more specific situation: cultured butter works better on my yogurt buttercream recipe while Kerrygold seems better in Italian cream for example.
The only exception is for the recently developed Korean-style buttercream, which is more or less the variation of French and it required absolutely white & translucent butter. The closest I could find to fit is Challenge and probably Land O Lake too. Though you with need a little bitsy tip of purple to counter the very light yellow in them.
Best butter for crust, puff, pot pie and similar baking: Land O Lake
Actually, this comes out as a tie between Land O Lake and Challenge. Both produce crust so crispy and delicious while the inside is very light.
Other American butter work great in this role as well, just take your pick.
Most Budget unsalted butter that get the job done: Great Value(store brand) unsalted butter
If your goal is just the most budget-possible for butter, then stores' brands are the better choice. They're available year-round at the lowest possible price(without considering sales or clearance) at many major stores.
I found that Great Value (the brand for Walmart) or Meijer butter seems to work fine on baking flaky and crust goods. They also great if you just want to use as melting (oil) or quick butter sauce that requires other spices and herbs to balance out.
Some farms' butter brands like Crystal farms and Prairie Farms do have their butter at quite a low price as well, and on sale event, they might go even lower than the generic store brand.
Best unsalted Butter on the table and everything else: European butter
This is just so hard to pick, so I would say depending on the time of the year, availability, and the taste you're going after. There is a tie for Vermont Creamery for their 86% cultured butter, Vital farms for the non-culture pure American butter, and Organic Dairy Artisan butter.
Then a cycle between Kerrygold, Greenfields, and other European style imported butter brands depends on the season, price, and availability. Though Kerrygold is often used more since they're just available everywhere and strong enough to glaze on anything.