Want to save all your harvest or overstock fresh produce? Aside from canning, you can turn those into delicious chips, flakes, or dried food using a food dehydrator. Jerky? Backpacking? Pet-treat? No problem! There are lots of brands and models on the market with loads of features, but here are our selections with Pros and cons on 6 best food dehydrators that do the job well and fit many home uses. Read on to the very end for our food dehydrator guide on how to choose, general using, comparisons, and recommendations.
Reviews on the 6 best food dehydrators for the home
Best food dehydrator on market for the home kitchen
1. Excalibur 3948CDB 9 trays deluxe with timer
PROS:
600 W rear-mounted fan for even drying, no need to rotate tray
Commercial Quality 7" fan motor, expected 20 years lifespan
Digital control temperature from 95F to 165F
48 hours timer for longer timing control
2 timer and temperature settings to fit more recipe
Clear door for easier monitoring internal progress
Shelves design allow removing finished trays without going through the stack
BPA free on square plastic tray, removable for larger food items, yogurt, cheese…
Faster drying time with Paraflexx variable temperature drying sequence
Made in USA with 10 year limited warranty from trustworthy brand known for their promptly service
Nice preserve it naturally book is included with recipe and accompanying instructions
CONS:
Loud and occasionally rattling noise reported by some users
Only fine mesh trays included, have to buy extra silicone liners or use parchment
High cost
Best food dehydrator for general use
2. Nesco FD-75A snack master Pro food dehydrator
This model, the Nesco Snack master FD-75A is a 5-trays basic dehydrator with 600 watt top-mounted fan. That mean you could always add more trays if needed later on (12 trays max). The down side, any trays beyond standard and you will have to rotate them in between, due to uneven air flowing. This model comes bundle with 2 fruit roll sheets, 2 clean-a-screen, recipe book, thus, for a first timer or smaller batch, you probably don't have to buy any extra accessories.

PROS:
Adjustable thermostat from 95F to 160F with printed guidance, dehydrate anything
BPA free plastic trays
Trays are expandable, future-proof
Recipe and Accessories included, no need to buy extra
Moderately quiet
Inexpensive
CONS:
Temperature is not precise per control
Due to design, can't dehydrate large items or use for other purposes
Round tray design, smaller actual drying capacity than stated
Long drying time compare to higher quality model – of course
Have to turn off machine, re-arrange when need to take out 1 stack or more
Multi features food dehydrator at a reasonable price
3. Magic mill 9 tray stainless steel food dehydrator bundle
This dehydrator also came bundling with extra plastic sheets such as fine mesh and leather trays for fruit rolls, so no need to buy extra. Available in 6 and 9 trays size models.
PROS:
600 W Rear mounted fan
8 digital preset temperature from 95F to 158F
Digital timer with automatic shutoff to control drying time up to 19.5 hours
Shelves design for quick and easy operation
BPA free on everything: racks, door, mesh, etc.
Quiet operation
Stainless steel drying racks, very easy to clean
Rectangular shape (13"x12") racks
Adjustable height on both (6 or 9 racks) models
Clear door to easily monitor progress
Thin dripping tray for catching debris that could also double as another fruit roll up
Accessories included: 1 fine mesh, 2 fruit leather sheets, 1 hanging rack and oven mitts set
CONS:
No recipe include, no instruction for dehydrating any foods
Longer drying time compare to others shelves design dehydrator
Limited warranty service, only 1 year for such price
Quality and durability are what to be desired
Best commercial dehydrator quality for the home
4. Excalibur 2900 ECB 9 tray economy
If this is your first dehydrator, consider this dehydrator as it's so powered pack and would save you from many frustration. The shelves design definitely worth every penny, since it allows you to remove tray(s) for larger food items, fermenting bread dough, cheese, yogurt and bunch of other tasks that require constant precise heat.
Best thing yet, these are made in USA with 5 years warranty from a very responsive vendor that is well known for its reputation. Thus, if you have some to spare and want a dependable dehydrator, try this Excalibur. A cook book and a few extra silicone mats are what you will need to purchase extra to make fruit rolls or puree leather.
PROS:
600 W rear-mounted fan for even drying, no need to rotate tray
Quality large 7" fan motor, expected 10 years lifespan
Dial to precisely control temperature from 105F to 165F
Shelves design allow removing finished trays without going through the stack
BPA free on plastic tray
Rectangular shape (14"x14") racks (9 trays = 15 sq ft)
Removable racks for larger food items, yogurt, cheese…
Faster drying time due to variable temperature drying sequence
Made in USA
5 year limited warranty w/ promptly service
CONS:
No recipe or cook book include
Loud and occasionally rattling noise reported by some users
No fine mesh or leather sheet include, have to purchase separately
Most budget dehydrator that get the job done
5. Presto 063 dehydro electric food dehydrator
The basic model defaults with 4 trays and can be expanded up to 8 trays max. Just a very simple dehydrator, just slice some fruits evenly, arrange onto trays, stack and plug-in. The capacity is on the smaller side, as is 8 medium apples per 4 trays.
PROS:
Very cheap price
BPA free on all parts that touch food directly
Clear lid for easy view inside
Expandable up to 8 trays
Cord stored in base
CONS:
Accessories like mesh screen and fruit roll sheets are not included, have to purchase separately
Only one 165 F preset heating, not adjustable, actual temp varied 135-145F
Lack of low temperature dehydration for herb and veggies
Bottom mounted motor fan in unprotected casing causing disaster if liquid accidentally spilled on
Longer drying time
Quality and durability are what to be desired
Largest capacity food dehydrator
6. Nesco FD-1018A garden master dehydrator
This Nesco Gardenmaster FD-1018A model comes with 8 plastic trays and can be expand up to 30 trays. This means that you can dehydrate at max 30 sq ft of fruit/veggies at the same time. Of course, same as any bottom-mounted fan, you have to rotate the tray a few times to ensure even drying. The bundle included all necessary accessories like fruit roll sheets, non stick screen, so you don't have to buy anything extra.
PROS:
1000w rated motor with auto drying pressure adjustnment
Adjustable thermostat from 95F to 155F
BPA free plastic trays
Trays are expandable, future-proof
Extra large capacity, expand up to 30 trays max (30 sq ft)
Recipe and Accessories included, no need to buy extra
Moderately quiet
Affordable price for such a large capacity dehydrator
CONS:
Due to design, can't dehydrate large items or use for other purposes
Round tray design with center hole, smaller actual drying capacity than stated
Have to remove the whole stack when need to take out 1
Have to use all the trays (even empty one) in any batch processing or getting overheat
Long drying time compare to other high quality dehydrator – of course
Many complains on short lifespan despite being made in USA
Why should you dehydrate food or dehydrator benefits
You have heard of dehydrator many times but still not convincing of getting one, these are the many benefits that you might have missed out.
It's proven that some, if not all food lost some of their nutrition when being cooked. That is why there is a trend on a raw food diet, which many considered to attain the most out of their food and veggies. Food dehydrating is one of the best methods to preserve the food of all vitamins, minerals, and nutritional benefits while making it tasty too.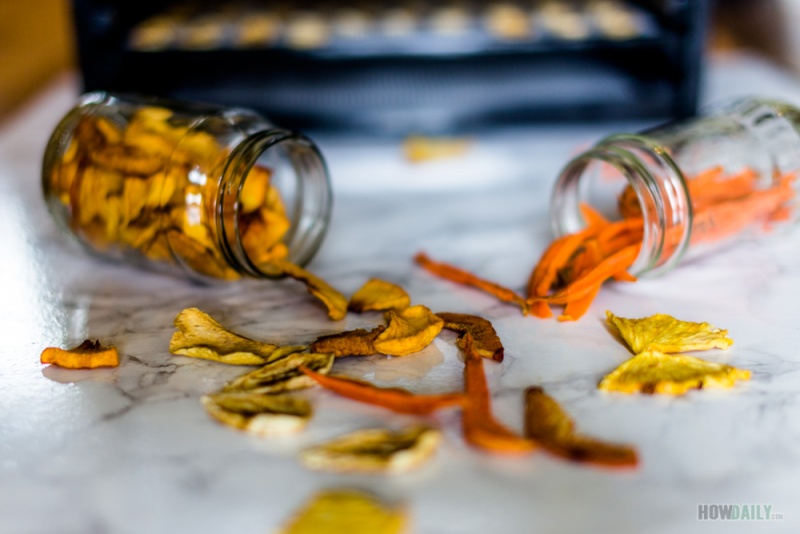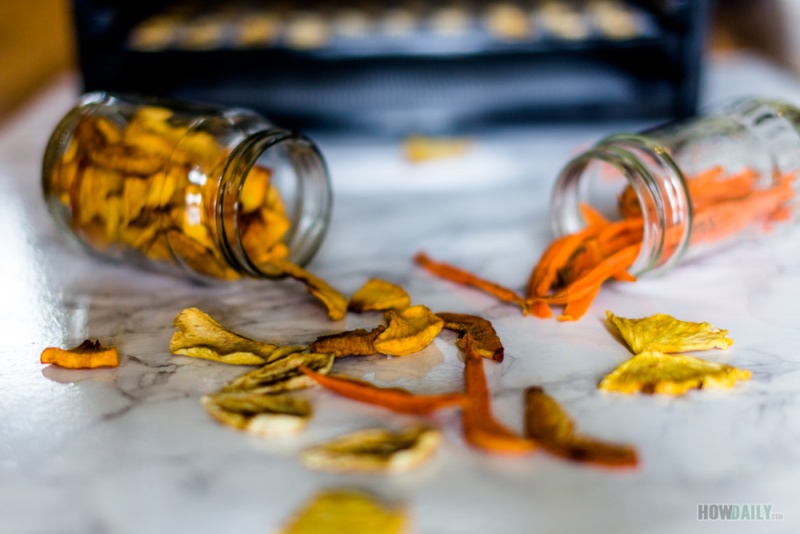 Another major benefit is the ability to preserve food much longer, without any chemical or undesired additives. Once you dehydrate food right, it can retain all of its nutrition for 2-3 years with proper storage and all. So, if you have a garden or patch of pumpkin, tomatoes, strawberries… turn them into a yummy treat by dehydrating. It's so tasty and could go side-by-side with your usual canning too.
For those who are active (camping, backpacking, work out), you might find that a food dehydrator will help you so much by drying the whole meal or soup effortlessly. You can also dry and ground ingredients into powder to blend into energy drinks. No need to buy that expensive power pack again, just imagine how much you would have saved.
How to choose the best food dehydrator for you and your family
These days on market, there are tons of brands manufacturing food dehydrators. Of course, not all food dehydrators are built the same, so depending on your budget, let take a look at some of the factors that are values toward your decision.
Stack vs. Box/shelves design
Home food dehydrators are typically fallen into two designs, a vertically stacked tray with one directly on top another or the boxed type with removable shelves. There are advantages and disadvantages to both designs, however, depending on your situation, one might be a better fit than the other. Here's a table to illustrate some differences and more descriptive information followed.

| | | |
| --- | --- | --- |
| Design | Stack | Shelves |
| Fan mount | Top or bottom | Rear |
| Capacity | 4 – 5 trays default, ~ 1 sq ft/tray | 4 trays(7 sq ft) – 9 trays (15 sq ft) |
| Expandable | 20 trays (top mounted) to 30 trays (bottom mounted) | No |
| Control | Analog | Analog and digital |
| Rotate tray | Yes | No |
| Tray shape | Round with center hole | Square/rectangular |
| Size | Smaller, some fit under cabinet | Bulkier |
| Maintenance | High, need to care for dripping and crumbs in bottom mounted component | Low |
| Est. Cost | Below $100 | $100+ to $300+ |
If you don't want to spend too much, then your choices are probably limited to the top or bottom -mounted design. In this design, heat is generated through the top/bottom mounted heating element then usually flowing vertically through a center hole of each tray. The good thing about this design is that you can expand its capacity to like 20 – 30 trays (30sq ft) if you feel the need later on. However, tray rotating is mandatory for any capacity goes beyond the basic. Another downside is the need for frequent maintenance, as food is dripping or bits falling down to the fan area. The top-mounted fan eliminated this issue, however, present more inaccuracy heat distribution and the need to stop and restart the machine for every tray rotation or removing.
The shelves or box-like design usually have more flat out all even temperature control. Due to the rectangular design without a center hole, each shelf in this type of dehydrator can carry more ingredients, up to 20-35%. This design also eliminates the need for high maintenance, just add some liner at the very bottom and you can virtually wipe off and go. You won't have to rotate trays/shelves and food still comes out in the same state. The downside is any dehydrator of this design would cost at least 100 bucks or more, and the size is fixed, that is, no expanding in the future. So you have to know how much your family would need beforehand.
Capacity & size
As you already have a budget in mind and known what type of dehydrator to get, let's look at the sizing. Just like with any appliance, always get a size step-up from what you actually need. It's better to have the ingredients spacing out a bit and roomy in a larger dehydrator then having to cramp them up or run a second batch. This is mostly due to the time consuming with an average drying time would be for hours to days.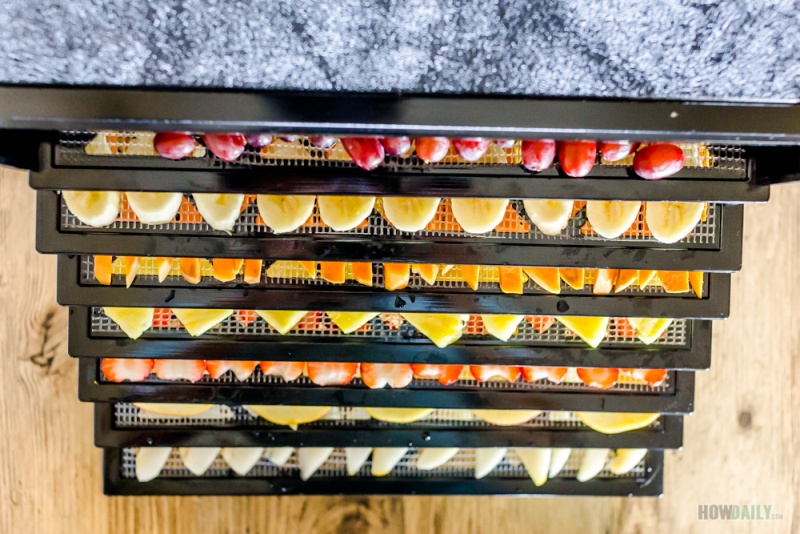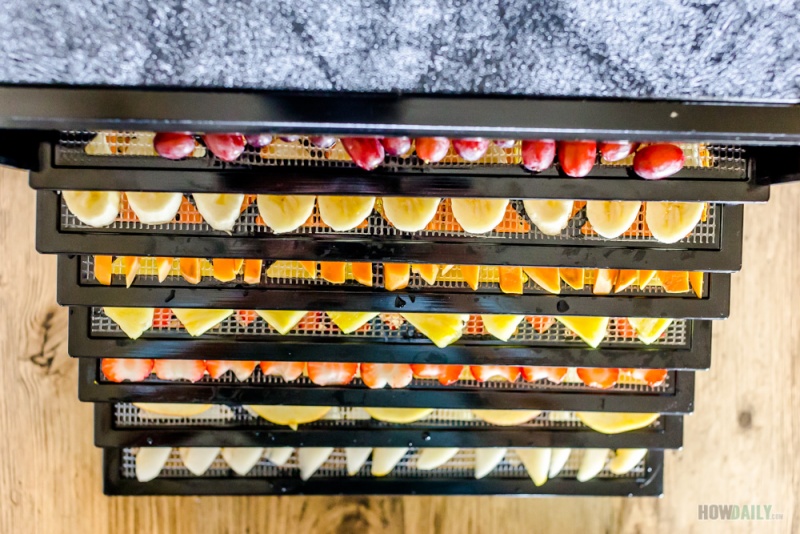 Depend on the ingredients, you could estimate the capacity need. For instance, 1 lb strawberries, 2 apples, 2 bananas, or 2 large tomatoes when slice and arrange would cover about 1 sq ft. So depending on how much you want to dehydrate in a batch, multiply to get your perfect fit size.
Capabilities
Other things to take into consideration are how often will you be dehydrating and for what purpose or what ingredients being used.
Let's say you often drying jerky, then a dehydrator with a high temperature of 160F or above would be needed. If drying herbs are mandatory, a machine with adjustable low heat is more fit the bill. For any multipurpose dehydrating, getting one with an adjustable temperature dial or control would prevent you from many frustrations.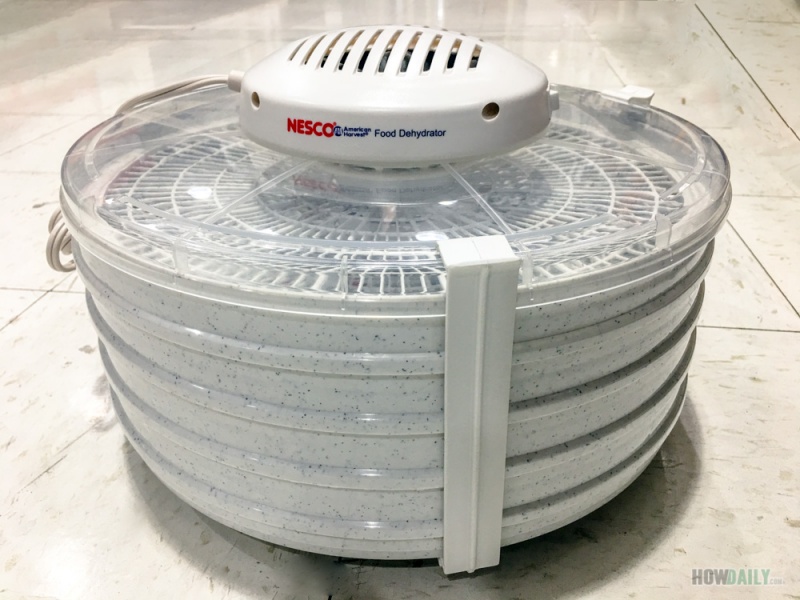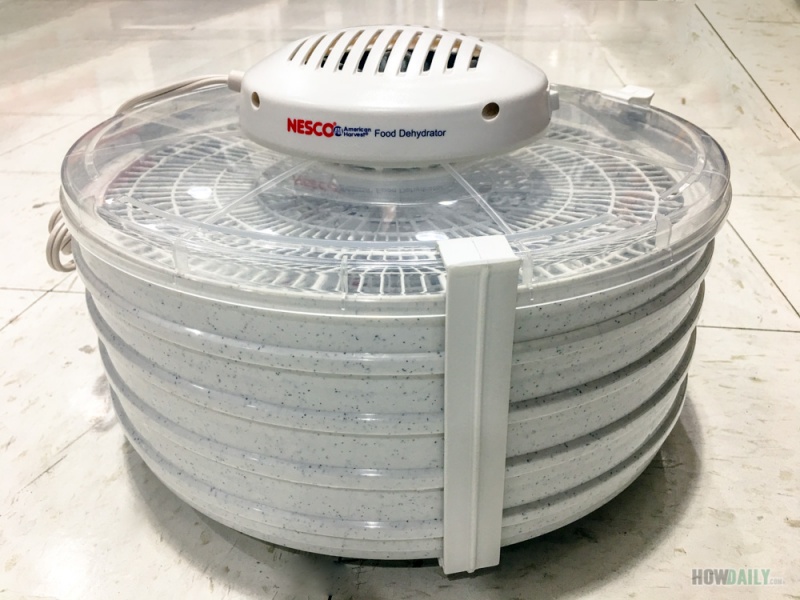 Then there also the timer setting with automatic shutoff that serves more or less for convenient purposes, after all, you don't want to wake up in the middle of the night just to turn it off, right?
Brands
There are several popular brands of home dehydrators that are popular. You might have heard of them like Excalibur, Nesco, Presto, Lequip, Sedona… Of all these brands, Nesco is one of the most popular among brands that produce economy dehydrators. Their dehydrators have been on the market for years, which lots of models, mainly a top and bottom-mounted fan designs. Their dehydrators are all made in the USA, though with the low price there are introduced, many are complaint on the short lifespan just past warranty. On the plus side, their dehydrators always come with the ready-to-use kit and bundle with all accessories and recipes.
Now, if Nesco stands out among economy dehydrators, then Excalibur is meant to be the king, just like how Kitchenaid or Vitamix dominating their respective ground. Excalibur manufactured all their dehydrators in the States, and back them up by a hassle-free 5 to 10-year warranty. A very trustworthy brand that is also well-known among commercial dehydrators. They have two lines of dehydrator: the economy 2900 and more luxury 3900 series (2400 & 3400 for 4 trays models respectively), both serve wonderfully for any serious home kitchen dehydration.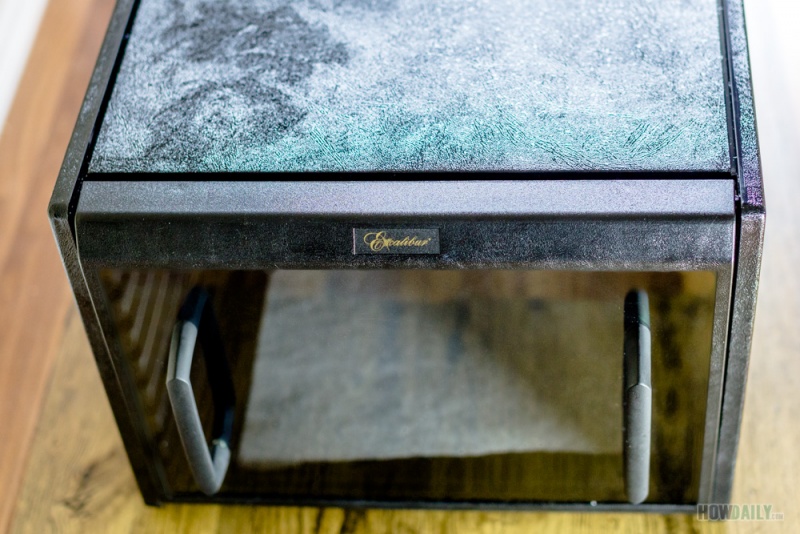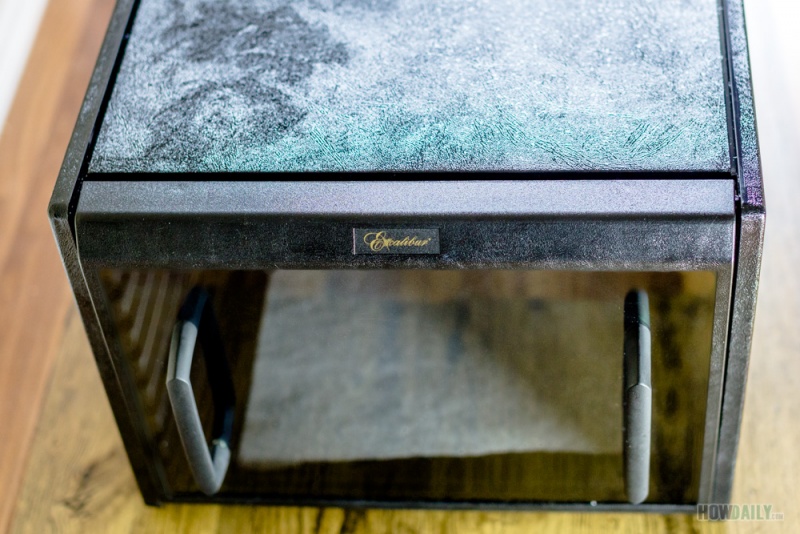 How to use a food dehydrator
Whether this is your first try or if you are an expert at dehydrating, it's a good habit to always start with reading the accompanied manufacture instruction carefully. Dehydrators built are different from one to another and some have different requirements to prevent overheat or other failures. So, after went through the manual, and you still need more info on how to use a food dehydrator, here are some general steps:
Prepare raw ingredients: wash, pat dry and cut into thin slices with uniform shape and sizes. Some foods need special pre- treatments like apples, banana, meat, etc.
Arrange onto trays: arrange all same ingredient onto tray without overlapping. Parchment lined or use silicone/nonstick mat for puree or smaller items like herb.
Set trays into dehydrator box/stack.
Make sure there is enough space on the back (box model) or on top (stack model) for heat ventilation around the dehydrator.
Set the temperature and timer if available.
Tray rotation or shuffling: some dehydrators, especially those designed with stackable top or bottom-mounted fan; do require shuffling the trays in between to ensure even dryness.
Once the food is done, store the finished dehydrated food in airtight container in a dark and dry area. Vacuum seal if available for longer storage.
Throughout this guide, hopefully, you will be able to find a good food dehydrator that will meet your need and option. Once you come to one, make sure to let it run/air for at least 30 minutes to release all the gas before trying your first attempt. Happy dehydrating and let us know how yours is doing, ok!!