A quick and easy recipe provided that you have all the ingredients, Mango Cilantro fried rice can be served as either side dish to the main protein or as a one-dish meal.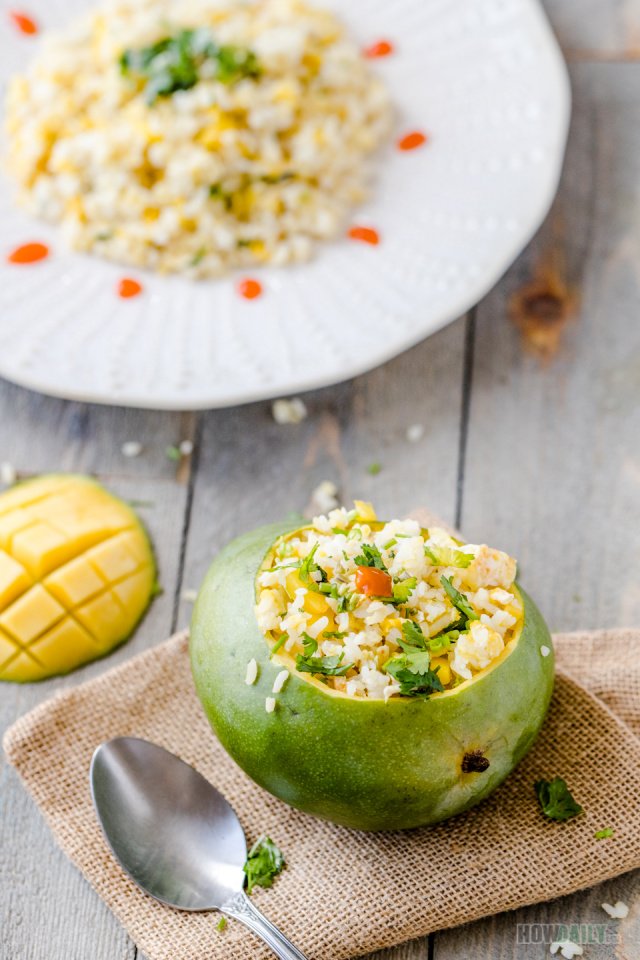 The flavor is light yet savory with cilantro, a bit sweet and tang of mango, and fulfilling w/ eggs. You can add any ingredients, but keep it simple and this dish is an easy charm.
The key to this recipe, like any fried rice dish, is to use leftover or cold rice. Long grain is the usual top pick for fried rice, however, as long as it's cold, any type of rice will work. In fact, in our demo, I even used medium grain rice, which is often stickier. The trick is, take out your best non-stick frying pan, the one that never touches "sweet" stuff or acidic food.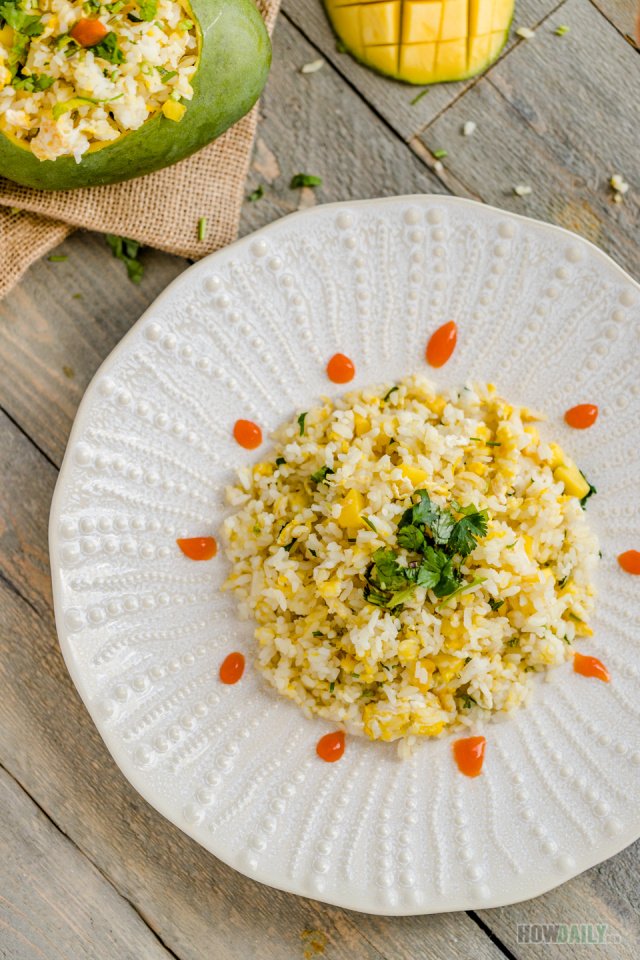 Non-stick wok or frying pan will be majorly helpful here, as it eliminated the need for extra grease or oil, thus less on the calorie and obviously doesn't add that fatty taste to the whole dish.
For the finishing touch, add a couple of drops of chili sauce, those will knot fried rice to a whole new level.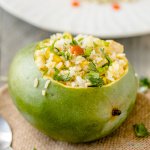 Mango Cilantro fried rice
Fruity Mango combine with cilantro fried rice to create a simple yet easy one-dish meal for a lazy day.
Print
Ingredients
2

cup

leftover rice

or cold rice

½

green mango

4

Tbsp

chopped cilantro

2

Tbsp

diced sweet onion

2

eggs

1

Tbsp

high temp oil

½

tsp

salt

2

tsp

seasoning powder
Instructions
Peel and dice mango evenly, set aside.

On the stovetop over medium heat, twirl and swirl oil to evenly coat the bottom.

Stir in diced onion, saute till soft.

Add "cold" rice, use a spatula to fold, and stir for 3-5 minutes.

Season with salt and seasoning powder as desired.

Fold and stir with spatular for another 3-5 minutes, use end to break clumps.

Add eggs, then fold and stir to mix until eggs are done.

Now add in diced mango, stir for another 2 minutes or so.

Stir in chopped cilantro, mix well and remove from heat.
Video