This is recreation over the usual spicy tuna roll, turning it into tuna lava sushi with Greek yogurt instead of mayo. If you like fresh tuna sashimi and can tolerate spicy Sriracha sauce, you will love this roll. It's creamy, tangy, umami, and fresh. This roll is for tuna-lover, as we're doubling tuna in both the filling and the spicy topping.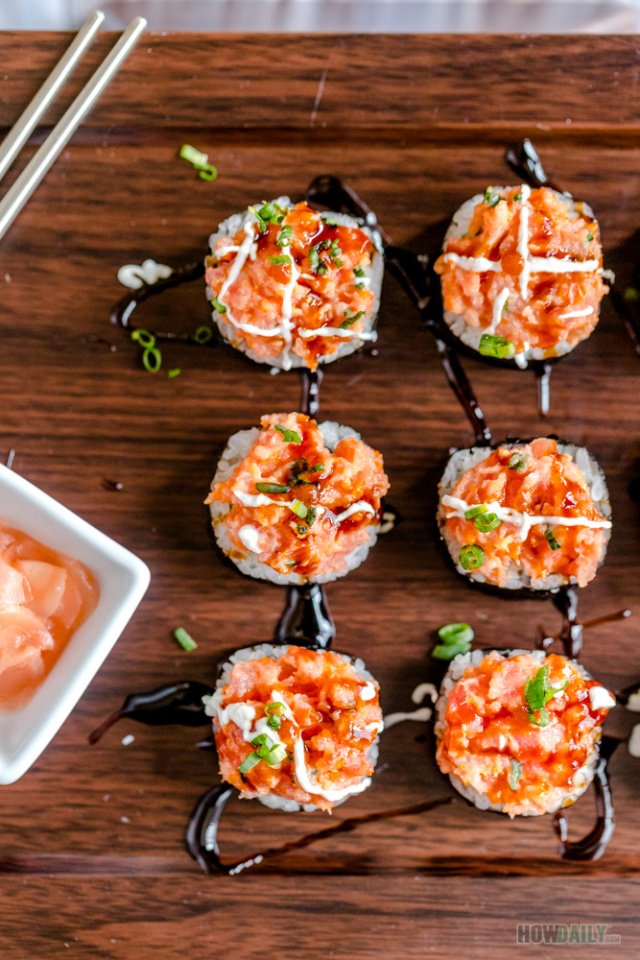 The roll is made up of simply 2 ingredients as filling: fresh Ahi tuna and avocado slices. As you know, Ahi tuna meat is quite firm and mild in flavor, while avocado is buttery and creamy. When rolling together, they create a nice contrast of red vs. green inside. With the wrapping white rice and black nori, each slice stood out enough on its own.
As you might have known, most spicy sushi employ spicy mayo as the binder and flavor enhancer. In this recipe, I used 1 tablespoon of plain full-fat Greek yogurt from our homemade batch. It's so thick, smooth and mildly tang which can perfectly bind the minced tuna and other ingredients well enough. In fact, I've been substituting yogurt into our salad, soup, and other recipes that requiring a binding agent.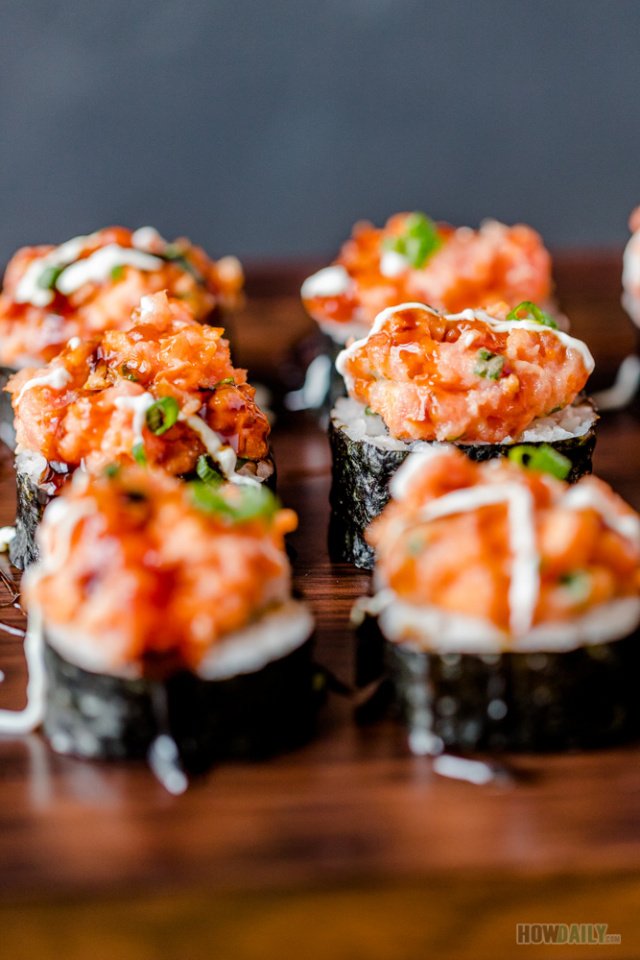 Back to the sushi topping, I also include chopped scallion (green part only), masago, and roasted sesame seeds. If you like your roll more savory, some salt can be added, though I would skip it since the pieces will be lather with unagi sauce anyway. Just use the same ratio of yogurt to Sriracha the same way you would with typical spicy mayo. You might want to make some extra spicy yogurt to drizzle at the end instead of extra plain yogurt.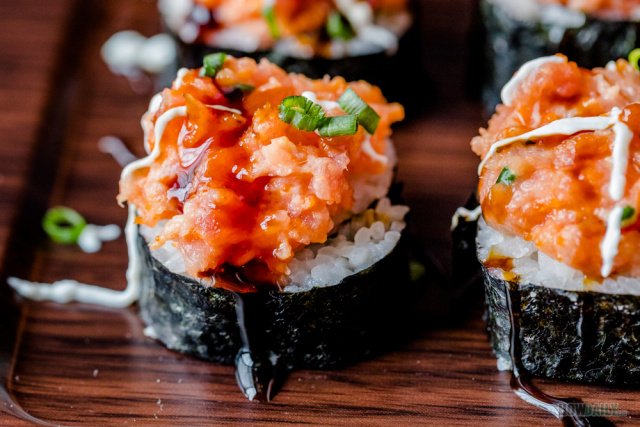 Once the roll is ready, cut into thin slices, 9 or 10 pieces instead of the usual 8. The mixed topping can be then spooned on top. Drizzle all your favorite sauces on top and sprinkle some chopped scallion as decoration.
The overall presentation is pretty nice, with flowing red topping on top of black&white sushi pieces. These sliced can be served with pickled ginger or ume to clean the palate.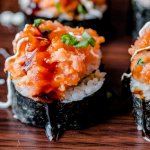 Tuna Lava sushi roll w/ Greek Yogurt
Spicy and tasty tuna lava sushi roll that could melt in your mouth with every bite. The piece of sushi is so creamy, yet delicious that you would want a second. Adjust the heat with sriracha and tanginess with Greek yogurt, no worry there's no mayo in this roll.
Print
Ingredients
4

oz

tuna

sashimi-grade, divide into filling and topping

1

cup

cooked sushi rice

1

tbsp

sushi vinegar

1

sheet

nori
Lava Topping
the minced portion of the above tuna

1

Tbsp

Greek Yogurt

plain

⅓

Tbsp

Sriracha

or chili sauce

1

tsp

masago

1

tsp

roasted sesame seeds

chopped scallion

green part
Filling
stick-cut portion of the above tuna

¼

avocado

slice
Glazing
Extra Greek Yogurt

Sriracha

or chili sauce
Instructions
Cut tuna into ½-inch-width long sticks. Divide and set aside enough to make the filling.
Lava Topping
Combine all the topping ingredients with minced tuna. Whip with a fork to mix them well.

Set aside or chill for 10 minutes while you're preparing the base tuna roll.
Base Tuna-Avocado sushi roll
Season cooked sushi rice with sushi vinegar.

Spread rice onto a sheet of nori over a flat surface or bamboo mat.

Arrange the tuna filling and avocado slices.

Lift, tuck, and roll starting from the nearer end.

Cut the sushi roll into thinner slices.
Crafting together & Serve
Place sushi slices onto a serving dish with either of the cut surface facing up.

Spoon Lava topping on top of each slice.

Drizzle with extra unagi sauce, yogurt.

Dot with extra Sriracha sauce if desired.

Sprinkle additional chopped scallion to decorate.

Serve with pickled ginger.