In for something fun? Don't want to touch your stove? Here's a cool appetizer dish for you: smoke salmon avocado rolls, the low carb, and fulfilling way. Don't care about the carb/calories? Well, it doesn't matter, this roll looks beautiful and is delicious with just a bit of everything. You could make it exactly like the recipe attached below, or customize your veggies and/or wrapper too.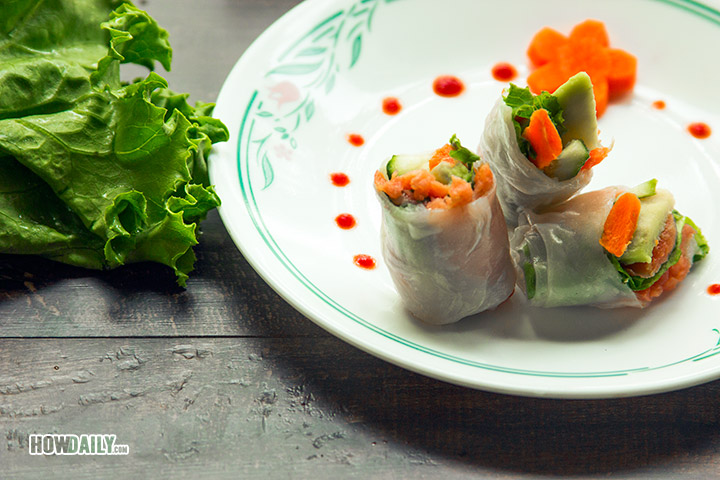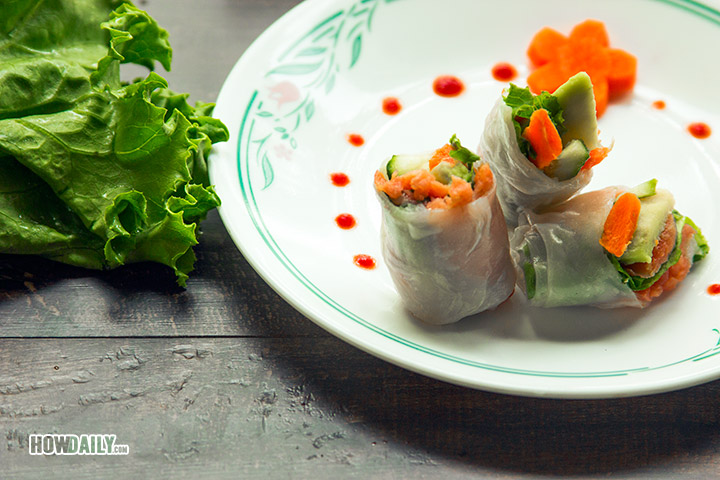 Here's the story (my rant actually). I've been constantly looking for new ways to cook/make a meal that fit into my carb 'diet', and this came through my mind. I mean, I love sushi and all type of rolls too. One day I decided to try wrapping my roll without the 'carb' part. There, I found that I'm out of Nori, but luckily I have some rice paper on hand. Add in some carrot, cucumber, lecture, or whatever veggies you have, and voila! A few drops of vinaigrette or just a vinegar-oil-black pepper mixture would do the finishing touch
I chose avocado mainly due to its creamy, buttery, and fulfilling characteristics. I mean, it makes you fill full for a long time (cough * diet*) and healthy with all vitamins/fiber too. Pick an almost ripen avocado and slice it up, shall we?!!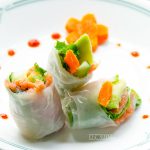 Salmon Avocado Spring rolls
This is a fast, roll as you eat dish with smoke salmon, avocado and veggies; a low-carb spin off of the Vietnamese Spring Rolls. It's my roll for those low carb days, or you could have it as an appetizer for a group/party too.
Print
Ingredients
4

slices

smoked salmon

1

mini cucumber

½

avocado

4

lecture leaf

1

small carrot

Leek or green onion

option

4

rice papers
Instructions
Slice cucumber, carrot, and avocado into long thin strips

Wash the green onion, let it dry.

Dip rice paper in hot water, turn quickly to let it wet evenly

Place rice paper on a flat surface with smooth side up.

Place a slice of smoked salmon on it

Put a slice of each cucumber, avocado, carrot and lecture on salmon

Roll.