If you can take the raw, or first time trying out raw sushi, this temptation sushi roll probably be your best bet. Why? Due to the deep fry tempura salmon in the filling, even with raw salmon, the roll doesn't have any fishy smell at all. In fact, with the swirling of avocado and salmon, the whole thing just feels so mouth-watering in every bite.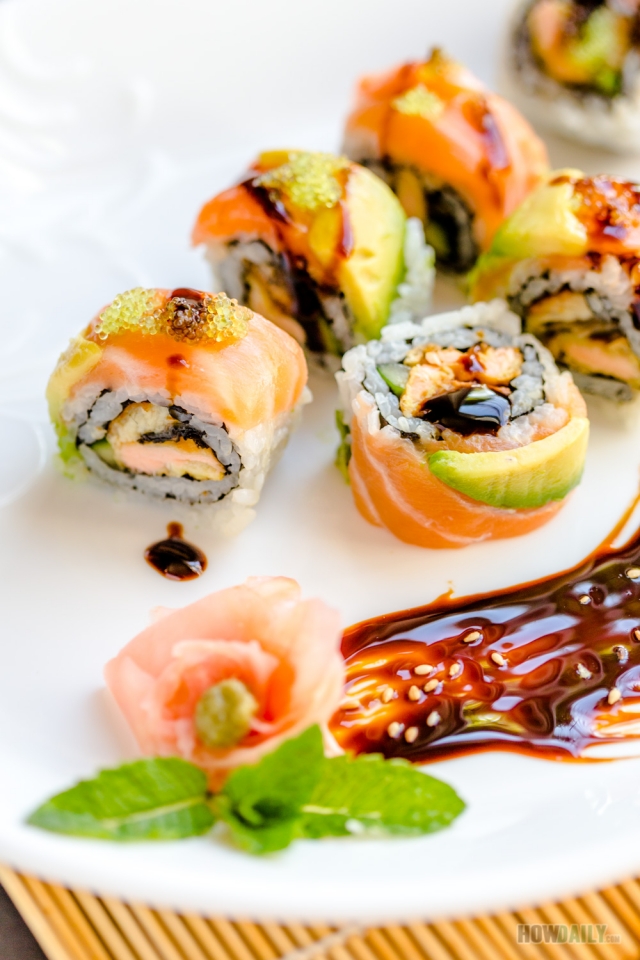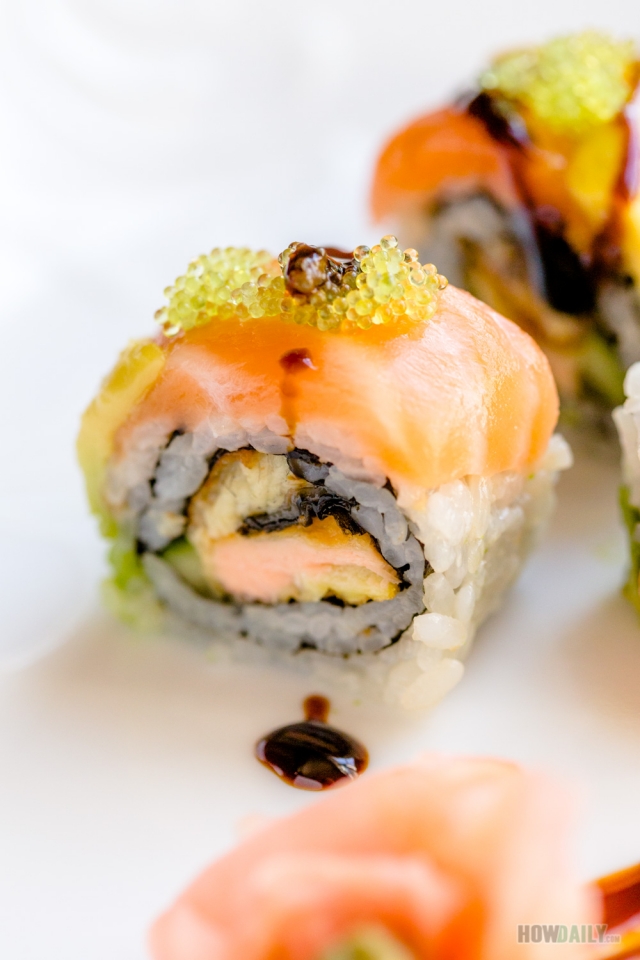 It's best if you can find Japanese cucumber since they're more crunchy without seed, but I'd find that mini cucumber/dill work as well. You could rub it with some salt before washing, this not only makes it clean but also help the taste sweeter.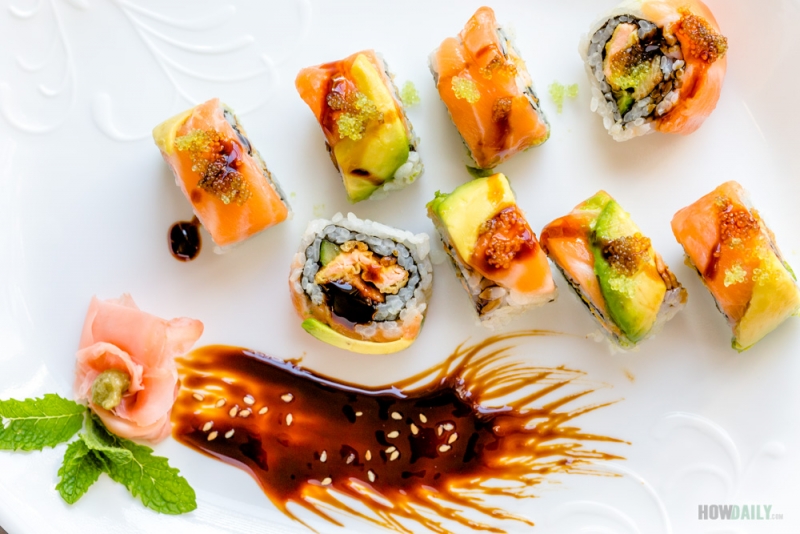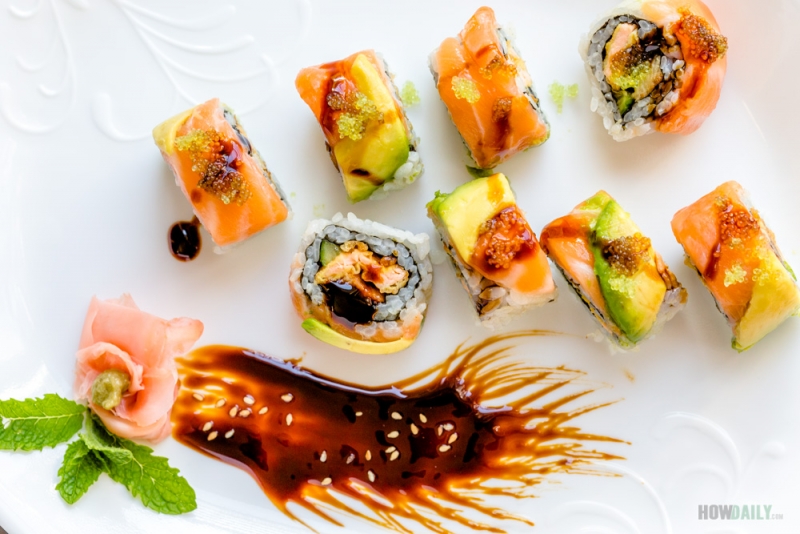 For salmon tempura, I found that by adding a little bit of curry powder will help to make them more golden and smell so good. Just make sure your cucumber slice is crunchy but not wet though to preserve the tempura crispiness.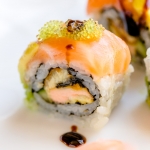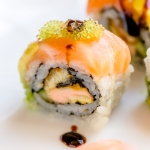 Recipe for Temptation sushi roll
Buttery salmon and creamy avocado on top of an uramaki sushi roll filled with mouth-watering salmon tempura and refreshing cucumber; this Temptation sushi roll is one you truly won't want to miss.
Print
Ingredients
For Tempura batter
3 1/2

Tbsp

all purpose flour

2

Tbsp

cornstarch

1/2

tsp

baking powder

1/4

tsp

curry powder

3-4

oz

icy cold soda water or water or beer

salt and ground pepper
Instructions
Preparing and Tempura
Slice the sushi grade salmon into thin slices, enough to cover 8″ x 2″.

Cut the remaining sushi either into slices or stick for tempura.

Prepare the batter by mixing flour, cornstarch, baking powder and curry powder, then sprinkle on some salt and ground pepper to taste. Stir and sift to mix this dry flour.

Dredge all the salmon pieces for tempura into this flour to create an even thin coat of flour mixture.

Dust off excess moisture and set aside.

Pour icy cold water/beer into flour mixture. Stir till fully incorporate.

Heat up the oil in deep fryer or saute pan.

When oil is hot, dip each coated salmon piece into batter and drop into deep-fryer.

Deep fry until golden and crispy before removing all salmon tempura onto parchment paper or strainer to drip off excess oil.

Thinly slice avocado and mini cucumber.
Put into roll
Start with a sheet of nori on a flat surface or bamboo mat (remember to plastic wrap your mat).

Spread 1 cup of sushi rice onto nori, use your finger or spreader to gently press and pan the rice out without mushing.

Flip the nori upside down, so that the sushi rice layer is now facing down on the mat.

Arrange slice cucumber and salmon tempura onto nori.

Lift, roll and tuck nori over ingredients, hold a few second to shape tight then continue to roll and press until finish. Set aside and repeat for the other roll.

Prepare and plastic wrap on a flat surface.

Arrange sliced salmon and avocado nicely to cover the 8″ x 2″ area on plastic wrap.

Place a roll on top of arrange salmon/avocado.

Now use the plastic wrap to roll & cover all over the roll.

Hold and press along side this roll with bamboo mat to shape, apply pressure lightly.

Set a side and do the same thing for the other roll.

Clean your knife with a dampen towel and cut both rolls.

Gently unwrap each piece out of plastic wrap and place it on plate.

Garnish with some tobiko or masago, drizzle with unagi sauce or spicy mayo.

Happy eating.