Welcome to yet another popular international dish. This time, it's Japchae, which literally is the most popular Korean stir-fry glass noodle.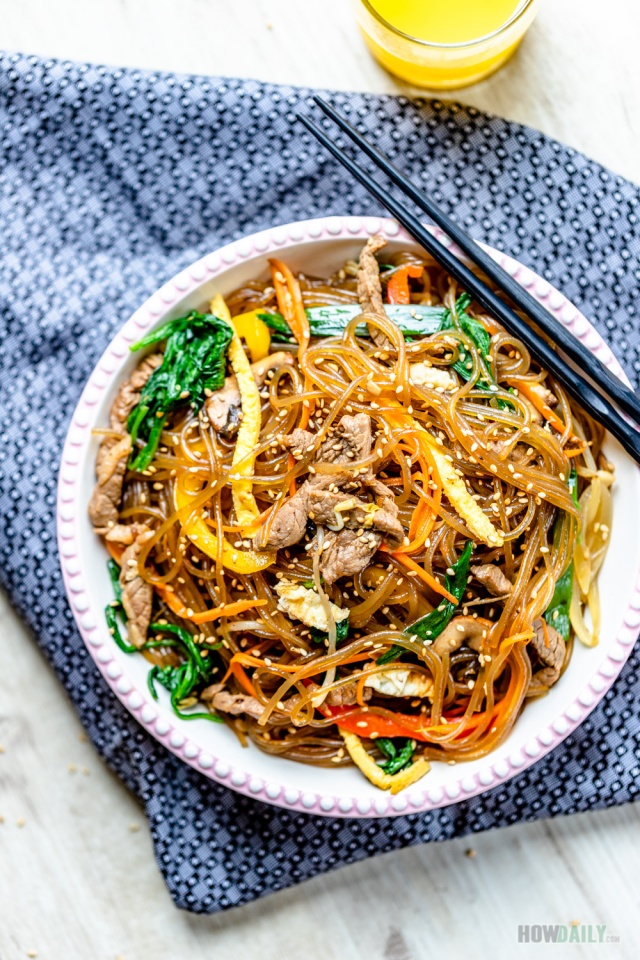 The good things about Japchae are its vibrant colors in ingredients, the balance between soy sauce flavor, and mirin sweetness. Then there are also the fragrant of garlic and all the natural sweetness and crisp of carrot, spinach, beansprout, mushroom, and any other seasonal vegetables you're using.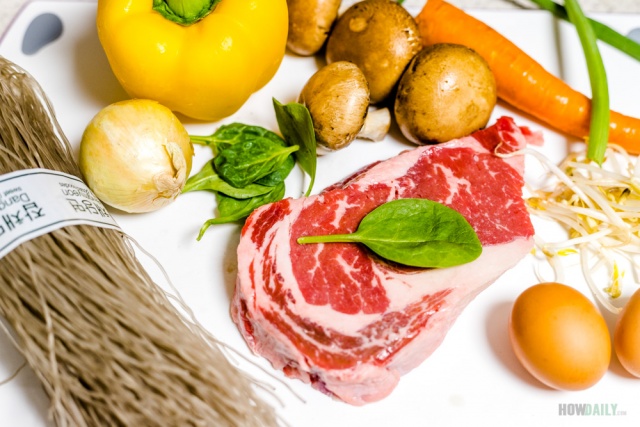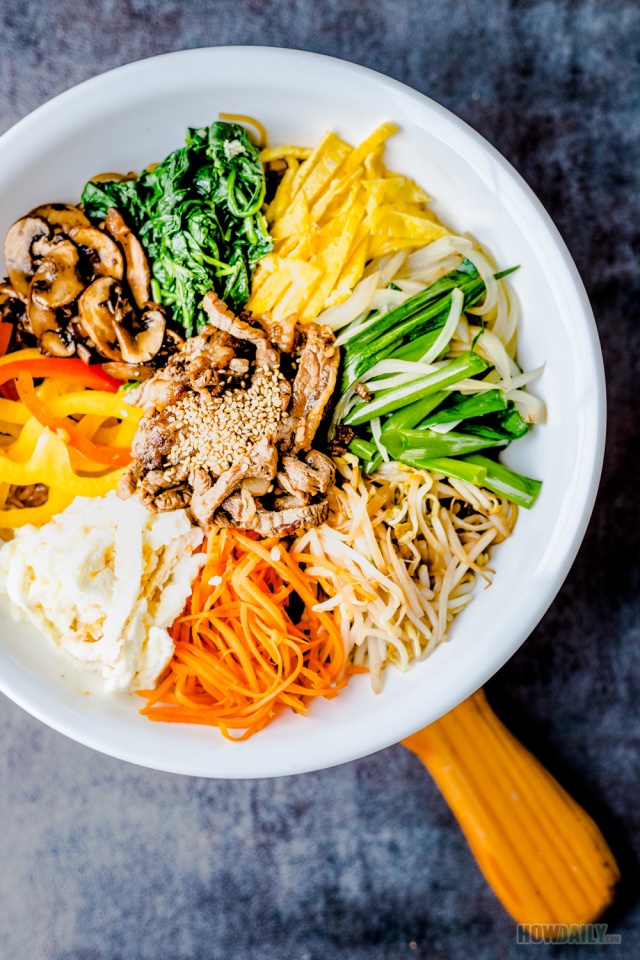 In Korean restaurants, Japchae is typically served as a side along with other entrees. However, as a home cook meal, you would see Japchae being a quick main bowl since all ingredients are widely available in the fridge or pantry.
I was first introduced to Japchae through a Korean drama – Full house years ago. Back then, we didn't have access to rib eye and such tender meat, so just fried tofu to replace the protein. Then for the veggies, I would sometimes be switching one out for another on hand: say slice green bean instead of bean sprout, mustard green or bok choy instead of spinach, straw mushroom in place of shiitake…
You can tweak and modify the recipe to make it vegan, dairy-free, etc. Easy enough, right? The recipe already come with default gluten-free since dangmeyon – the noodle being used is made out of sweet potato, kind healthier than most starch.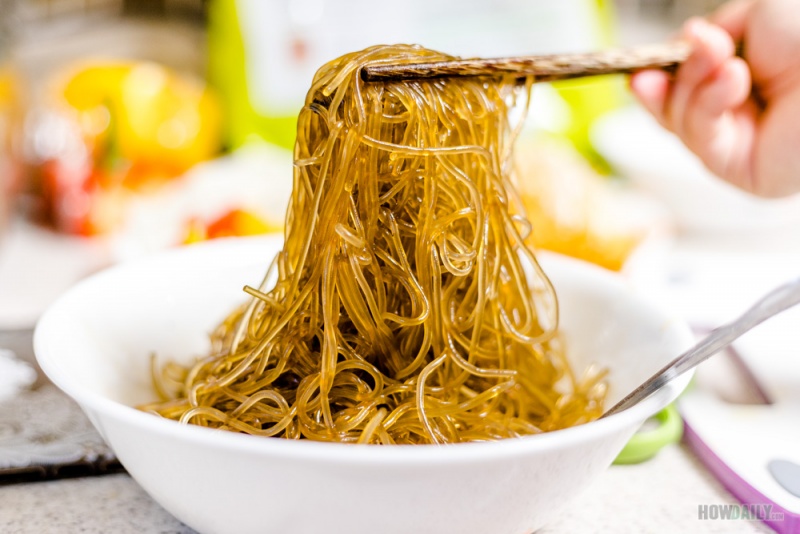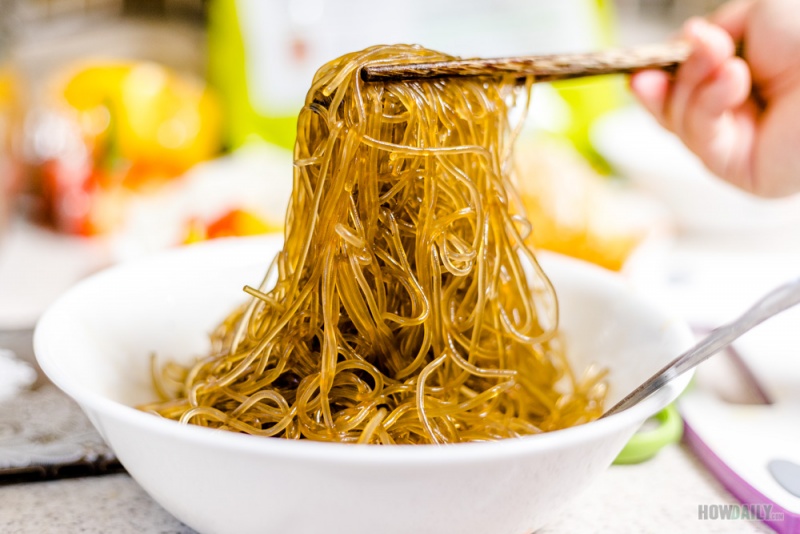 The key to this dish is to marinade and stir-fry each of the ingredients separately. This way, you can fully control their texture, hardness, and also preserve their colors. If you've ever made a bibimbap, also another popular Korean mixed rice, then you'd have known the drill. This process might be tedious, but trust me, if you're just throw everything together in the pan, they would all come out looking the same soy- dye.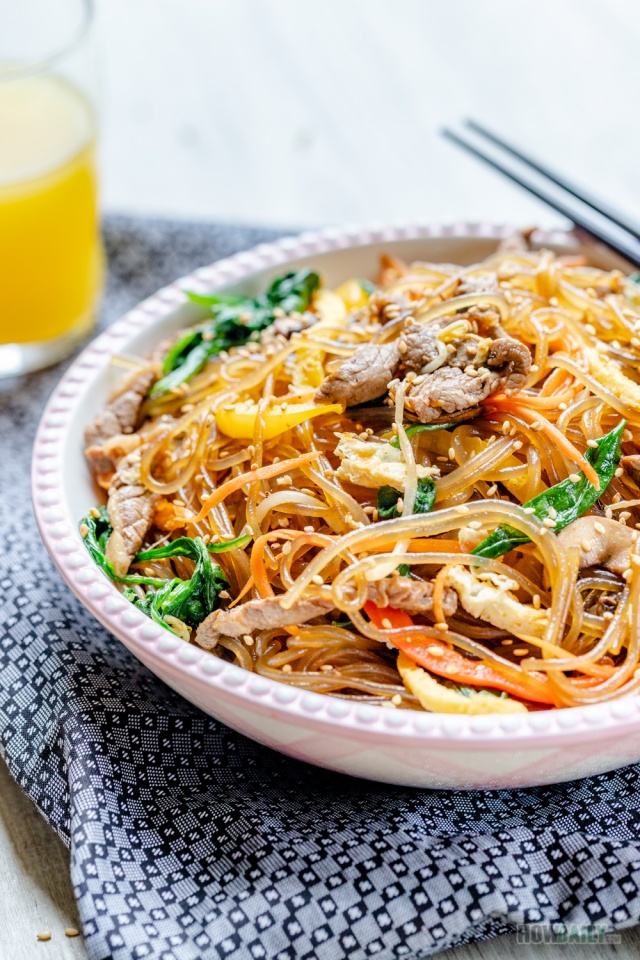 If you're ending up with too strong soy sauce flavor, try to squeeze a lime wedge to balance it out. Don't forget, lots of roasted sesame seeds.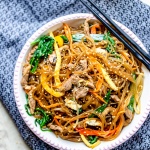 Recipe for Japchae – Korean mixed glass noodle
One of the most popular and sought after Korean dish, Japchae can really make your day or party. Try this healthy sweet potato noodles with stir fried veggies and the best rib eye, you won't regret it.
Print
Ingredients
7

oz

dangmyeon – Korean sweet potato noodle

4

oz

rib eye steak or protein of choice

2

eggs

1

small carrot

6

oz

baby spinach

4

oz

fresh shiitake mushroom, portabella, seafood or any kind

1

medium sweet onion

1/2

bell pepper

2

oz

beansprout

2

scallion

1

Tbsp

roasted sesame seed

2

Tbsp

honey

4

cloves

garlic

5

Tbsp

soy sauce

1

Tbsp

mirin

sesame oil

cooking oil

salt & ground pepper
Instructions
Prep
Crush all garlic.

Wash, clean and pat dry rib eye steak.

Cut and slice rib eye fillet into thin long strip, sort of like thinner french fry's size.

Marinade rib eye strips with 1 Tbsp soy sauce, 1 Tbsp mirin, 1/2 tsp crushed garlic, 1 tsp sesame oil, a dash of ground pepper. Cover, set aside to marinade for 20 – 30 minutes

Wash and let spinach air dry.

Wash and let bean sprout air dry too, if using canned version, strain and rinse then let them sit to drip off excess water

For carrot, bell pepper, scallion and onion, julienne-cut them into match sticks, about 2-3 inch long.

Remove stems from mushroom, slice cap into strips and shred stems.

Marinade mushroom with 1 Tbsp soy sauce, 1/2 Tbsp honey, 1/2 Tbsp sesame oil and dash of ground pepper.

Bring a large pot of water to boil, then add dangmyeon noodle. Boil noodle for 7-10 minutes until desired texture.

Strain and rinse noodle to cool down. Let sit to drip off excess water.

Marinade noodles with 3 Tbsp soy sauce, 1 Tbsp honey, 1 Tbsp sesame oil and dash of ground pepper.

Separate egg whites and yolks into separate containers.
Cooking
We will be using only one pan to stir fry each ingredient separately to have maximum control over their texture and color.

Place a pan over medium to low heat. Add 1 tsp cooking oil, turn and tilt to fully coat surface.

First, fluff the egg whites, mix in a pinch of salt and pepper. Pour egg whites into hot pan, tilt the pan to thin egg whites out.

When done with one side, flip over to cook the other (~ 2 minutes). Transfer egg whites to a flat surface (e.g. cutting board) for cooling.

Repeat the above steps but using for egg yolks instead.

Next is sweet onion and scallion. Add a spoon of oil to hot pan if need. Then add sweet onion and a pinch of salt, saute for 2 minutes then add in scallion.

Stir to mix and remove from pan. Do not overcook or you get mushy onion.

Add bean sprout and a pinch of salt, stir fry for 2-3 minutes till they're wilt a little. Remove from pan.

Repeat above step to stir-fry carrot sticks, just make sure to remove them when they're still crisp.

Do the same thing to stir fry bell pepper.

Bring pan back to medium heat, 1 tsp oil if need, otherwise just add garlic, brown a little then stir in spinach. Add a dash of sea salt and keep stirring till when they're wilt a little, remove from heat.

Strain off liquid, save it to add to mushroom later if desire.

Now add 1 tsp oil if need, stir in the marinaded mushroom w/ their sauce and everything. Stir fry for 2-3 minutes until they're fully cook. Transfer to container.

Add in the marinaded beef fillet with sauce and all. Keep stirring while cooking to even them out for 2-3 minutes. When they're medium-done, transfer to a container to let them rest and cook themselves.

Add 1 Tbsp oil, make sure pan is coated well. Now add the marinaded dangmyeon along with their sauce.

Keep stirring until all the sauce was absorbed, and the noodle becomes sort of sticky.

Remove from pan and divide into serving bowls.

Then divide and add each of the stir-fried ingredients used into sections on top of the noodle.

Thinly slice egg whites and yolks and garnish on top.

Sprinkle on some roasted sesame seed atop to decorate and serve.

To Eat: mix everything in the bowl as you eat them. Enjoy