In Japan, Tempura is one of the most popular and even more commonly used than sushi. This is due to their ease of cooking in batch, implementation, low cost, and wide varieties. Japanese tempura batter is similar to our regular batter for poach shrimp, chicken, fish, and vegetables, but also different as well.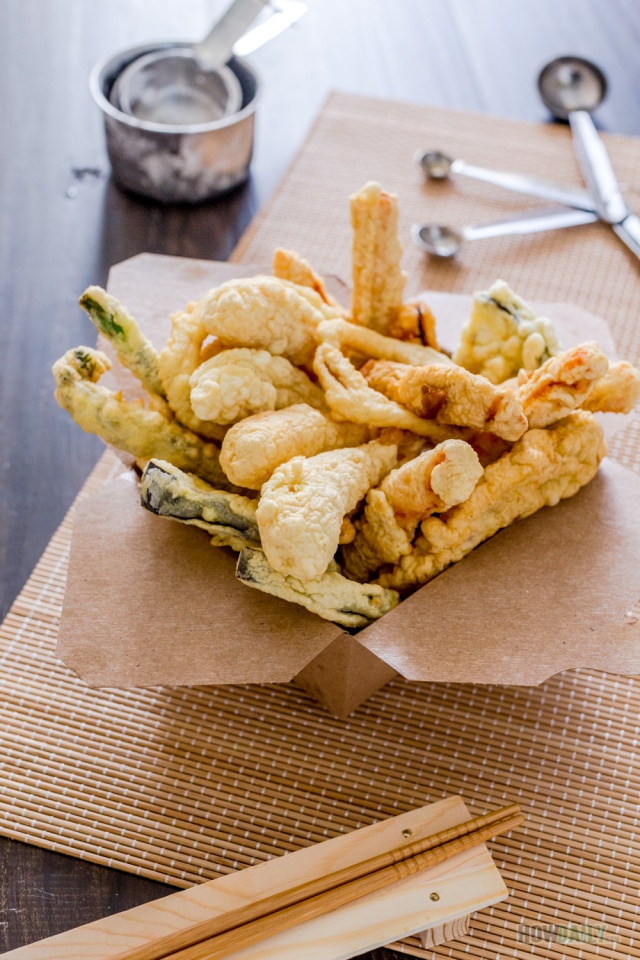 The similarity is that it does provide a crispy outer coat to the inside ingredient. However, the coat when fried is a bit lighter in color, more flaky and puffiness on the outside.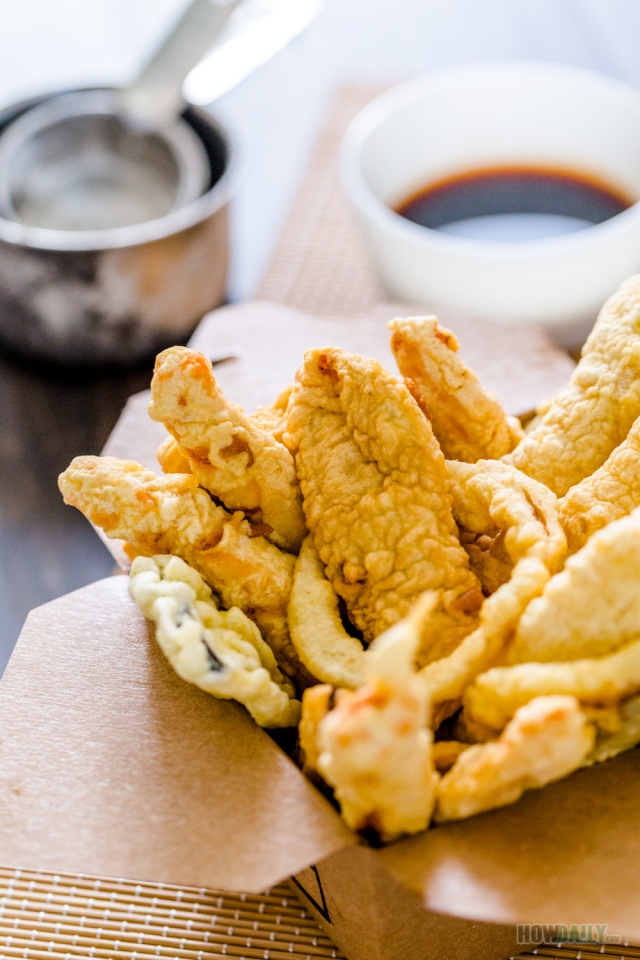 There are some key notes to remember when making tempura batter, one of the most important is keeping it cool. This is translated to cool water, flour, and mixture overall. So, if you're living in a hot area, better yet, just have the batter container sitting inside an icy-cold water bath to prevent early oxidation of wheat gluten in batter.
Another note is on mixing the batter. Unlike our regular technique of mixing, fluffing and whisking, tempura batter require gently stir in (figure-8 motion) of flour into cold water-egg, leaving lumps of powder to be released/flake out when frying later.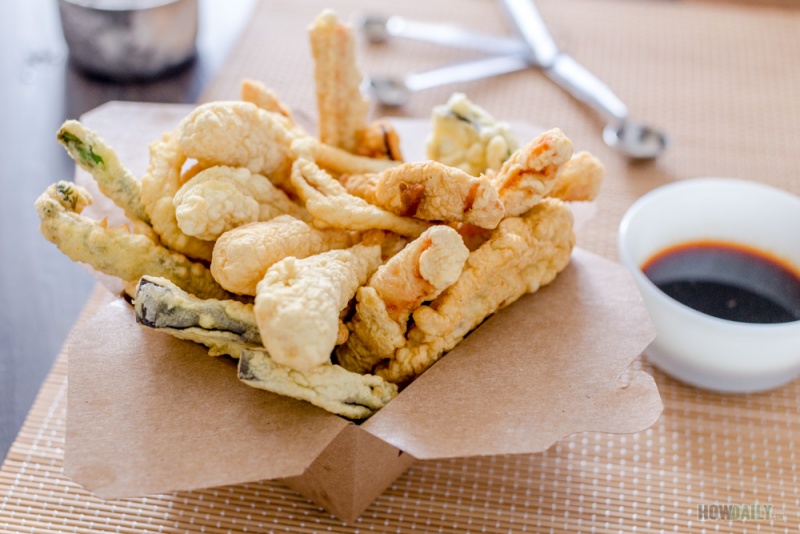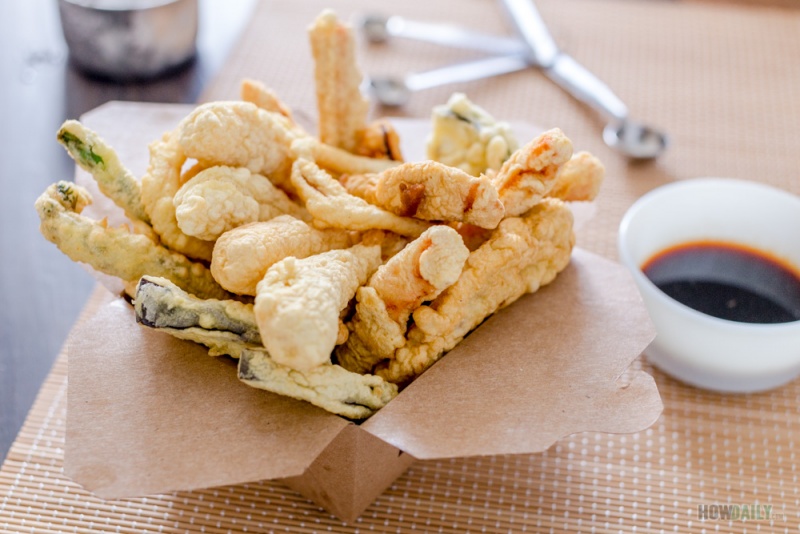 Preparing ingredients for Tempura
Basically, you can turn any food into tempura, be it shrimp, fish, chicken, pork, vegetable, etc. The batter remains the same regardless of what ingredients being immersed; however, the prepping steps are varied from one to another.
Shrimp
One of the most popular ingredients to be deep fry with tempura. Contrary to our normal poach shrimps, Japanese tempura shrimps are straight, fluffier and more voluminous. To prepare shrimp for tempura frying, you will need to follow these steps: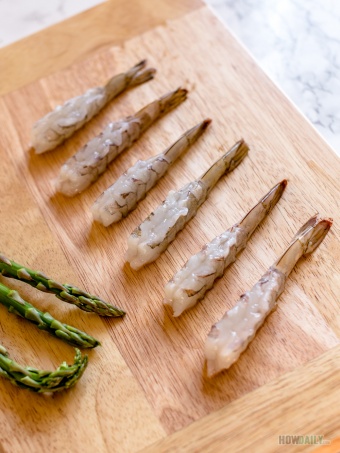 Remove shell, leaving only the last segment and it tail.
Use a pointed paring knife, cut shallow lines along its body, one on top and one underside of its back.
Use the knife tip to pierce in, lift and remove its vein and intestinal tract.
Gently use your hand to straighten the shrimp body out.
Place it on a flat surface (e.g cutting board) and the top with something heavy to flatten its shape (e.g. another cutting board or plate). Let sit for a couple minutes or until ready to dredge into batter.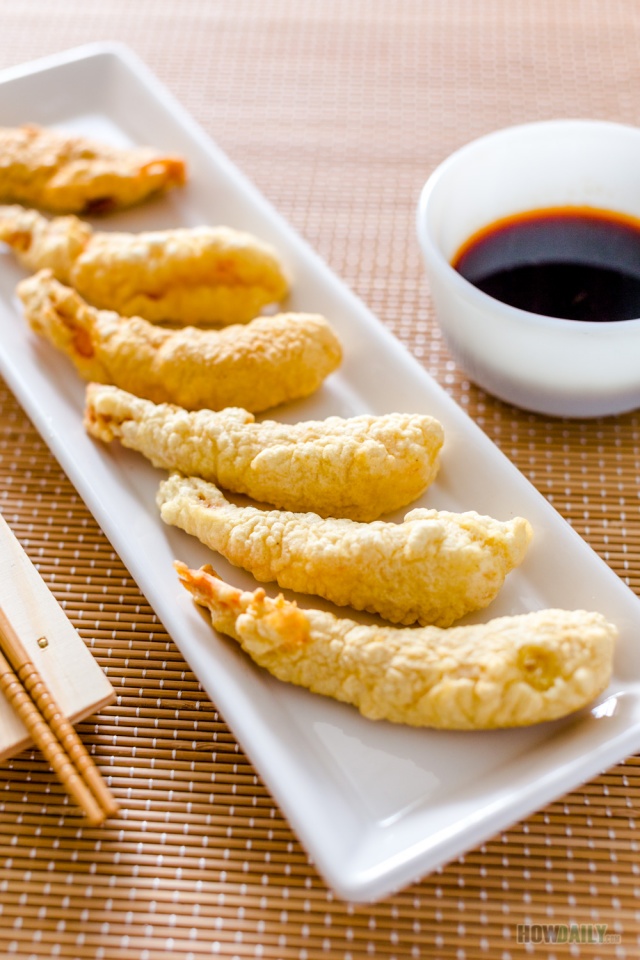 Fish
Any fishes that can be fillet are suitable for tempura. In Japanese cuisine you won't see as much fish tempura as shrimp and veggies though, due to most Japanese would prefer fresh fish in their sushi rolls. For our cooked sushi lover, tempura fish is a great topping to enjoy inside maki roll with other seasoning.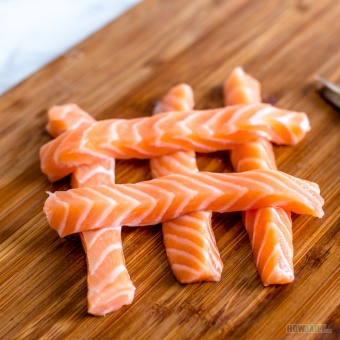 Choose firm or steak types of fish: halibut, salmon, cod, sturgeon, hemibagrus, cuttlefish…
Fillet and Remove all bone unless use one with crunchy bone line sturgeon.
Cut into thin and even slices, roughly 1/4 – 13 inch thickness.
Dust with dry flour mixture beforehand and set aside.
Other seafood
Some other common seafood that used for tempura are soft-shell crabs, squid tentacles, salted-water eel, crab stick, fish cake…Except for soft-shell crab, where you should cut into halves for easier handling and carefully dredge with dry mixture; the rest, you just leave them whole and dip straight into batter. No need for dredging beforehand.
Chicken, pork and meat
Most of the time you would see chicken tempura. While in the State, we adore our wings and drum sticks, the Japanese tend to like flatten steak shape. The case is true for pork as well. Also, while chicken tempura is used in rolling sushi (mostly for kids though), there's another dish called katsu, which involved dipping chicken/pork/beef into tempura batter before dredging/shaking with breadcrumb. So save the recipe for katsu if you might.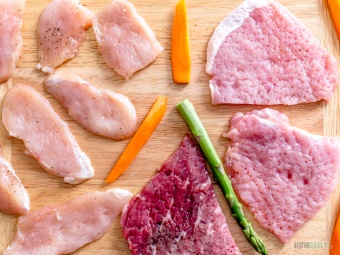 Choose lean or fillet type of meat: chicken breast with ribs, pork loin…
Cut into palm hand sizes and shape.
Flatten with some heavy object for equal thickness and straighten out
Dip in this tempura batter, no need for pre-shaking with dry flour mixture.
Shake battered meat into bread crumb before frying if you're using for katsu
Vegetables
Can be anything that is edible, green or starch. Just dip these straight into batter and drop into frying pan, no need for dredging or pre-shaking. Some common vegetables that are used for tempura include: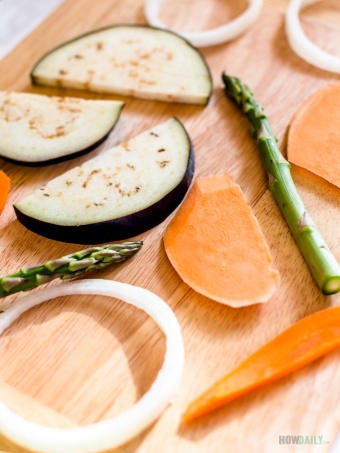 Starchy foods like sweet potato, potato, lotus root, pumpkin, beet, butternut… should be removed skin (if need), then cut into thin slices about 1/3 – 1/4 inch thickness, diagonally slanted across their bodies surface.
Smushy or soft veggies like squash, egg plant, zucchini, onion, mushroom… should be cut into thicker slices across their bodies, roughly 1/3 inch. Same goes for jalapeno and bell pepper.
Stalks and root veggies like celery, broccoli, asparagus, bean carrot, burdock… should be cut into 2-3 inches long segments
Leaves like sisho, kale or nori sheet can also be dip into batter (one side/surfacee only) and deep fry, just leave them whole or cut to palm hand size.
Guidelines and tips on frying Tempura ingredients
There are a few notes and guidelines you should take into consideration when frying tempura battered ingredients.
Have a cooling rack or parchment lined pan ready to dump out fried food.
Any used ingredients should be eight patted dry or pre-dredge in dry flour mixture before dipping into tempura batter. No soaking wet with liquid or you're in for a splattering disaster.
No matter what your fry, do it fast and keep the batter cold with icy bath until the very end. Warm batter will the result in not-so crispy tempura.
Only start mixing batter once you start warming/heating up the oil for immediate dipping/frying afterward.
If you're frying multiple types of ingredients, start with all same type of veggies, leaf first, then soft and hard/starchy food at medium-high heat(320F). Finally increase the heat source to high (~350F )and fry meat, shrimp and other seafood.
Keep all fried ingredients scattered and separated over lined tray/cooling rack to prevent moisture build up, which is what make your tempura lose its crispiness and flavor mixing.
Use a flat bottom sauce pan or small dutch oven if you don't have a deep fryer. Don't use shallow cookware, as the oil need to be at least 1 1/2-inch deep completely submerge any ingredients.
Don't fry too many ingredients as once, leave some space for the batter to expand while frying in hot oil.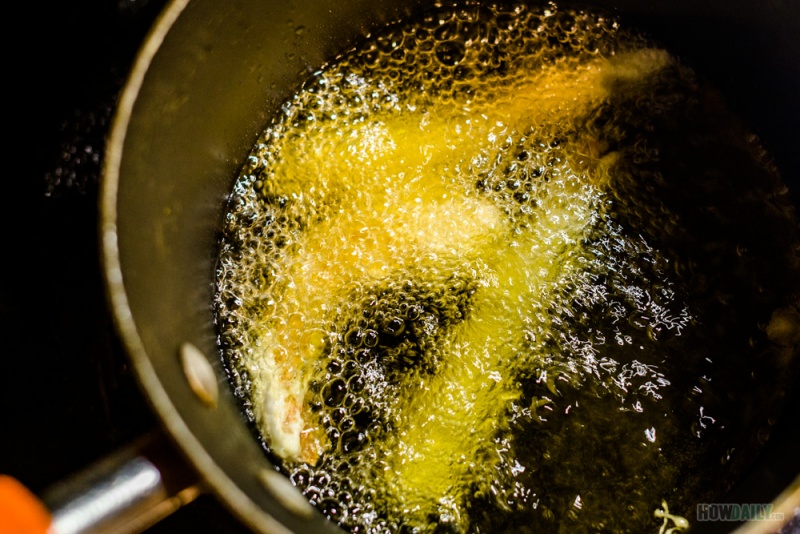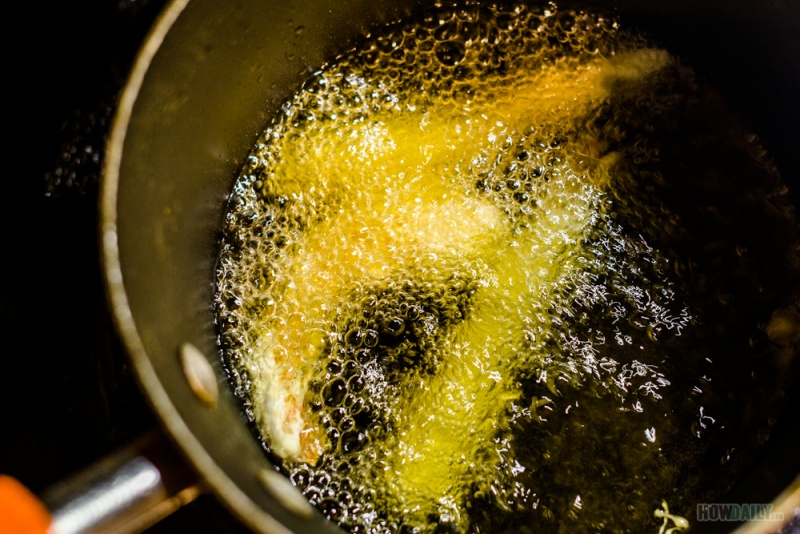 Uses and implementation
Tempura ingredients can be used in a wide array of dishes, from being sushi filling to topping Japanese curry katsu. Or simply put, just dip them into some dipping sauces and enjoy as delicious finger food.
Tempura dipping sauce
In medium sauce pan over low/simmering heat, add 6 Tbsp water, 1/2 teaspoon dashi powder, 1 Tbsp mirin and 1 Tbsp soy sauce.
Stir to mix and reducing to half.
Serve this sauce warm along with tempura.
Quick tempura sauce
Microwave 2 Tbsp of water and 1/2 Tbsp of sugar for 20 seconds to warm.
Then stir in 2 Tbsp of ponzu, 1 Tbsp soy sauce, 1 Tbsp mirin.
Flavor with a couple dashes of sriracha, hot sauce or ground pepper. Different flavor but bring out the goodness in tempura as well.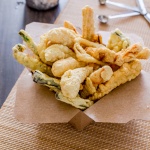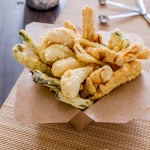 Recipe for Japanese Tempura batter
Easy to mix tempura batter right from your kitchen using familiar ingredients. Skip the store box next time you in a hurry for some deep fried finger food.
Print
Ingredients
1

egg yolk

1

cup

cold water

¾

cup

all purpose flour

¼

cup

cornstarch

½

tsp

baking powder

¼

tsp

curry powder

Ice water bath
Instructions
Prepare an ice cold water bath.

Mix all the dried powder (flour, starch…) in a separate container. Dredge all tempura ingredients one-by-one into dry flour mixture, shake off excess and set aside if need.

Separate and whisk your egg yolk, preferably in a stainless steel or metal container.

Place this yolk container into ice cold water bath, add cold water to yolk, fluff a few more times to mix.

Add in the dry flour mixture into this cold tempered egg-water.

Stir gently a few times in figure-8 motion. Don't worry about the lump batter, do not break them

When oil is hot. dip tempura ingredients into mixed batter and carefully drop into deep fryer.

Fry per ingredients types guideline above.