One of the popular Japanese noodles is tempura udon noodle soup. If you're going to any Japanese restaurant in the States, they will have some sort of udon, be it hot or cold. It's that popular, almost on par with the lovely ramen.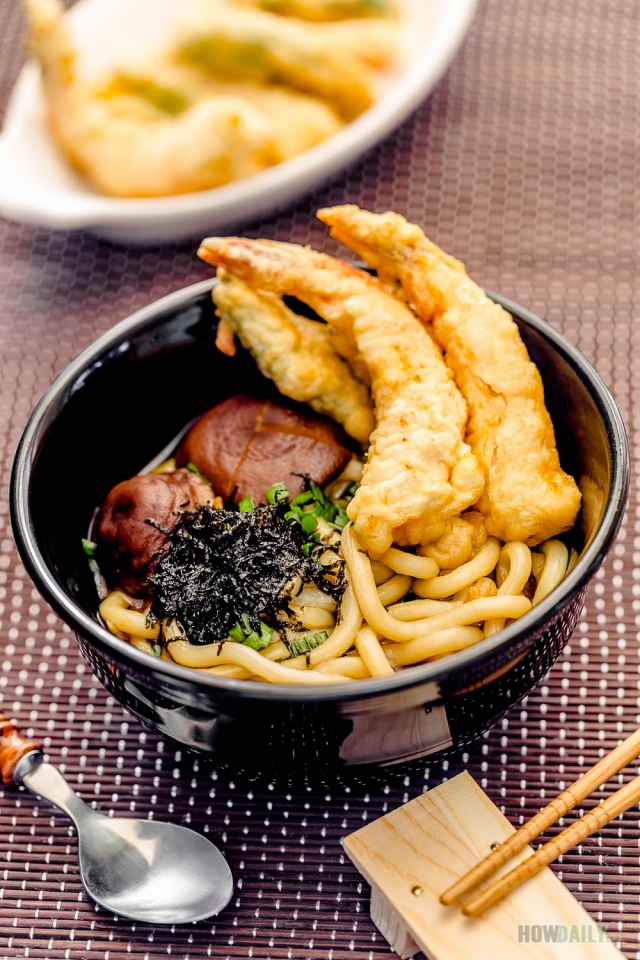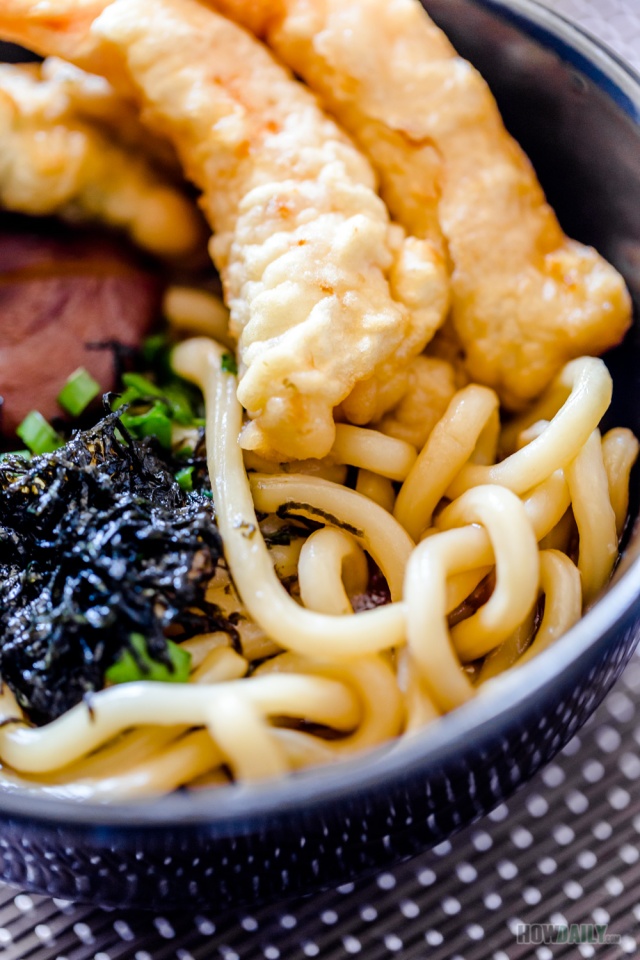 The beauty of this bowl is that the topping can be anything. Be it shrimp, meat, vegetable… just dip them in the batter and deep fry for the most delicious tempura regiment. You can use anything, but typically, I would choose shrimp and some starch plus non-starch veggies to variate the taste. Popular choices are sweet potato, broccoli, cauliflower, asparagus, egg plant, mushroom, green bean, carrot, onion, jalapeno, etc.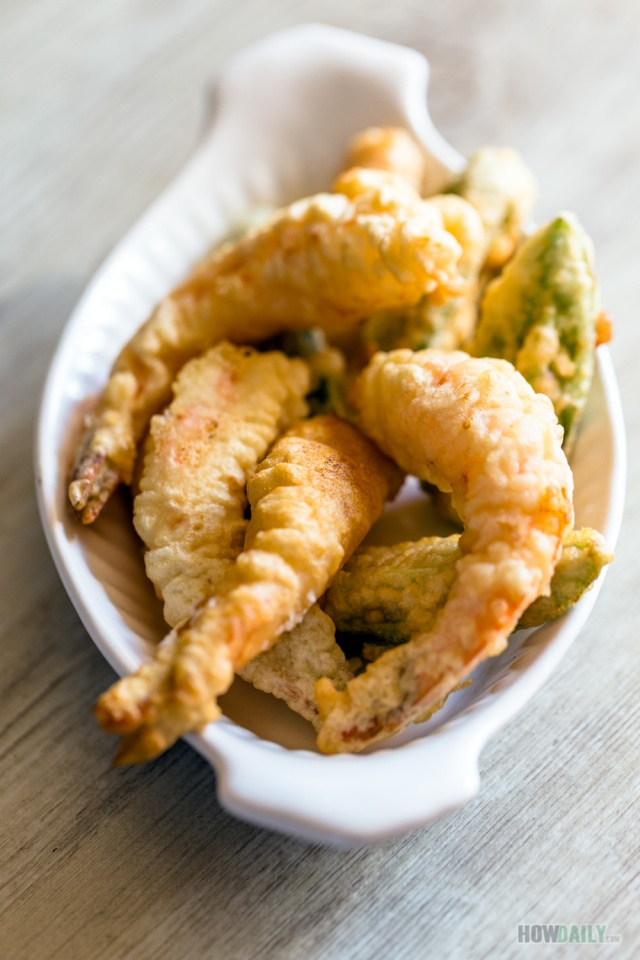 Now to make the udon soup, you would need dashi as the soup base along with the liquid. To achieve this you could either cook up your own dashi stock (kombu + bonito + water as shown in the recipe below) then add some mushroom seasoning powder or fresh mushroom, mirin, and soy sauce. A quicker way would be to use the ready-made dashi powder. For this, just mix 2 teaspoons of dashi powder with 8 cups of water, boil, then add other seasonings. So, your choice, depending on your food store availability and time constrain.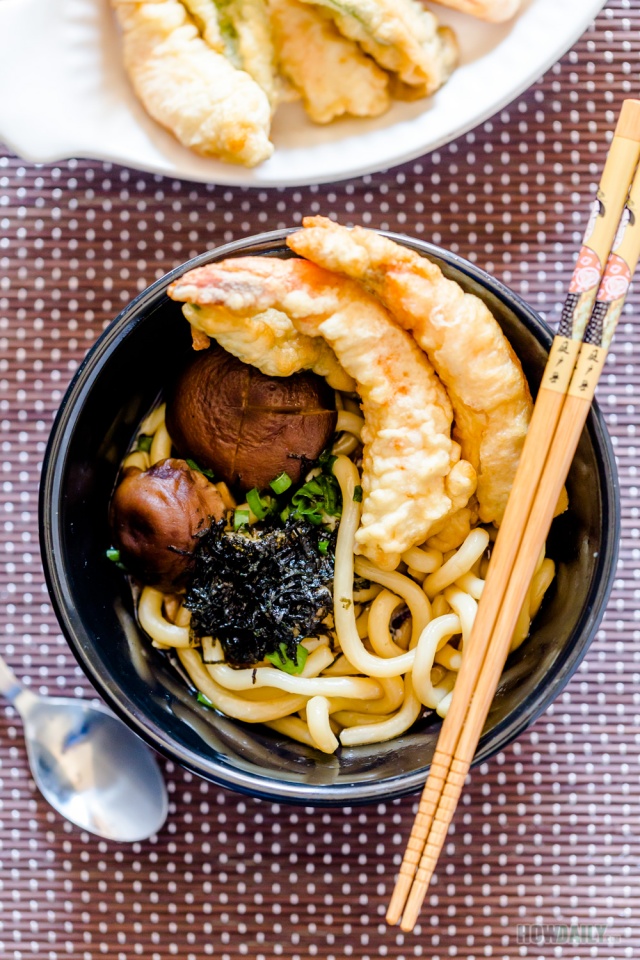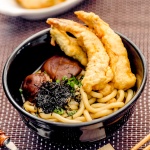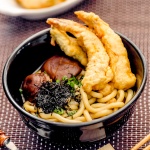 Recipe for Tempura udon
Crispy battered shrimp and vegetable tempura over Japanese rice noodle (udon) with umami soup base. Top with some scallion for a light and tasty treat.
Print
Ingredients
1

lb

udon noodles

1

cup

shiitake mushroom

8

Tbsp

mirin

8

Tbsp

soy sauce

1

Tbsp

mushroom seasoning

1/2

cup

chopped scallion

Japanese fish cake

optional

8

shrimps

Assorted vegetable

1

qt

oil for deep frying
Tempura mix
1

egg yolk

1

cup

icy cold water

3/4

cup

all purpose flour

1/4

cup

cornstarch

½

tsp

baking powder

¼

tsp

curry powder
Dashi stock
8

cups

water

4

strips Kombu

40-50grams

1

cup

bonito flakes
Instructions
Udon soup
Put kombu and water into a stock pot and let soak for 30 minutes to an hour (or you can soak them the night before).

Heat the stock pot on medium heat, when the content is hot enough just before boiling ( do not boil or it gets bitter), remove the kombu.

Now add mushroom seasoning and bonito and simmer for 10 minutes.

Turn off heat, let sit 10 minutes to cool down and strain away any residue (e.g. bonito).

Add mirin, soy sauce and shiitake to stock pot. Bring to boil and then simmer until serving.
Tempura
Peel and de-veined all the shrimps but leave the tails on. Arrange on flat surface with some heavy thing on top to flatten/straighten shrimps a bit.

Wash and cut all vegetable that are used for tempura.

In a large container mix all ingredients of the tempura mix.

Dredge all the shrimps and vegetable pieces in this dry mixture so that all shrimps are coated evenly, dust off excess powder.

Pour 1 cup of icy cold water into the remain batter mix, whisk to smooth.

Dip all the powder-coated shrimps and veggies into the batter.

Turn on your deep fryer or use a deep sauce pan with a quart of oil..

Transfer to parchment paper/towel to allow excess oil dripping.
Serve
Prepare udon per package instruction.

Get enough udon in a bowl, arrange sliced fish cake and sliced shiitake.

Pour udon soup over, then top with tempura shrimps and veggies.

Finally, sprinkle some chopped scallion all over.

Tempura udon is now ready, enjoy