Craving for sushi? Especially love salmon? Try this Salmon all-around sushi roll recipe, it got load of salmon, fresh and delicious.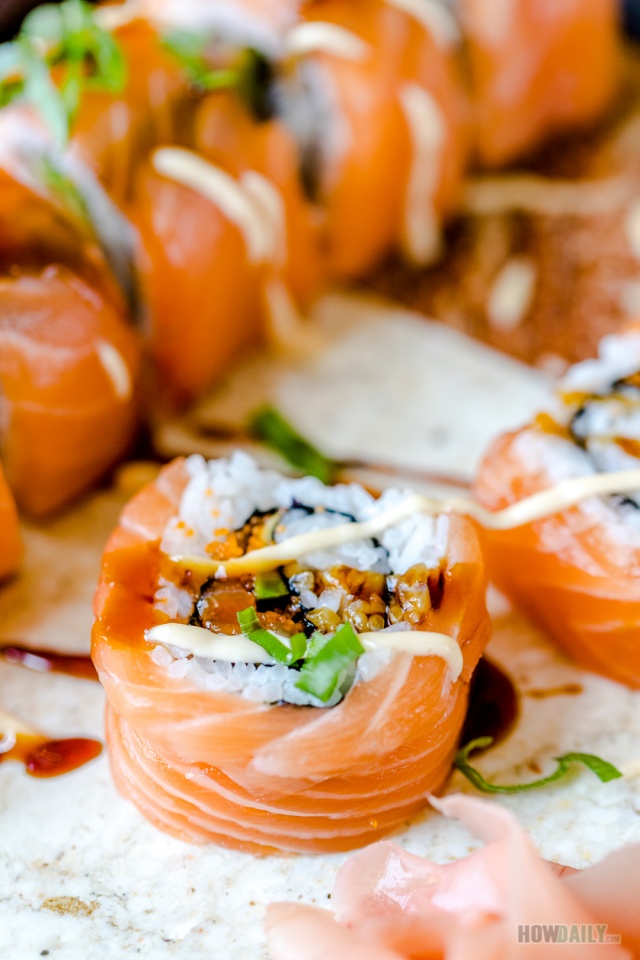 All you need are sashimi-grade salmon, some avocado, cucumber or any other veggies, really simple but taste unexpectedly good altogether.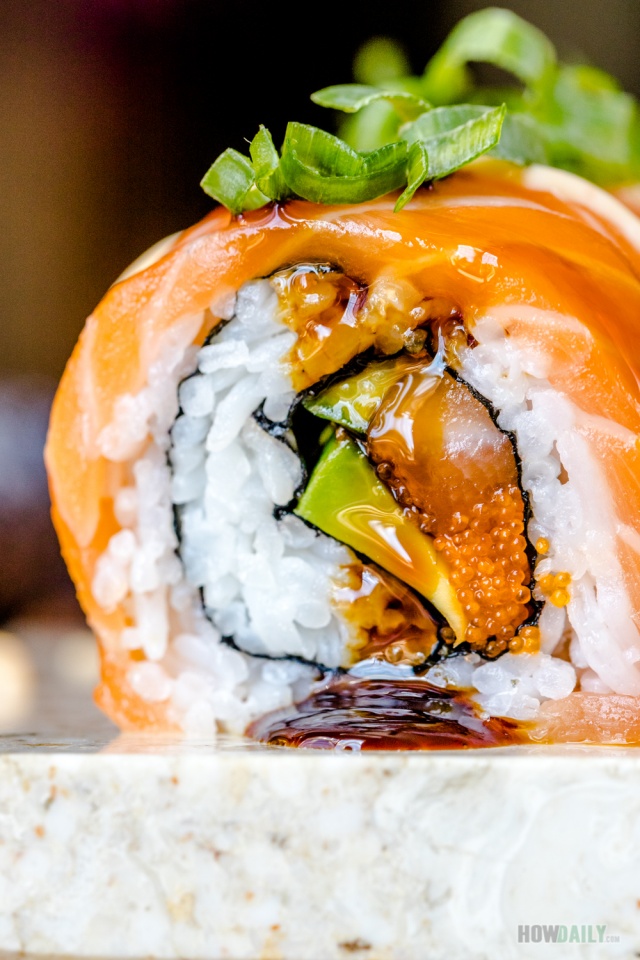 It's even more mouthwatering if drizzling with spicy mayo and unagi sauce. If you have pickle ginger, that's a great addition too. The roll, once made, should be consume immediately.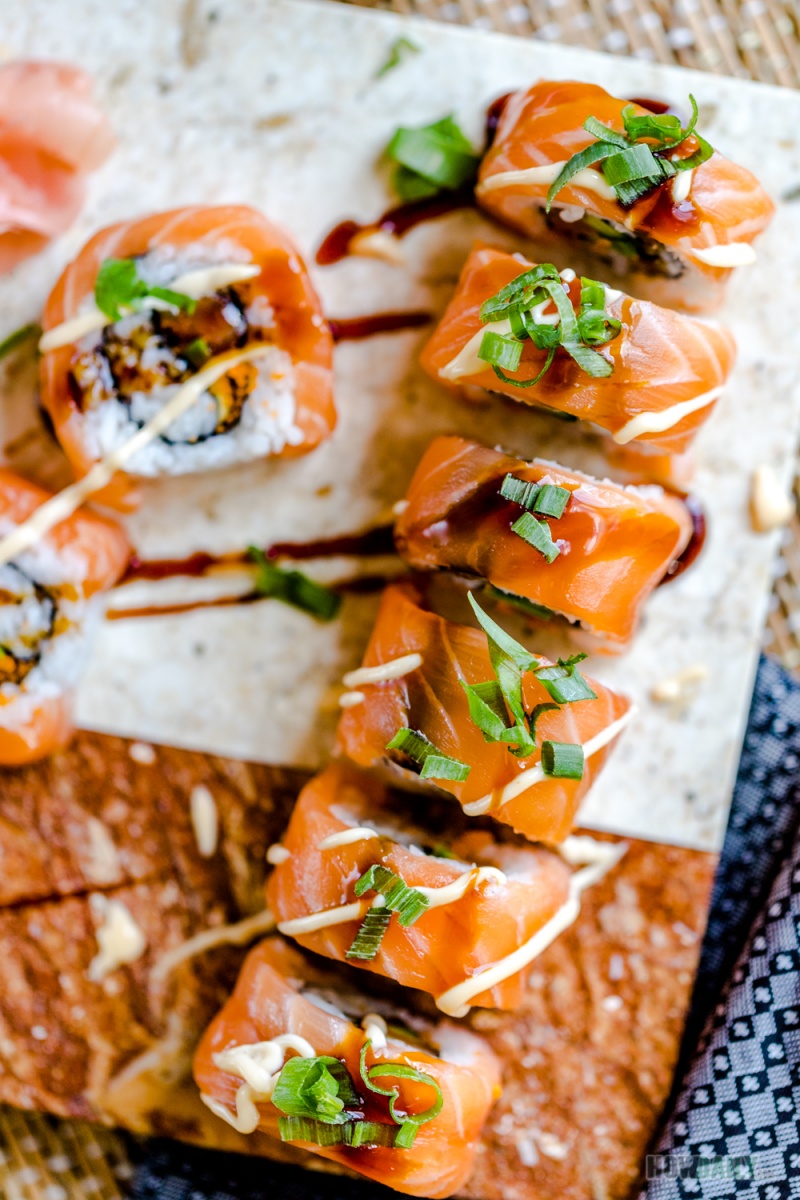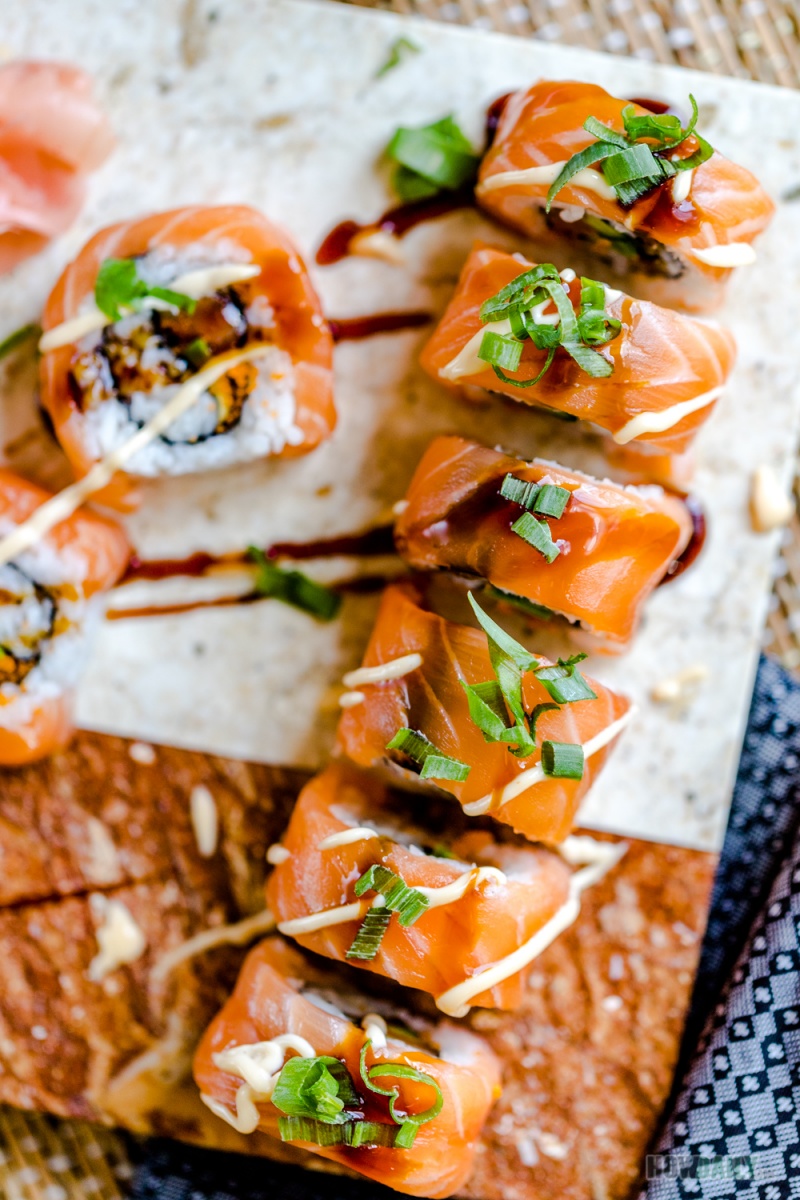 This salmon sushi roll can be consumed raw with ponzu or soy sauce for dipping. However, if you prefer them cook, you can bake the roll at 375 F for 5-10 minutes. Do remember to slather each piece with unagi sauce and spicy mayo to prevent moisture loss and seasoned the sushi.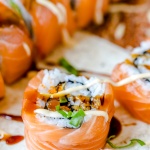 Salmon Sushi roll
Salmon-intensify sushi roll with salmon sashimi as the filling along with fresh avocado and cucumber. The roll is made in uramaki style and then wrap-around by beautifully vibrant salmon slices. Eat it raw, with sauce and spicy mayo or bake it for mouthwatering flavor.
Print
Ingredients
6

oz

salmon

sashimi-grade, block

⅛

small hass avocado

⅛

mini cucumber

1

Tbsp

masago

1

sheet

nori

use ¾ sheet

¾

cup

cooked sushi rice

2

Tbsp

sushi vinegar
Instructions
Slice salmons into thin long slices (around 2x typical sashimi length).

For the ended rinds, preserve to use as filling.

Season sushi rice with sushi vinegar.

Cover bamboo mat with plastic wrap and lay on a flat surface.

Have another large plastic wrap over bamboo mat.

Tear nori to ¾ size, place over plastic wrap/bamboo mat.

Spread sushi rice evenly on top of nori.

Flip the rice/nori upside-down so that the rice side is now facing down onto bamboo mat

Arrange avocado, cucumber, masago and salmon sticks as filling.

Lift, tuck and roll into uramaki style sushi.

Now arrange and layer salmon slice onto plastic wrap.

Place the uramaki roll on top of salmon, and roll again.

Apply some pressure to help with binding.

Cut into bite-size then sprinkle on chop scallion and drizzle some spicy mayo and unagi sauce.