If you love sushi, then you are probably a fan of this spicy mayo sauce as well. In fact, the most restaurant will serve this sauce, either as drizzling on top of the rolls or glazing okonomiyaki. You may have eaten this a hundred times and wondering how it's made of or how complex is it to bring this mouth-watering creamy taste home.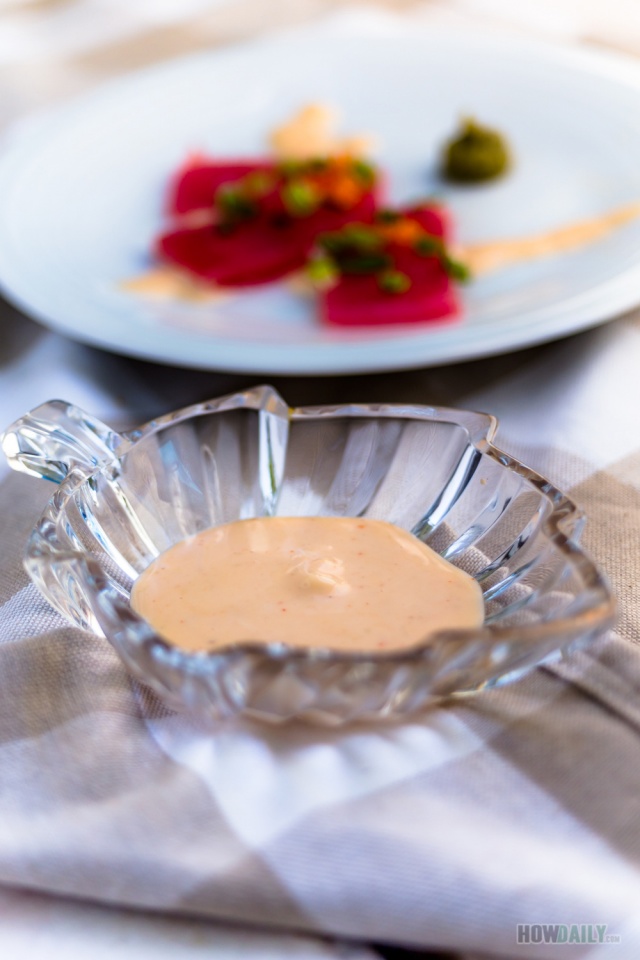 This spicy mayo, simply put, is just the combination of Japanese mayonnaise (say Kewpie) and chili paste. Now you might have said, how is it different from the American ever-popular mayo. Well, the Kewpie is a little bit tangier, salty-sweet and softer compare to what we have here. It also due to the fact that they're favoring rice vinegar over the lime juice, that's the result feel more oriented too.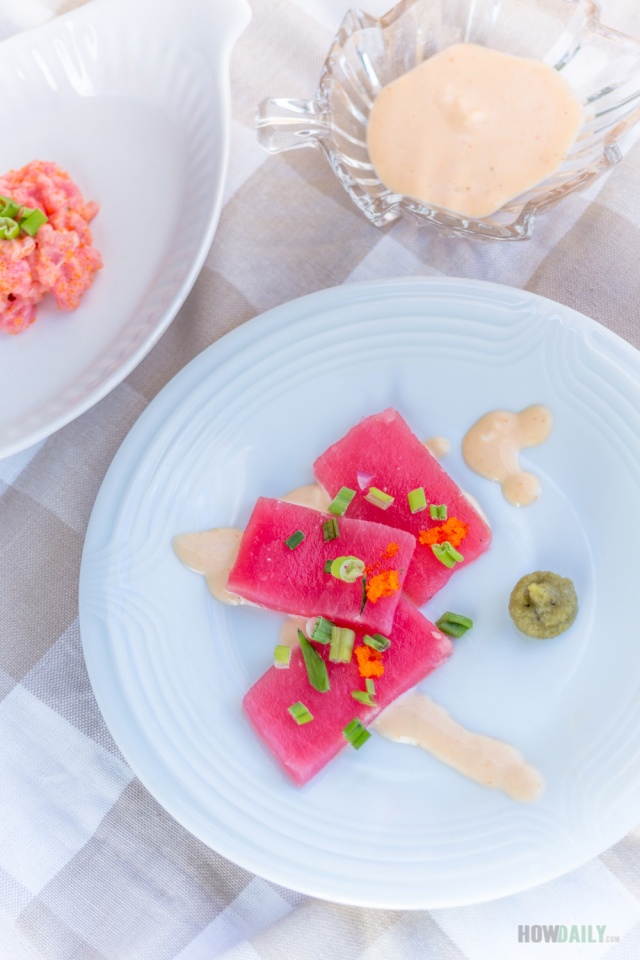 So, if you're wanting to bring this sauce home, you could either make it yourself or buy a Kewpie at the oriental market, the international aisle of your grocery, or online retailers like Amazon, Catalina, etc.
If you don't have much access to the store-bought, or for some reason want to make the mayo yourself ( plus the spicy version too) and feel good about it, then there are two methods to workaround.
The first is a quick conversion of the American mayo into Kewpie by adding Hondashi and rice or cider vinegar. This doesn't take much power and time at all and can be fixed up in 5 minutes max, so it fits perfectly for people on short time and just want the creaminess in a flask. However, because this uses the store-bought mayonnaise, so if you're health-conscious, then this is probably not for you.
The second method is healthier as you're making the mayo yourself, using organic egg yolk and avocado oil, which is healthier compare to the canola oil in most store-bought. Also because you're making is yourself, you're worry-free of any fillers, dye, or thickener. The downside is, you need more time to prepare (i.e cool the egg and oil at room temperature in advance), and hand power (or machine) to whisk some yolk.
And the final product, made either way, even the store bought Kewpie, just mix it with Sriracha to make that irresistible golden spicy mayo.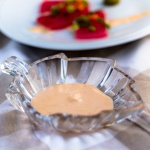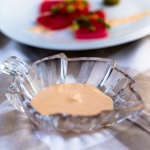 Recipe for house spicy mayo sauce
Introducing on how to make spicy mayo at home, through mayonnaise – Kewpie conversion to totally from scratch yolk. Thick, creamy and delicious guarantee!
Print
Ingredients
Instant Kewpie Mayo
1

cup

mayonnaise

1/2

tsp

sesame oil

1 1/2

Tbsp

rice or cider vinegar

1/2

Tbsp

sugar

1/4

tsp

Hondashi or 2 Tbsp dashi
Home made Mayo sauce for sushi lie Kewpie
1

egg yolk at room temperature

1/2

cup

avocado oil at room temperature

1/2

tsp

sugar

2 1/2

Tbsp

rice/cider vinegar

1/4

tsp

Hondashi or 2 Tbsp dashi

1/2

tsp

ground mustard

1/2

tsp

salt
Instructions
Instant Kewpie Mayo sauce
If you use the dried Hondashi, mix it with vinegar to fully dissolve before adding other ingredients.

Combine all ingredients (mayonnaise, sesame oil, vinegar, sugar, and dashi) and whisk to fully mix. This is your mayo with make-a-like Kewpie
Home made Kewpie Mayo for sushi/nigiri
In a small sauce pan on low/simmering heat, combine vinegar and dashi/hondashi.

Stir well while simmering to evaporate some water concentration and reduce the amount of liquid down to about less than/equal 1 Tbsp.

Remove from heat, add sugar and mustard. Stir to mix and let cool to room temperature.

In a clean container, add egg yolk and 1/2 tsp salt, and whisk them until yolk color goes light. (Perfect job for a hand blender/mixer. Note that you could also throw them in a blender/food processor and pulse for a few times to achieve same result)

While whisking/machine blending/mixing, slowly dripping avocado oil, spoon-by-spoon every 5-10 second to let mixture become thick and emulsifying.

When mixture reach full fluffy thickness, start adding the vinegar/dashi/sugar mixture to let it soften up. Whisk/pulse several times to combine. This is your home made Kewpie (Japanese) Mayo.
Spicy Mayo
Add Sriracha into the above mayo(either way or store bought) and whisk some more for the perfect spicy mayo sauce.