I love all kinds of pickles and fermented products, in fact, who wouldn't? The infused fermented sourness and saltiness, sometimes sweetness, just go so great with anything: grilled, fried food, barbecue, or simply over white rice or pasta. Korean Kimchi is one of my all-time favorite garnish, along with other pickling dishes, to the point that I would keep a large jar in my kitchen every time.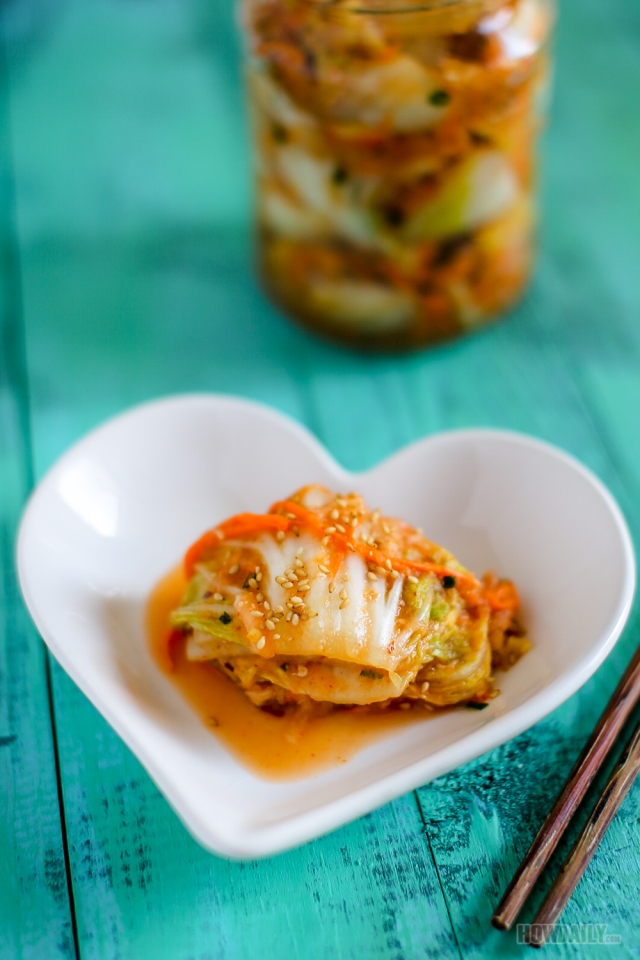 There are so many ways to make Kimchi, even in Korea where it's native. But in the US, there are not many places that sell Kimchi except at the oriental markets, kinda far away though. Surprisingly, my local Walmart does carry one in its salad section, strange. Still, the taste is not that desirable, I mean not even comparable to what you would have in Korea or Korean friend.
Another thing with store-bought is that you can't control what's in the jar. So say you are passing our that delicious Kimchi on a grilling afternoon, but one of your party members happen to be vegan, or allergic to seafood, hate fish, or simply just can't tolerate the extreme heat. Should you skip your precious Kimchi on them? No, you don't have to. Not if you have your own vegan Kimchi, or make your own not-so-spicy kimchi. See my point !!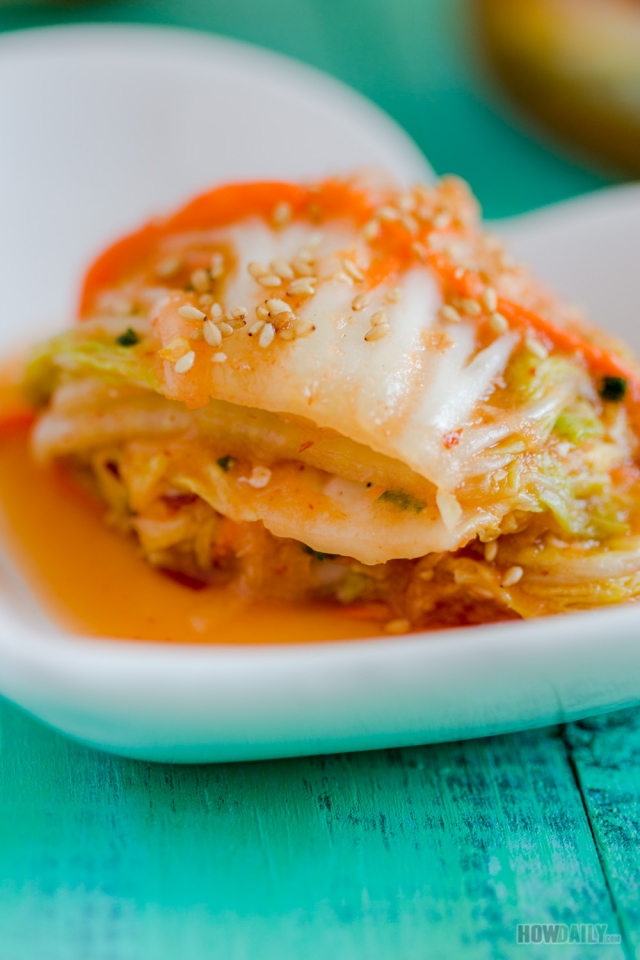 Most of the time, you would hesitate on the long and tedious times for brining and then fermented kimchi. With this quick kimchi, we could reduce the soaking times by using warm water with much more salt than usual.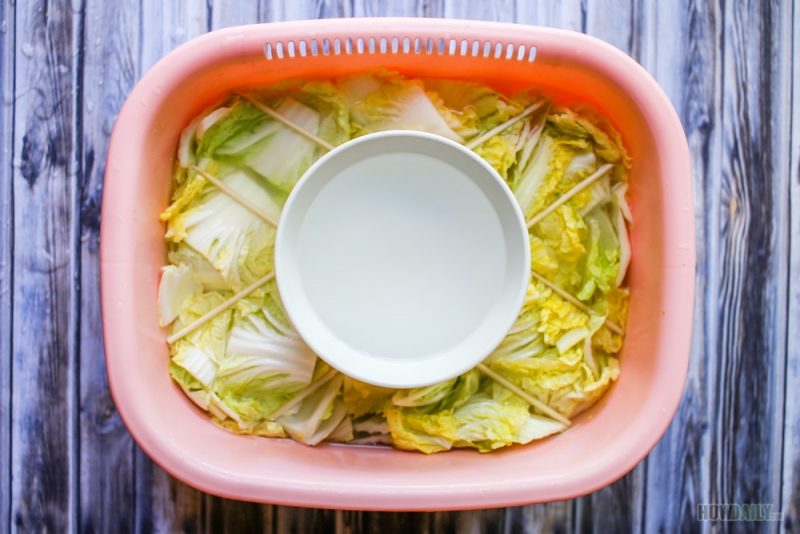 Soak napa cabbage with warm water and extra salt for reducing time
For the yearning fermenting taste, I get away with adding Gochujang. Now, most traditional Kimchi won't have this, but since Gochujang already has chili and fermented rice (what we used in making traditional Kimchi) plus already fermented soybean, which would make up for the fermented taste without actual time spending. Now if you are short of Gochujang, use a combined amount of Sriracha and organic miso instead, taste different but good too. I always love to vary the flavors.
I also add some apple cider vinegar to have just a little bit hint of sourness, very mild so it won't overpower the overall taste.
Most traditional Kimchi would have some sort of sea product in their sauce like dried shrimp, dried anchovies, anchovy sauce, fish sauce, etc. So to be vegan compatible, I used a trick in Vietnamese cuisine for vegetarian fish sauce, which made the sauce out of pineapple and soy sauce. Then add a little piece of kelp (which is a sea algae, you can skip this) to bring some sea essence umami.
Finally, some fruits' flesh is needed. I used plum and pear, but you could use apple or something similar. I heard some Koreans would use persimmon too, but I live in the midwest so it's not native in this season.
You could just salted and make kimchi with just napa cabbage alone, or add the side veggies as I did in this recipe. I usually add some daikon radish, carrot, and scallion or leek for some extra flavor. Shred them for a quicker soak in this instant version. So, if you have good knife skills and can multi-task, this whole kimchi-making process would cost about 30-40 minutes, start to finish.
The taste? It tasted good immediately, better the next day, and perfect after that. Awh, it's the kind of good where you think it's perfect only to find out its superior the next time you taste. Yum, can't have enough kimchi. Try it and tell me your result. I could always use some suggestions.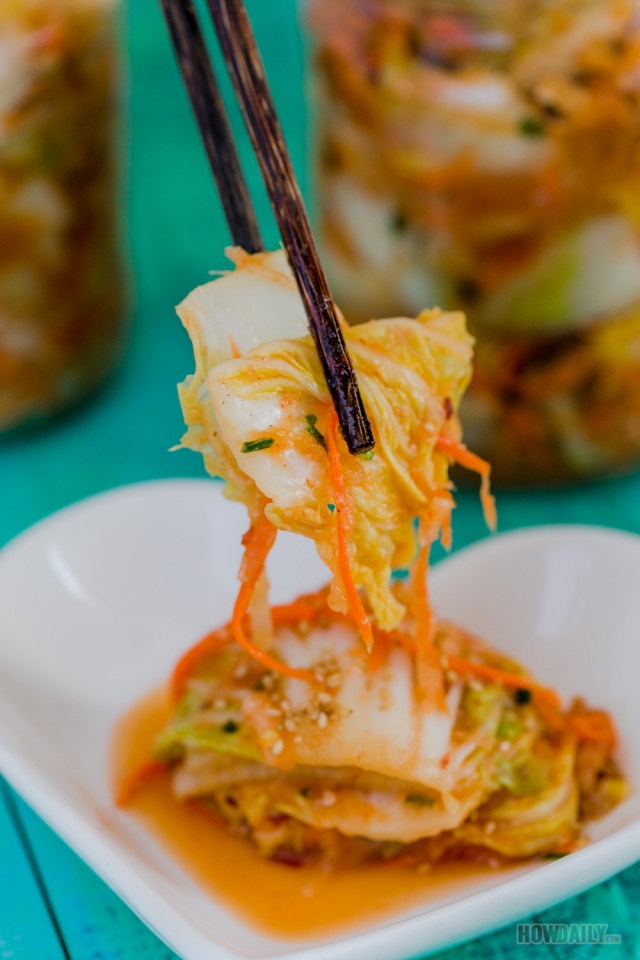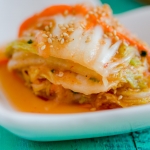 Recipe for Instant vegetarian Kimchi
Totally adjustable and vegan compatible of the ever infamous Korean Kimchi, ready in 30-40 minutes include soaking brine and ferment. No shrimp, fish or any seafood being used.
Print
Ingredients
1

large napa cabbage

about 2 lbs

1/2

lb

daikon radish or turnip

1/4

lb

carrot

4

stems green onion/scallion
Brine
7

cups

water

1/2

cup

salt + 1 Tbsp salt
Vegan fishy sauce
1/4

pineapple or 1/4 cup raw pineapple juice

no sugar added, no dilute

1/2

cup

water

1

Tbsp

sugar

1

Tbsp

salt

1

Tbsp

soy sauce

A 2″x2″ piece of kelp

optional
Vegan Kimchi sauce
Vegan fishy sauce above

1/2

white onion

A nickle size piece of ginger

4

cloves

garlic

1

Tbsp

sugar

2

tsp

honey

2

Tbsp

apple cider or rice vinegar

1

pear or apple

peeled and cored

1

plum

peeled and seeded

1

Tbsp

roasted sesame
Spicy mixture – adjust to your tolerant level
2

Tbsp

Gochujang or 3 Tbsp Sriracha + 1 Tbsp miso paste

2

Tbsp

chili pepper flake or cayene pepper

please adjust base on you spice tolerant

1/2

Tbsp

chili powder
Instructions
Cut off the root and hardening stem part of napa cabbage, then cut it into 1 1/2 inch – 2 inches sections.

Use your hand to separate all the layers and wash them clean. Place them in a large container.
Brine
Boil 5 cups of water with 1/3 cup salt.

When all salt dissolved, remove from heat, let cool down to 122 F (about 5 minutes).

Pour the warm brine into cabbage container, use a spatula or some thing to stir around so that all pieces are loosen and in contact with the brine.

Apply some pressure to make sure the cabbage stayed down. (I used a heavy water bowl over a crossed skewers).

After soaking with brine for 10 minutes, stir to flip the cabbage upside down, again, keep them down and soak for another 5 minutes or so.

The napa cabbage should now be more bendable without breaking but still preserving their crispiness.

Fill the container with water, and rinse off all the brine once, or twice if you feel them too salty.

Drain off all excess water, you probably have to squeeze them a little, and place them on a basket or cooling rack to drip off excess water.

Shred all other accompany veggies like turnip/daikon radish, carrot. Cut off the white stem, and chop the green scallion.
Making Kimchi sauce, the vegan way
If you have a juicer, just throw the pineapple into it for the juice. If not, puree it and squeeze with a cheesecloth to extract as much juice as you can. You would need about 1/4 cup of pineapple juice.

In a small sauce pan, add a small piece of kelp into simmered pineapple juice with 1 Tbsp sugar, 1 Tbsp salt, and 1 Tbsp soy sauce. Stir to make sure all sugar/salt are dissolving. Reduce to about 1/4 cup. Remove sauce pan from heat and let cool off naturally.

In

your blender

, add 4 garlic cloves, a nickle size piece of peeled ginger, 1/2 onion, 1 plum's flesh, 1 pear or apple 's flesh, 2 Tbsp apple cider or rice vinegar, 2 tsp honey ad 1 Tbsp sugar. Blend them real good, like a smoothie.
Mixing
Now you need a good pair of food gloves, find the longest pair that you could find.

Add all the drained cabbage into a (large) mixing bowl, the pour the kimchi smoothie *^.^* all over them.

Add the vegan fish sauce (the reduced pineapple juice mixture) and all your spicy mixture: chili flakes, powder, Gochujang, etc.

Don't forget the extra side veggies like shredded daikon radish/turnip, carrot, scallion, toss them all in as well.

Use your hands (w/ gloves or you'll be in nightmare with burnt hands lol) to mix them good. Make sure the reddish sauce mixture touch every bits and pieces of cabbage.

Taste test and adjust to your liking (more salt/sugar/vinegar etc. to your need). Think they're good, sprinkling some roasted sesame, and mix them well again.

Cover and let sit for 20 minutes for ingredients fully soaked before serving.

Store in airtight container in fridge with a vegan mark ^.^