When it comes to buying a blender, there are a great number of different options to choose from, depending on what you are using it for. For instance, if you just want a cup of smoothie every morning or after workout, you may want a simpler yet powerful convenient single-serve blender.
If you want a blender that will make smoothies as well as offering other options such as chopping, slicing, dicing and blending other types of drinks, you may want a more versatile blender with a number of attachments. On the other hand, larger blenders take up more counter space and the attachments take up cupboard space. If you live in an apartment or small space, you may want a smaller, quieter blender, while if you live in a larger home or making smoothie for many, you may want a larger, more powerful blender.
Whatever your needs are, here is a list of 5 best smoothie blenders, their pros and cons to help you choose the best personal blender for your need.
1. Vitamix Professional Series 750
MOST EFFICIENT
If you want the most powerful and efficiency blender on the market, the Vitamix Professional Series 750 kitchen blender is the top of the line for producing the smoothest smoothies ever for the whole house. Offering a 2.2 HP motor that is shockingly quiet on the encapsulated larger 90oz, 64oz or 48oz jar, the Vitamix will do far more than just make a great smoothie.
Best of all, the Vitamix Professional 750 self-cleans in just 60 seconds when you are done and comes with a full 7 year manufacturer's warranty. Now that's a great blender.
Be ware though, the older version of Vitamix tend to shed Teflon while blending; which the new revised version already fix this issue in 2016. Just watch for the manufacturing date when you're buying.
PROS:
Super powerful at 2.2 HP
Most efficiency making the smoothest smoothies ever
7 year manufacturer's warranty
Long lasting quality
Multiple Large capacity jar at BPA-free
Special blade moment for more smoothies at less power consume
Heavy metal base at 13 lbs prevent running
Fit under cupboard
5 programmed setting for Smoothies, Soup, Frozen treats, Puree and self-cleaning
CONS:
Large blender, takes up a lot of counter space
Hefty price tag
Older models' gasket shedding Teflon (fixed for model built 2016 onward)
2. Blendtec Total Blender Classic
TOP POWERFUL
This is the strongest, most powerful blender, the Blendtec Total Blender Classic is a one of the most trusted names in commercial blenders and is one of the most frequent choices of commercial juice bars, coffee houses and smoothie shops around the world.
Whip up a cake batter, crush ice, juice the heartiest of vegetables and make ice cream and soup with this versatile 10-speed blender with easy-to-read touch pad controls. There are just too many thing could do with their 6 available cycles for handling from smoothie to puree, soup, and etc.With the powerful 3 HP motor, this beast could blend through anything without the need for tamper in between.
At 15.5 inches tall, the Blendtec fits easily under most kitchen cabinets and with its heavy base, the machine would sit nicely still through any blending vibration.
All of those pros are back up with full 8 year manufacturer's warranty.
Flaw, you may ask? Apart from being on the pricier side (slightly less than the vitamix), some blendtec owners might complain about the actual blend-able capacity. E.g despite being at 64oz, the carafe shouldn't be filled more than half to function efficiently. So that leave 32 oz of smoothies, soup or whatever you're blending, which if you have to serve 5 or more would present a tedious task.
Another flaw, when comparing to the Vitamix, is that its uncleared accompanying user manual, which is kinda frustrate for first time users.
PROS:
Super powerful 3HP motor
Trusted commercial brand
8 year manufacturer's warranty
Large blender jar
Fit under cupboard on counter top
Variety of programmable options for marking smoothies, soups, nut, flour, etc…
CONS:
Design efficiency, can't fill the to max  capacity
Worst ever usual manual, unclear instruction, accompany recipes are worthless.
3. Ninja Mega Kitchen System
MOST VERSATILE
If you want an all-in-one appliance that combines a complete blending system with the versatility of a food processor, mini chopping bowl and to-go blender cups for smoothies and juices on-the-go, then the Ninja Mega Kitchen system is for you. The 2 HP motor offers you 1500 Watts of peak blending power and enough juice to pulverize even the sturdiest fruits and vegetables.
The ninja also comes with several attachments like a double sides shredder and slicer. For even french fries and cheese shredding, this is just perfect for daily use, you'll get the most out of this.
Choose from the giant 72 ounce blender jar for family gatherings or the individual smoothie cups to take with you. The single-serve cup are so useful, especially for the morning/post workout scenarios, just pop the blade in, blend for 2-3 seconds, replace with the sippy cap and you're ready to enjoy. 5-minutes max quick smoothies.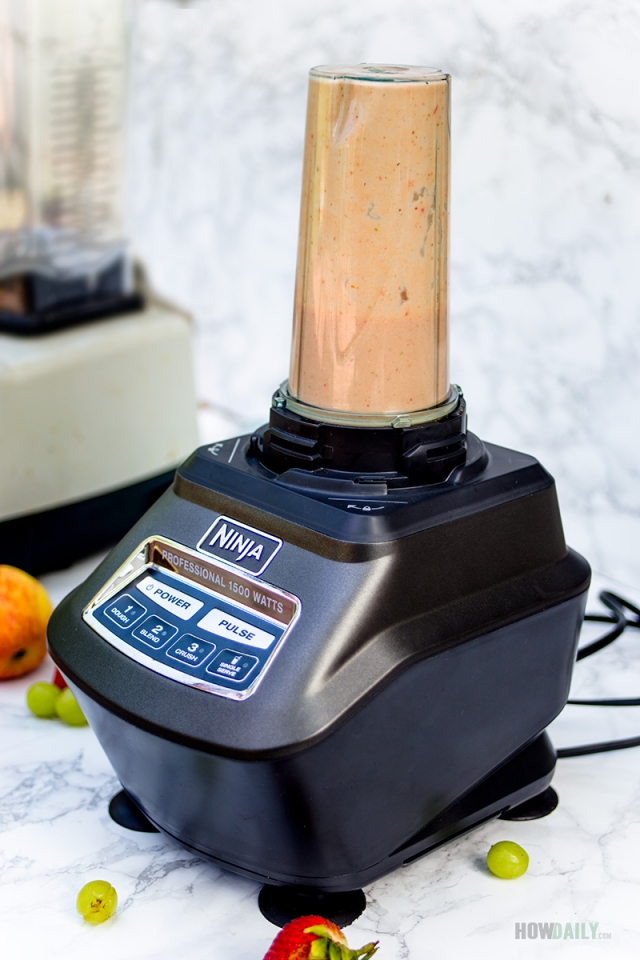 Cons, yes, with the variety of attachments and parts, you will end up with big box that would eventually cost a whole cabinet space. If you're blessed with a large kitchen, this won't be a problem, otherwise running for storage space might be an err.
PROS:
Super powerful at 2 HP
Multi-function options, blending, food processing, single-serve, shredding, slicing, etc.
Complete system, no need to buy additional accessories
Extra large blender jar
Single-serve cup for quick smoothie in 2 pulses, fast blend and easy to clean
Multi-layer blender blade that will blend through any thick substance.
Reasonable price
CONS:
Unstackable components, takes up a lot of space for storage
Lots of pieces and parts to store
Loud motor
Small feeding chute in blender lid
One year limited warranty, which is shorter than most higher range price blender
4. Magic Bullet NutriBullet
MOST BUDGET
If all you want is a small, inexpensive low-profile system for blending smoothies and accomplishing smaller tasks like chopping or dicing small batches of vegetables, then the NutriBullet is for you. Unlike the Ninja Mega Kitchen system, the 12 pieces that come with the NutriBullet are strictly accessories for the three cups that come with the system. The 12 piece set includes:
Power Base
2 Blades: One for extracting, one for milling
3 Cups: One tall, two short
2 Lip rings, one with handle, one without
2 resealable lids
user manual/ cookbook and pocket nutritionist guide
The NutriBullet is also ideal for an RV, small kitchenette or to use at the office. The small base and minimal containers make it perfect to fit right in a desk drawer to use right at your desk. The less powerful motor also makes for quieter operation, which means you can use it in a small space or office without bothering others nearby. Whip up a cup of bulletproof coffee in the morning right at your desk and then whip up a quick mid-morning smoothie to tide you over until lunch.
While the NutriBullet offers a single handle ring for use with one of the cups, however, it doesn't offer a to-go lid. If you want to take a smoothie or blended drink with you, you'll have to pour it in a separate to-go cup or take it with you lidless. On the other hand, not taking the cup with you makes it less likely you will lose the blender cup or leave it behind somewhere.
PROS:
Small compact base ideal for small spaces
Great for taking with you or for using at the office
Few accessories store quickly and conveniently and take up little space
Quiet operation
Low price
CONS:
No blender jar for larger batches, largest jar only has 3 cup capacity
Limited power motor, weak and impossible to smooth green veggies
No to-go lids for cups
Longevity is in question
5. Breville BBL605XL Hemisphere Control Blender
TOP WELL-ROUND
At the juncture between size, price, power and respected brand name sits the Breville BBL605XL Hemisphere Control Blender.

The unique hemisphere bowl and blade system actually draws the top ingredients down to the bottom of the pitcher ensuring you get the smoothest of smoothies with no leftover chunks or lumps, comparable to that of a Vitamix or Blendtec.
Another plus for this Breville is its extremely quiet operation, so blending in the morning won't wake anyone, especially useful for those who live in apartment or need the peace.
An LCD Timer counts up and down for pre-programmed settings and even offers a pre-programmed smoothie setting. While it doesn't offer the versatility of the Ninja kitchen system, Breville is still one of the most respected names in kitchen appliances that is wel-knowned for their product longevity and outstanding customer support.
PROS:
Efficient motor with the best blade/jar design to achieve the best smoothies
Respectable brand name for longevity
Moderate price
Super Quiet operation
Pre-programmed smoothie function
Easy-to-clean base with lighted buttons
CONS:
No smoothie or to-go cup
No additional accessories for versatility
When it comes to choosing the right blender for you, there is no one-size-fits-all best smoothie blender for everyone. Depend on whether you simply want to fast blend smoothies for yourself or for the whole family; blend for on-the-go or a relax afternoon; what you need to blend, e.g . frozen food, raw nut butter, leaves veggies or simple fruits… all of that would give a different types of blender picture.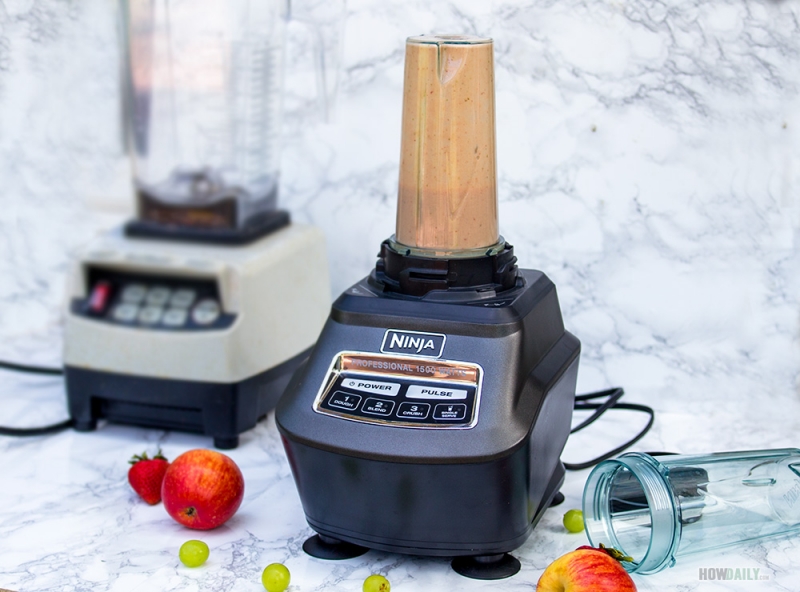 Some people may want to have more than one blender as well. For home use, you may want a Ninja Mega Kitchen System and for less than $100, you can also get a NutriBullet to keep in your desk drawer at the office. In other cases, you may want to keep a NutriBullet out on the counter at home for quick smoothies in the morning and a larger Breville BBL605XL tucked away for larger events or when you want to whip up a batch of soup or jam. If you're using blender once/twice a day, longevity is the key. Any more than that will depend on your budget too, since you might go into the flour, butter, bread direction, consider a Vitamix or Blendtec at a hefty fortune. Anyhow, the best blender is the one that you're actually using.
Whatever your needs, there is a best kitchen blender or smoothie maker for you at just the right price point. We hope these smoothie blender reviews have provided the best information to help guide you to finding the best personal blender for you.