Showing up in almost any Japanese restaurant across the States with many variations and versions, it's simply safe to say that Volcano is one the most popular and welcome sushi rolls by the mass.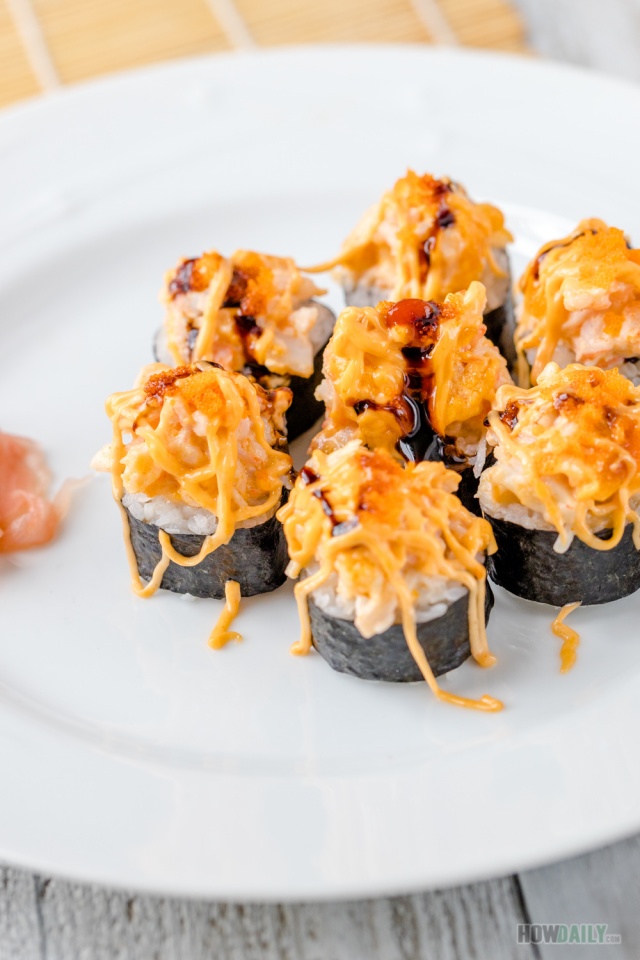 Simply put, It's like the upgraded version of any standard maki roll; in which one would place the burning lava topping on top of their favorite sushi slices then drizzle them crazily with sauce. The base slices, often from the cooked roll like California, cucumber, etc. or raw like tuna, white fish…are often cut in a thinner manner to account for the extra height from topping.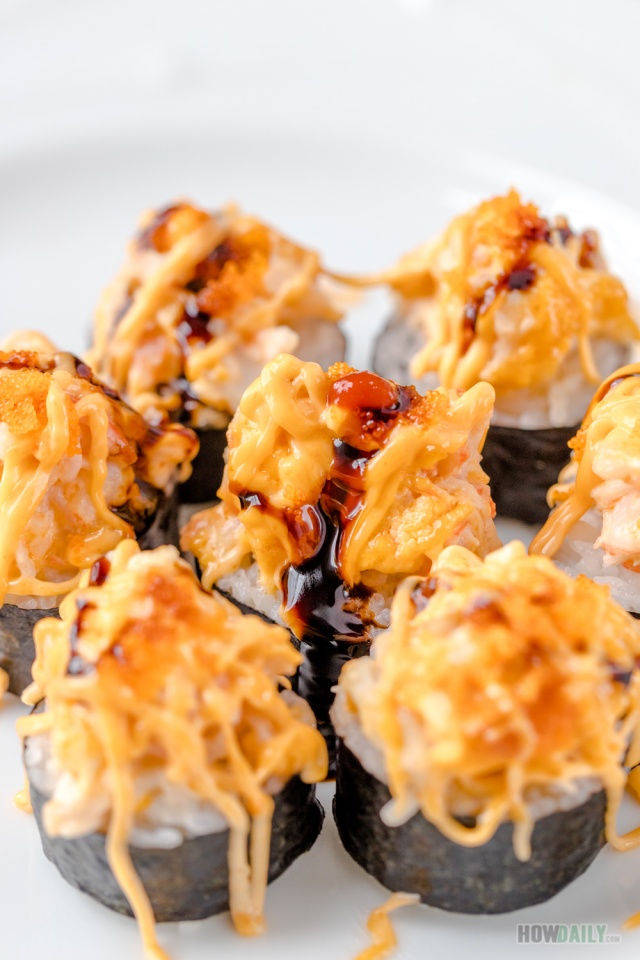 Since the baked topping is naturally flavorful enough, it is not recommended to add any seasoning except for lemon juice. A couple of drop to the mixture will knock it up a level of course, since the main ingredients in there are shrimps and scallop. Of course, you can change these ingredients to your liking as many restaurants did to variate the flavor.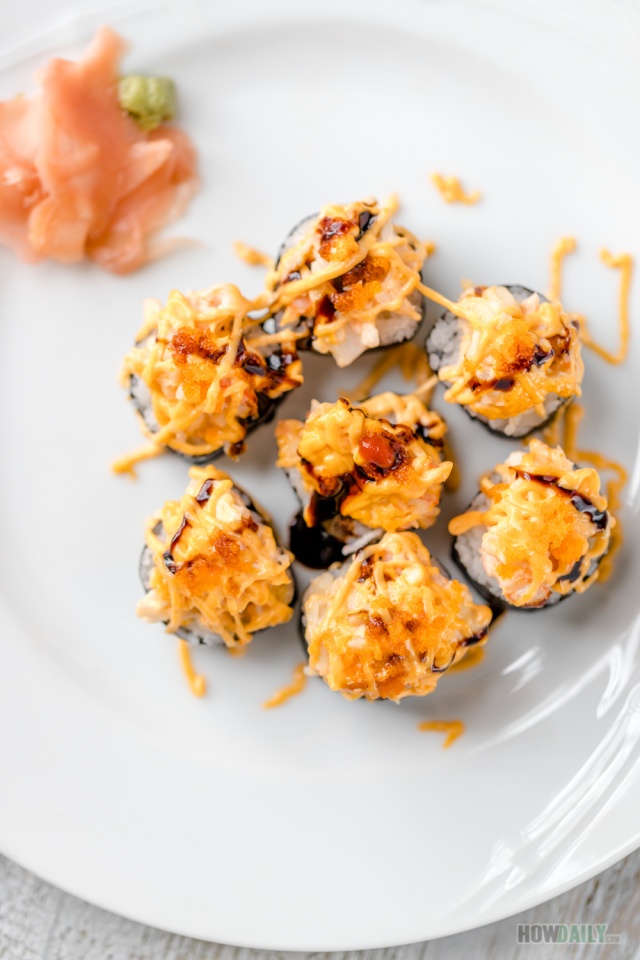 This recipe is definitely not one of those guilty-free. It's actually more on indulging yourself in the combination of flavors. However, if you're uneasy about this, feel free to make a substitution. In this case, cauliflower rice, carrot, and cucumber would work for the sushi roll, while replacing all mayo, cream cheese, and similar to Greek yogurt. Possibly adding some dash of sea salt to replicate the flavor.
There, have fun of your roll and show me what's your way of making this blazing hot volcano sushi roll.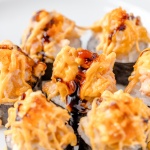 Recipe for Volcano sushi roll
Mouth-watering volcano sushi roll with full blasted of flavors from shrimps, scallop, masago… as well as spicy mayo and unagi sauce. A balanced control example between saltiness, natural sweet (umami) and vinegar sourness.
Print
Ingredients
Spicy mayo
0.5

Tbsp

Sriracha

adjust to spicy tolerant

4

Tbsp

Kewpie mayo

or regular mayo
Lava topping
12

prawn

or equivalent substitution

10

mini scallop

1

Tbsp

cream cheese

optional

3

Tbsp

spicy mayo
Instructions
Spicy mayo sauce
In a mixing bowl, mix 4 leveled spoon of mayo (or 3 heap) with half Tbsp of Sriracha. Adjust the amount of Sriracha to your spicy tolerant level.

After mixing it good, set aside to rest for a couple minutes. The sauce will turn out in a nice yellow color and be ready for any glazing.
Lava Topping
Cut kani sticks into 2 or 3, add to mixing container.

Mince half of the shrimp and finely mince the rest. This is to preserve some variation in the final texture.

Slice and dice scallop if they're too big.

Add creamcheese and a spoon of spicy mayo sauce. Or replace cream cheese with extra spicy mayo.

Add some drop of lemon juice if you like the flavor.

Use a fork to mix while breaking kani sticks into thin strips. Mix them good.

Level and spread some extra spicy mayo all over the top surface.

Bake for 12-15 minutes or until it's bubbling and shrimp done.
Rolling sushi base
Lay a piece of nori, shiny side down on top of rolling mat over flat surface.

Spread cooked and seasoned sushi rice atop nori and apply some pressure with your fingers tips.

Add kani and cucumber strips or your favorite fillings.

Lift the mat and roll while applying pressure gently to form shape.

Cover with plastic wrap and set aside till ready to assemble/serve. Repeat for other rolls if need.
Assembling
Cut each sushi roll into slices, thinner slice is prefer due to the extra height from volcano topping (10-12 pieces/rolls instead of the regular 8).

Arrange them all to serving plates.

For each slice, carefully spoon on lava shrimp mixture.

Drizzle extra spicy mayo and unagi sauce all over the pieces.

Top off with some masago or simply dot of Sriracha for even spicier taste.

Serve immediately. No soy sauce is needed as the over all flavor should be quite balance a bit of everything.
Video