If you love salmon and can take the rare sashimi, try this spicy salmon sushi roll in a special version with vibrant wasabi green tobiko and red masago wrap around. The flavor is also kicked up a knot too, with a mix of crunch, crisp, creamy, and mild touch of heat.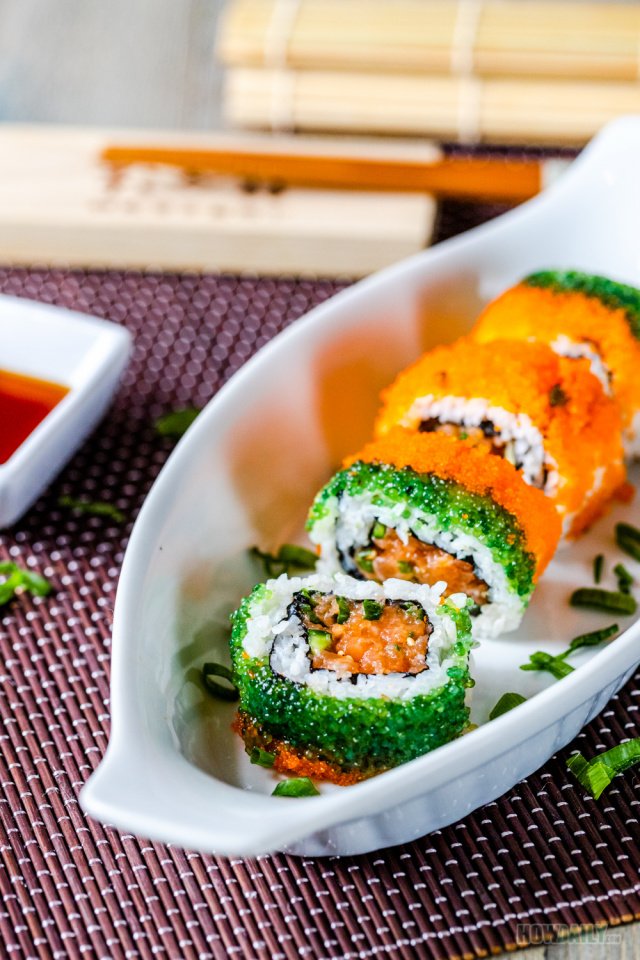 The procedure is fairly simple, you roll a spicy salmon roll like usual, but turn it into uramaki style. After that, carefully dab on the roes using the back of a spoon. Though green and red look great contrastingly, you can change or adapt to your favorite roes.
If you're wondering what spicy salmon roll is, it's minced salmon mix with (often) sriracha, tabasco, or any chili hot sauce. The same for any other spicy fish sushi roll like spicy tuna, spicy hamachi, etc. Typically, the minced fish will be marinated with ponzu and a little bit of chopped scallion to add some flavor.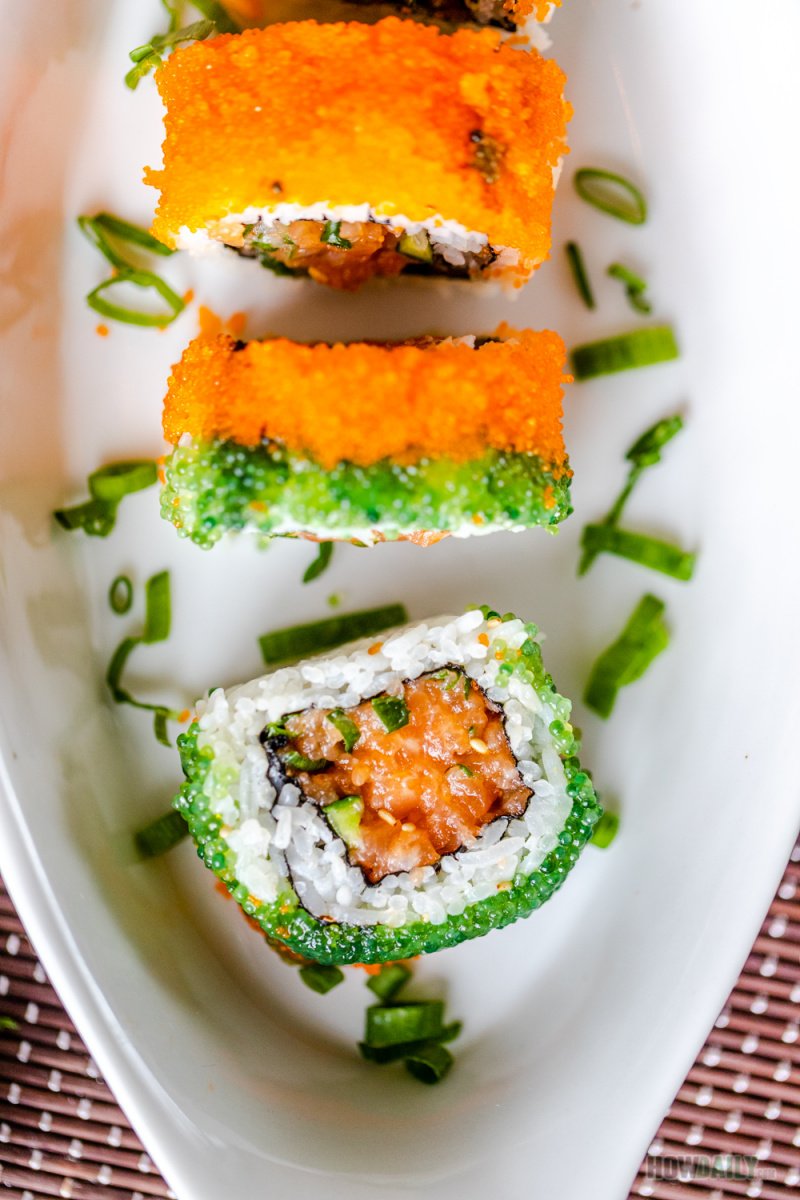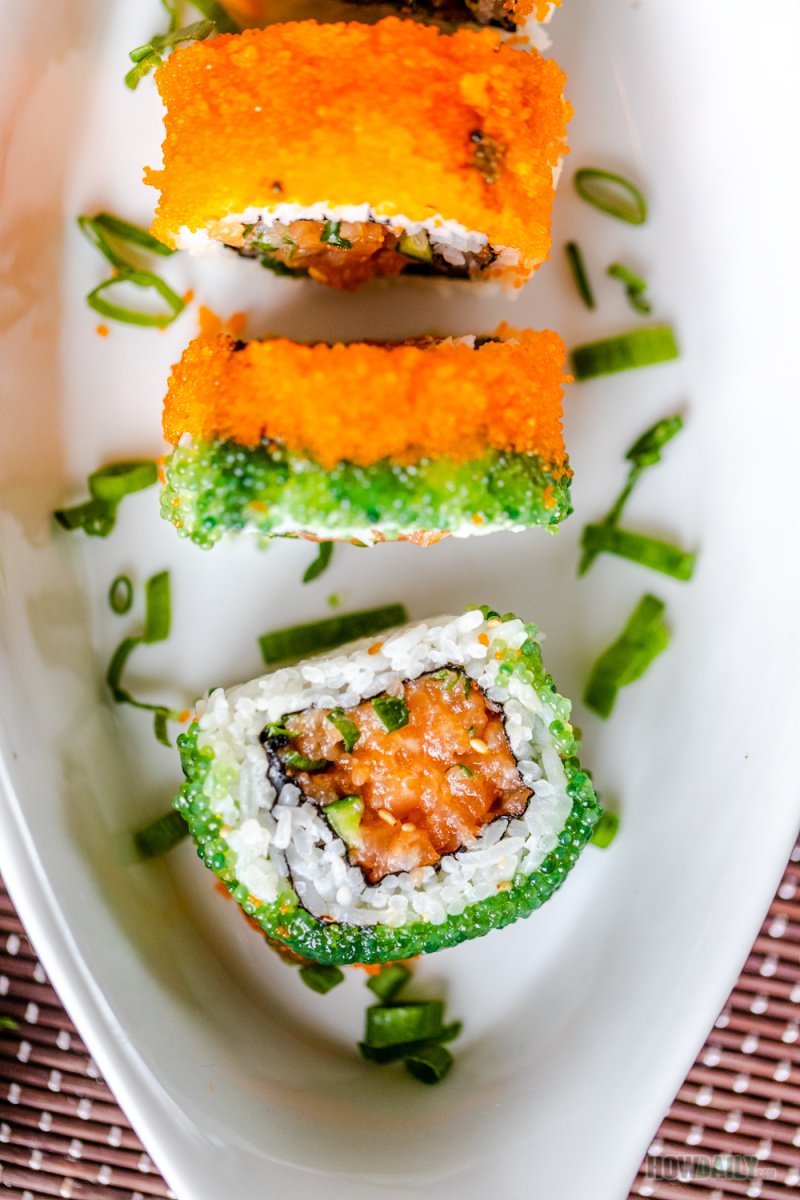 These roll should be served immediately to prevent dryness and dullness of the fish. It's always a good idea to add wasabi and pickled ginger to any raw sushi roll to help clean the palate. On the other hand, since this roll is already had wasabi roes embedded in it, you can skip those regular sides.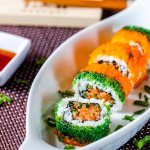 Spicy Salmon Sushi roll with inside-out fish roes
Marble swirl of wasabi green tobiko and red masago make this spicy salmon sushi roll looks vibrantly on the dish.
Print
Ingredients
4

oz

salmon sashini-grade

2

Tbsp

scallion

chopped

1

tsp

roasted sesame seeds

1

tsp

ponzu sauce

½

tsp

Sriracha

or adjust to prefer spiciness

3

Tbsp

fish roes: masago, tobiko, etc.

2

slices

mini cucumber

1

nori

tear to ¾

¾

cup

cooked sushi rice

2

Tbsp

sushi vinegar
Instructions
Prepare salmon sashimi by finely chopping or mincing into small pieces.

In a small container, combine minced salmon, chopped scallion, ponzu sauce, sesame seeds and enough sriracha to your liking.

Mix them good and set a side for 5 minutes.

Season sushi rice with sushi vinegar.

Lay a piece of nori over bamboo mat on a flat surface.

Spead seasoned rice all over nori.

Sprinle some roasted sesame seeds over the rice.

Flip the nori/rice sheet upside down.

Spoon salmon onto nori, then arrange cucumber slice.

Lift bamboo mat and carefully tuck then roll to create an inside-out sushi roll.

Now place the roll over cutting boad.

Use and small spoon/spatula to take some fish roes and spread over the outter side of the sushi roll.

You can mix and match to use diffrent kind of tobiko/masago to variate the flavor and appearances.

Once the roll is covered with enough fishes' roes, Lay a pieace of plastic wrap over the roll.

Then use bamboo mat to apple slight pressure to help with the roll shape and adhere fish roes to the rolls.

With the plastic wrap still cover the roll, use a sharpt knife to cut spicy salmon roll into bite-size slices.

Serve immediately with some soy sauce, wasabi and pickled ginger.