If you are a fan of sushi or sashimi, you probably come across hamachi sometimes. Though not as popular as salmon in the West, quite underrated apparently, Hamachi is actually one of the most valuable sashimi delicacies. It's versatile in being sashimi, Negi toppings for sushi, tartar… Some popular sushi rolls with hamachi includes the spicy yellowtail roll (negi hamachi makizushi – recipe below), rainbow roll, dancing yellowtail, etc.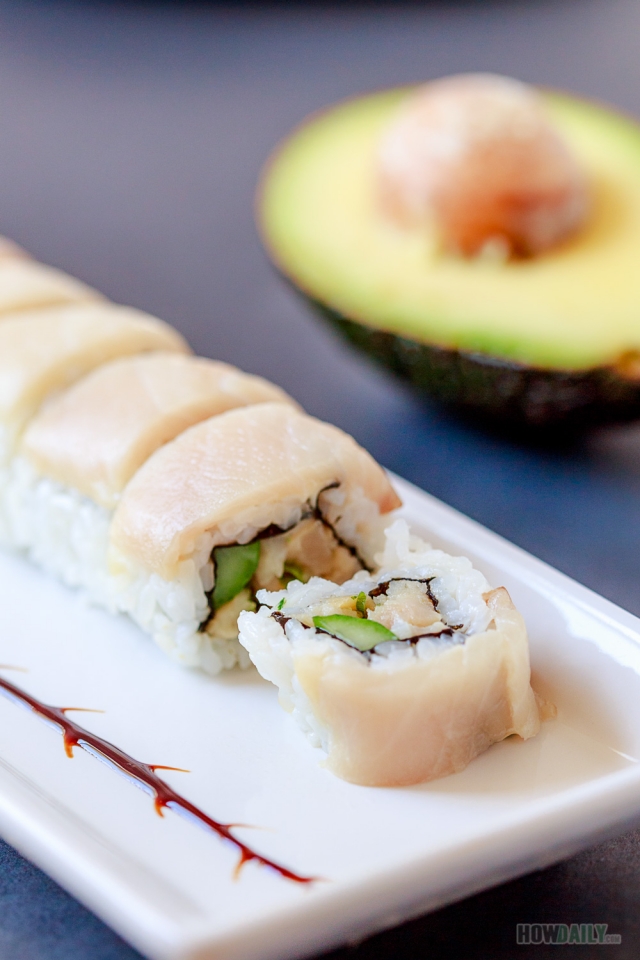 Yellowtail (Hamachi) Roll
In the States, many restaurants are labeling hamachi as yellowtail, but only the authentic one would tell you the difference. You'll see, not all yellowtail is hamachi, and yes, it's not tuna, even the yellowfin one.
What is yellowtail
Yellowtail is actually Japanese amberjack, recognized as having a yellow stripe along its body. It is not tuna nor yellowfin tuna as most confused by some due to their similarity.
Most of the yellowtails are farm-raised and are native to the northwest Pacific ocean. They are a bit underrated in the US as compared to other fish like salmon and tuna. However, they are quite favorable in Japan due to their high-fat content, especially in winter.
What is Hamachi
In short, Hamachi prefers to the upper part of the young (about 8lbs) Japanese amberjack or five ray yellowtail called Hiramasa that is harvested during the summer season. The lower (near the tail) part is called Wakana.
Then there's the larger and older amberjack – kampachi. Or the even older/mature amberjack – called buri is harvested during winter. Though look pretty similar with obviously the same western names (amberjack, yellowtail, etc), they all have very different meat appearances, flavors, and textures. Buri has way more fat and usually preferred cook while hamachi is leaner.
Want to tell them apart? Look under the eyes, if the jawline/chin is more rounded, it's a hiramasa. If it's square and shaft angle, that's a buri. Their market values are different as well, so beware.
Hamachi's price is on the more expensive side and is often consumed raw. It can also be seared, roasted, or grilled, though its high value is being a sashimi favorite.  The meat itself has a mild & sweet flavor and buttery texture. When mixing with scallion and hot sauce, the taste would just so great that you would want for more.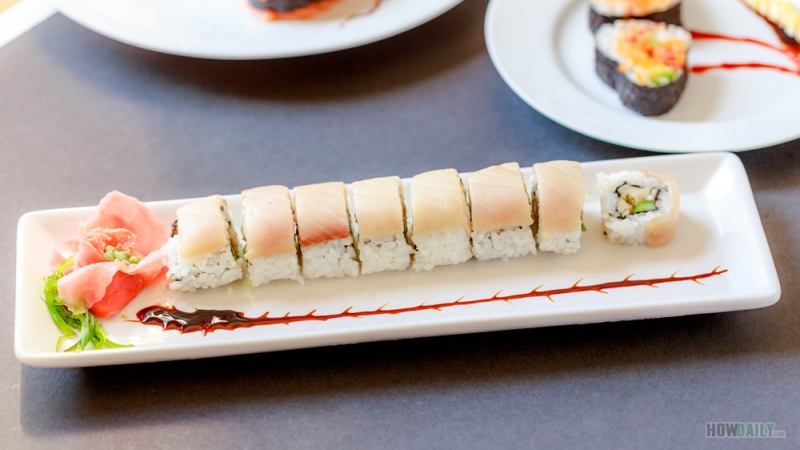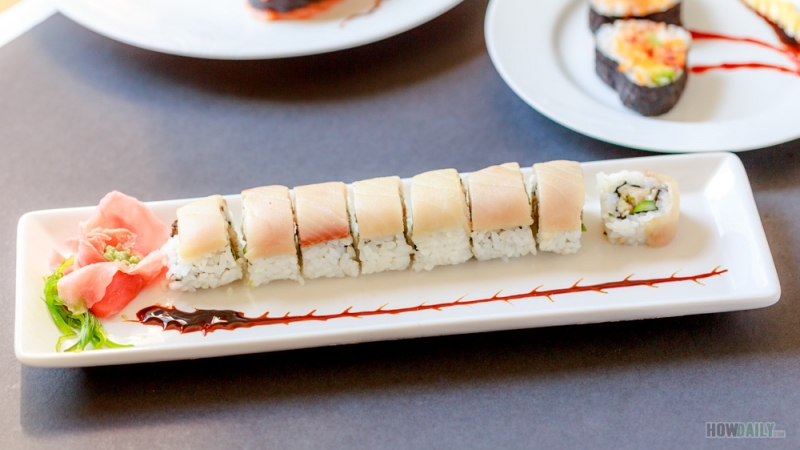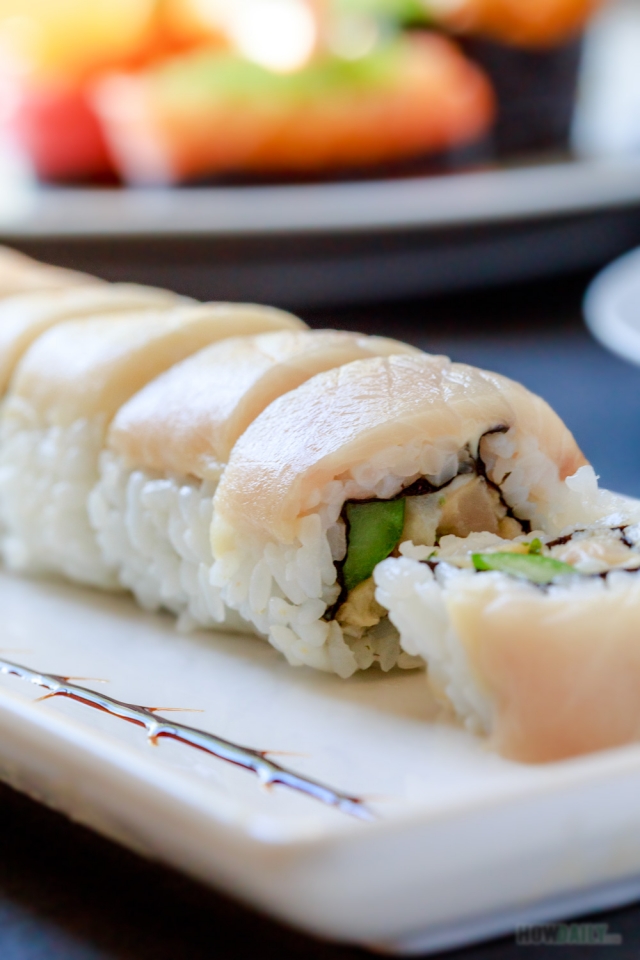 The following recipe is for an uramaki wrapped around by hamachi sashimi and filled with negi-hamachi (diced hamachi with scallion) with a little spicy flavor from sriracha and spicy mayo. You can roll this by hand with the help of a towel or bamboo rolling mat. Plastic wrap is necessary to keep off the stickiness and help save the cut smooth & clean. You can take a look at this video on how to roll using just your hands and towel.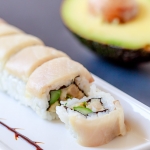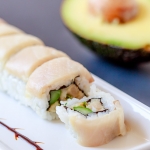 Recipe for Spicy Yellowtail maki sushi roll (Negi Hamachi)
Beautiful, light and fresh are what use to describe this delicacy of spicy negi hamachi sushi roll. Sushi-grade yellowtail compliment with delicious flavor of Sriracha, spicy mayo and scallion (negi).
Print
Instructions
Slice hamachi into thin sashimi slices so that they will arrange to cover the upper outer surface of the sushi roll. About 3-4 slices depend on your hamachi block size.

Mince the remain hamachi finely but do not ground so that you still have a bit of texture.

Finely chop the green part of green onion/scallion.

In a small bowl, combine diced hamachi, scallion, Sriracha sauce, and 1/2 Tbsp spicy mayo.

Cut mini cucumber into thin strips.

You will need a plastic wrap (to help hold/shape this roll plus avoid sticking) and a small cup of vinegar + water to moist your hand in between.

Lay a 1/2 sheet of nori on top on the plastic wrap, texture side up.

Spread and knead 1/2 cup of sushi rice onto nori. Do not mush the rice.

Flip the nori over, so that the rice layer directly on plastic wrap.

Spoon negi hamachi (spicy yellowtail mixture above) on the nori.

Arrange cucumber onto negi hamachi.

With the help of a towel, lift rice/nori up to cover the ingredients, lightly press and hold for a second to shape then roll.

Keep rolling till the end, hold and shape.

Now carefully open the plastic wrap to reveal the roll.

Drip a small straight line of spicy mayo on top the roll for extra flavor and adhere the fish.

(optional) Dab/drip some wasabi next to the line of spicy mayo.

Arrange the sliced hamachi on to cover top of the roll.

Tuck and wrap the plastic wrap. Lightly press and hold for a couple seconds.

Keep a damp towel to wipe clean your knife in between, cut the sushi roll into pieces while plastic wrap still on.

Carefully unwrap each piece and arrange onto serving plate.

Enjoy