Introducing the tofu skin roll (bean curd roll), this is not a sushi roll, but rather an appetizer dish from South East Asia. In Vietnam, there are several ways to make tofu skin roll but typically divide into three: full veggies filling, shrimp (or seafood like crab, fish, etc) filling, or just a combination with ground pork.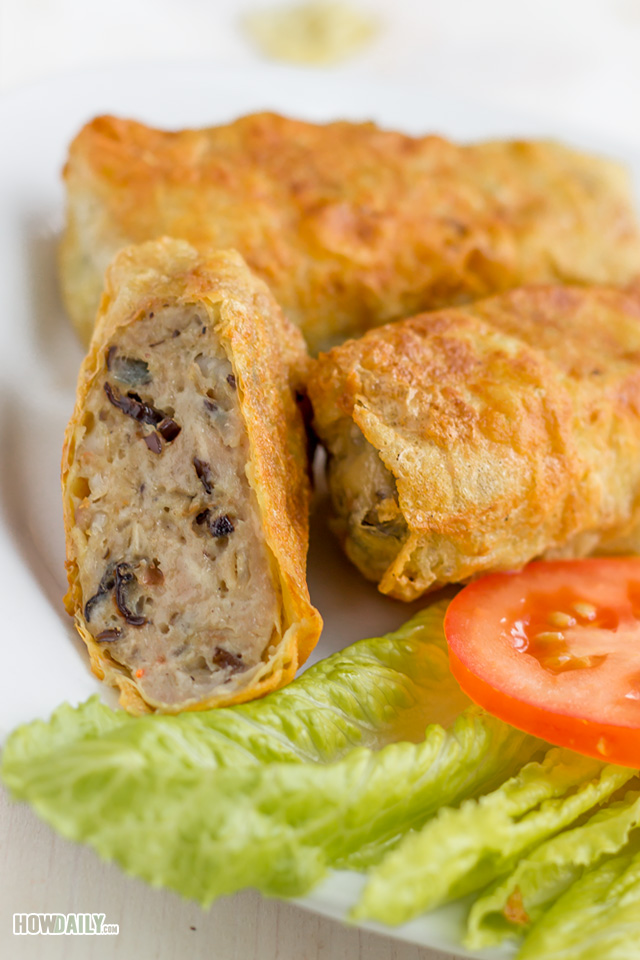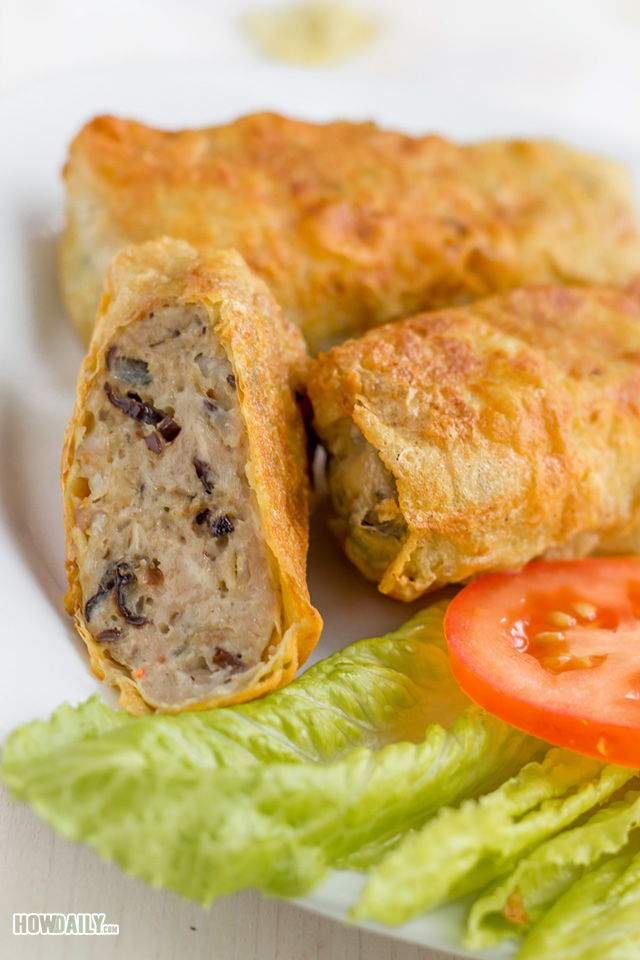 Overall, it's a roll that wrapped with tofu skin or bean curd, filled with ground meat, shrimp, and a variety of veggies and spice. The roll then, depending on its size, thickness, and filling ingredients, will be steamed, fried, braised, curried, etc.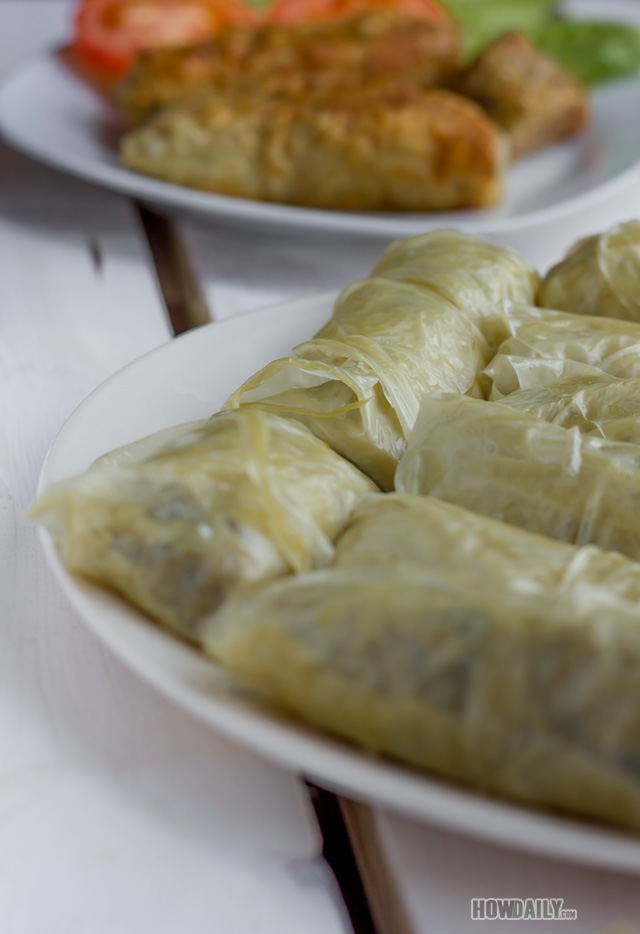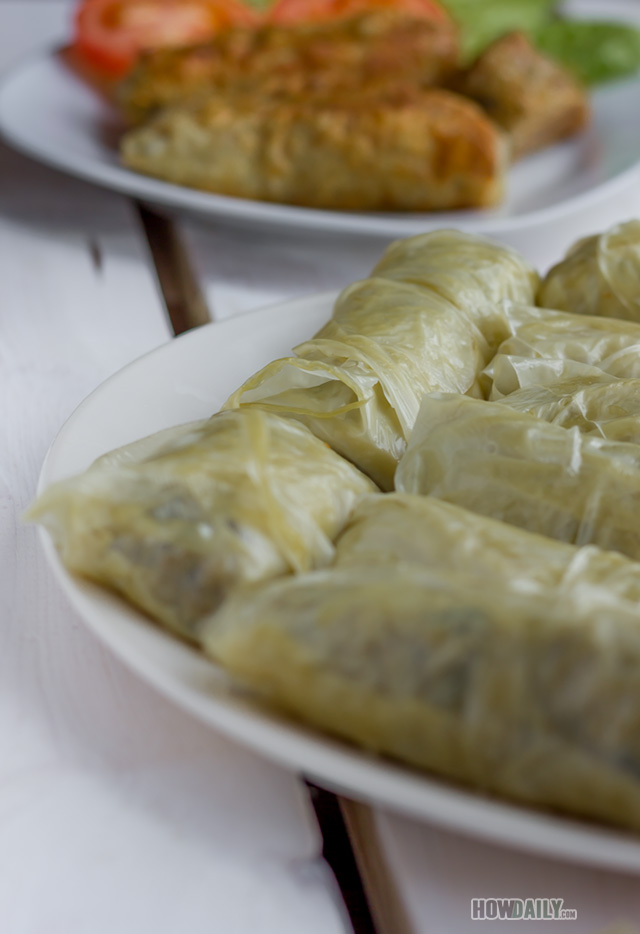 To add to the crunchiness, black fungus, water chestnut, and carrot are usually mixed within. Onion, whole, or powder is added to counter the pork smell. Ground pepper is a must, and sesame oil will enhance the flavor while preventing the filling from being too dry. The tapioca starch and whisked egg are there to bind them all for easier shaping.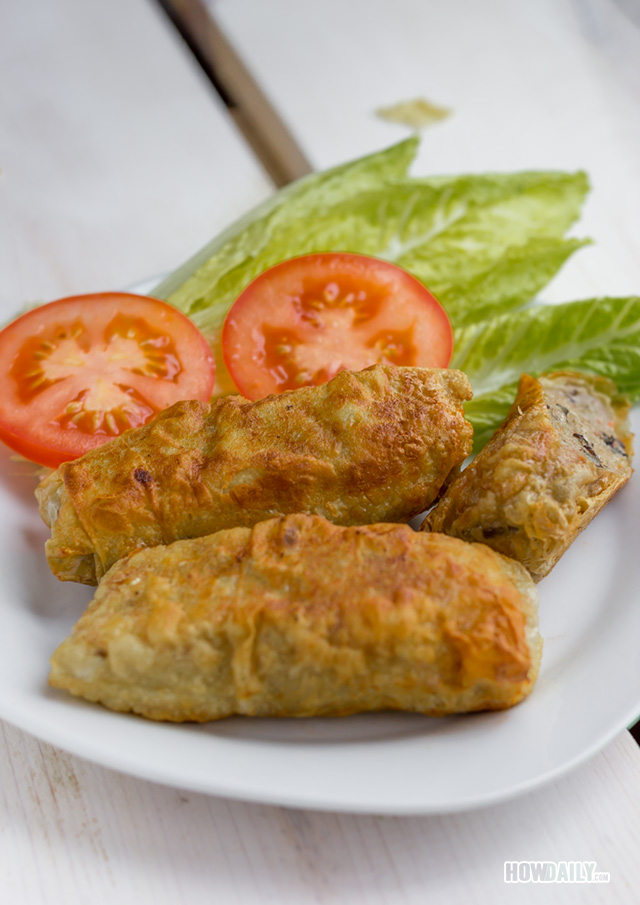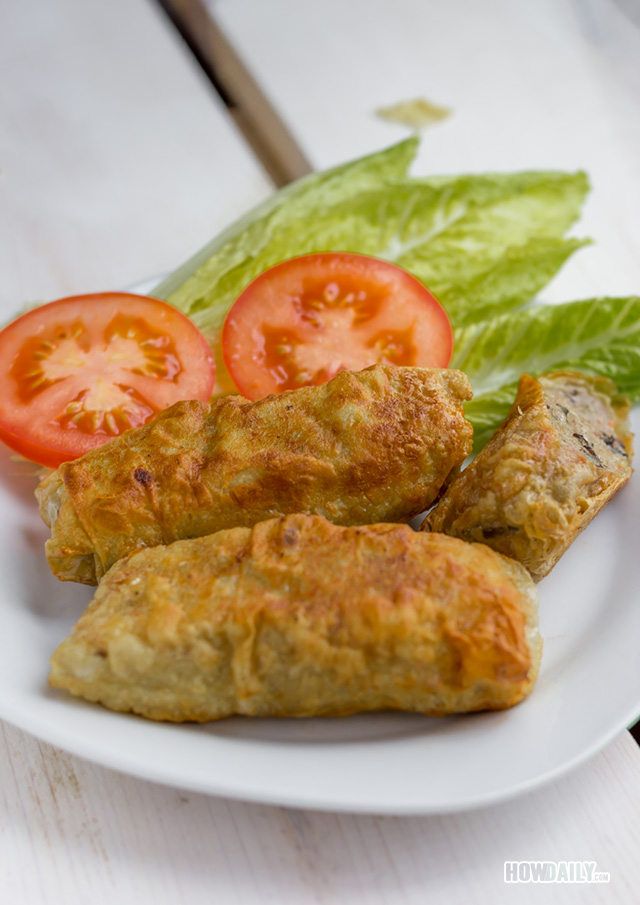 The rolls, when fry, can be served as is or dip it with some tamarind dipping sauce to bring out the whole tropical exotic experience.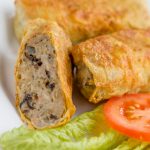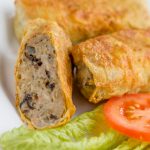 Recipe for Crispy Tofu skin Rolls with Shrimp
Golden crispy roll from the East, this tofu skin roll is the perfect finger food for appetizer or party.
Print
Ingredients
1/2

lb

Shrimp

1/2

lb

pork shoulder/butt

2

leaves

tofu skin

1/2

medium onion

A handful of black fungus

prefer or shitake

3

water chestnut

prefer or 1 medium carrot

1

egg

1/2

tsp

salt

1

Tbsp

seasoning powder

1

Tbsp

sesame oil

1

Tbsp

onion powder

1/2

tsp

ground pepper

1

Tbsp

tapioca or potato starch

1

qt

oil

for deep frying
Tamarind dipping sauce (optional)
1

cup

water

1

Tbsp

tapioca starch

1/2

Tbsp

tamarind meat

convert if use powder or any order form

1/2

Tbsp

sugar

2

Tbsp

fish sauce

2

cloves

garlic

1/2

Tbsp

roasted sesame seed
Instructions
Prep
Soak black fungus in warm water for about 20 minutes or until soft. If you're using shitake, soak in warm water a little bit too to wash them.

In your food processor, add 1/2 lb pork, 1/4 lb shrimp, 1 Tbsp tapioca/potato starch, 1/2 onion, 1/2 tsp salt, 1 Tbsp seasoning powder then start grinding them.

Transfer, cover and store mixture in fridge for 30 minutes to an hour.

Chop the remaining 1/4 lb shrimp.

Chop water-chestnut into small chunks.

Thinly slice black fungus/mushroom into long string.

Separate egg yolk and white, save half egg yolk for roll hemming. Beat egg white till fluffy.

In a mixable container, whipped egg white till fluffy.

Add chilled ground meat/shrimp, chopped shrimp, 1 Tbsp onion powder, water chestnut, black fungus/mushroom, 1/2 egg yolk, 1/2 tsp ground pepper and 1 Tbsp sesame oil to egg white container, beat them good until fully mixed.
Roll
Cut tofu skin leaves into roll-able size wrapper (about 5″ x 5″ ).

Wet them by placing under running water for 10 seconds or dip into water container. Hang them vertically on rack to drip off excess water. They'll be soft and ready to wrap in 2-3 minutes.

Carefully place a tofu skin wrapper on a flat surface.

Whoop a spoon or two of the paste mixture onto the wrapper, gently press to mold into round or rectangular roll shape.

Wrap to cover all side, complete the seal with egg yolk as adhesive.
Deep Fry
Turn on your deep fryer or wok.

Wait till oil is hot, reduce to medium heat then add all rolls in.

Fry until golden crispy without burn (the tofu skin layer should be bubbling up)

Serve hot as is with garnishment.
Tamarind dipping sauce (optional)
In a small sauce pan, mix 1 cup water with 1 Tbsp tapioca starch until dissolved.

Mash the tamarind meat if it's too hard.

On low/simmering heat, heat the water/starch solution, when hot, add tamarind. Keep stirring to prevent overflow.

When all mixed, add 1/2 Tbsp sugar and 2 Tbsp fish sauce.

Keep stirring until the sauce becomes thicker.

Remove from heat, add crush garlic and sprinkle on some roasted sesame.

Serve as dipping sauce for tofu skin roll or any fried appetizer