Since ancient times, Noodles had been a long and staple food (besides rice) in many Asian countries, especially East and South East Asia. Due to their variety and implications, noodles can be found everywhere, from the local street stand to the most luxurious restaurant. There are a vast number of ways on how noodles are made, the same goes for how many types of dishes there are.
Appearance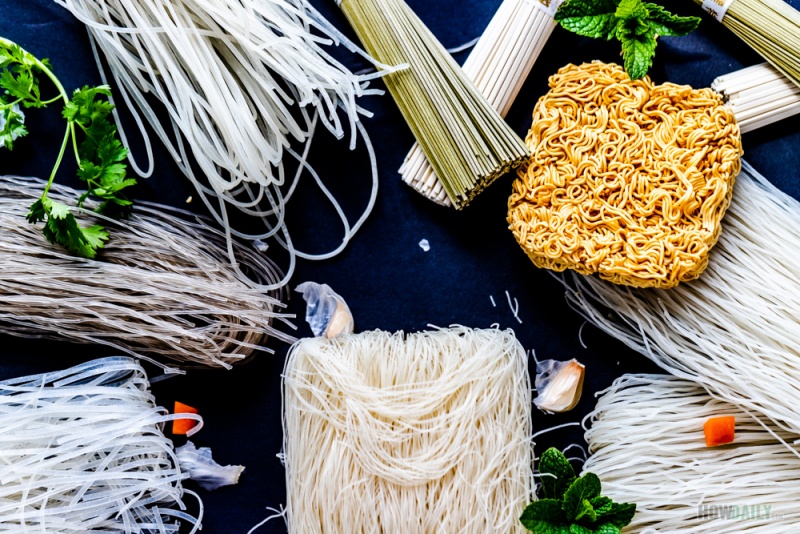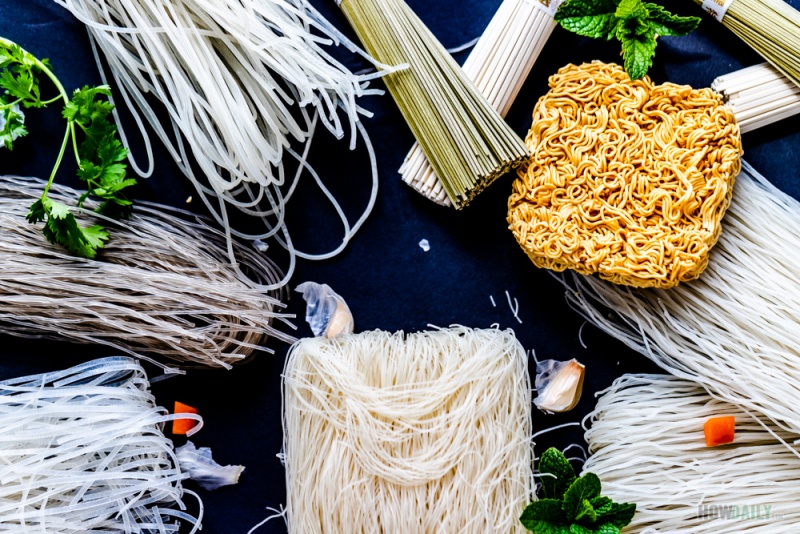 Similar to Western counterparts, Asian noodles appeared in so many styles, forms, colors with different flavors and texture. Noodles are made from some form of dough, often wheat or starchy flour with water. Lots of time, special ingredients are added to this dough to change the flavor, texture, and color. To name a few: lye, egg, cereal, corn, tapioca, arrowroot, mung bean… Fruits and vegetables are also added to dye the noodles color as well.
Shapes
The most common shape of noodles is long – thin strands with a cross-cut surface of round or rectangular. Other shapes you may find are small squares, sheets, wave, shell, tube…
Depend on the type of dough being used and its elasticity, common methods for producing noodles are: cut, extrude through pressing tubes, slice, peel, pull, knead and flick.  These could be done fully manual by hands, a semi with mechanical press/roller, or fully automatic.
Common forms and availability
You will often find noodles in these three states: fresh, dried, or fried (instant noodles), with the latter being widely available from most (if not all) grocery/convenience stores.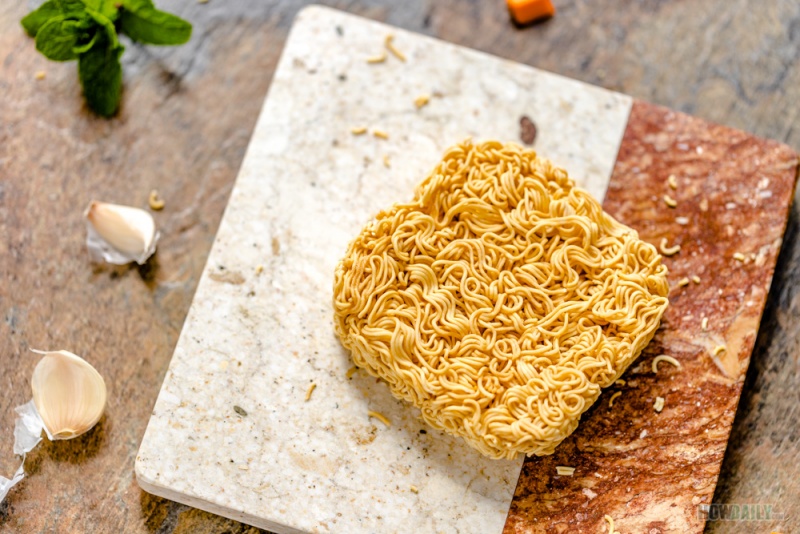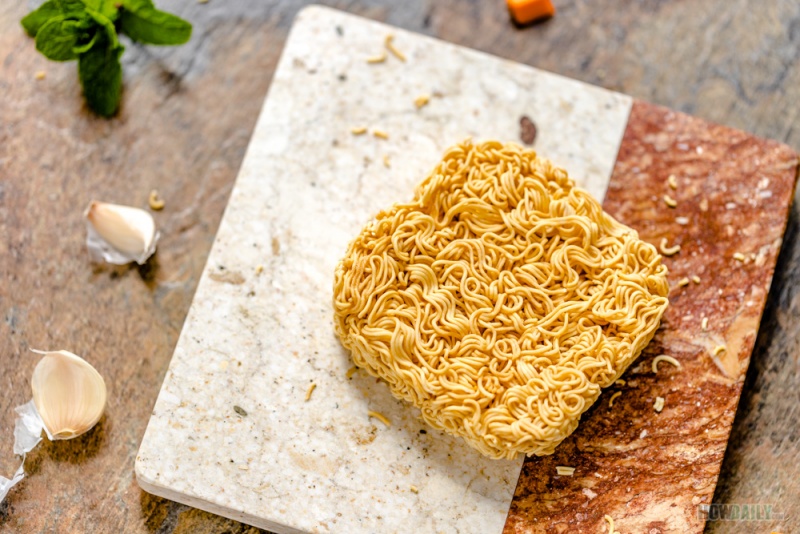 In the US, dried noodles can usually be found on the international aisles or somewhere next to the pasta shelves of any medium to a large supermarket. They can also be bought online for more convenience too.
Compare to its family, fresh noodle is mainly available in oriental markets unless you live in Chinatown or an Asian neighborhood. Beware though, since preservative-free fresh noodles have a short life span (2-3 days chilled), they're often sold same day or in freezing/vacuum-sealed package. If you bought these chilled pre-packaging bags, do look at the expiration date. Watch out for those that are added with borax and similar preservative agents to have longer shelves life or wash out the color.
Different types of Asian noodles by main ingredient and How to cook each
Wheat
Wheat is the most common ingredient in Chinese noodles and many other Asia countries as well. Many wheat noodles are usually made from just wheat flour, salt, and water; while others have few ingredients in them like egg, lye, tapioca, arrowroot, bean, etc… to add to the flavor.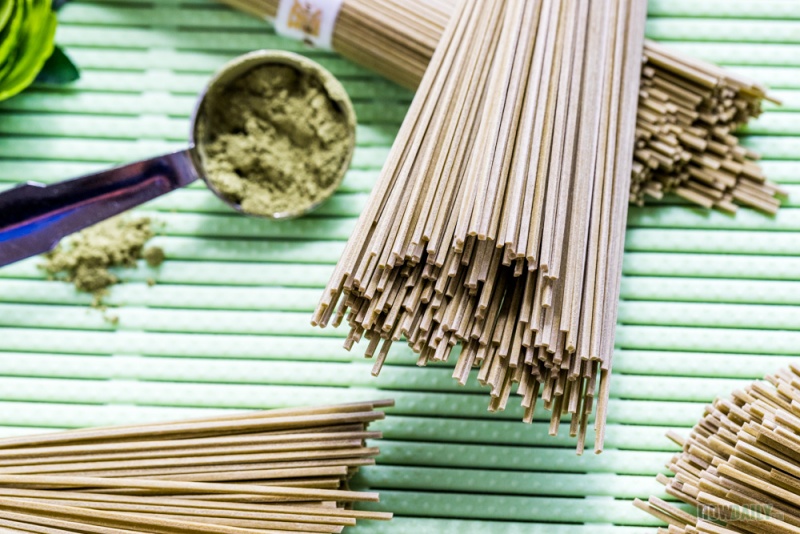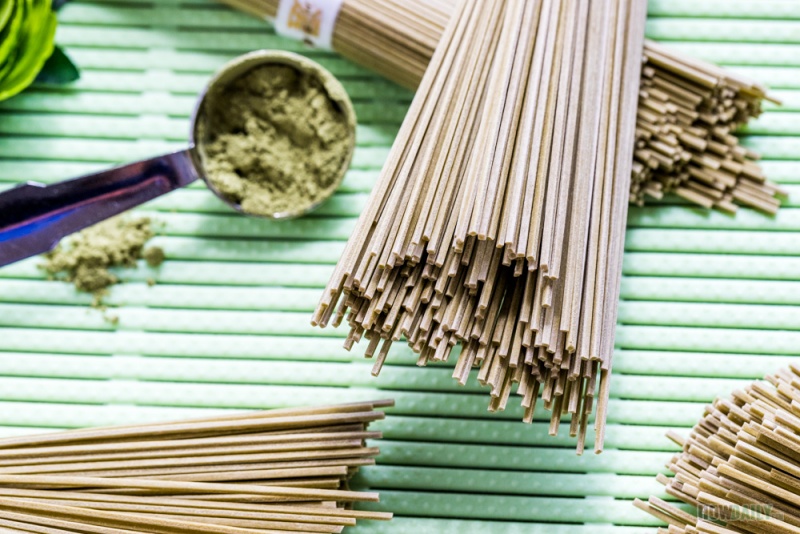 Wheat noodles often appeared in long thin strips in either fresh, dried, or fried (instant noodle) form. Fresh wheat noodles are coated with extra wheat flour to prevent sticking while dried noodles are not.
Some popular Asian wheat noodles are Udon (Japanese round thick strands), ramen (Japanese thin strands often known to the world as instant noodles), lo mein (Chinese egg noodles), reshte (pale Persian sliced noodles), etc.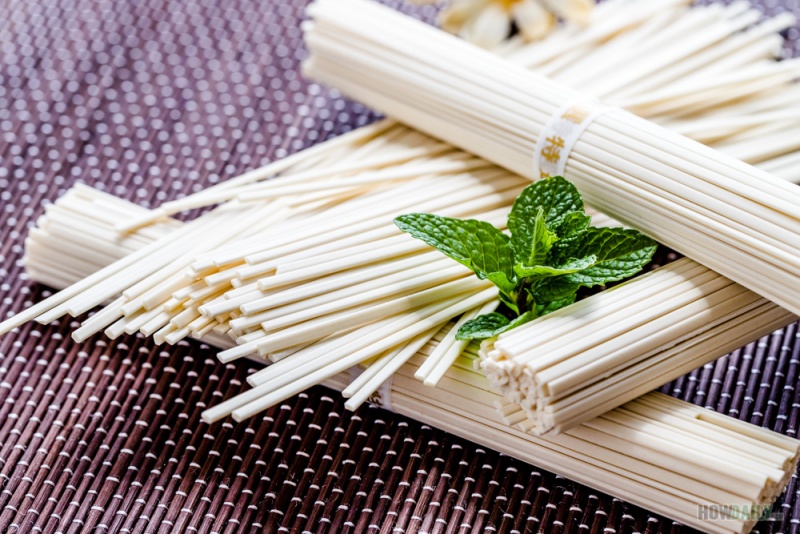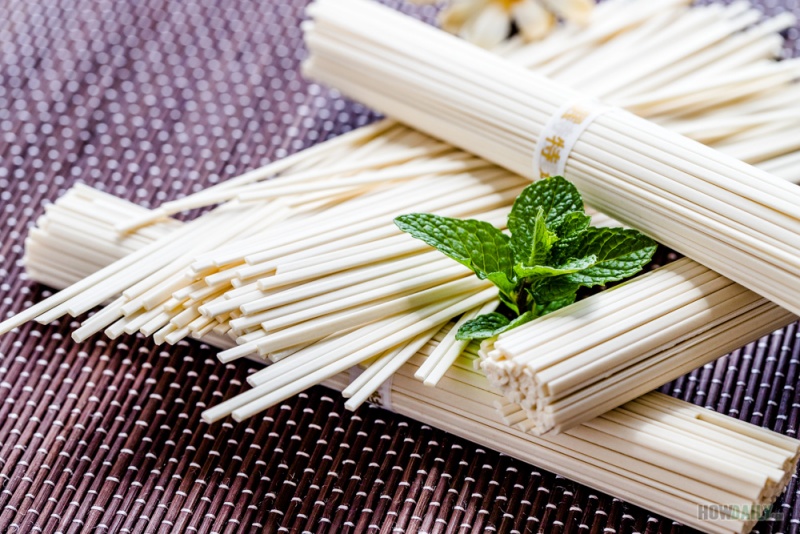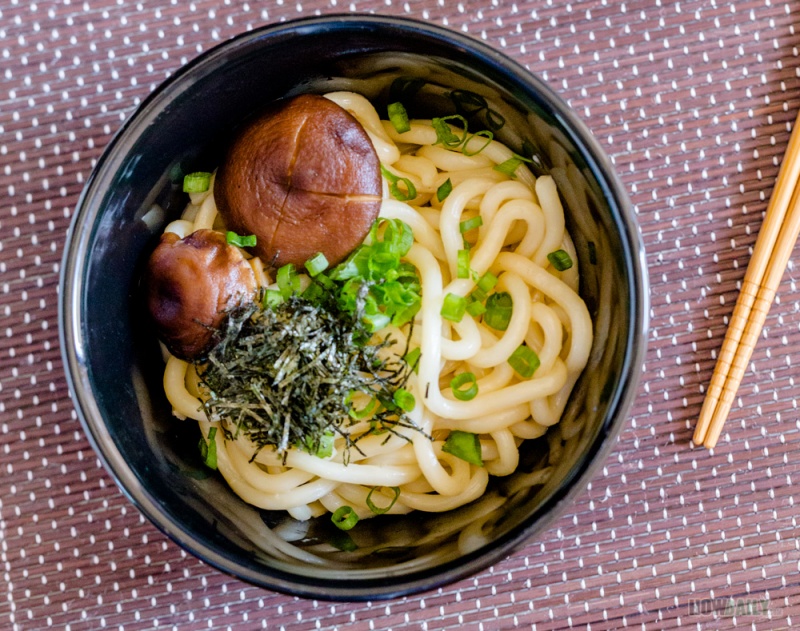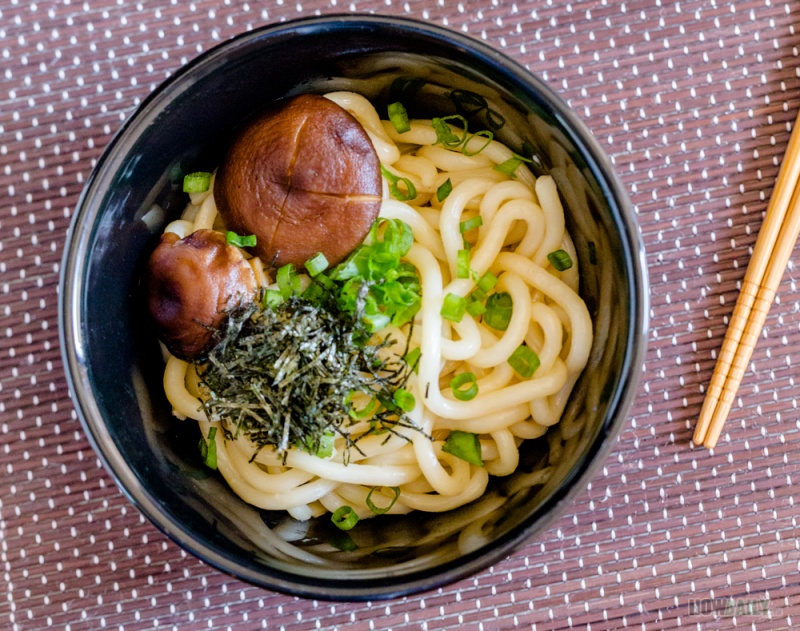 Wheat noodles can be boiled, baked, dip-in soup, stir-fried, fried, served as the wrapper (wonton, spring roll wrapper)… basically every possible method you can imagine. Depend on the thickness, size, and preservation method. cooking time might vary from  2 to 8 minutes at a boiling point. Since wheat noodles tend to give off an excessive amount of wheat flour/powder when boiling, remember to use enough water in a large pot and stir frequently to shake them off.
Rice
Being both wheat-free and gluten-free, rice-based noodles have become the trend in the West over the past couple of years. Though note that both white rice and brown rice-based noodles contain the same amount as calorie while being less fiber and protein than wheat noodles. White rice noodles are often mixed with a small percentage of tapioca powder, arrowroot, etc. to create the desired level of transparency and chewiness.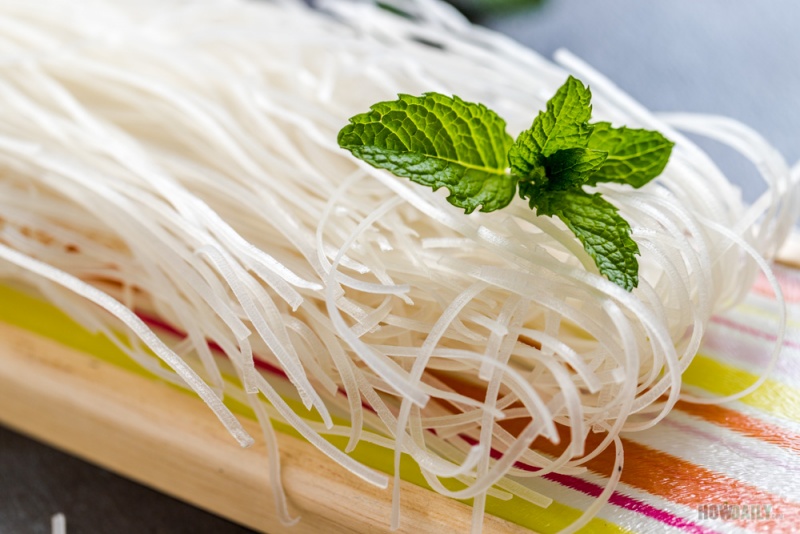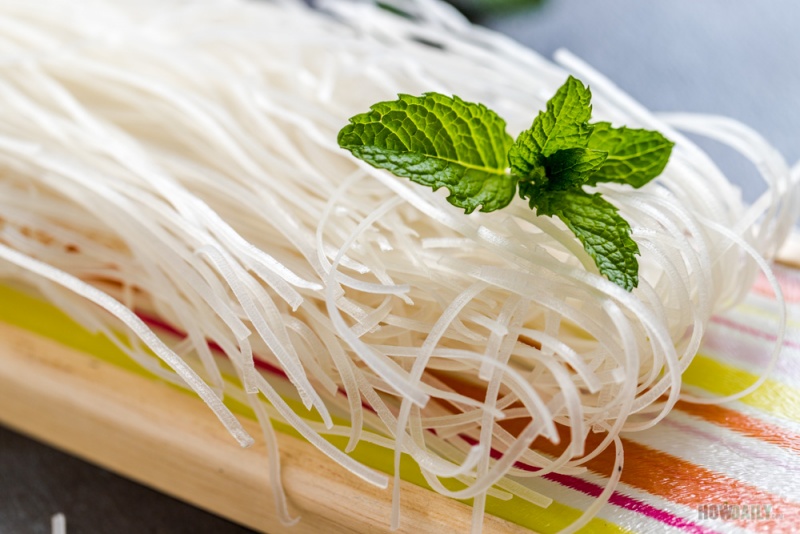 On the plus side, most rice-based noodles don't give off excess starchy residue, so you won't need as much water when boiling. Fresh rice noodles (especially white rice-based) only need quick dipping 1-2 minutes in boiling water while dried rice noodles require pre-soaking in cold water before boiling for 5-10 minutes.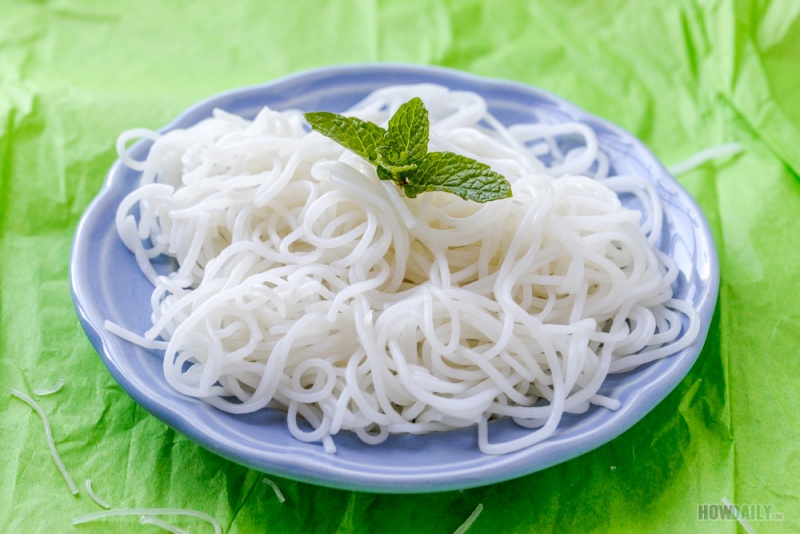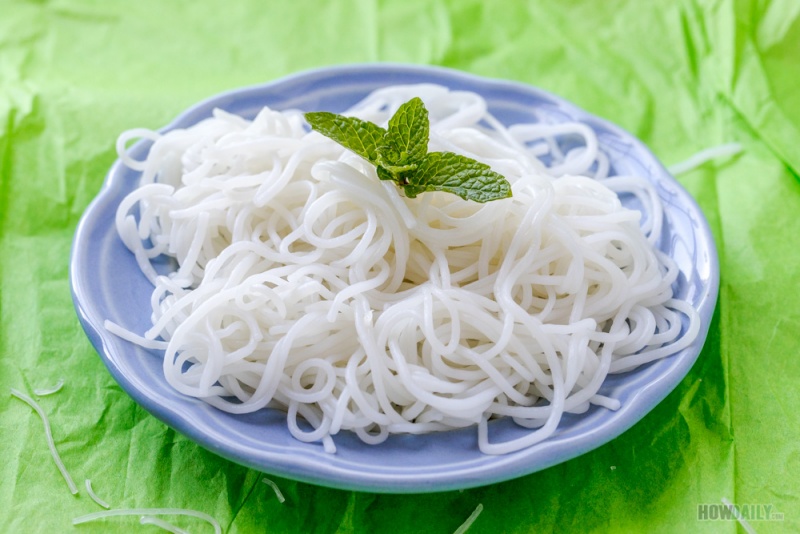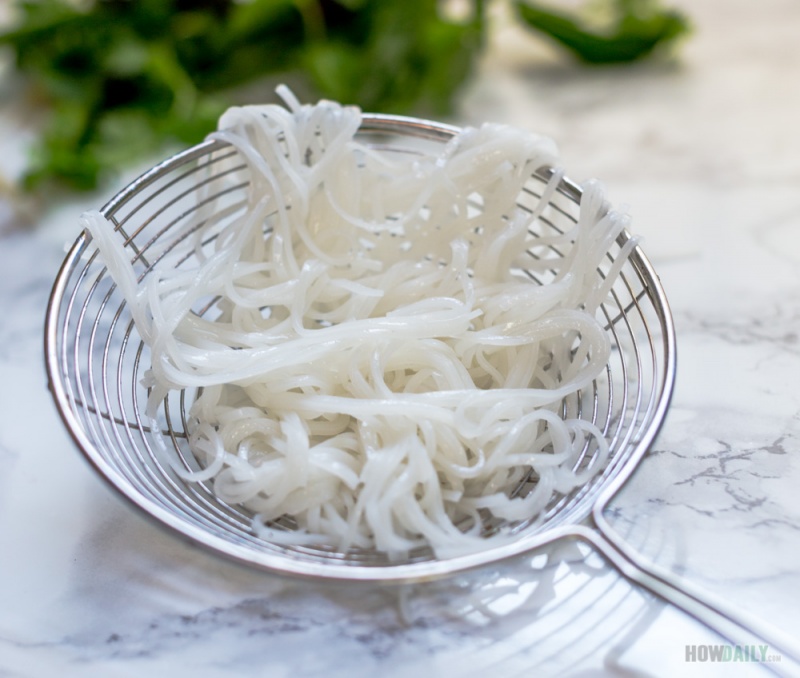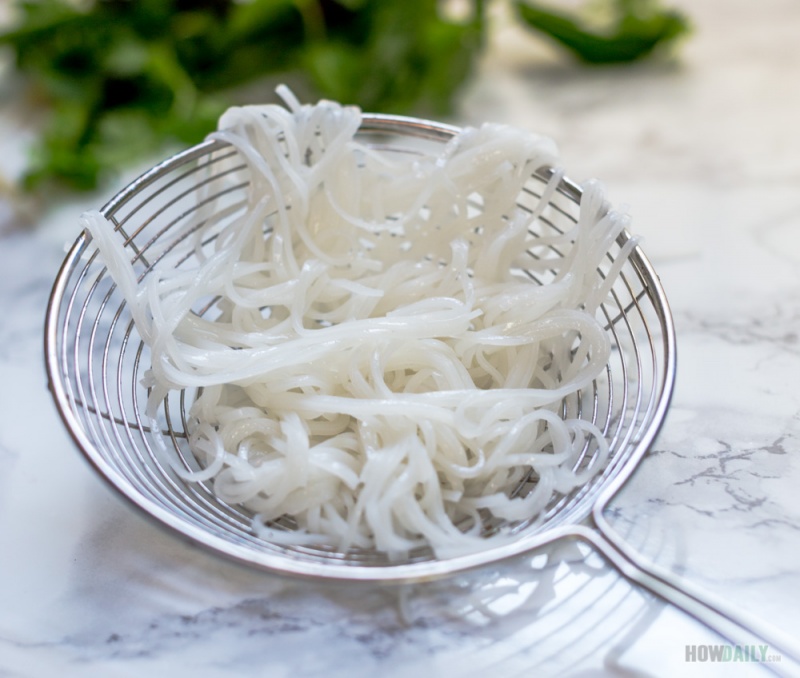 Rice noodles, especially white rice, are very popular in Southern China and Southeast Asian countries like Vietnam, Thailand, Indonesia, and Malaysia where rice is the major farming. Most popular rice noodles are coming from this area, which includes: pho noodles (strands used in Vietnamese Pho or sheets form to wrap beef pho roll or steam fun), "Banh Canh" (thick Vietnamese noodle for crab or pork noodle soup), rice vermicelli…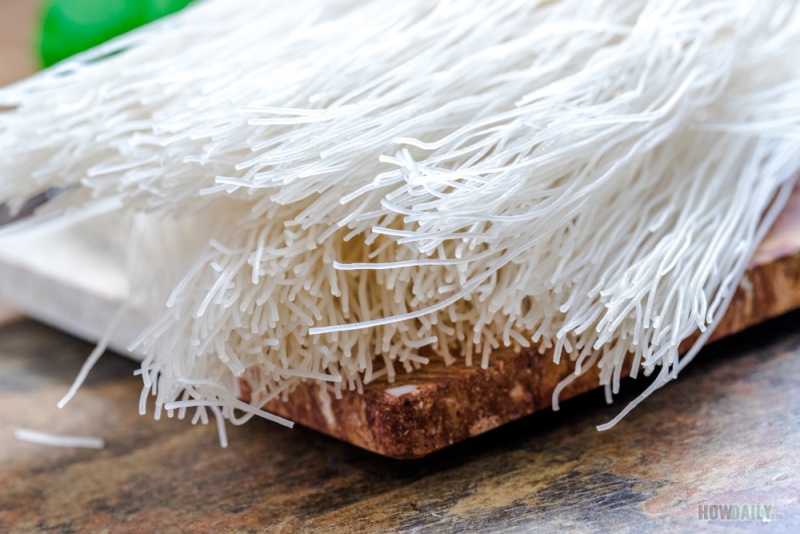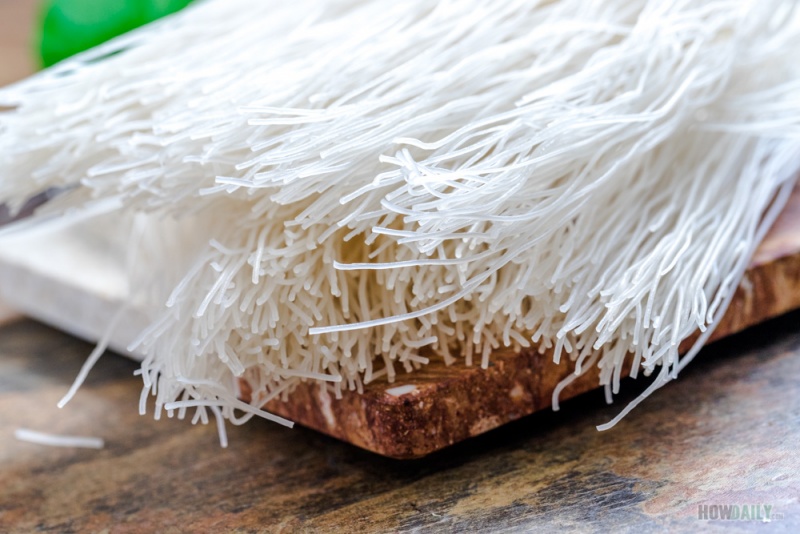 Buckwheat
Nominal buckwheat noodles are from Korea like memil guksu, child guksu, kkolttu guksu, and some Japanese soba. Despite the name, these noodles are made from seeds, so obviously they're gluten-free. Note that some buckwheat noodles may also contain a small percentage of wheat blended in, so read the label carefully. Some soba, though using the same name, is completely wheat-base and applied just like the Chinese egg noodles.
Pure buckwheat noodles are high in fiber and magnesium which will help to control cholesterol, blood flow, and blood sugar.
Mung bean
Cellophane noodles, bean noodles, glass noodles… are all great examples in this category. To achieve the transparent look, potato starch or tapioca is usually added together with mung bean starch.
These noodles come in dried form, solid and easy to break. For soup, they can be boiled around 5 minutes before adding to the broth. Due to their elasticity and firmer texture, they often used as supplement ingredients in Asian meat stuffing and paste. If so, these are soaked beforehand to soften then cut into chunks.
Starch base: Kudzu root, Tapioca, Potato and Sweet potato
Starch-based noodles are made from the starch of either sweet potatoes, potatoes, tapioca, kudzu root, or corn with water.  Some even result from a mix of those. Most starch-based noodles are gluten-free and of course vegan, but there are few exceptions too, so read the label if this is a concern.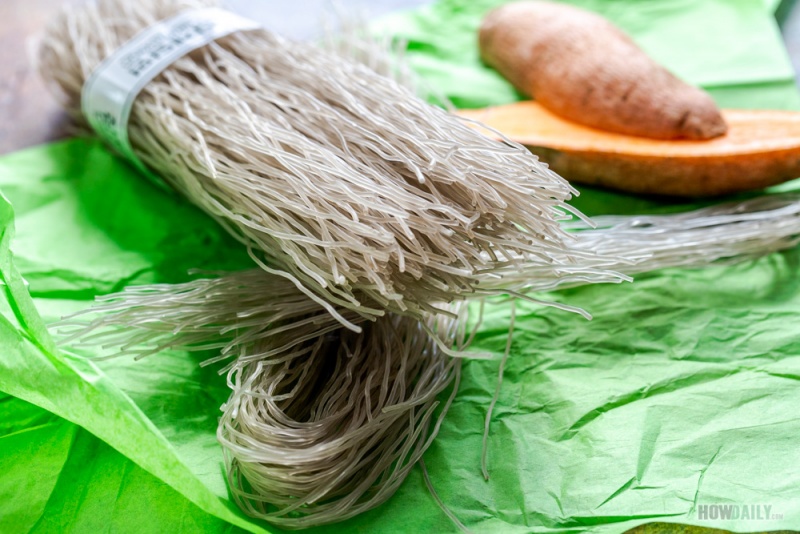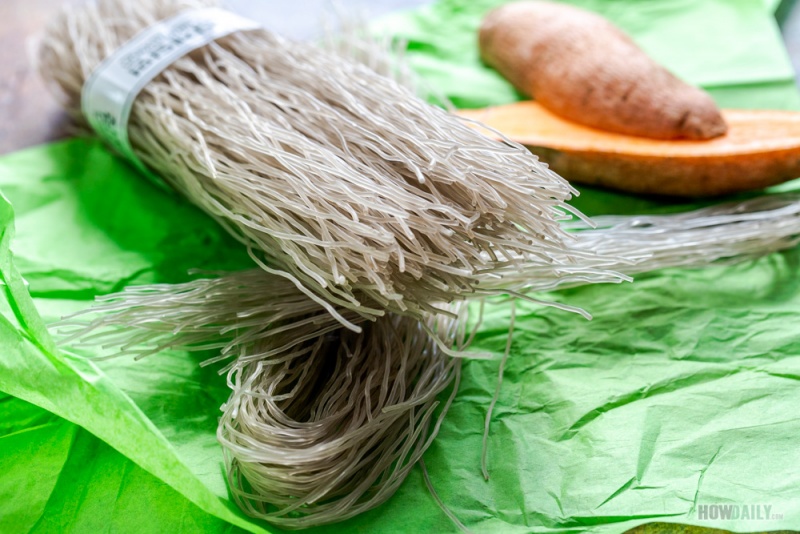 The champ here is naengmyeon – a type of Korean glass noodle made from sweet potato starch. This noodle has very nice chewy elasticity, translucent look, and work perfectly in both soup and stir fry dishes. Vietnamese "miến" – clear glass noodles made from canna root and water, is also popular and works extremely well in an exotic soup bowl with crab, duck, seafood…
Kelp & Jelly
Made without any starch or grain, kelp and jelly noodles are awarded for their super low calories, carbs while being loads with calcium and magnesium.
These noodles are being made from grinding powder of seaweed or kelp extract. They're naturally glossy, semi to clear transparent in appearance, and have a crunchy to a chewy texture. Add with the bland flavor, these noodles often used in salad dishes or as garnishment/decoration to other dishes.
You will find both kelp and jelly noodles in water-filled packages that are ready-to-eat. So no cooking is required, though you could always lightly parboil before use. These noodles can be stored for up to six months in the fridge. Kelp/Jelly noodles can not be frozen or dried, so just make sure to hydrate and keep them filled with water.
Konjac
Similar to kelp noodles, konjac – also called shirataki noodles in Japan is a low carbs – low calories type of strands. They are made from konjac yam, mainly composed of water and soluble diet fiber. Texture-wise, they are sort of rubbery and chewy, a bit dark to semi-dark translucent. Original shirataki noodles are flavorless and can absorb any sauce added to them
Shirataki noodles have a long shelf life, often a year, in both wet (water filled) or vacuum-sealed packages. Most shirataki noodles require throughout rinsing and parboiling before consuming to remove odor and bitter taste.
Since shirataki noodles can be roasted, dried, soaked…they can be used in places where the regular pasta can.
Are Asian noodles Vegan and Gluten-free
As you can see, any noodles that are made without egg (either duck or chicken's) are vegan.  The common places where eggs are added are in wheat-based noodles, which always seem to have a yellow hue to them. So often by just looking at the colors and noodles type, you can easily tell whether it is vegan or not.
Regarding gluten-free, it's harder to tell due to all the kind of dye and flavor additives now a day. It's also noted that some usually non-wheat-based noodles such as soba, rice vermicelli, rice noodles also contain a small amount of wheat, and thus existing gluten. So carefully reading the label will help if you're keen on it.

Our picks on the Best Asian noodles dishes that you must try
So now that you know of all the common types of Asian noodles, let's take a look at what they are used for. These following dishes/bowls are some of the most popular Asian noodles dishes that we have tried and recommended on in no particular order. They're all great and different in each own way, so let's take a look, shall we.

Pho – Vietnamese Beef Noodle
This is the bowl that I spell "home" to, hence why it is the first place on this list. The bowl is a combination of any raw goodness and the most savory soup.
The broth is made by stocking bone for hours on low heat with roasted onion, ginger, and spices are added at the very end. Freshly boiled rice noodle ("banh pho"), rare thin tender beef slices, chewy beef balls, and all the imaginable fresh vegetables and herb, this bowl sure is one to go for when you need to recharge or replenish your body.
For a start, you can try out our recipe of Vietnamese beef noodle.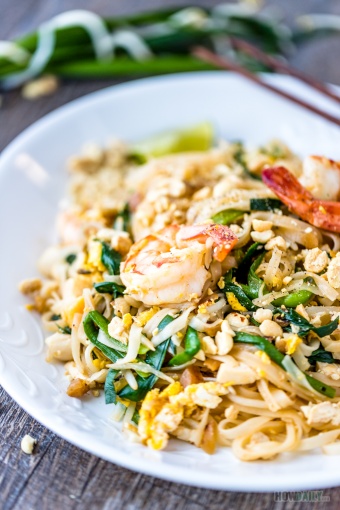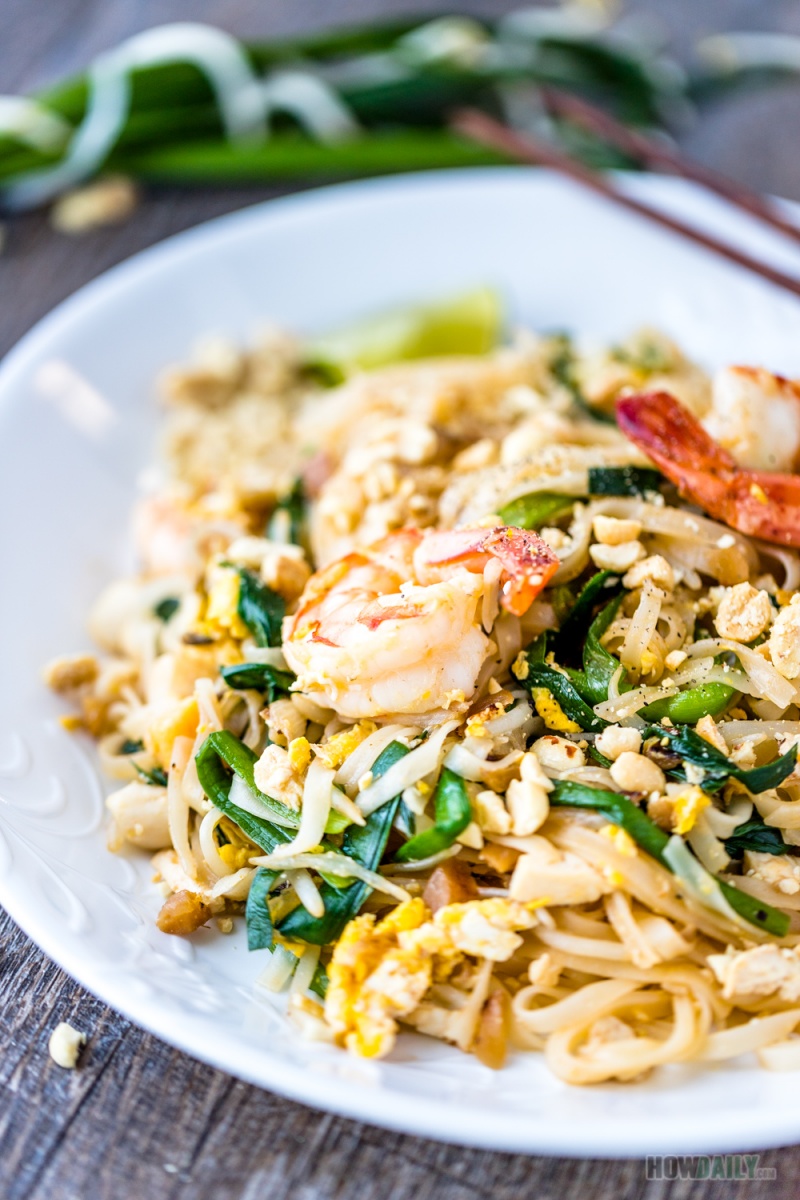 Pad Thai
Pad Thai is a very well-known Asian dish in the State. Lots of Thai restaurants have opened over the years, and this will always be the must-have dish on the menu.
What I like about this dish is the tangy-sweet combination of tamarind, palm sugar & fish sauce, the freshness of raw bean sprout and onion chive, crunch peanut over … the delicious stir fry rice noodle. I often order my pad Thai with either shrimp or tofu as the topping and extra bean sprout. Those are like the best two-topping combination for Pad Thai.
Beware of spicy level though, one restaurant's "hot" level could feel mild while the others' medium might burn you out.
Tonkotsu Ramen – Japanese pork ramen noodle
Do not mistake this for the usual instant noodle at 24/7 mart. Ramen is actually an invention of the Japanese, that made from wheat, saltwater, and sometimes egg. So there it goes, totally not gluten-free or vegan.
The special thing about tonkotsu ramen is that the flavor feels so full of everything (umami sweet, salty, greasy… ) yet still light on the palate. In fact, that's the case with most Japanese dishes, you don't feel much of seasoning in them, yet they do.
Ramen's broth is brewed for hours with bones, kelp, katsuo flakes, dried sardine, shiitake mushroom, and onion. The broth is so hearty and amazing that I would enjoy it more than the slice pork topping or the noodle itself.

Japchae – Korean mixed glass noodle
I've first learned of Japchae when watching the Korean drama's Full house back in college where the protagonist was making one and it seem so easy and beautiful. So I make one myself and couldn't be happier. This is the kind of dish that you can make with whatever available in your fridge and a pack of dangmyeon (sweet potato noodles).
Typical Japchae will have mushroom, carrot, bell pepper, scallion… and a choice of protein or two. You could use beef filet, pork shoulder, or fried thin fried tofu for the vegan option. Ingredients are marinaded with soy sauce, garlic, and co, then stir-fried separately before mixing with noodles. The taste is truly good and the presentation is just so beautiful with all the vivid colors. Gluten-free, wheat-free with healthy sweet potato starch, can be vegan easily with optional topping.
Laksa noodles
Popular in Malaysia, Indonesia, and Singapore, there are generally three types of Laksa noodles being: curry, asam, and sarawak. While curry laksa is mixed with Indian curry and coconut cream, asam laksa has the spicy-sour taste of tom yum tamarind and light sweetness from pure fish broth. On the other hand, sarawak is the mix of both minus the curry.
The rice noodles used with laksa are the larger size strands. Toppings can be fried fish paste, fried tofu, egg, chicken shrimp, clamp … There are not many veggies to accompany this bowl besides beansprout or some decorative garnish since it already has lots of topping anyway.
Wonton noodles
Wonton noodles soup is valued for its broth and noodles quality. The broth, as much Eastern soup based, are made from knucklebones or a combination of bones (pork, beef, chicken…) . It has to be naturally sweet, hearty, clear, and free of residue. The noodles are usually hand made from wheat, duck egg, and lye water. Quality noodles should be thin, fresh, al dente, chewy, and free of "noodle" smell. Toppings can be vastly different, but often contains dumpling, sliced pork, chasiu, liver, pork bun…
In the State, you probably could find wonton noodle in street stands or noodles specialty joints in China towns. Note that Wonton noodles have very strict requirements from the broth taste to the noodles texture and freshness, so any generic restaurant won't give you a bowl as authentic and flavorful those small and often crowd ventures. Just as my gramp said, go with the shop that had the oldest crowds.
Bun mam – Vietnamese fermented fish vermicelli
There is no other dish that could give you the full essence of the South Mekong delta like "Bun mam", which literately translated to fermented fish vermicelli. To truly enjoy this bowl, you have to have a very open mind and tolerant to fishy smell, as the scent can really overpower at first.
The broth is made from extracting the juice out of fermented Siamese mud carp, then cook together with lemongrass, eggplant, chili pepper, shallot, tamarind to create the most distinctive flavor from any noodle soups. The toppings used a combination of shrimp, squid, snakehead fish fillet, catfish, swamp eel… Accompanied garnishment can be any local vegetable that in-season such as thinly slice water spinach, banana flower, water lily stems, yellow burrhead…. and other native wild veggies.
If you've ever in the area (South Vietnam or Cambodia), be sure to try this bowl. You won't find the same taste anywhere else due to the nature of ingredients (fermented fish, wildflowers/veggies…)