If you're looking for a simple and quick to cook recipe, this soup is it. Not only is it vegan, but this baby bok choy mushroom soup is also gluten-free as well. The best thing is, it just tastes super with a just-right combination of everything.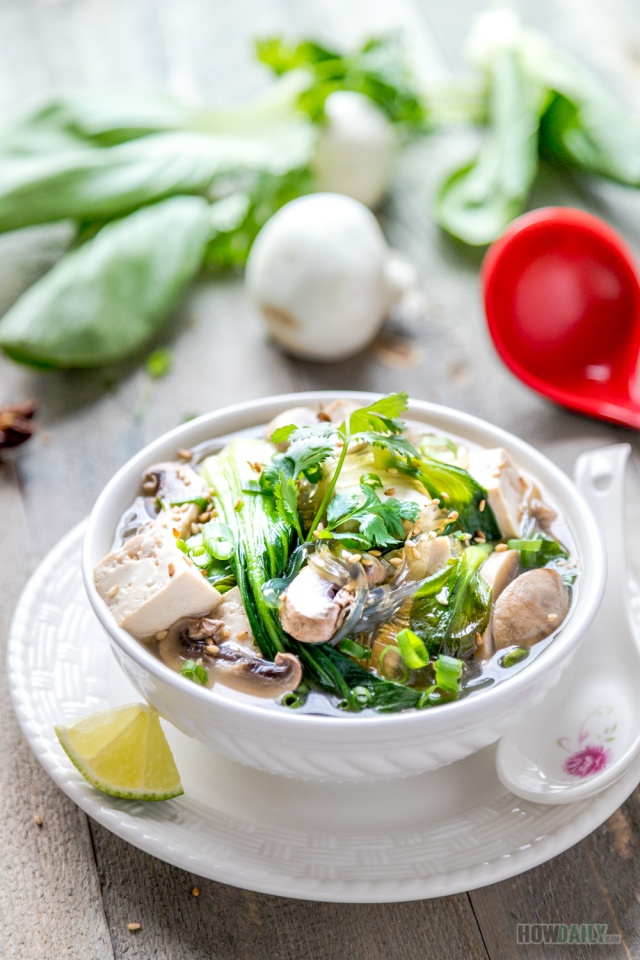 To make this truly vegan and gluten-free, tamari soy sauce is used to avoid extra gluten. Also since baby bok choy carried natural sweetness, there's no need to add any extra sugar. Beside, tamari soy sauce gives the soup its nice brown caramelized color.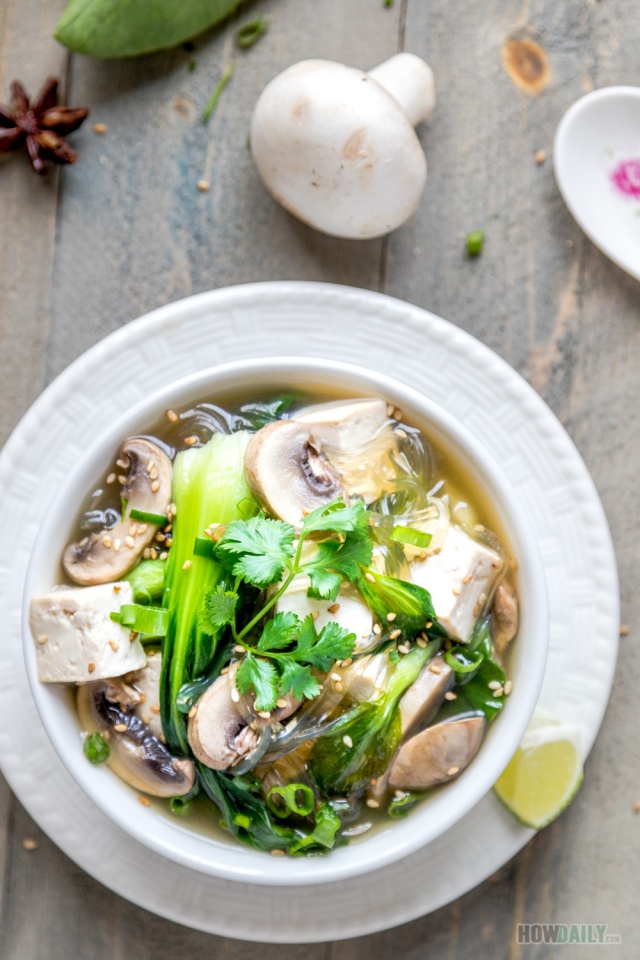 On the spice side, star anise was added to enhance the flavor while providing anti-flu properties. Then there's tofu for a protein supplement and glass noodle to help you fully. Glass noodles were chosen because they are wheat-free (look at the label) and don't require as much pre-cooking/rinsing. However, you can also use ramen, rice vermicelli, just beware that some might contains wheat or egg.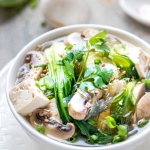 Recipe for Vegan baby bok choy mushroom soup
Savory vegan baby bok choy mushroom soup that is also gluten free. The taste is that of Asian fusion which combine tamari soy sauce and star anise.
Print
Ingredients
1

lb

baby bok choy

1

pack tofu

4

oz

mushroom

2

cloves

garlic

1

stem green onion

a couple sprigs of cilantro

4

cups

vegetable broth

1/2

lime

6

oz

glass noodle

1

Tbsp

cooking oil

1

Tbsp

roasted sesame

1/2

lime

optional

2

Tbsp

tamari soy sauce

1

star anise
Instructions
Chop baby bok choy in halves.

Slice mushroom, crush garlic and finely chop green onion (separately store green and white parts).

Cut tofu into small cubes.

With you stocking pot over medium-high heat, add 1 Tbsp cooking oil.

When oil is hot, add garlic and white part of scallion.

Stir to saute for 1-2 minutes till soft, then add tofu.

Now pour in vegetable broth, add star anise and bring to boil.

When boiled, add mushroom, then adjust heat to simmer for 10 minutes.

Now add tamari soy sauce and adjust seasoning to taste.

Add glass noodle to pot, bring to boil again.

When noodle are cooked, add baby bok choy.

Turn off heat and let rest for 10-15 minutes.

Ladle into serving bowl, sprinkle with some green onion part and cilantro.

Serve with lime wedge and roasted sesame sprinkle on top.