Similar to the Western Sandwich, the Sushi tower demonstrates how simple food stacking together vertically can be a piece of art on the plate. This recipe, the Tuna Avocado Sushi Tower with Mango shredding is a simply delicious dish yet so appealing to the eye.
To make sushi tower is simple enough, if you don't have a dedicated tower ring, a round cookie mold or cutter would do. The key to a beautiful sushi tower is the color within the fresh and tasty ingredients.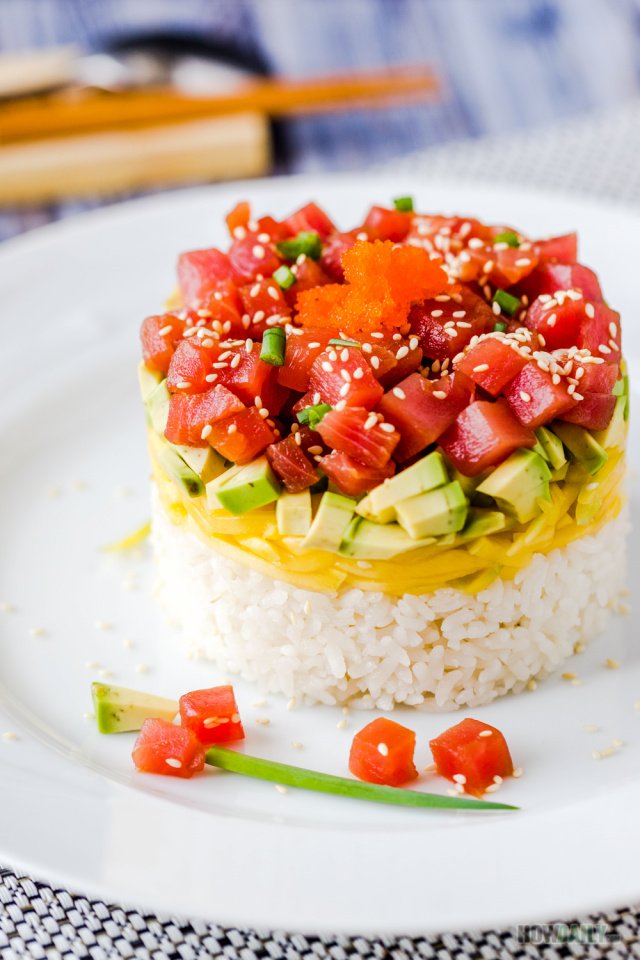 A typical sushi tower starts with sushi rice, a starch-based ingredient. To increase sushi rice stickiness, add some sugar along with rice vinegar. Then you can add other layers of fruits, vegetables, and protein. To variate the texture and look, use different processing methods from cut, cube, slice, julienne… to have various shapes & sizes of ingredients.
For garnishing, have some masago (flying roe), scallion, roasted sesame, or your choice of furikake as sprinklers. No need for additional sauce, personally I like to keep the flavor simple and raw for this recipe; but if you don't mind the extra calorie, add some mayo or sriracha.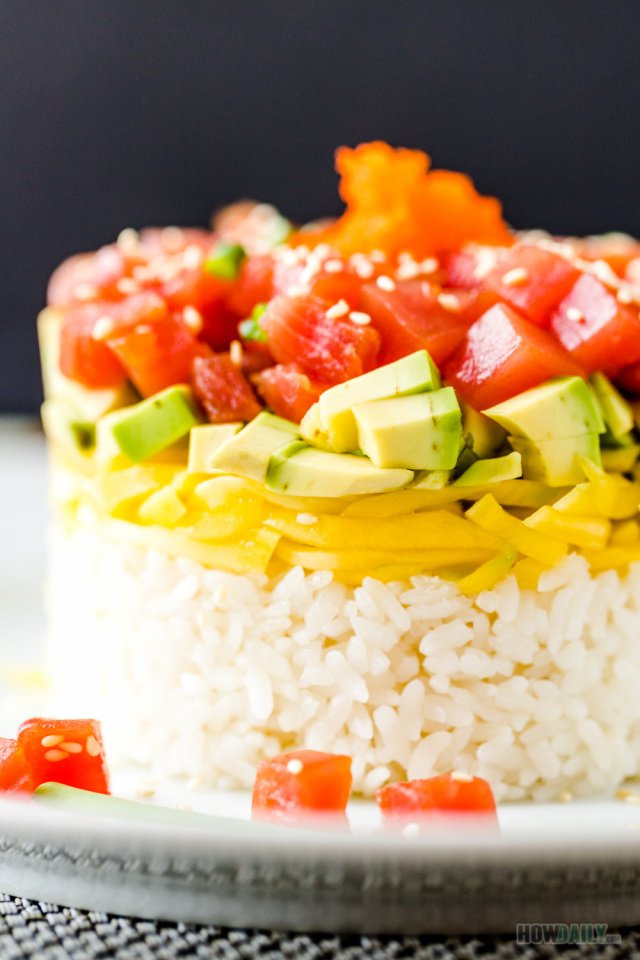 To enjoy these sushi towers, simply use a fork, spoon or chopsticks, just like you would with a poke bowl.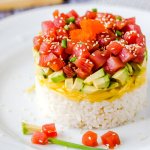 Tuna Avocado Sushi Tower with Mango
Delicious sushi tower with tuna, avocado and sweet mango. The flavor is so robusting that you would want more. Elevate your sushi into tower for presentation and enjoy it like a poke bowl. No hand rolling required.
Print
Ingredients
1

cup

cooked sushi rice

½

avocado

½

mango

4

oz

tuna sushi-grade

1

Tbsp

ponzu sauce

1

Tbsp

sushi vinegar
Optional garnishment
roasted sesame seeds

green onion
Instructions
Julienne Mango, cube avocado and cut tuna into small chunks.

Marinade tuna with 1 Tbsp ponzu sauce.

Season sushi rice with sushi vinegar.

Place a sushi tower mold or cookie ring onto the serving plate.

Spoon in the seasoned sushi rice, then press with the damper or a spoon tip.

Next add mango and press.

Repeat with avocado and tuna chunks. If your cookie ring is too short to add these layer, slightly pull it up to create the space.

Press with the damper or spoon tip while pulling the mold/ring out.

Taper in any falling ingredients, then sprinkle with all the desired garnishment.
Video