Hawaiian style Tuna Poke Bowl with ginger salad dressing to enhance and vary the overall flavor. Try this recipe to bring a different taste and combine your favorite salad into a single one-bowl-meal.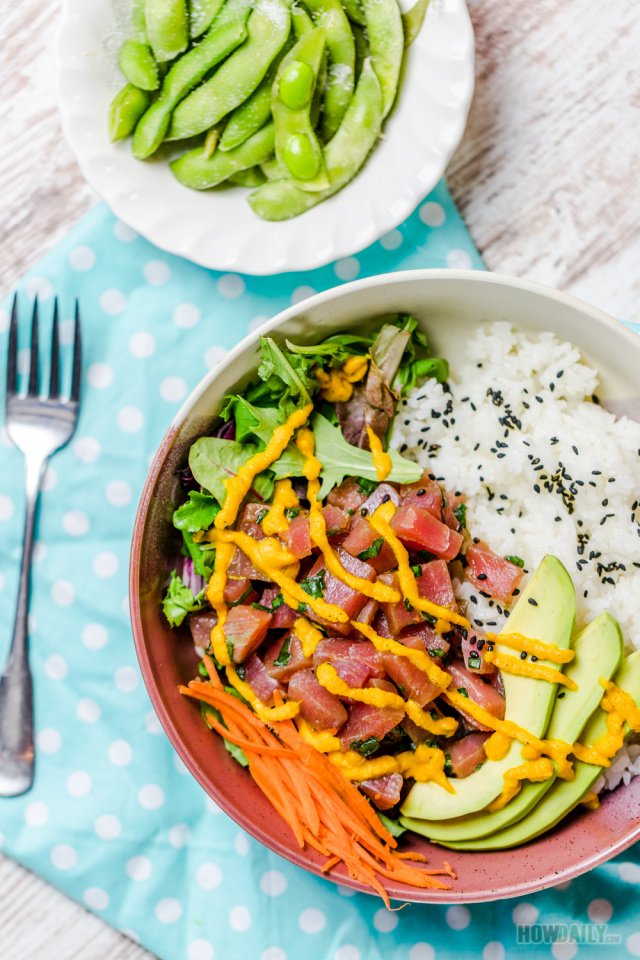 On a typical workday, there will be less time to prepare and cook up grand dishes for lunch or even dinner. I find myself turning to this one-bowl-meal sort of dishes. A poke bowl is easy to make as it virtually requires minimal cooking. All your time on the recipe will be for prepping the ingredients and cook up some rice, this can be saved if you have an automatic rice cooker.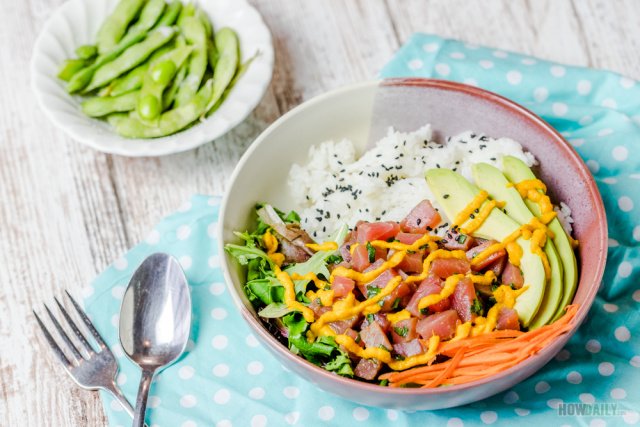 To save time, have your protein, or Tuna in this case, chopped up, marinated, and refrigerate until ready to serve. Buying a pre-washed salad bag/pack is also more convenient. All you have to do really is prepare the salad dressing in bulk.
This Tuna Poke bowl can be served immediately after crafting or pack as a to-go box. Remember to throw in an ice-pack to keep the salad and tuna cool all-the-way. Tuna flavor and texture will be much better when chilled.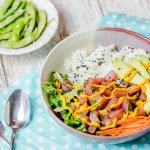 Ahi Tuna Poke Bowl w/ Ginger Salad Dressing
Crafting a poke bowl at home with marinated tuna and other fresh salad ingredients over sushi or white rice. This salad bowl is topped with a ginger dressing that is mildly sweet, sour, tart, and a bit spicy. Make this quick one-bowl meal with no additional cooking on your busier days,
Print
Ingredients
6

oz

Ahi tuna steak

1

Tbsp

ponzu sauce

½

small avocado

1

cup

cooked rice

2

Tbsp

edaname bean

1

tsp

roasted sesame seeds

5

grapes

pinch of shredded carrot

other salad ingredients of choice
Ginger Carrot Dressing
a knuckle size piece of ginger

peeled

1

medium carrot

¼

tsp

salt

2

Tbsp

maple syrup

1

Tbsp

toasted sesame oil

3

Tbsp

rice vinegar

3

Tbsp

avocado oil
Instructions
Cut tuna into 1/2-inch cubes.

Mix tuna together with ponzu sauce and chopped scallion, then set aside.

Peel and cut avocado as well as shred carrot.

Prepare all other salads ingredients if any,

Make the ginger dressing (instruction below).

To serve: add cook rice to the serving bowl, then spoon in tuna, cubed avocado, shredded carrot, and all vegetables.

Drizzle some ginger dressing and sprinkle with roasted sesame seeds.
Ginger Carrot Dressing
Peel and cut ginger into thinner slices.

Add all the dressing ingredients into a blender.

Drizzle over tuna & salad or serve along the tuna poke bowl.