This is yet another of my ongoing kimchi-crazed, fermented Korean stuffed cucumber kimchi. As you may have known, there are tons, if not hundreds of varieties of kimchi, with so many main vegetables and ingredients in the mix. Cabbages and radish are most commonly used, but cucumber work just as well.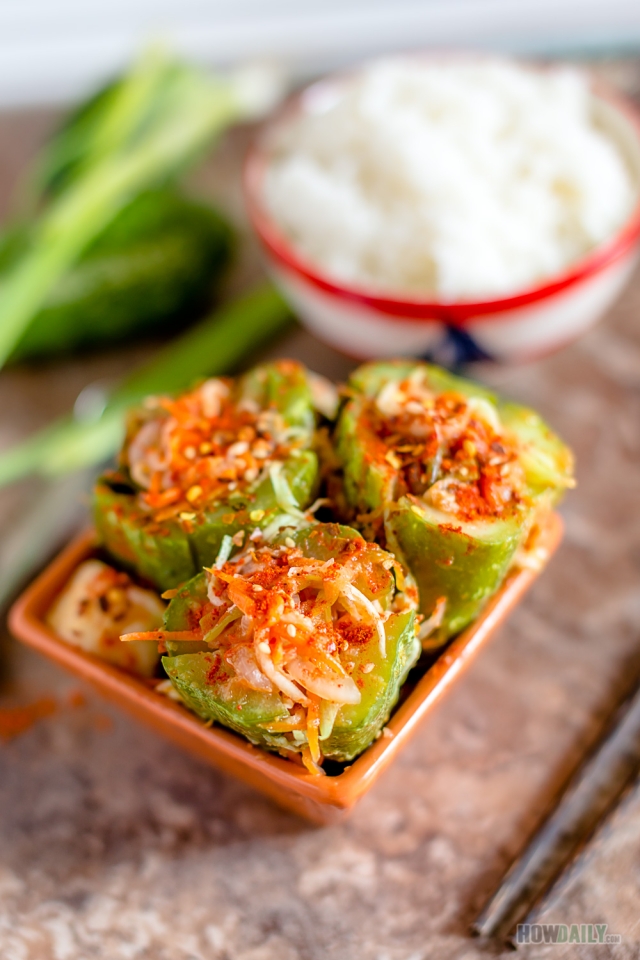 Fermented cucumber kimchi will be crisp, fresh and just the right amount of spice. Its seasoning likes most other kimchi varieties will contain some sort of fruit, stock, and salted seafood (unless you've opted for the vegan kimchi).
For this cucumber kimchi, I chose persimmon due to its sweetness when ripening but you can always replace it by any other sweet fruits like pear or apple. I throw a plum in there as well for extra flavor, and you could also use some fruit jams instead.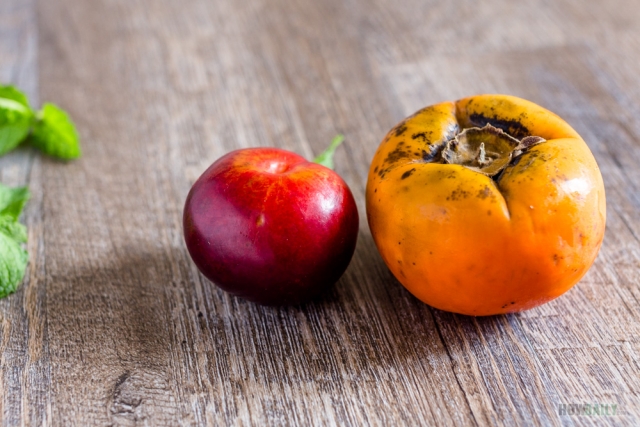 To help with the fermented process, some starchy (sweet rice flour, potato flour, etc.) is recommended or you could incorporate some pre-fermented product. Those include Gochujang, miso, vinegar…
In most, if not all Korean kimchi, there will always be some sort of salted seafood products. Now, most authentic Koreans will use salted squid, fish, shrimp, or even raw products. If that's too much for you, try the jarred salted shrimp in any oriental grocery store. Still overpowered or out-of-reach, use fish sauce. Any kind would work, but the anchovy fish sauce tends to bring out the best sea essence. Also, don't forget to adjust the saltiness level, cause you knew that not all fish sauce are made equally.
Another note is on the salt being used. The pre-salting/brining process often called for sea salt, the unprocessed kind. But if you don't have any at home, use table salt, just reduce the amount. So in all my recipe, unless specifically noted for sea salt, otherwise it's for table/kosher salt amount.
Last but not least is the spiciness level. I admit, though I love kimchi to the very heart, I can't tolerate much of the spice. You see in the States, most of our tolerance is not as strong as the Koreans are. So you might be able to enjoy that "extremely hot" kimchi noodle in the States, but the same "extremely hot" bowl might leave your tear flowing in Korea. Thus, I always left an extra spicy mixture section at the very end with the amount being somewhat mild/medium compare to most other recipes. Adjust them to your likeness, add more if you like extra spicy.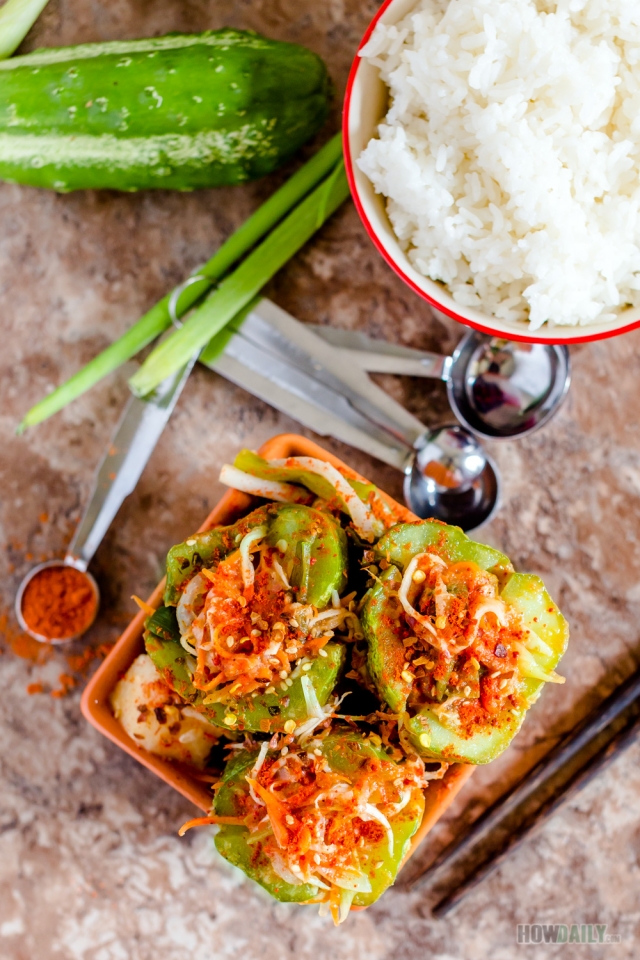 Alright, let's get on to make some kimchi. This cucumber kimchi will be perfectly fermented after 2-3 days. So once it's sour, keep them in the fridge to slow down the fermented and enjoy them for over a month. Don't like the sour, serve them immediately once the ingredients fully soaked (about 30 minutes). Enjoy!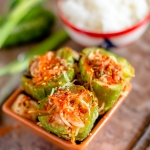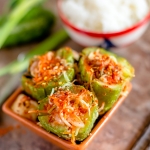 Recipe for Fermented Korean Cucumber Kimchi
Another tasty kimchi dish that make use of your garden harvest: cucumber. Can be served fresh immediately or for a fermented taste, wait 1-2 days. 3-4 days fermented kimchi is the best.
Print
Ingredients
2

lbs

cucumber

any kind, minimal seed prefer

A handful of chive

1/2

medium carrot

1

cup

shred turnip or daikon radish

1/2

medium onion

1

Tbsp

sea salt

1

Tbsp

roasted sesame
Kimchi sauce
1

Tbsp

Korean salted shrimp or 2 Tbsp anchovy fish sauce

2

Tbsp

anchovy fish sauce

2

Tbsp

honey

A quarter size piece of ginger

4

cloves

garlic

1

ripe persimmon or pear

1

plum

2

Tbsp

sweet rice flour

1

cup

of water
Spice – adjust this to your spice tolerant level
2

Tbsp

korean chili flake

1

red hot chili
Instructions
Prep
Wash cucumber clean, then rub the sea salt all over cucumber.

Use a paring knife, slice the cucumber into quarter along its length while leaving about an inch at one end intact.

Boil the brine solution (5 cup of water to 1/3 cup table salt) then remove from heat and let sit for 10 minutes.

Pour the brine over cucumbers, apply some heavy object to keep cucumbers staying down. Soak for 30 minutes to an hour (depend on how large your cucumber is). Once done, rinse a few times then drain.

While cucumbers are soaking, wash and prep all other ingredients. Chop chive into 2 inches length.

Match cut or thick shred carrot and radish.

Thinly slice onion.
Making kimchi sauce
In a sauce pan, stir and mix 1 cup of water with 2 Tbsp of sweet rice flour until fully dissolved.

Place sauce pan on medium heat while stirring constantly until the mixture become somewhat thick. Remove from heat, stir in all the chili flakes/powder and let sit for a little bit.

Peel off skin and remove seeds from persimmon and plum. Cut the flesh into 1 inch cubes.

Remove garlic and ginger skin.

With your food processor or blender, add persimmon, plum, garlic, ginger and the rest of kimchi sauce ingredients, puree them good.
Mixing and stuffing
In a large mixing bowl or container, combine shred radish, carrot, onion, chive, sesame, spice and kimchi sauce above. Don't forget to add the sweet rice flour chili paste as well.

Stuff the seasoning mixture into each cucumber. Don't forget to dab a bit of kimchi juice all over the outer shell of each cucumber.

Place stuffed cucumber in an airtight with lid container, pour the remaining kimchi sauce mixture(if any) all over before sealing.

Leave this cucumber kimchi out for 2 days or at desired time to achieve fermented taste/sourness. Then store it in fridge, last a month or more. For fresh taste (without fermented), serve 30 minutes after stuffing/mixing.