Want to make something fancy out of the stuff in your fridge? This recipe contains most, if not all ingredients that are readily available from your fridge and pantry. I called it the Royal crown fried rice, sound luxurious enough right? Actually, it is just a thin omelet wrap around mixed fried rice presented in a brandy manner.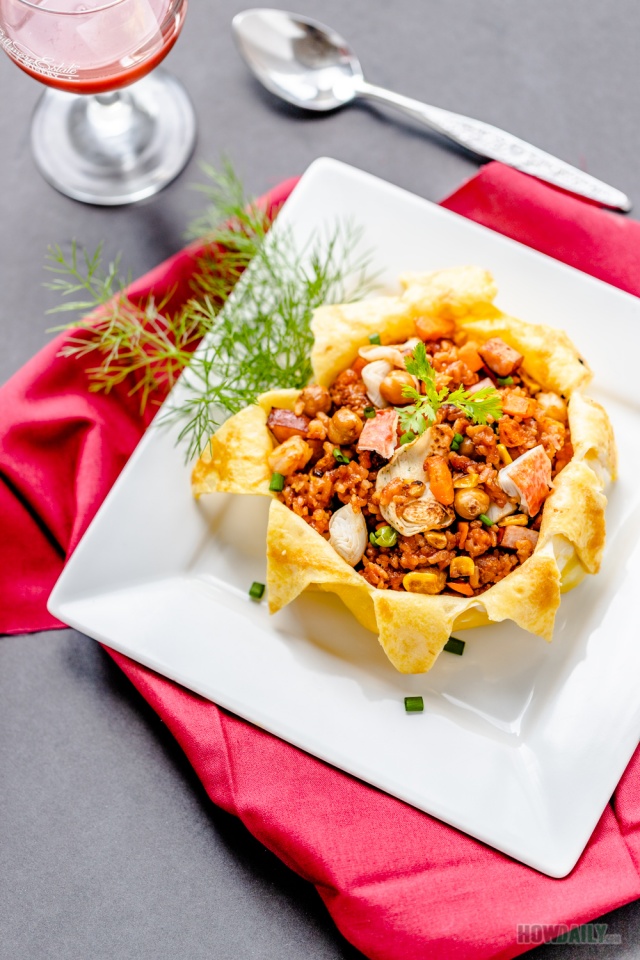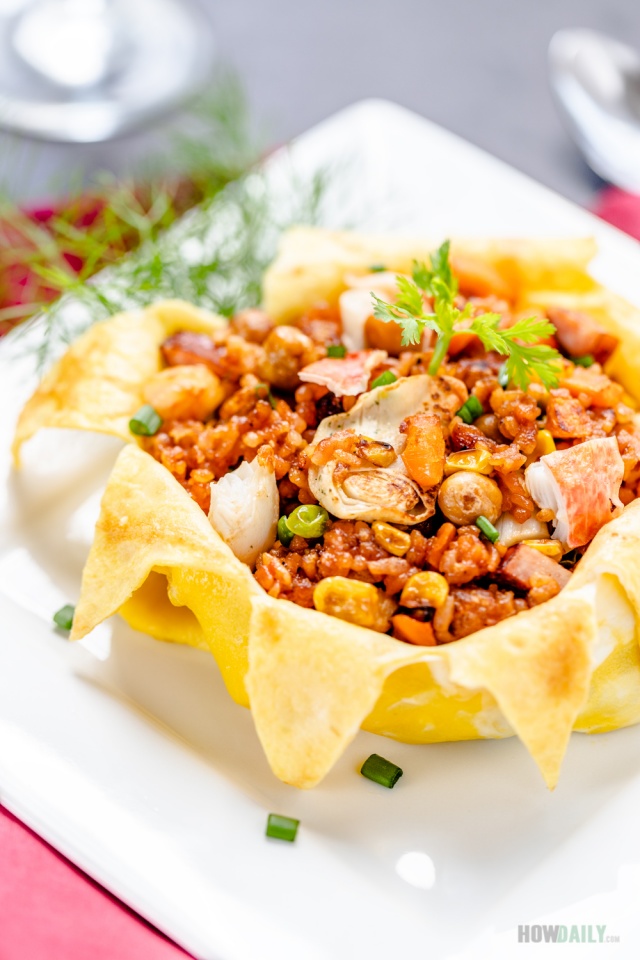 The process is easy. First, just make sure you have some leftover rice or at least chill some new cook rice. Then gather all the ingredients (ham, sausage, veggies…) and dice them into 1/2 inch cubes. Finally fry, season, and present them in a presentable manner.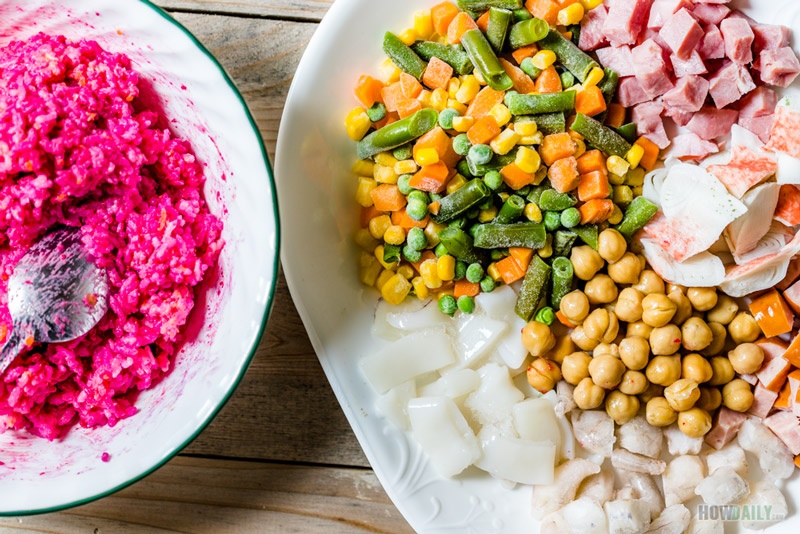 Due to the tedious of chopping and dicing, you should make a lot of these. Serve in multiple plates immediately or let chill in the fridge and reheat the next day or two. If you're missing any listed ingredient, feel free to substitute or skip. Remember to vary your ingredients, as the more colorful your varieties are, the more appealing the final dish.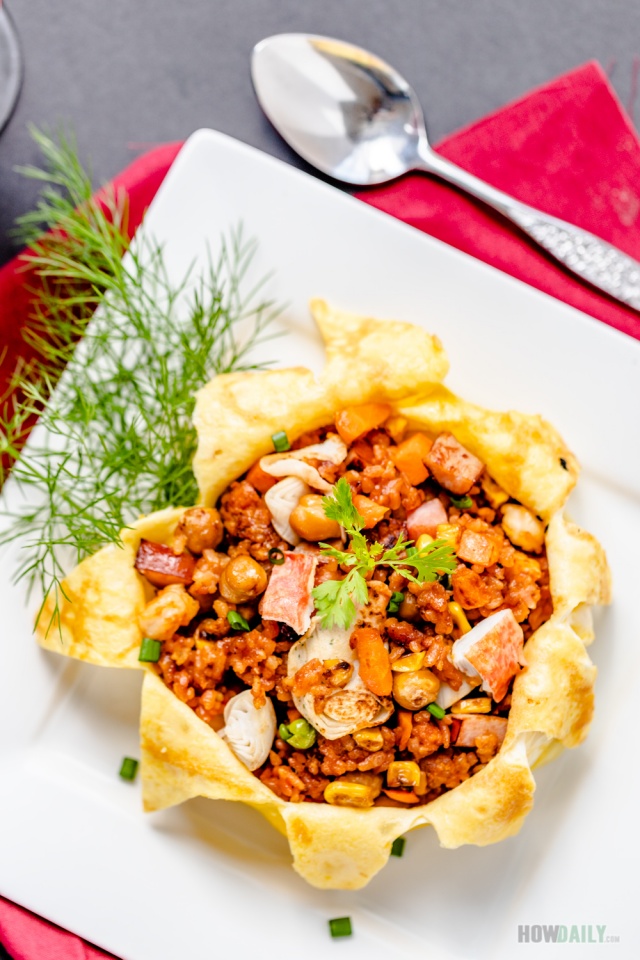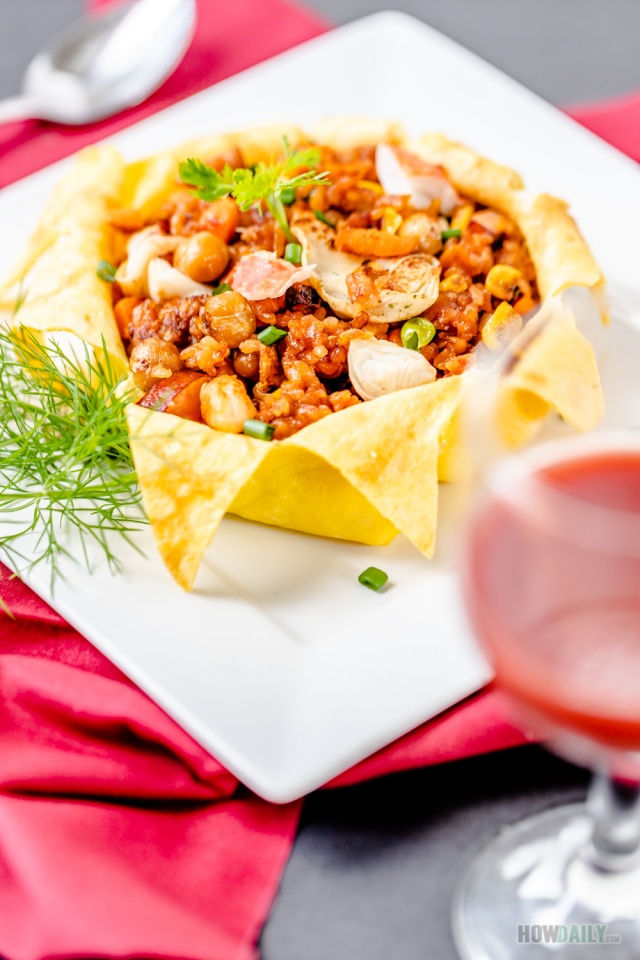 Just one little note on the omelet, please fry it on low heat to avoid a grainy texture. Use a wide non-stick pan or wok to make your life a whole lot easier.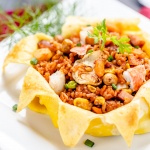 Recipe for Royal Crown fried rice
Tasty fried rice with mixed vegetable, ham, sausage and prawns that is enveloped within a golden delicious omelette.
Print
Ingredients
2

cups

cooked rice

left over rice

2

eggs

for coating

2

Tbsp

finely diced beet

1/2

cup

diced carrot

1/2

cup

pea

1/2

cup

corn

1/2

cup

lotus seeds or chickpeas

2

stems scallion

a few sprigs of cilantro

3-4

crab sticks

2

salted yolks or 1 egg

6-8

dried shrimps or small prawn

1/2

cup

diced calamari

1/2

cup

diced ham

1/2

cup

diced sausage

1/2

cup

roasted pork

optional

2

cloves

garlic

2

Tbsp

chicken stock

1

Tbsp

Tamari soy sauce

1/2

tsp

ground pepper

salt & seasoning to taste

vegetable oil
Instructions
Prep
In a clean bowl, mix 2 cups cold cooked rice with finely diced beet and 2 Tbsp chicken stock.

If you're using salt yolks, marsh them well and mix with cold rice; otherwise just throw in 1 egg and mix them well. Use your hand to knead and make sure all rice grains are coated evenly without broken them. Set aside.

Soak dried shrimps (if use).

Separate white and green parts of scallion. Finely chop them.

Dice and chop everything else.
Omelette
Whisk 2 eggs to fluff a bit.

Put a large surface skillet over medium to low heat, when hot, add a tablespoon of vegetable oil then pour 1/2 the whisked egg in evenly to create a thin omelette layer. Turn and pan the skillet so that the egg liquid fully covers its surface.

Gently flip omelette upside down to fry the other side or cover with lid.

When done, carefully transfer the omelette out onto a flat surface to cool down. You can do this by peeking one corner/small area at a time. The whole thing should fall out easily.

Repeat the above step for the second omelette round.
Rice and toppings
Heat 1 Table spoon of vegetable oil in wok or large sauce pan over high heat.

When hot, add the chopped white scallion, stir to saute still soften.

Add the mixed cold rice into pan. Stir often till quite dry (2 – 3 minutes).

Add all the chopped and diced vegetable, calamari and protein. Stir to mix well.

When the mixture dry a bit, add soy sauce. Keep stirring well why frying, use a spatula to fold, stir, lightly damp the ingredients apart if they stick together.

When rice is done frying (dry, crisp, and doesn't stick) and all other topping is well cooked, adjust season to taste.

Finally add chopped green scallion and ground pepper, fully stir and remove from heat.
Craft and Serve
Place an omelette round over a soup bowl. Use your hand to carefully indent inside it.

Spoon in fried rice, fold and tuck omelette ends to fully stuff the rice inside.

Quickly grab a serving plate to cover the bowl opening. Flip the whole thing up side down so that the omelette ends is at the bottom.

Use a scissor or paring knife to cut the omelette top into small triangular sections. Fold these down to create the crown with fried rice inside.

Garnish and decorate with available toppings.

Serve them hot.