Out of idea for a nice and quick appetizer? Try this Zucchini roulade with smoked salmon, avocado, and kani crab stick recipe. The rolls are easy to made and can be served immediately as finger food or chill as a cold party tray.
The overall flavor is a combination of salty smoked salmon, creamy avocado, sweetness from zucchini, or balance umami from kani crab sticks. Overall it tastes nice and would satisfy most appetite. Work great for kids and adults.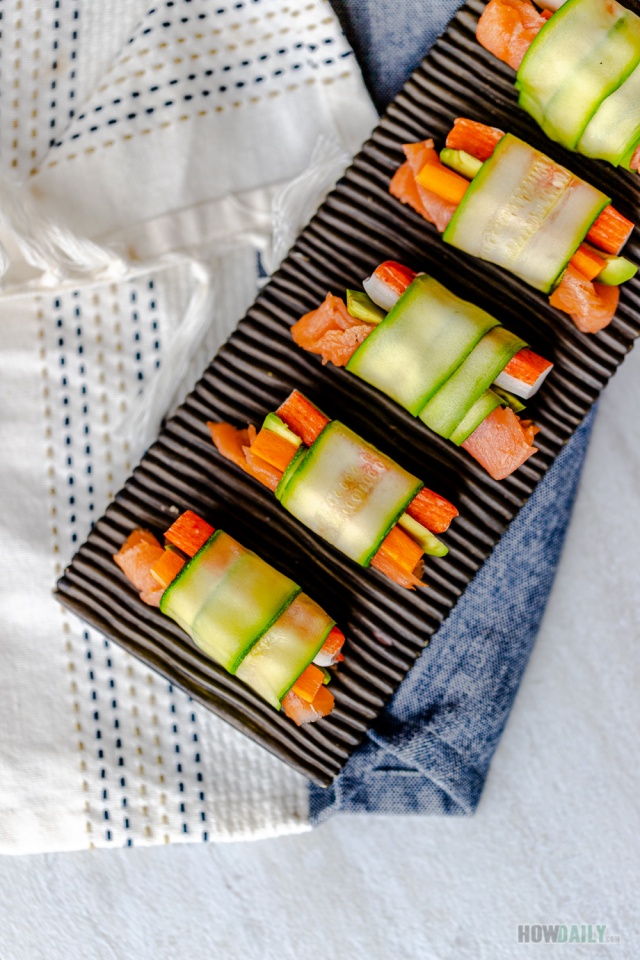 Texture-wise, the roll really carries a balance of creamy (from salmon and avocado), buttery, yet crispy (carrot) and crunch from light saute zucchini. Very nice to the teeth.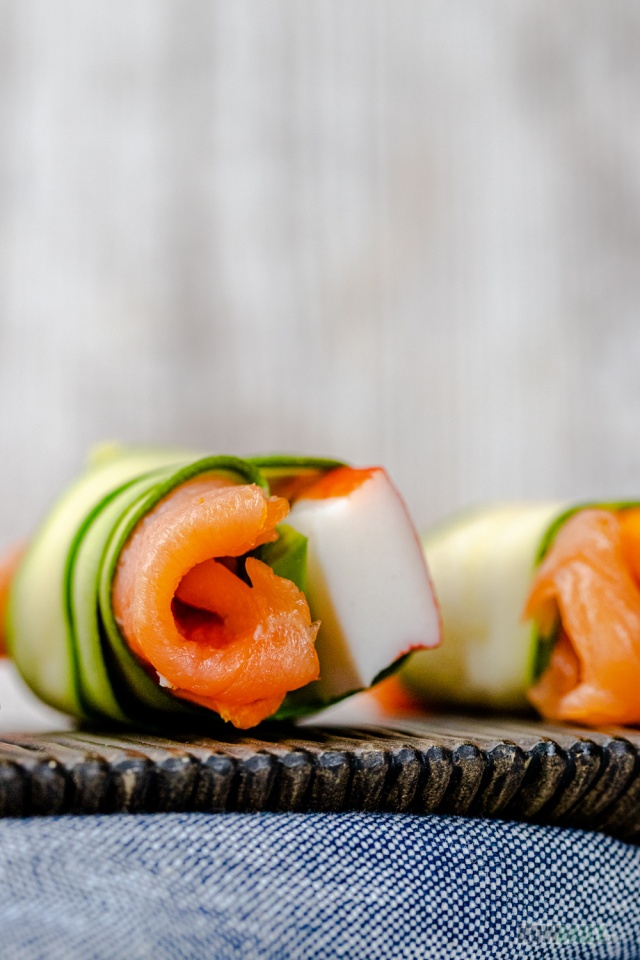 These rolls can be made in advance and packed in the lunch box as a nice treat also. Greek Yogurt was used to help with binding of all the fillings, however, you can always use a toothpick to secure the roll. The key is to roll as soon as zucchini slices sauteed and cool to the tough; that way their moisture still remains and helps to adhere better.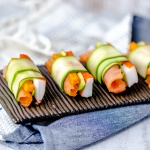 Zucchini Roulade with Smoked Salmon
A delicious appetizer that is quite lean and healthy too, try this Zucchini Roulade with Smoked Salmon. Slightly cook peeled Zucchini wrap around your favorite ready-to-eat fillings like crab sticks, carrot, avocado and of course smoked salmon.
Print
Ingredients
1

zucchini squashes

4

oz

smoked salmon

6

sticks

imitation crab

1

small carrot

½

avocado

slice

2

Tbsp

Greek Yogurt

or sour cream

¼

tsp

garlic salt
Instructions
Use a peeler to peel along the squash's length into long thin slices.

Either char these slice over medium heat (stove top) for about 5 minutes to soften and make them more pliable.

In a small container, whisk or fork together Greek Yogurt and garlic salt.

Shred carrot, cut and roll smoked salmon for easier handling.

Place a slice of zucchini on flat surface, spread a thin layer of Greek Yogurt to the center area.

Arrange smoked salmon, crab stick, carrot and avocado on top.

Carefully lift and roll zucchini slice, by the end, secure with a toothpick across its focal point.

Chilled in fridge or serve immediately.
Video