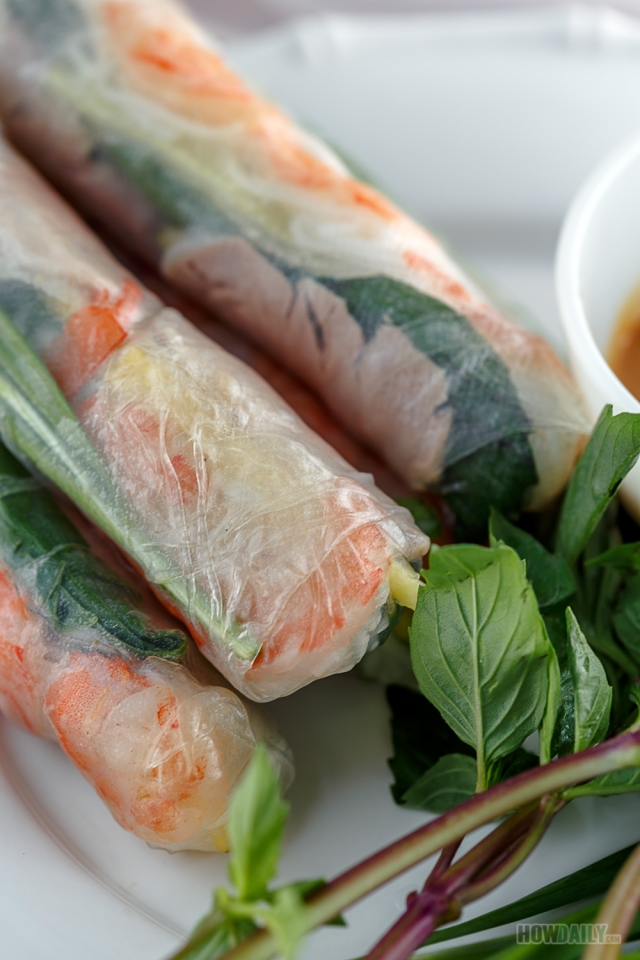 Vietnamese Spring Rolls is a traditional Vietnamese appetizer dish consisted of shrimp, pork, rice vermicelli, vegetable, herb and fruits, all wrapped in a thin rice paper with a leek stem peek through as decoration. It is a cool dish that made and serve fresh at room temperature. It's also the perfect dish for a summer family party the type where you-roll-as-you-eat, and all the kids could have fun making their own roll combination.
Name and Originality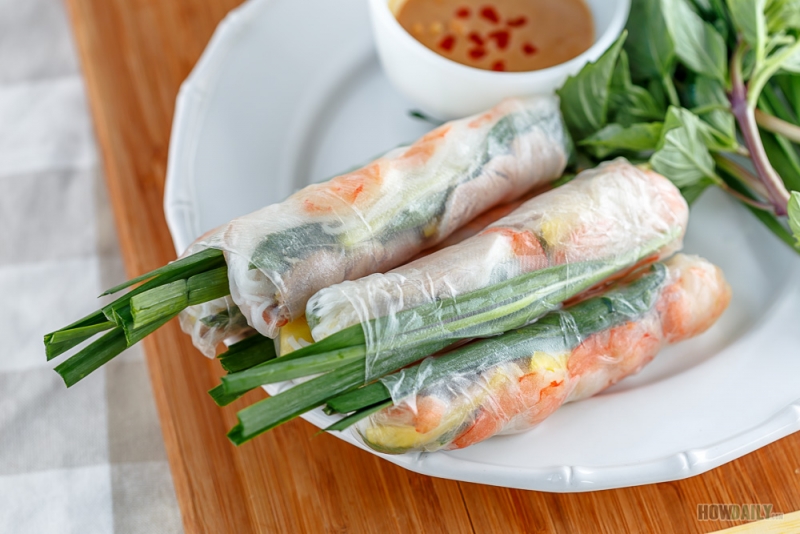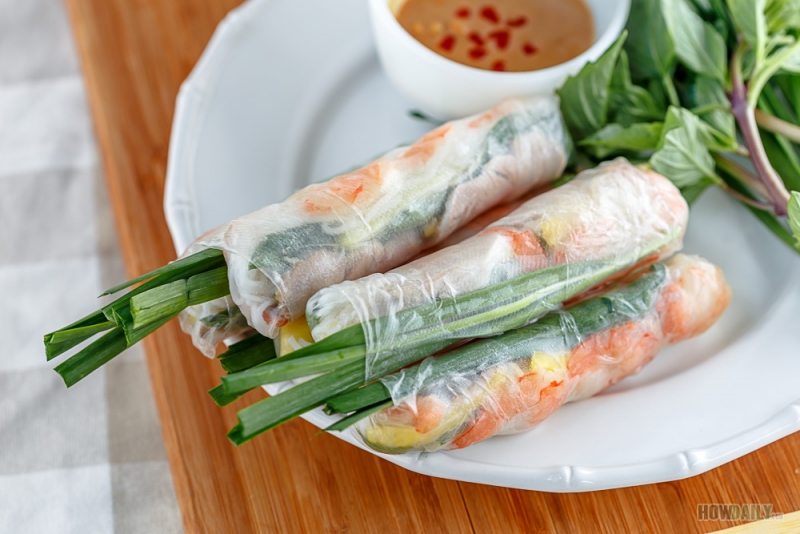 It has so many names within the country itself, like "gỏi cuốn tôm thịt" – Salad roll by Southern Vietnamese, "nem cuốn" – by Northern, "bánh tráng cuốn" – Rice paper roll by Central Vietnamese, etc. And throughout the world, it also called Vietnamese spring rolls, salad roll, cold spring roll, cold roll, summer roll, etc.
Origin from the Southern Vietnam, the South-most Mekong river – give birth to the rolls main ingredients: rice paper, rice vermicelli, soybean paste (a main ingredient of the famous Hoisin sauce). This land also has vast major varieties of exotic tropical fruits, herbal and garnishment such as star fruits, pineapple, mango, mint, basil, chives/leek, pickle radish/carrot, banana, etc. Upon coming out to other parts of Vietnam, this roll has adapt different names and customized ingredients. Now a day, this roll has become quite popular in the Western hemisphere and neighboring countries, with so many variant from its sauce to its garnishment which create a totally different taste experience to fit local taste, ingredient availability, while the rice paper, vermicelli, etc. still remain intact.
Ingredients and substitution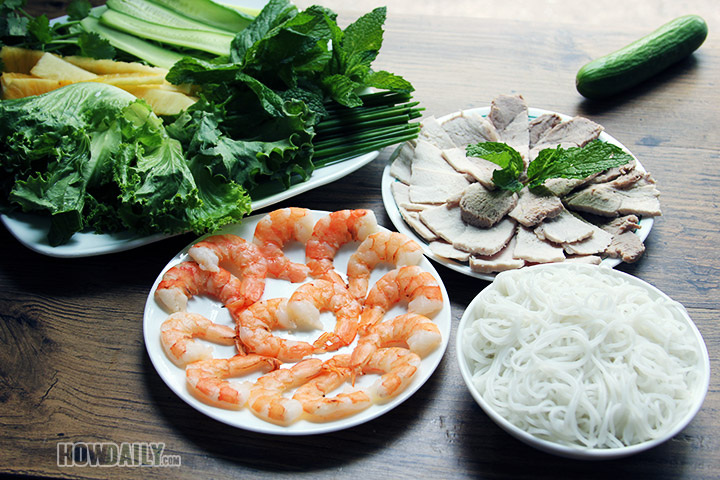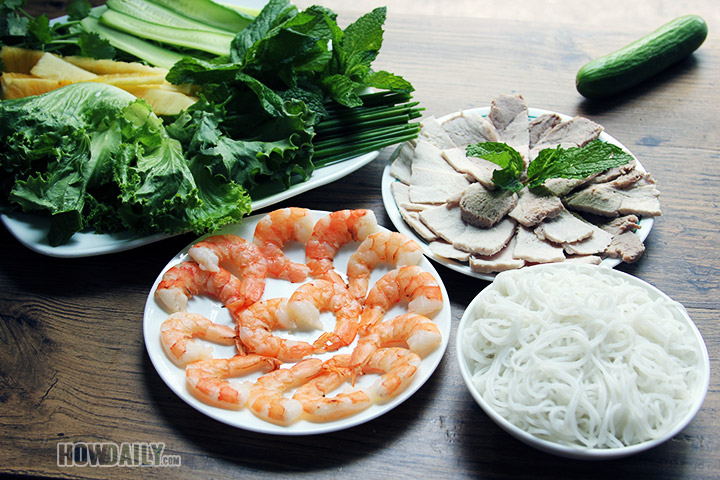 Food can't be made without great fresh ingredients. That is a fact, and especially true for Vietnamese Spring rolls. So choose your ingredient wisely, substitute them as needed, but make certain that anything called for fresh should be fresh, and you will be in for a twirling exotic adventure to a tropical paradise. Most of the dried ingredients could be found in oriental markets(cheaper and more varieties) or the Asian aisle of super markets like Walmart, Meijer, Kroger. Amazon also carried all of them, but the price is about 4-6 times what I normally would pay for. Following are an introduction to all the ingredients, and also a guide on choosing what best for your roll and what to substitute in case you can't find one.
Rice paper: originated from Trang Bang – Tay Ninh, a province within the South Western Vietnam, rice papers are made from the finest long grain white rice powder and go through all the processes of double steaming, sun dried, toast, dew parched and moist wrap. The perfect rice paper is thin yet elastic enough not to break, a little salty to the taste and hold ingredient well. Look for the one that is thin, made in/product of Vietnam without broken piece inside. Choose the bigger size(12 inches), it is easier to roll for beginner. If you can't find any rice paper at all, you could use a very large lecture leaf to wrap as you eat, or use soy paper as well.
Rice vermicelli: made from soaked rice powder, vermicelli has only 1/3 carb in each serving compare to rice counter part and is recommended as replacement for low carb diet. For Vietnamese Spring rolls, it's best to choose a medium thickness vermicelli. When boil your dried vermicelli, use more water to and stir at the end carefully to prevent sticking to your pot. Rinse with water generously until completely cool to remove all extra starch.Let them dry and microwave (open lid) to remove excess water and expand/soften up the strand so that they don't slop your rice paper. You could use thin rice stick noodle, cellophane noodle, or even the thin whole wheat spaghetti as replacement, just make sure you cook them soft enough.
Meat: for better taste and texture, boil your meat with cold water and a salt sprinkle on. When it's done, transfer your pork immediately to a really cold water bowl for a couple minutes before let them air dry/cool on your plate/cutting board. Unless you absolutely have to, don't pick the totally 100% lean meat as it may be too dried and tough. Belly with skin on (for crunchy) is the favorite of the Vietnamese, but shoulder and butt work as well. Instead of water, boil your meat with coconut juice for extra enhance flavor and wondrous scent.
Shrimp: cooked and peeled shrimps save your prep time a lot, but raw shell-on ones actually sweeter and their juice make the best peanut sauce too. Look for any brand that don't add much salt to frozen shrimp or ask for help on choosing the less salty fresh shrimp in the seafood aisle. You could replace pork and shrimp with chicken and carrot if you allergic to seafood, they make a great roll too.
Vegetables: any veggies used should be fresh, any variety would do, you could even add spinach or kale too for fiber.
Fruits: the star of the dish, really. If you shrimps are too salty, this is what will help. During summer, I usually be able to find star fruit at Kroger, this is the perfect and best tropical addition to Spring Rolls. But if you can't find one, a raw non ripe mango or pine apple will do. You could also add thin slice of raw plantain for a semi-tart flavor.

Star fruit

Sauces: if you cant find hoisin sauce, a mildly sweet + tangy fish sauce will do. Will update a recipe for making hoisin sauce replacement at home when I have time.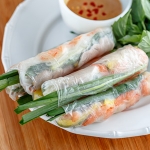 Recipe for Vietnamese Spring Rolls & Peanut Dipping Sauce Recipe
A cool, fresh and authentic recipe for both Vietnamese Spring Rolls and the famous peanut dipping sauce. This is a result from my countless trials to achieve the Vietnamese original taste from easy to obtain ingredients and theirs substitutions.
Print
Ingredients
Spring rolls
1

lb

pork

shoulder, butt, or belly…

1

lb

jumbo shrimp

18-25 count, smaller size is ok, just put more to your roll

6

ounces

rice vermicelli

1

pack rice paper

1

bunch green leaf lecture

2

mini cucumbers or 1 reg. cucumber

20

stem chives/leek

1

bunch Herbs like cilantro

mint or basil

1

starfruit

prefer or 1 raw unripe mango or 1/4 pineapple depend on availabilities
Peanut Dipping Sauce
1/2

cup

CHUNKIEST peanut butter

4

Tbsp

hoisin sauce

1/2

tsp

sugar

3

Tbsp

lime juice

amount varies, depend on your Hoisin sauce saltiness

1/2

tsp

Sriracha or chili paste

adjust to your spicy tolerant please!!

1/2

cup

pork/shrimp boiled broth saved from above

add more for thinner sauce, or less for thicker/paste style
Instructions
Pork
Start with washing the pork, pat dry, cut along its fibred into long rectangular strip with 1"x2" inches thick.

Put all your pork into a small area pot with lid, pour in water just above the meat. Add 0.25 tsp spoon of salt, cover and put on high heat. The pork should be boiled for about 20 minutes or so.

While your pork is cooking, you could go ahead and multi-task by preparing other veggies, shrimp, etc. to save time. Just remember to check every 5-10 minutes to see if the internal are done.

When Pork is done, place them onto a large plate or cutting board, and let it air-cooled. Do not discard the boiling water/broth, save them for the peanut sauce.
Vegetables & Fruits
Lecture: separate by the leaf.

Cucumber: if you're using mini/dill cucumber, just slice them thinly along their longer side. If yours is the large and softer cucumber, cut into halves, remove seeds, and then thinly slice them too. Remember to cut its length to about your hand length.

Mint & basil: remove old stem, separate leaf.

Fruit: thinly slice them just like your cucumber.
Shrimp
Wait until your pork is done cooking, just remove the pork without turn off the heat source, add-in and boil your shrimp with their shells on to preserve the naturally sweet and freshness.

When the shrimps color turn pink (don't over cooked, your shrimp will lose their crunchiness), remove shrimp from the pot, place them into a wide plate to let them air cooled.
Vermicelli
In a tall covered pot, boil about 3 qt of water.

Add in vermicelli, use chopsticks or spatula stir occasionally to prevent sticking to the bottom of your pot.

Depend on the brand of rice vermicelli you're using the cooking time may vary a lot. The safest way is to test-taste a small strand every 5-10 minutes to check for your desired softness.

Pour the whole thing into large-hole basket and rinse the vermicelli with cold water to remove excess starch.

Let them dry for at least 10 minutes, turn them upside down to remove any excess water, and transfer into a microwaveable bowl.
Rolling
In a wide bowl/container pour in some hot/warm drinking water. Mildly hot water help the rice papers to be more elastic quicker and easier to roll.

Now with everything prepared, let wash your hand and you're now ready to roll.

Wet the rice paper evenly (and quickly too). Laying the rice paper on a flat surface with the shiny/smooth side up (this help the rice paper from being sticky to your surface, thus easier to roll).
Method 1: Stove top
Method 2: Microwave
In a microwaveable bowl, put in pork/shrimp broth, peanut butter, and hoisin sauce, slightly mix.

Cover and microwave for 1-2 minutes on high power.

Be careful when remove from the microwave as the container should be hot. Anyhow, remove cover, stir well to mix. The peanut butter should be a bit fluffy now.

Add in sugar, stir.

Finally add in lime juice and chili, and stir again.
Notes
To save time, I usually don't separate between the prep and cook process due to the nature of this dish.
For substitution to any ingredients in this recipe, please read the Ingredients & Substitution above
Place a piece of paper towel between the cover and the pot edge to prevent the boiling water from sipping out
Transfer your boiled pork to a ice cold water container for a couple minutes before air dried will make it's crunchier
Only slice your cooked pork when it's cool help it look more evenly.
Don't over-cooked your shrimps
Always add lime juice to your sauce after it cool down to avoid bitter taste.