If you ever travel to Vietnam and cruise around the neighborhood market before noon till sunset, you will surely come across those grilled meat (balls)  stands along the sidewalk. In fact, Vietnamese pork meatball is one of the ever-popular street food, be it hot or cold, summer or winter. As soon as you detect the aroma, there will surely be a stand around…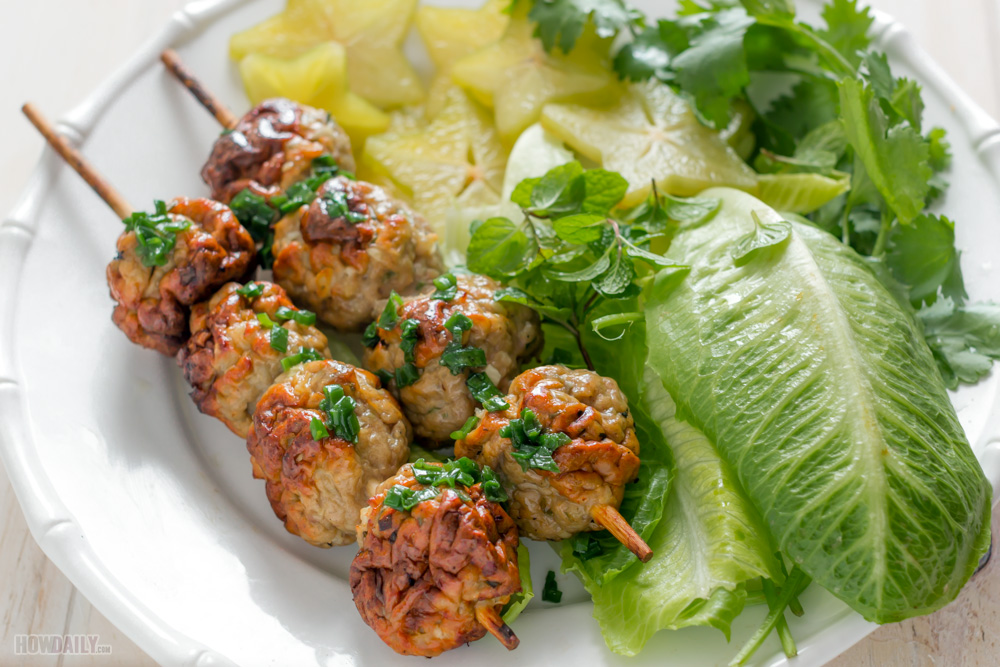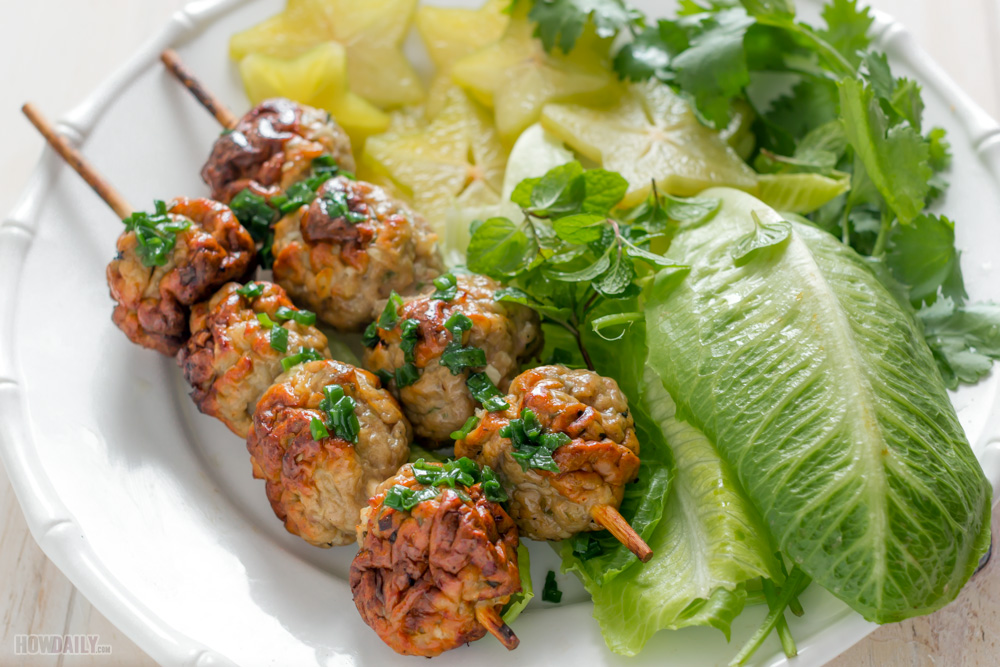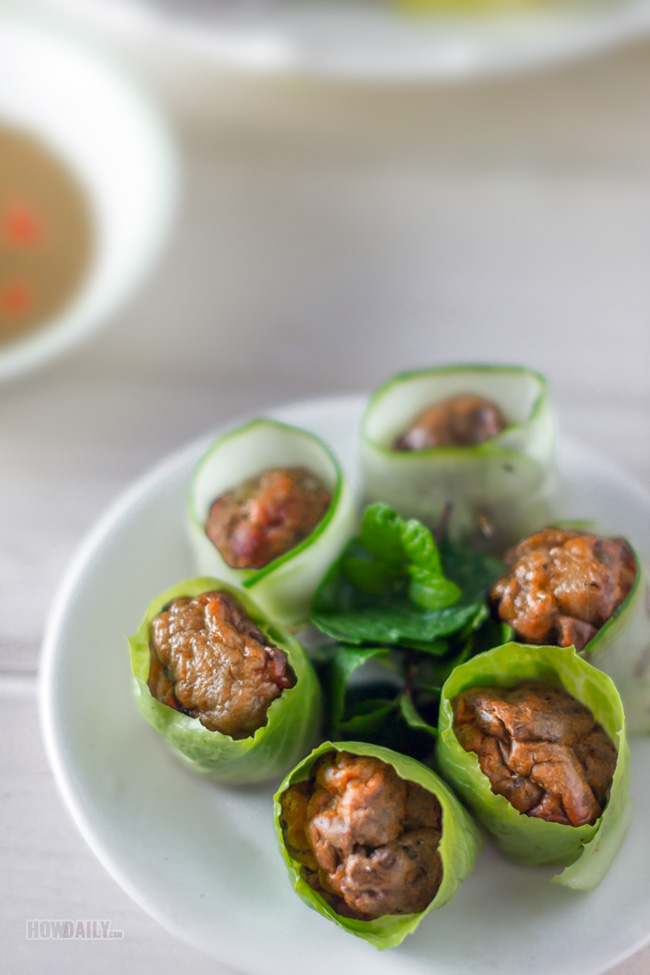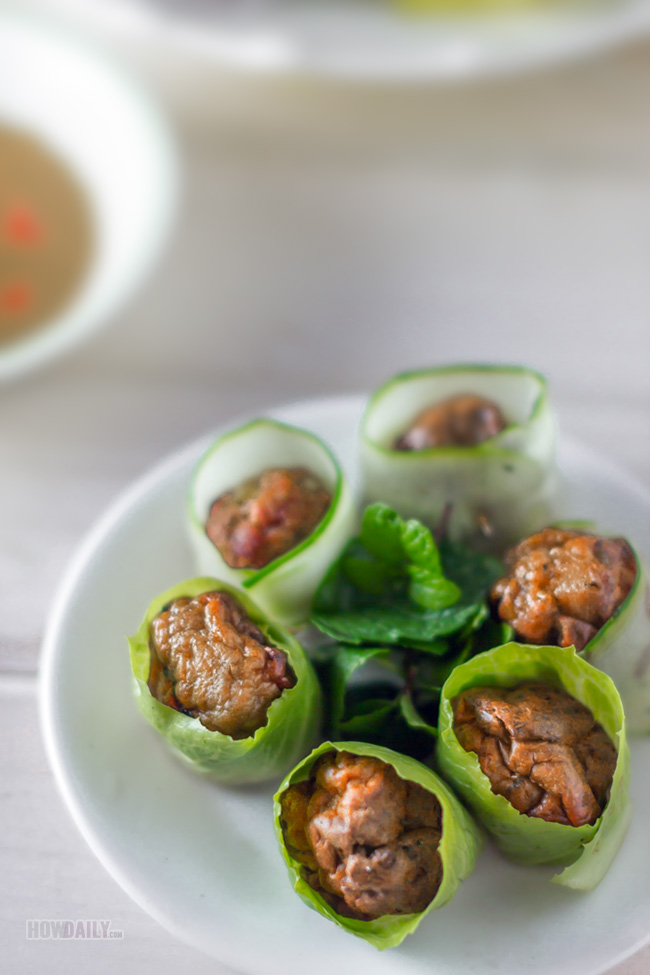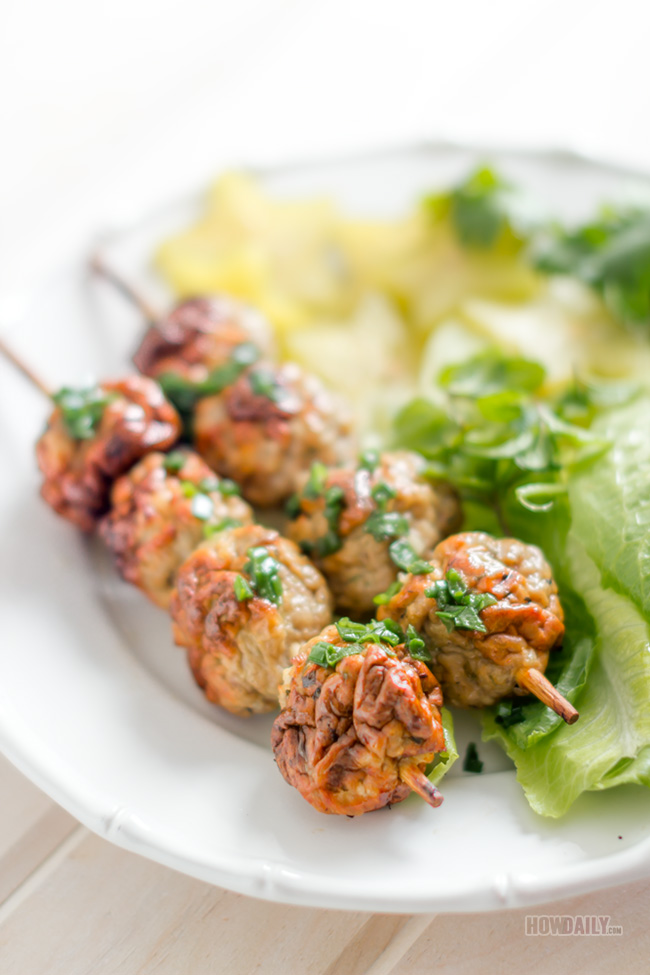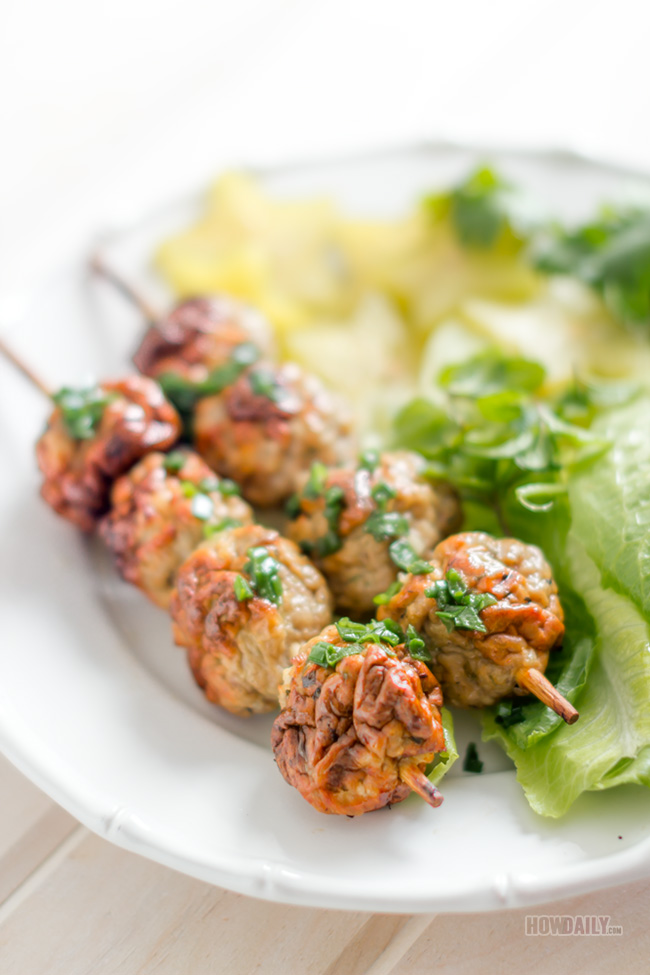 In Vietnam, pork is the most widely used type of meat, especially for meatballs, similar to how it's all-beef here in America. The meat chosen will be around 1:5 ratio of fat: lean meat. The preferred fat is the hard chunk that often cut off from those bacon blocks.  Seasoning will be vastly different between regions, e.g. Northern and Mid Vietnamese prefer saltier while the Southerners love the sweeter taste. Ninh Hoa, Nha Trang City is a famous origin for these meatballs (nem nuong) while other provinces also have different versions as well. Nonetheless, the spice/aromatic ingredients often being used are shallot, garlic, lemongrass, roasted rice powder, etc.
Dipping sauce or condiments for meatballs is an art and the selections are large. A rule of thumb is that sweet/sour fish sauce is great for anything grilled. Another, Sriracha is the perfect quick fix for short on time snack or for topping over a meatballs sandwich (banh mi). In the case of traditional Vietnamese pork meatballs from Ninh Hoa, the complex and authentic sauce of choice is Sticky rice dipping sauce. This sticky rice sauce is made of mashed sticky rice (of course), ground meat, shrimp and pork liver, and a bunch of other seasonings. The process is long and ingredients are not that easy to find (here, in the US). However, if you could manage all that and get pass your guilt (on consuming liver and sweet rice) then the taste is not one to be forgotten. This sticky rice sauce can be used for dipping, topping meatballs sandwich, and in Mid Vietnam pancake (banh Khoai) too.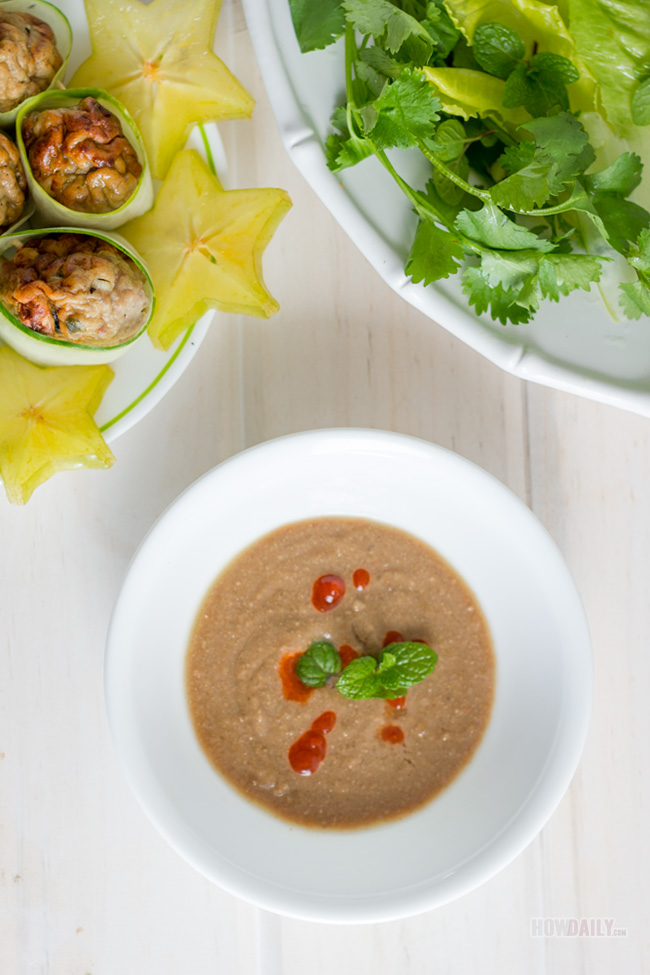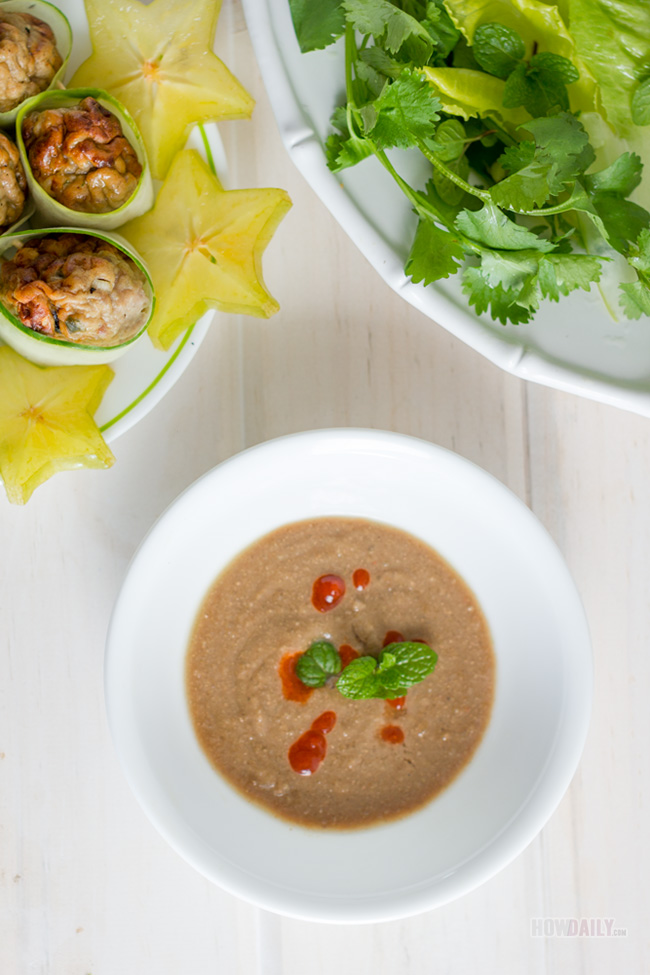 These grilled meatballs can be consumed as an appetizer with the Sticky rice and accompanied by any seasonal veggies. They can also be served as a side to rice meals or filling for Vietnamese sandwiches. Instead of balling, you could also create longer patties from the same ingredients to place on your tacos, betel leaves, spring rolls, or wrapped with rice papers.
Ground meatballs could be frozen up to 2 months. Thaw in fridge and microwave, sauce or re-grill to serve.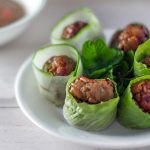 Vietnamese Pork Meatballs and Sticky rice dipping sauce
Aromatic grilled pork meatballs, Vietnamese style for your recipes collection. These pork meatballs can be served with Vermicelli, rice paper and ground dipping sauce/fish sauce or as filling for the infamous Vietnamese sandwich – Banh Mi too.
Print
Ingredients
2

lbs

lean pork

5

oz

pork fat

hard pork fat or lard from bacon

1/2

Tbsp

sugar

1/2

Tbsp

white wine

1

Tbsp

potato starch

Or 2 lbs ground pork 20% fat for quick simplified version
Marinated ingredients
1

tsp

5g baking powder

1/2

tsp

ground pepper

3

cloves

garlic – minced

3

small shallot onion – minced

3

white head of green onion stems – minced

4

Tbsp

fish sauce

2

Tbsp

sugar

2

Tbsp

roasted rice powder

see supplement instruction or 2Tbsp ground/fine breadcrumbs

1/4

tsp

Annatto powder or 1 tsp Caramel sauce

1

Tbsp

oyster sauce or 1/2 tsp seasoning powder

optional for sandwich filling
Ground Dipping sauce (optional)
4

oz

chicken or pork liver

4

oz

shrimp

4

oz

ground pork

1/4

cup

glutinous

sweet rice

1/2

cup

hoisin sauce

1

Tbsp

peanut butter

1

small shallot onion

1

cup

coconut juice

1

tsp

Tamarind powder or 1/2 lime

1

Tbsp

oil
Instructions
Meat Prep
Add pork fat blocks/strips to boiled water and cook for 5 minutes before removing from heat.

Strain all hot water, let the pork fat block cools down, then cut into small chunks.

Mix 1/2 Tbsp of sugar and wine into pork fat, stir and apply evenly and pan them all out to create an even thin layer on your oven tray

Preheat oven to 120 F then cure pork fact chunks at 120 F for 2 hours or until all chunks become clear. Put them aside to cool down.

Chop all the lean pork into 1 inch cubes then start grinding.

Cover this ground meat and cool in fridge for an hour.

Take half of the ground meat and mix it with 2 Tbsp of potato starch and re-grind/re-process one more time (puree I would say).
Meat Prep (quick version from store ground pork)
Just throw the store-bought ready ground pork into freezer 30 minutes – 1 hour if it's not already chilled.

With your meat grinder/food processor, re-grind half of the chilled ground pork.
Marinate
You'll need a mixer, be it a stand or hand mixer, it'll save you a lot of strength by beating the meat mixture until thick, crunch and bind well together.

Start by beating the half re-ground meat in large container/mixer for a good 10 minutes or so at the lowest speed on your machine.

Mix 1 tsp of baking powder with 2 Tbsp of cold water and 2 Tbsp of sugar in a separate container and let it fully dissolved.

Add the remaining ground pork, baking powder/sugar solution, 4 Tbsp fish sauce, 1/4 tsp Annatto powder, seasoning powder (if use) into mixing container while beating for another 5 minutes.

Add cured pork fat (if use) and just mix them evenly.

Wrap and chill the whole meat container in fridge for another 2 hours to fully marinated.

After chilling for 2 hour, add 2 Tbsp of roasted rice powder and all spices (1/2 tsp ground pepper, minced garlic, minced shallot and minced green onion- white part) into the meat container.

Knead or beat them for a good 5 -10 minutes. The mixture should now be thick like dough and can be shaped well.
Ball-er and Grill
Prepare a small bowl of oil to coat your hand/meat ball for avoiding stickiness.

Coat your hand well with oil and pinch off a piece of pork mixture.

Gently roll between your hands to form an overall round ball and stick it right onto a bamboo skewer.

Repeat until all pork mixture is used.

Roast the meatballs in oven (400F for 30 minutes, turn sides in between) or charcoal grilled (prefer for aroma sensation). Pat on some oil to coat the meatball when roast/grill if you're using lean meat or omitting the cure pork fat

Meatballs' internal temperature should reach 165 F.

Serve hot with veggies, garnishment, vermicelli and ground dipping sauce or fish dipping sauce. They can be used as filling for Vietnamese sandwich.

Enjoy !!
Roasted rice powder – Thinh supplement instruction
Soak rice (any type) in water for 30 minutes

Pour into strainer to remove all water and let dry completely at room temperature

In wide pan or wok, just stir and roast rice until golden brown.

Blend/Grind all the roasted rice into powder.

Save in air tight container at room temperature for subsequent uses.
Sticky rice dipping sauce
Rinse 1/2 cup glutinous (sweet) rice with water twice or until cleaned.

Soak glutinous rice in water for 5 hour or over night (to reduce cook time and preserve mineral)

In pot, add soaked rice with 1 cup of coconut juice and cook until all rice grains are soft and tender (about 20 minutes, or 10 minutes with pressure cooker).

Mash the cook rice (preserve the juice/liquid) and set aside.

Remove shelves, de-vein and mince all shrimps, chop liver.

Minced shallot onion

In a sauce pan on high heat, add 1 Tbsp of oil. Turn and lightly shake to have the sauce pan bottom fully coated. Remove excess oil.

When oil is hot (1-2 minutes), add minced shallot, stir till golden brown and starting to give off aroma

Add shrimp, stir for 3-5 minutes before adding ground meat and liver.

Keep stirring to prevent burnt until everything's fully cook (about 10 minutes)

Remove from heat and let's cool at room temperature.

When cool, transfer them into food processor and puree

Now add everything from the processor and the smashed rice with its juice back into sauce pan.

On medium/low heat, keep stirring while adding the remaining ingredients: 1/2 cup hoisin sauce, 1/4 tsp Annatto powder and 1 Tbsp peanut butter, 1/2 tsp Tamarind powder or 1/2 lime juice.

Simmering the mixture until thickening and season to taste (w/ sugar/honey depend on your coconut juice sweetness)

Serve as condiment for grilled meatball, top with some Sriracha if desire.
Notes
For group or larger crowds, doubling or tripling the recipes.
Get that mixer, be it stand(prefer) or hand, and save your hands from all the soreness later on.
Meatballs can be formed shape and stick to bamboo skewers ahead of time. Store them in fridge (1 day) or freezer (1 month) and just roast/grill when need. Remember to thaw them before grill if coming from freezer.
Leftover grilled/roasted meat ball can be bag (vacuumed prefer) and freeze for 2 months. Thaw and re-heat in microwave, pan fried or oven.