Bun cha has been one of the top favorite dishes in Hanoi, Vietnam. The preparation process is quite complicated and requires lots of ingredients, but the taste is unforgettable. It is a combination of the smoky tangy and mildly sweet in meat, sauce, fresh herb, spicy garlic, pepper, and pickled condiments.
In Hanoi, you could find Bun cha almost everywhere, from street stands to flea markets, even some larger restaurants. Though, most people would prefer the street stands due to the unavoidable smoke scent that just flows every summer days and night. Most places will also sell nem (fried spring roll) as a side dish, and the local likely to consume with some beer as refreshment.
Recently "Bun Cha" has been notated in many news due to being the local specialty in Obama to Vietnam trip. But before that, it was also widely known to many travelers too, and was presented in many Vietnamese restaurants around the world.
Bun cha can be made at home, it does require a bit more time due to the long marinating process, which require advance preparation but not much more than a typical outdoor grill. Meat is best first marinated overnight, then prepare by direct heat (charcoal grill), cause the seared-in flavor and smoky scent would enhance the taste. The types of meat mostly used are bacon (for grilled pork) and ground shoulder/butt (for patties, meatball). If you have a butcher close by, that would be best to look for uncooked/raw processed bacon, otherwise any lightly salt/smoke one will do.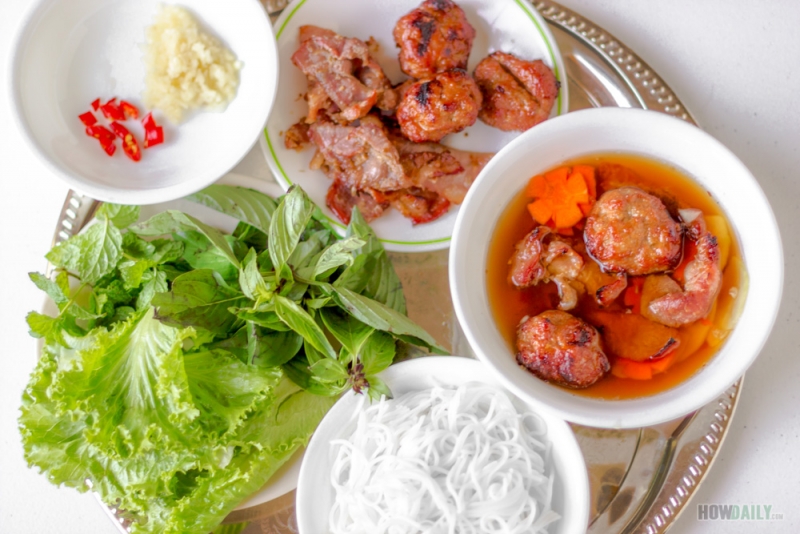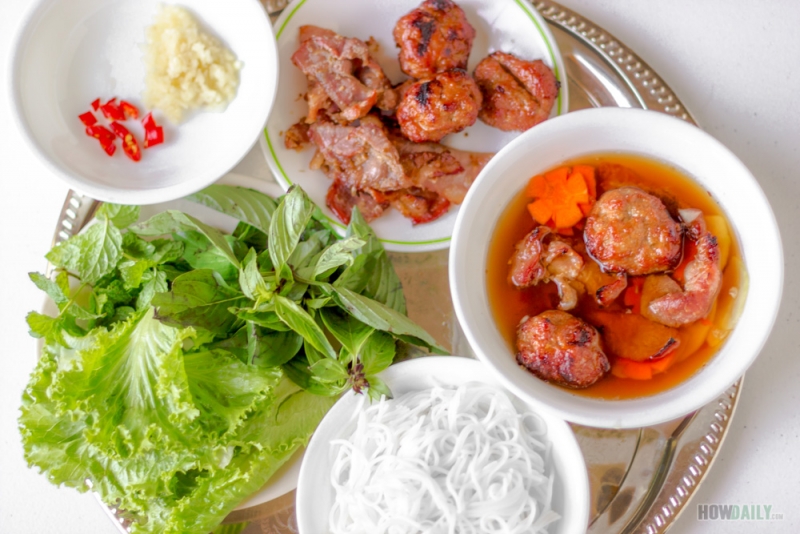 The original Bun cha Hanoi would call for "Mam Tom", fine shrimp paste, which is kinda hard to find if you don't have any oriental market close by. This could be substitute with oyster sauce, but if not, well, fish sauce alone will do. It just that fine shrimp paste will enhance the taste a lot and don't worry, with so much garlic/shallot/lemongrass being used, the final product won't be too pungent to contain.
A tip for tender and moist meat is before grilling, add 1/2 Tbsp lime juice to every pound of meat.
The heart of Bun Cha is its sauce and pickle garnish. For the sauce, due to differences in saltiness level, it's best to adjust the recipe below to make a light solution, just a bit of every taste.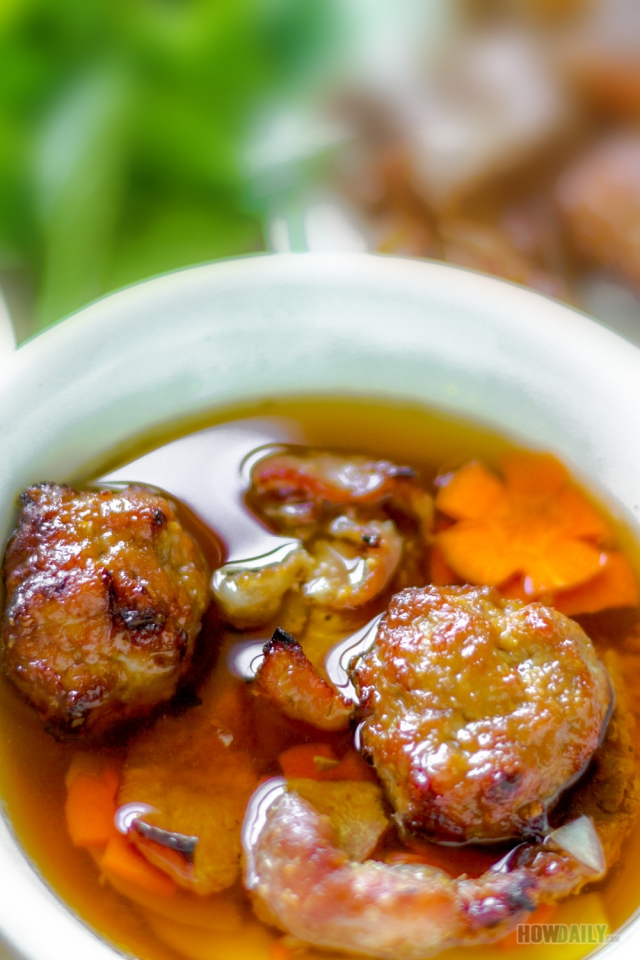 For the pickle garnish, green raw papaya is the best due to its crunchiness. But if you can't find one, mini pickle dill or radish could be used too. These along with lettuce, garlic, and pepper will keep you chow down without ever being bored/tired of tasting.
So before long, read on for a detailed step-by-step walkthrough, and have fun cooking.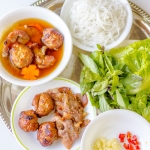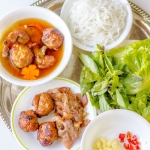 How to make traditional Hanoi style grilled pork vermicelli – Bún Chả Hà Nội
A blend of smoky grilled pork, twirly sweet & sour papaya and savory dipping fish sauce make Bun Cha the most remember dish around town
Print
Ingredients
For Caramel sauce
2

Tbsp

sugar

3 1/2

Tbsp

water

1/2

Tbsp

vinegar
For Grilled pork (Chả miếng)
1

lbs

bacon – uncooked

no flavor, raw preferred; substitute by 1 lbs low sodium smoked bacon if not available

1

Tbsp

Lemongrass – finely minced/pureed

1

Tbsp

Shallot onion – finely minced/pureed

1 1/2

Tbsp

sugar

1

Tbsp

seasoning powder or chicken bouillon powder

1

Tbsp

fish sauce

skipped if use smoke bacon

1/2

Tbsp

Caramel sauce

see instruction below

1/3

Tbsp

fermented shrimp paste sauce

mắm tôm or 1 Tbsp oyster sauce or 1/2 extra Tbsp fish sauce
For Pork meatball (Chả băm)
1 1/2

lbs

grounded pork

2

Tbsp

lemon grass – finely minced/pureed

2

Tbsp

shallot onion – finely minced/pureed

1/2

Tbsp

garlic – finely minced/pureed

1 1/2

Tbsp

sugar

1 1/2

Tbsp

seasoning powder or chicken bouillon powder

2/3

Tbsp

Caramel sauce

1

Tbsp

fish sauce

1/2

Tbsp

fermented shrimp paste

mắm tôm or 1 1/2 Tbsp oyster sauce or 1 extra Tbsp fish sauce
For Pickle Carrot/Papaya (Dưa góp)
1

small unripe/raw green papaya or 3 mini cucumber

1

medium carrot

1

Tbsp

salt

4

Tbsp

rice vinegar

2

Tbsp

sugar
For dipping fish sauce (nước mắm chan)
1/2

cup

fish sauce

6

Tbsp

sugar

1/3

cup

lime juice

3

cup

water

1

Tbsp

garlic – finely minced

1

chili – finely chopped

optional
Other ingredients
20

oz

Vermicelli

1

bunch Green/red leaf lettuce

2

Tbsp

garlic – finely crushed

2

red hot chili – chopped

Mints

Basil

Ground pepper
Instructions
Caramel sauce (to give meatball and grilled pork a nice brown color)
In a small pot, add 2 Tbsp sugar, 1/2 Tbsp vinegar and 1/2 Tbsp water, stir lightly into a thick paste.

Heat the mixture on high heat until boil or the mixture turns into light golden brown. Reduce heat quickly.

Keep heating until the mixture's color turn into darker brown shade and all sugar is dissolved.

Carefully add 3 Tbsp of water (be careful as mixture is hot and may splatter)

Turn and shake the pot slightly around to mix the whole solution.

Remove from heat source and let it cool naturally.

Transfer to jar, can be kept for months at room temperature for subsequent uses.
Marinate grilled pork
If you're using raw bacon, slice them thin before cutting into 3 inches length segments.

Combine grilled pork ingredients listed above and marinate bacon for at least 1 hour before grilling, overnight in fridge is preferred.

If you're using smoked/seasoned bacon, adjust the amount of salt ingredients(seasoning powder, fish sauce, shrimp sauce, etc.), so that the result wont be too salty. Since we will served with fish-sauce broth, the grilled pork bacon should be tenderly sweet, seasoned but not over salty.
Marinate meatballs
In a large enough container, just combine all listed ingredients with grounded pork.

With gloves, mix and pinch grounded pork until fully mixed. A mixer could be used if you have one, use your finger to pinch the meat altogether will help the meat to be more firm and hold well together when grilled.

If your local markets don't carry grounded pork, you could grounded/processed by yourself, just don't over minced them, you don't want pureed pork. Choose pork shoulder/shoulder-butt for its juicy and tenderness. Keep the tendon too.

Marinated meatball for at least 30 minutes before grilling.
Pickle Carrot-Papaya
Peel off Papaya skin, cut into quarters along its length, remove all the seeds and inner strings/membrane.

Wash and Slice papaya quarters evenly into 1/8 inch thick pieces.

Peel/Scrape off carrot skins.

Wash and Slice carrot into 1/8 inch thick.

In a large non-metal container, mix sliced papaya/carrot piece with 1 Tbsp salt.

Fill container with cold water, enough to cover papaya and carrot pieces, stir to make all salt dissolved.

Let soak for about 20-30 minutes, this will help remove papaya scents and gummy stuff while enhancing both carrot and papaya crunchiness.

Strain salt water, rinse, wring lightly and place all papaya and carrot pieces into a basket to let them air-dried.

Now, in a non-metal container, add rice vinegar and sugar (ratio is about 2 : 1), adjust depend on your preference of the sour to sweetness level and how big your papaya is.

Add papaya/carrot, stir and mix them. Let sit for 30 minutes or until fully absorbed.
Bun Cha Dipping Fish Sauce
Soak 1 Tbsp minced garlic and/or chili into the 1/3 cup lime juice.

In a pot, heat 3 cups of water.

Add 6 Tbsp of sugar, stir.

When all sugar dissolved, slowly pour in fish sauce, adjust quantity according to your fish sauce saltiness level, typically I used about 1/2 cup fish sauce

Turn off heat, stir a bit to mix.

Pour in the soaked garlic/chili/lime juice. Stir to mix.

Just let the whole thing sit, reheat before serve.
Cook Vermicelli
In a tall pasta pot, boil 3qt of water.

Add Vermicelli, stir gently to dip all sticks down.

Checking every few minutes until desired softness.

Turn off heat and rinse boiled vermicelli with cold water to remove extra starch

Transfer into microwaveable container, heat for 1-2 minutes, uncover.
Other Preparation
Crushed and finely minced 2 Tbsp of garlic

Chopped chili

Mints, basil: Wash and remove stem

Wash lettuce

Remember to place them in separate containers for easy serving
Grill pork and Meatball
Right before grilling, add 1/2 Tbsp lime juice to your marinated bacon and 1/2 Tbsp lime juice to marinated ground pork. Mix.

Lightly pat your hand with some oil to prevent sticking

Pinch off a piece of ground meat, gently roll and press between the palms of your hand to form oval shapes patties.

Place meatballs and bacon on separate grilling racks, you could grill them separate or together, just watched carefully as the meatball took longer time cook times.

Outdoor grilling is the tradition with this dish, if you have that, just fire up the grill and grill both bacon and meat ball.

If using oven to roast, then preheat oven to 420F.

Place bacon grilling rack farther away from the heat source than the meatball rack.

Grill for about 30 minutes, watch the bacon as it's easy to be over-grilled.
Ready to Serve (How to eat bun cha)
Heat up the fish dipping sauce, and divide into serving bowls.

Add in a couple grilled bacon, meatballs, pickle garnishments, sprinkle some pepper or chili, and add 1/2 tsp fresh crushed garlic to enhance taste.

Serve with vermicelli, lettuce, extra grilled meat in separate containers. Just dip those in as you eat.

Enjoy!