One of my tot favorite is the Vietnamese beef meatballs. It doesn't matter what dish they are in, be it rice, soup, noodle, Pho, pizza, etc. As long as there are some meatballs in there, he would ask for a second filled. You'll see, when cooking for that little sweetness, healthiness is a major concern. I mean, most store bought meatballs these days would contain borax, an agent to easily make the meatballs crunchy no matter what meats are used. Plus, you don't know for sure what kinds of meat being used, their quality and freshness, not to mention bunches of extra undeclared ingredients.
That's why a perfectly safe homemade Beef meatball is worth it in my case. Since the passive time needed to rest and set the meat in fridge are long, I always made these in large batch and had them stored in small serving bags in freezer. It's more convenient that way, plus I'm perfectly comfortable about what the tot is eating, considering this is his favorite food.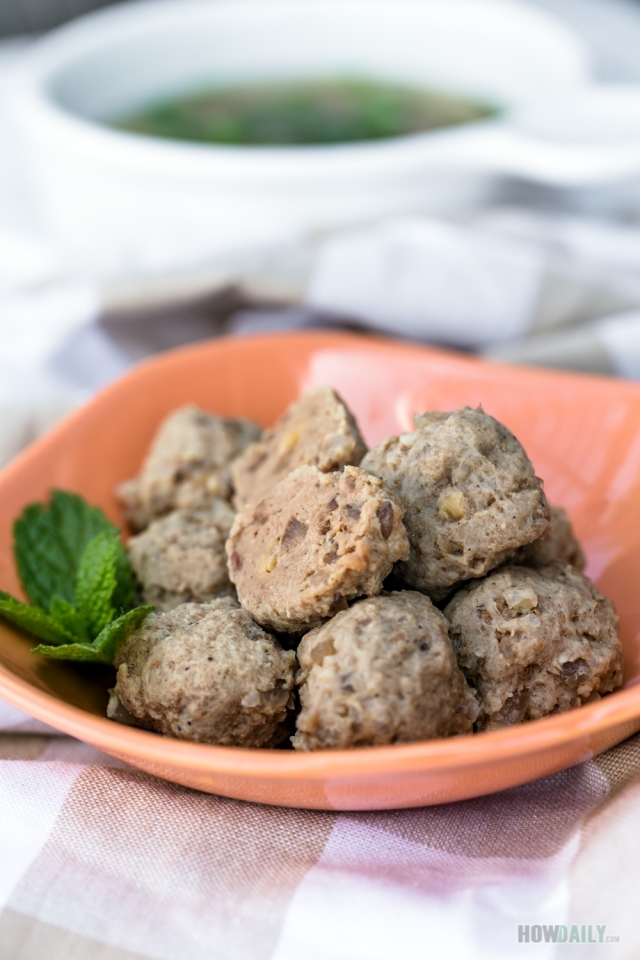 Now onto the meatballs, if you've ever eaten Pho – Vietnamese beef noodle soup, you would come across these, either as combination/standalone topping or in its own side soup bowl. Apart from that, there are many more application. For example: grilled meatball in chili sauce, fried appetizer with dipping sauce, use in hot pot, lunch box, etc. You could also slice them thin and put atop pizza or okonomiyaki like sausage or dice and mix into scramble eggs. The application is limitless and only bound by your creativity.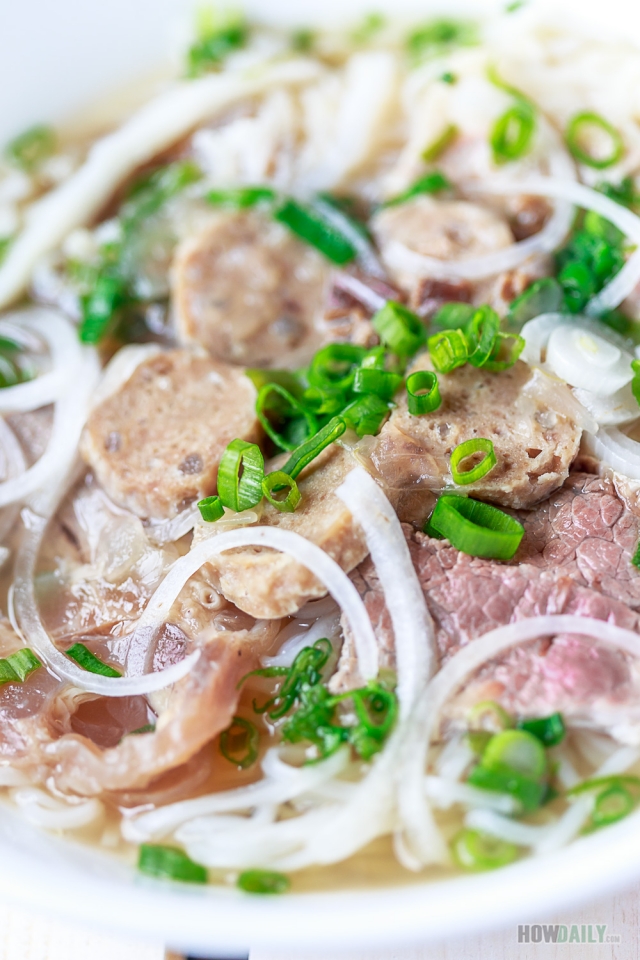 On compare to the regular meatball, the difference are mainly the crunchiness and rich flavor. You'll see, while Italian meatballs are moist and tender in every bite, Vietnamese beef meatballs are almost in the opposite ground. A good Vietnamese beef meatballs should be crunch and rubbery with spicy rich flavor. The shape is holding well, creating a smooth surface, whether on its outer skin or crosscut surface. There should be minimal air bubble within each ball.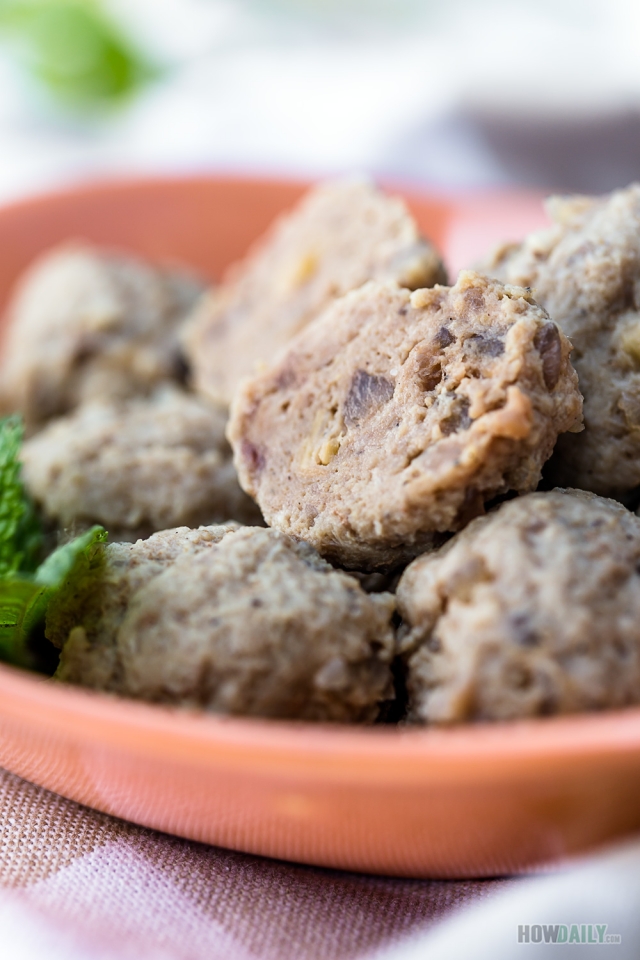 So, to achieve all of those requirement, we'd need a few technique. First, by half-freezing, it's easier to grind your beef, even through that rubbery shank thread.
Second, by re-grinding and kneading, we are making sure the whole texture is smooth, extra fine paste while firmly holding well together.
Adding tendon is for extra crunchiness, as most Vietnamese tends to love this, but could be skip without affecting the outcomes. You just have less meatballs, that is.
Last, a lot of ice were used, either to cool off the meat, set the baking powder, smooth the ball outer shell, etc. The main goal is keeping it cool while processing to preserve the crunch. So get a bag of ice ready for this if yours doesn't carry an ice maker.
Since we're making meatballs in batches, it's better to have some sort of large containers and equipment. You knew it, the larger the machine, the less batches to process. You don't want to burn the machine so divided the batch accordingly. In my case, 5 lbs of meatballs (4 lbs beef & 1 lbs tendon) would require to process 3 times through my 16-cups food processor. Luckily my stand mixer is large enough to contain everything in one go, so my hands were saved tremendously from all the pounding and kneading. So, start with half the recipe a couple times, when you getting used to the hang of it, increase the batches as needed. A hand mixer would help too, though use the dough hook and beware that the beef paste is extra thick.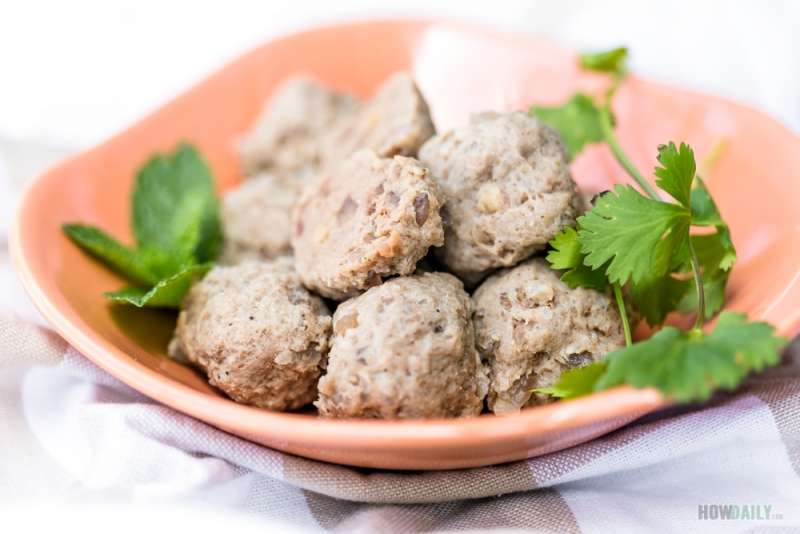 For forming/molding into ball shape, I have tried many ways including simple pluck and mold in palm, spoon form, ice sphere mold, sausage stuffer, pastry piping, corner-cut plastic bags… I would say anything would work, but the more complex method would provide better meatballs, i.e. totally smooth  surface with less hole when cross-cut hence more crunch too. Here are what my experience with each method:
Sausage stuffer: I found that by letting the beef paste through mixer's attached sausage stuffing tube (without the usual casing), the paste coming out in a nice steady long string that is perfect to cut/pluck, mold and cool. However, you would need a second hand to fill the feed parachute and be quite experience (fast) in forming/working through all the ball. Plus, there are just so many things to wash afterward.
Hand and spoon forming: this is the easiest and quickest method, however, unless you have a steady hand and are really experience with palm molding, most of the time will leave some sort of bubble in the core. Not to mention that when lack of pressure, the tendon and meat paste will fall apart when boiling. Don't recommend on first try though.

Pastry piping/corner cut plastic bag: This is where the medians meet. I found that by using the pastry/plastic bag with a large coupler without nozzle of course, every time I squeeze will remove all of the air bubbles inside. Pastry bag is nice, but if you don't have one, use a large plastic bag and cut an inch off one corner. The pros are: nice, bubble free and evenl stream of beef paste, not much to wash (just the coupler), no extra help need, work at your own pace vs stuffer feeding pace. Cons are you have to refill w/ beef paste many times and it's kind of harder to squeeze as your hands getting wet and slippery with all the beef fat. Any how, this is my go-to method as it fit my need, but you just try and see what suite your style.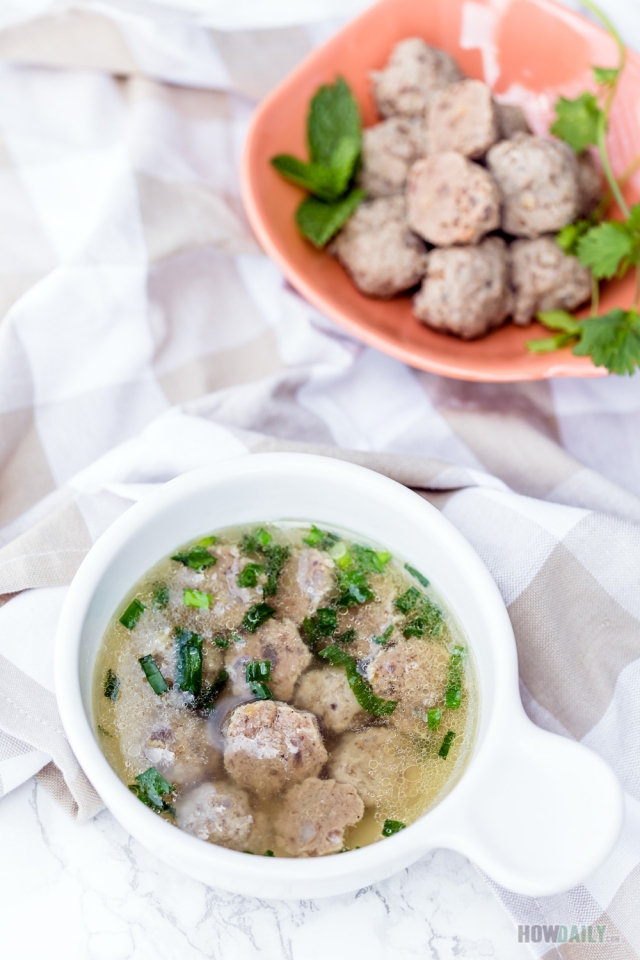 Oh and before diving into the recipe itself, it is worth mentioning that the beef quality does contribute to the final crunchiness. As all the ingredients are raw and fresh, plus since no borax is used, it's essential to choose your beef carefully. The beef have to be fresh and new, test for its elasticity, color and temperature before buying. Also adding some rubbery texture by mixing with dense muscle tissues from shank, heel meat too. For the chuck, get them lean, 5-10% fat at most, as too much fat would result in moist and tender balls (the Italian version) instead.
Enough with all the long text, go ahead and try the recipe. Let me know your result.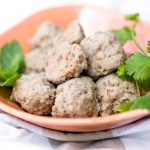 Recipe for Vietnamese Beef Meatballs with Tendon (Bo Vien Gan)
This is the homemade version of the Crunchy beef meatball in Vietnamese style with extra tendon. Rich in flavor, aromatic and totally safe from raw ingredients. Recommend to be made in large batch due to long passive time requirement.
Print
Ingredients
4

lbs

lean Ground beef chuck

shank , stew chunk or mixed

1

lbs

tendon

6

tsp

baking powder or 2 bags Alsa

8

Tbsp

fish sauce

1

Tbsp

sugar

2

tsp

ground pepper

A quarter size piece of ginger

4

garlic cloves

1

Tbsp

salt

2

Tbsp

wine

3

Tbsp

oil

Lots of ice
Instructions
Grind the beef
It's best to ask the butcher to grind the beef for you, if not, you can grind them yourself. To grind the beef, start by cutting them into 1-inch cubes.

Wrap all those cubes in a large plastic bag, pound them a little to flattening and chill in freezer for 1 hour.

Remove the half frozen beef cubes from freezer and grind them in food processor, starting in small batches, one by one and work them through (I divided into 3 batches for grinding in my 16 cups food processor).
Regrind into paste
Get a large plastic bag to wrap and seal all the ground beef. Flattening the outside so that it has overall equal thickness. Chill this beefy bag in freezer for 1 hour.

Grate ginger and finely chop garlic. In a container, mix ginger, garlic, ground pepper and sugar to create a seasoning mixture.

Depend on your food processor capacity, decide on the number of batch you will process this ground beef. Mine is 3 batches for a 16 cup food processor, so I divided the ground beef into three equal parts, same thing for the seasoning mixture. Replace by your batch number here.

In your food processor, grind 1 part of ground beef with 1 part of seasoning mixture. Grind them good till smooth, firm, paste-like texture. Transfer into mixer bowl or another large container. Repeat with remaining beef/seasoning part.

Mix 6 tsp baking powder or 2 bags of alsa with 4 Tbsp of icy cold water. Swirl and twirl to dissolve baking powder.

It's time to take out that giant stand mixer if you have one. Hand mixer work too, just use the dough hook at low cycle and start kneading the twi-ground beef paste. If you don't have a mixer, use your hand to knead a few time then put them into plastic bag and start pounding with a mallet.

Any how, between kneading, pour 8 Tbsp fish sauce, 3 Tbsp of oil and the cold baking powder/water mixture into beef paste. Keep kneading until everything mixed and at even texture. (10 minutes on my kitchen aid stand mixer or 30 minutes if kneading by hands)

Again, plastic bag wrap, flatten, and chilled in freezer for 2 hours or overnight in fridge. This is important to let the baking powder expand and meat binds well.
Priming tendon
If you choose not to use tendon, just skip this part of the procedure.

Start by washing tendon, then marinade with 2 Tbsp of wine (I used vodka) for 5-10 minutes. This will help removed strange odor.

Pressure cooker: boil enough water, then add tendon and 1 Tbsp of salt, pressure cooked for 15 minutes so that tendon is about halfway done, but not tender.

Regular pot: same thing, boil tendon with 1 Tbsp of salt, but cook longer, 30-45 minutes

Prepare an icy cold water bath with 1 Tbsp lemon/lime juice, upon remove tendon, dip and soak them immediately in cold water bath.

When tendon are fully cold, slice and throw into food processor, pulse a few time to chop into small chunks, but not paste.

Wrap and store in fridge until use.
The last kneading
Get the chilled beef paste out. Now for this step you could either use the food processor or stand mixer, depend on your reference and availability.

For Food processor: remember the magic batch number that we've used before. Divide the beef paste and tendon chunks into that many batches. Throw one part of beef paste and one part of tendon chunks into food processor. Pulse and process until fully mixed, firm, creamy (with chunky tendon in between). Repeat for each batch until done.

Stand mixer: dump all the tendon chunk in mixer and add chill beef with an extra Tbsp of oil. Knead at low speed until fully incorporate, thick and firm chunky smooth mixture.

When ready, chill this beef paste in freezer for another 30 minutes. In the mean time, lets prepare to form some balls.
Forming meatballs
You want as low to no air bubbles as possible in every meatball. To achieve this, you could either use a pastry bag and large coupler (no nozzle) or use a thick plastic bag and cut off one corner to an inch diameter. Another method is to process through your inch-thick sausage stuffer... Just choose whichever works best for you.

In the stock pot that will be used to boil meatball, fill it with enough water and ice. The ratio should be 1:1, you could always add more water or ice if need later.

Spray your cutting board with oil to prevent sticking.

Fill the pastry bag/plastic bag/sausage stuffer with chilled beef paste. Apply pressure to form long 1-inch diameter thickness strings of beef onto the cutting board.

Wet your knife or cutter with prepare icy cold water and do a clean press down cut to divide into smaller chunks. Re-wetting with cold water if needed as you're going through cutting all the chunks.

Wet your hand with icy cold water, use the palms of your hand to gentle press and mold each beef paste chunk into ball shape. Drop the beef ball directly into the icy cold water pot.

Repeat for the next ball. Keep forming and dropping balls into pot until you finished molding all the beef chunks. Remember to wet your hand with that icy cold water in between to avoid sticky beef.

When finished, refill the bags/stuffer with more beef paste. Apply pressure to form long strings, cut to chunks, and mold. Repeat until forming all beef paste.

If your ice (in the cold water pot) melt out, add more ice. Make sure this water pot is cold all the way through until the very last ball is formed. This is to ensure of the meatball crunch and make it more appealing with smooth and light outer color.
Boiling and finish
When all beef paste is form, just bring that water pot to stove, crank power to highest and start boiling.

Reduce heat if need to prevent overflown, keep boiling until all meatballs float up the surface.

Prepare a large container(enough to contain meatballs with some spare volume) and fill with some water.

When meatballs are done(floating up in pot), transfer them immediately into water container. Do not overcook, as most recipes involved Vietnamese meatballs will re-cook them in some forms.

Dump ice cubes atop meatballs to cover the whole container surface.

When the ice melt, strain, pat dry and use meatballs in your recipes or vacuum seal to store in fridge/freezer for later. Meatball taste crunchier after freezing for sometime actually.