Want a smoothie to cool down summer heat? Want something to cleanse your body and redefine your skin? Then look into this healthy blueberry smoothie powered with matcha green tea powder, kale, and yogurt. They all contain lots of vitamin and healthy minerals that will benefit your skin, and yes, they're coldly delicious too.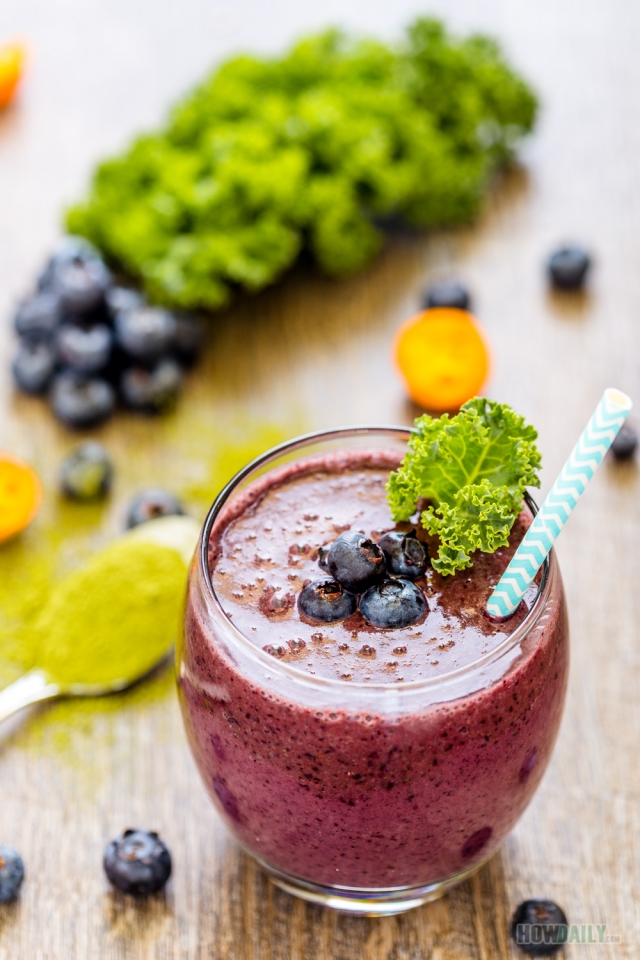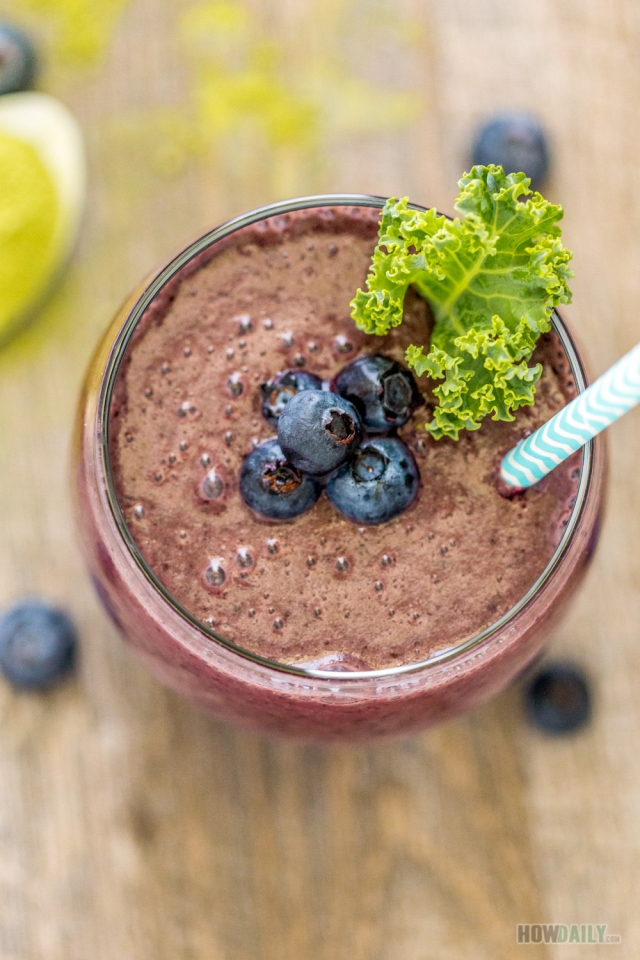 This Blueberry smoothie benefits
Blueberry contains a variety of vitamins and minerals such as loads of manganese (16%), vitamin C, potassium, folate, vitamin B6, and other phytonutrient content. It is full of fiber, copper, high water concentration making it's one of the best natural cleansing products and belly fat weight loss. Blueberry's value is also in its power to help lower blood cholesterol and a decrease in heart disease. Its unique phenol antioxidants pterostilbene and resveratrol help shield your skin from harmful radicals to prevent collagen loss and keep your skin firm.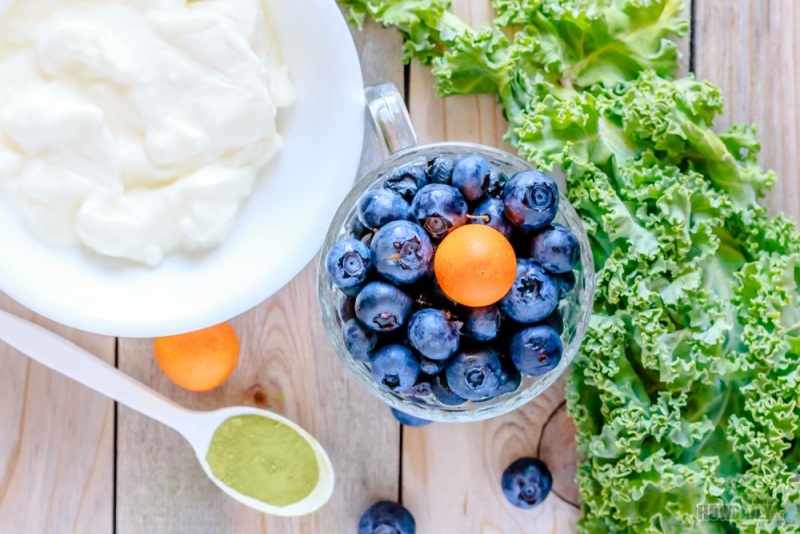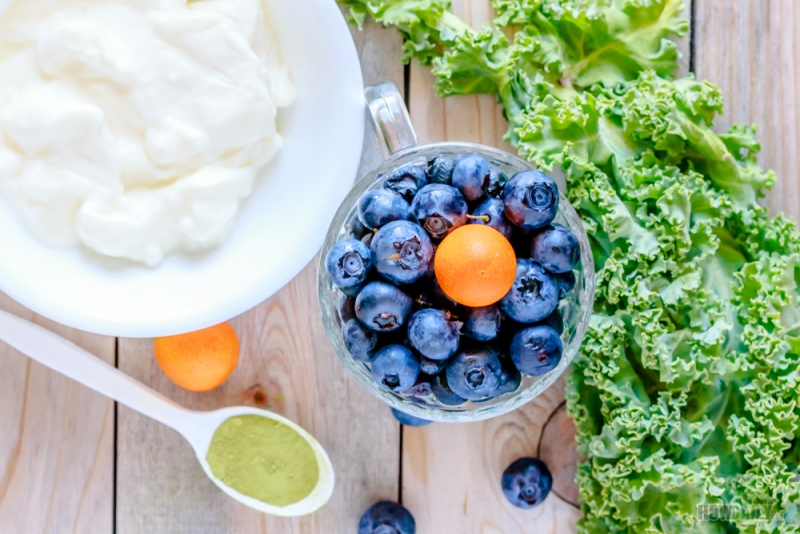 Matcha green tea powder is made from grinding chlorophyll-rich leaves. This powder is filled with antioxidant content, about 10 times that amount of regular tea, 60 times that of spinach. It helps boost your endurance during exercise, clearer of the mind while increasing your body's ability to burn fat and turn into fuel. In short, it helps to prevent cancer, anti-aging, lower cholesterol, detox your body, improve mind, surge your body with energy and of course weight loss. What's not to love about it?
Kumquat is a vibrant citrus fruit that often found in an oval shape. It's tangy-sweet, can be eaten whole with skin, and give off such a bold aroma. Squeezing a few for juice in your smoothie will definitely kick up the scent, adding the tangy and sweet, that you might even skip that sugar. Not only that, Kumquat is high in vitamin A, C, E, and phytonutrients like carotene, tannin, zeaxanthin, etc. that protect from free radicals. It helps increase your natural immunity from cold, flu, and infections; protect your body from cancer; improve cardiovascular health, blood production, bone& teeth health; anti-aging, and giving a surge of energy with Riboflavin, required for the metabolism of carb., protein & fat too.
Kale is a superfood that we are all known to include in our meals. Many drinks and salads recipe included kale for its values in helping to fight diabetes, heart disease, cancer, and other health issues. Best of all, Kale helps with your skin and hair through beta-carotene. So, add a leaf or two in your cup is great.
Greek yogurt is the smoothest of all yogurt with low-carb, essentially. A cup serving of Greek yogurt contains 17g protein, 6g carb at 100 calories which is great for weight loss while enhancing your digestive function. Like all yogurt, Greek yogurt is high in calcium, protein, potassium, zinc, vitamin B6, and B12… which are all necessary for your body while being a lot lower in carb and sugary content.
Thus, with all the great nutrients benefit above, just throw them all in together and enjoy that icy cold smoothie. It is delicious, healthy, and its scent is wondrous too. Blueberry along with Kumquat should be sweet enough, but per your conscious, it's always a breeze to add a couple of dash of Stevia. Honey is fine too.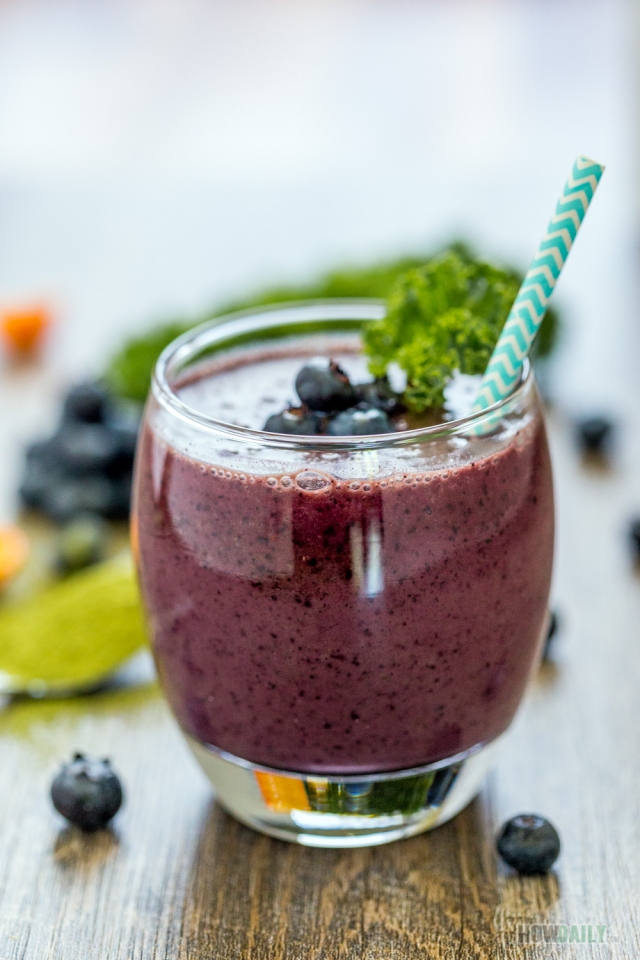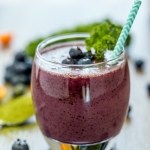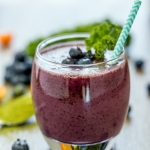 Recipe for Healthy Blueberry Smoothie
Detox and cleanse with this blueberry smoothies, powered with kumquat, kale, and green tea to give your body a surge and redefine your skin. For better sweet taste, add a spoon of honey or Stevia
Print
Ingredients
1

cup

fresh or frozen Blueberry

1/2

Tbsp

Matcha Green tea powder

1 – 2

Kumquat for juice

1

Kale leaf

1

small cup of greek yogurt

1

Tbsp

honey or dash of Stevia

optional
Instructions
Add all the ingredients into

blender

, starting with the Greek yogurt.

Add 1/2 cup of crushed ice if you're using fresh blueberry, other wise skip it to have thicker smoothie.

For sweet option, use honey for its nutritional value. If you're on Paleo or Atkins, substitute with Stevia, just a dash or 1/2 tsp is enough.

Pulse a few time and blend for 1-2 minutes.

This will make one large jug or 2 smaller servings