An addition to my vegetarian-compatible recipes, this marinade tofu sushi roll taste delicious despite being fish-free and all plant based ingredients.
The roll composed of ginger-soy sauce marinated tofu along with shredded carrot and avocado. Even though everything is plant based, I only tag this as a vegetarian-compatible but not totally Vegans. The reason is Nori – though made from seaweed/algae, is usually cultivated mollusk shell, and therefore doesn't fit totally with the Vegan's mechanics.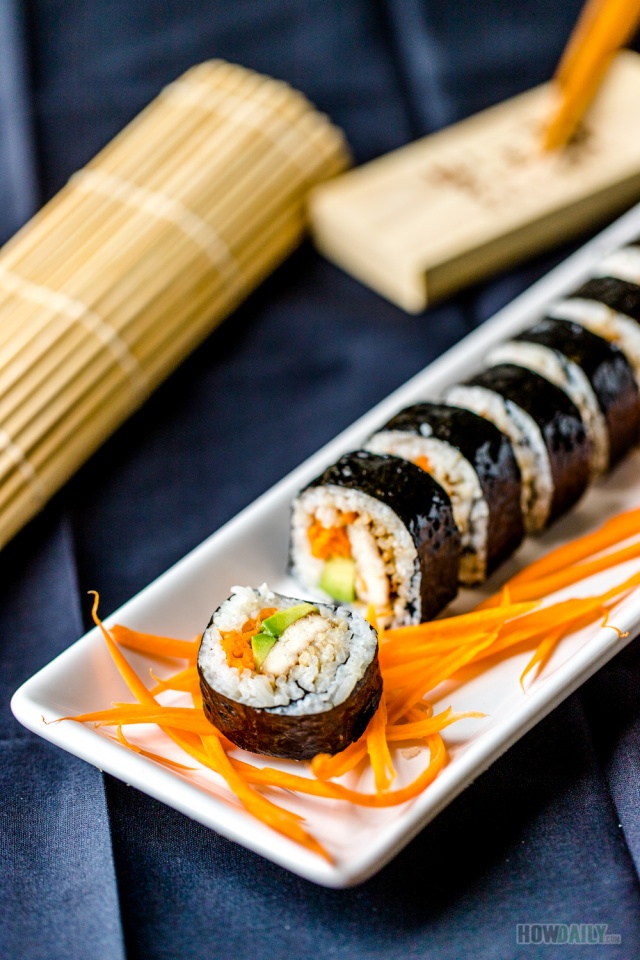 On the other hand, if nori is replaced with soy or fruit wrapper, then yes, the roll totally fit under vegan's description.
For the ginger-soy sauce, you can puree fresh onion, garlic, and ginger or use their powder forms like I did to save time.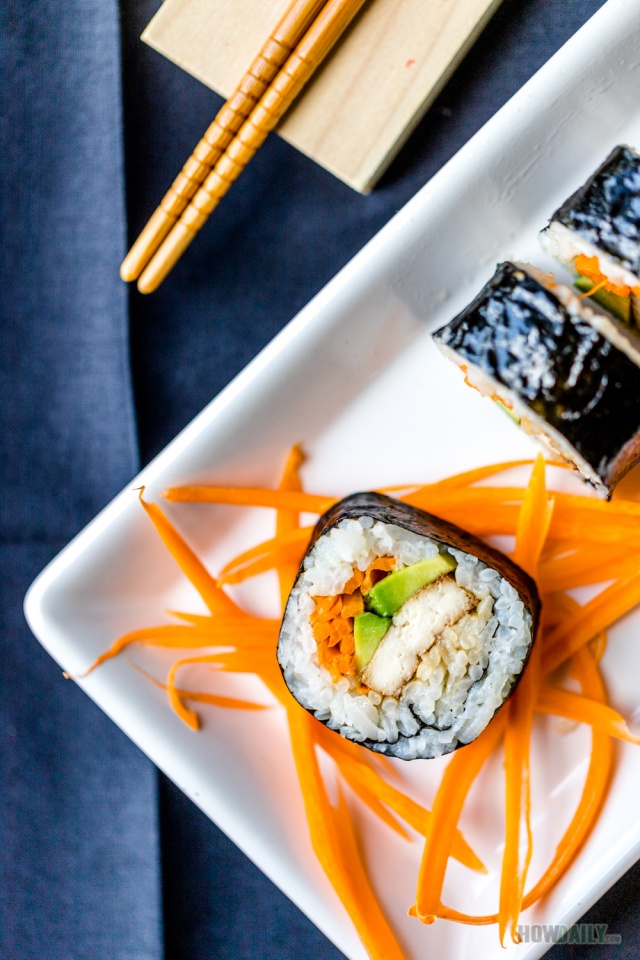 Just make sure to use extra firm tofu for easier rolling without worrying of smashing the filling. Though softer tofu would work just, it'd just take longer time to fry to get the chewy texture.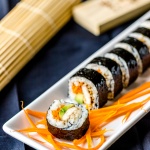 Marinade tofu sushi roll
Like sushi but dont want the fish? Try this marinade tofu sushi roll recipes, it combines the oriental soy flavor with tofu. Crispy carrot and creamy avocado work perfectly to the texture as well.
Print
Ingredients
4

oz

extra firm tofu

2

Tbsp

vegetable oil

for pan frying

2

sheets

nori

1½

cup

cook sushi rice

3

Tbsp

sushi vinegar

or 3 Tbsps apple vinegar + 1 tsp sugar + ⅓ tsp salt
Marinade soy sauce
2

Tbsp

soy sauce

1

tsp

brown sugar granulated

⅓

tsp

onion powder

⅓

tsp

ginger powder

1

tsp

garlic

crushed
Instructions
Add all the marinade soy sauce ingredients into a small bowl and stir well to dissolve all sugar.

Cut tofu into 8 slices of 1 x 2 inchess by ¼ inch thick.

Arrange tofu slices onto a flatten dish or tray.

Spoon and lather the marinade soy sauce onto tofu surface.

Marinade or chill for 20-30 minutes

Heat high-temperature oil in a saute pan.

Pan-fry marinade tofu until their edges and surface are golden and semi-crusted.

Transfer out to plate and let cool down a bit.

In the mean time, prepare carrot, cut avocado, and seasoned sushi rice with sushi vinegar.

Season sushi rice with sushi vinegar or equivalent mixture of salt/sugar/vinegar.

Lay a piece of nori over bamboo mat on a flat surface.

Spread sushi rice all over nori leaving about half inch gap near one end.

Arrange tofu, avocado and carrot as filling.

Lift, tuck and roll into maki sushi roll.
Video