Spruce up your Omelette and present them in style with this Chicken Nori Omelette recipe in the regular sushi spiral form and tear drops.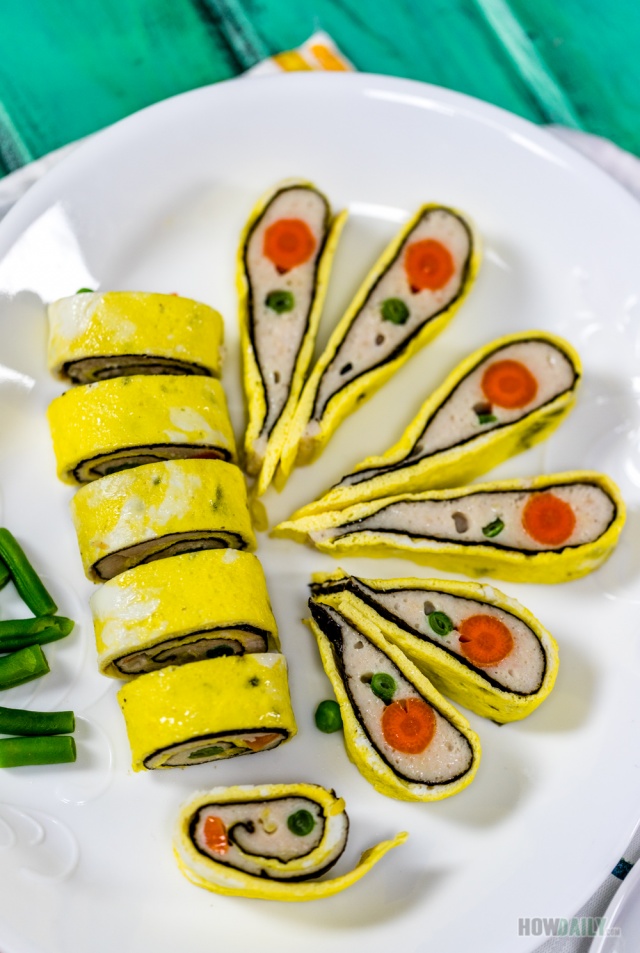 Process is easy, simply grind some chicken breast, if not, replace with turkey. To help with binding, I've added 1 tablespoon of potato starch, but you can use corn starch or flour.
Nori does bring the essence to the overall flavor, which enable me to omit salt. I added some mushroom seasoning powder do, but you can use bouillon granules, garlic salt or similar. Nori also leave a nice dark inner line to complement the omelette's yellow and the "white" meat.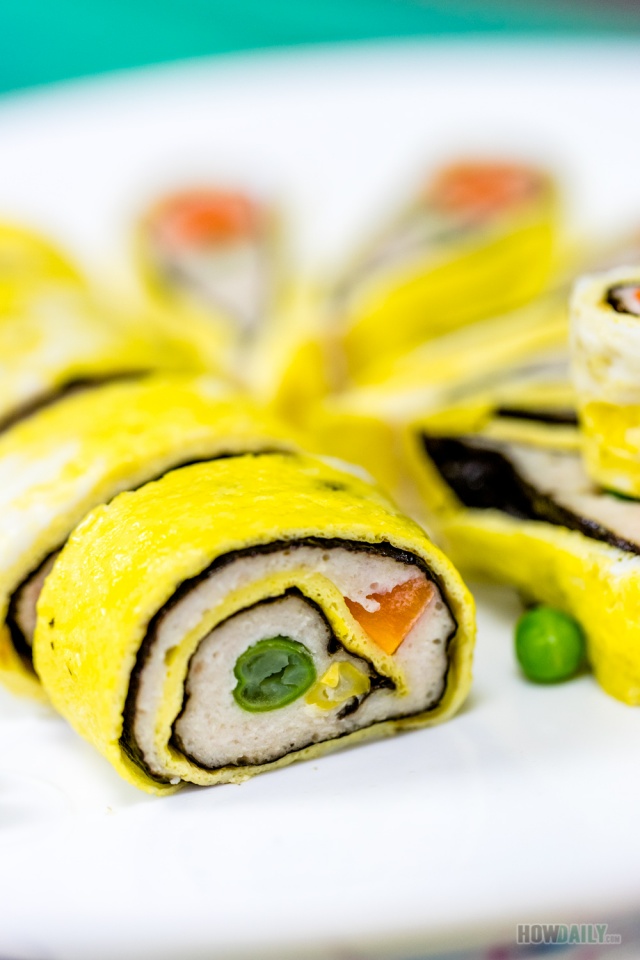 The flavor or seasoning should be simple, use anything you like. Though I add mushroom seasoning powder in mine, but simple salt and pepper will work just fine.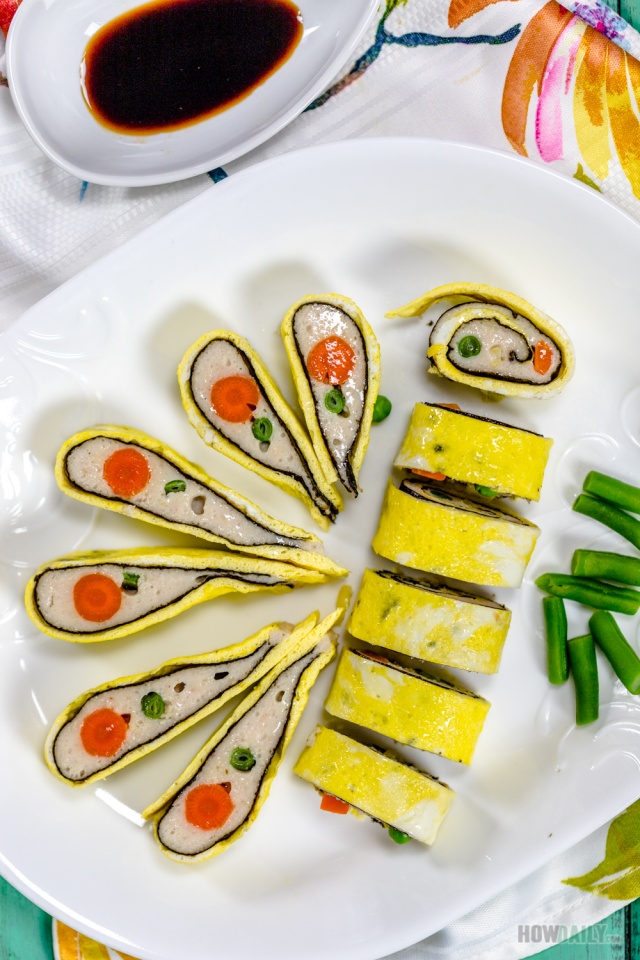 Both the rolled and folded versions cut better when cold, so for better presentation in your take out bento, chill them in fridge before cutting. Make a nice, sharp cut without riveting your knife back and forward.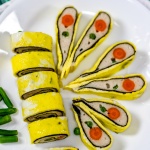 Recipe for Chicken nori Omelette
Spruce up your omelette into various shapes with the spiral roll and fold-over drop methods in this recipe. The binding is good thanks to ground chicken breast.
Print
Ingredients
1

chicken breast

2

sheets

nori

or any wrapper

5

eggs

1

Tbsp

potato starch

or corn starch

1

Tbsp

seasoning powder or ¼ amount of salt

adjust to your taste

¼

tsp

ground pepper

2

Tbsp

frying oil

2

Tbsp

soy sauce or any dipping sauce

optional
Filling & Decoration
mixed vegetables or

carrot/corn version

baby carrots, green bean
Instructions
Wash, pat dry, then cube chicken breast and add to your food processor or grinder.

Grind together with starch, and ½ Tbsp of seasoning powder or some salt/garlic salt if prefer.

Extract to add 2 egg whites only to the ground meat and mix well.

In a bowl, add 3 eggs together with the 2 yolks remained from earlier step.

Add remaining seasoning or your choice of salt/pepper.

(optional) If the egg is too thick for your omelette, add 2 Tbsp of water or milk.

Mix the egg to dissolve the added seasoning, do not over-whisk.
Make the omelette
Heat a non-stick frying pan over medium heat. When hot, add 1 Tbsp of oil to coat the surface. Tilt the pan or twirl around with your spatula.

Reduce heat to low, pour in half of the eggs liquid. Tilt the pan to let it coat the bottom completely.

Wait till all the edge crusty a bit, use your spatula to skim around the perimeter.

When egg is done, carefully transfer out onto a large plate.

Repeat for second batch. Use different for easier handling of each layer.
Spruce up the Omelette: Folding and rolling
Cut out 2 pieces of parchment paper to line steaming tray to prevent sticking. Punch out some holes in them to drip off water.

Lay the better looking of the omelette down to a flat surface.

Lay a piece of nori on top the egg.

Spread half of the ground chicken mixture over the nori.

Arrange baby carrot, corn or any of your decorative vegetables onto one end.

Lift to fold-over then roll and tuck into omelette roll.

Steam for 5-10 minutes or until chicken is done.

Once finish, you can serve as is or wait for the roll to cool down before cutting into swirly slices.
Alternate Rain-drop shape
Instead of rolling as above, you spread more chicken mixture at the cross-center area of the nori and just a thinner layer near by the two ends horizontally.

Lay carrot and green bean at the cross-center.

Lift one end of the egg to fold over to the other end.

With your fingers, lightly apply more pressure at the joining edges to seal and thin it down.

Steam, cool and cut, the slice should look like a asymmetrical drop.
Video