There are many ways to turn cabbage beside cole slaw, this cabbage salad is one of the simplest yet easy to go alongside any entree.
The way this cabbage salad is crafted is based on the most Asian style cabbage recipes. It tastes mildly sour, refreshing, and light to accompany any dishes, especially those grilled, steak, baked, or cheesy baked… It helps clean the palate while also help the overall meal more appetite.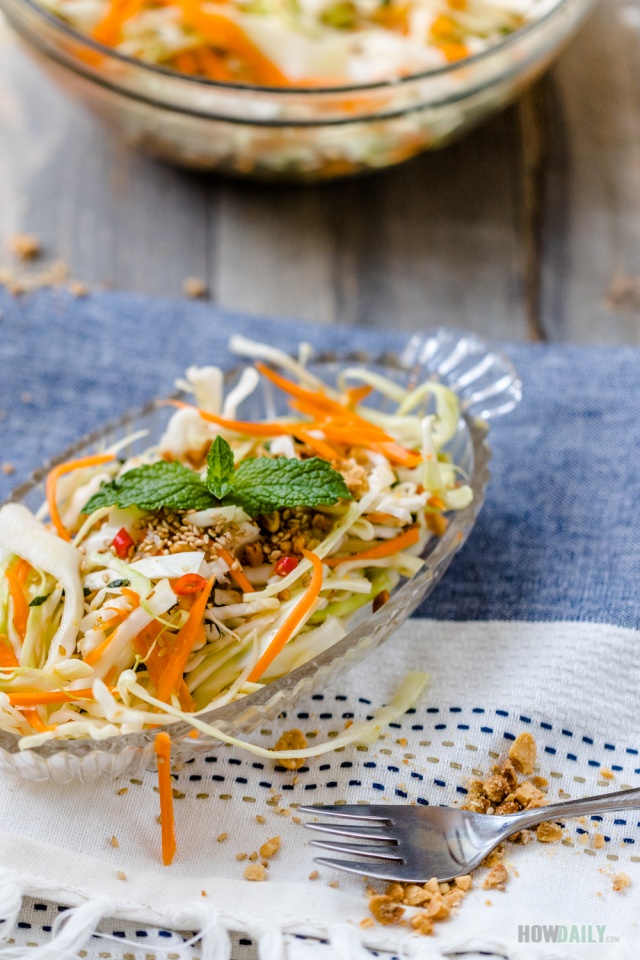 The process of making is easy. But due to the possibility of getting overly sour, it's best to consume 30 minutes to 2hrs after being made. Otherwise, the salad might just be soggy or overpowering to bear.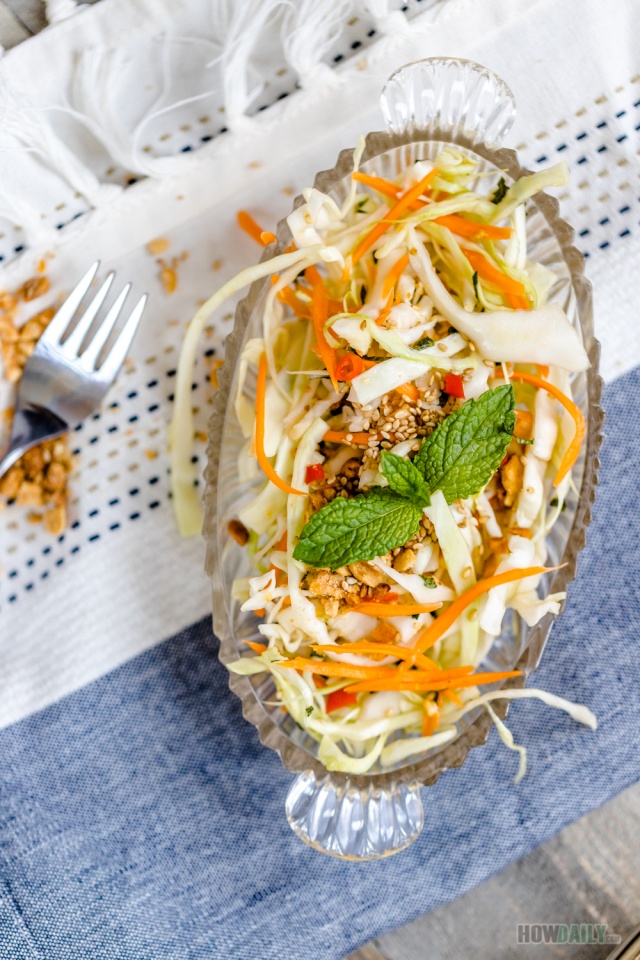 If you must make this in advance (for a large group or party), it is recommended to separate the shredded cabbage/carrot and the seasoning until 20-30 minutes before serving. When the time comes, mix and serve.
Also, the quality is depending greatly on fresh cabbage, so make to find a good head. You might have to discard a few outer leaves, just leaving the young ones.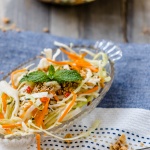 Recipe for Simple Cabbage salad
Fully vegan cabbage salad that can be done within minutes. This dish aid and complement in any meal situation, perfectly pair with any entree, from grill to bake, bbq, fry…
Print
Ingredients
0.5

small cabbage

0.5

carrot

2

Tbsp

crushed peanut

a few leaves of mint, cilantro or herb

4

Tbsp

vinegar or lime juice

2

Tbsp

sugar

1tsp

chili pepper

0.5

tsp

salt
Instructions
Wash, thinly slice, or shred cabbage, the same way you would for coleslaw

Julienne carrot and mince herb.

In a large mixing container, add vinegar/lime juice, sugar, salt grain and mix them good to dissolve all the sugar.

Now add shred cabbage, chili pepper, carrot, mint, and half of the crushed peanut/sesame.

Fold and mix them good. Let chill for about 30 minutes in the fridge before serving.

Decorate your plate with some nut, mint, or extra ground pepper. Serve this cabbage salad alongside any main dish.dish.