Fresh spinach, bubbling cheese, creamy and lusty meat sauce, what more could you ask for in this delicious spinach and ground beef lasagna. Don't forget the three-cheese combo: ricotta, mozzarella and Parmesan, they will blow your taste-bug.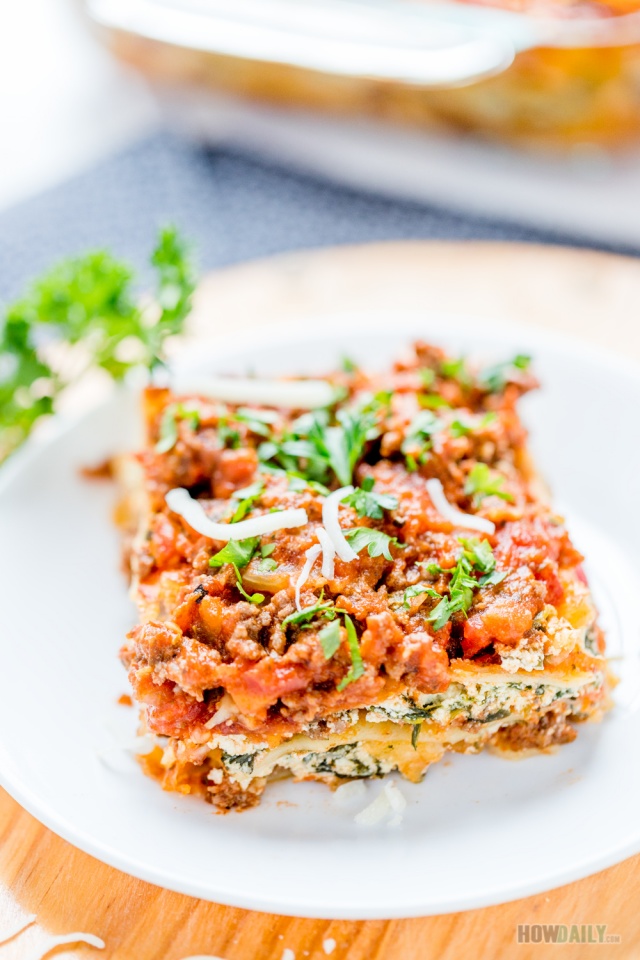 You have probably baked lasagna lots of time, but this recipe is different, in many ways. First, there will be veggies. You'll see, we have plenty of vegan lasagnas out there and then lots of meaty ones, so what?! This one will satisfy all the men of the family while slipping in an extra serving of vegetable – spinach per se. You could always substitute for kale, broccoli, cauliflower, or any vegetable of choice. Just make sure to saute the veggies beforehand, I find this to be much more flavorful.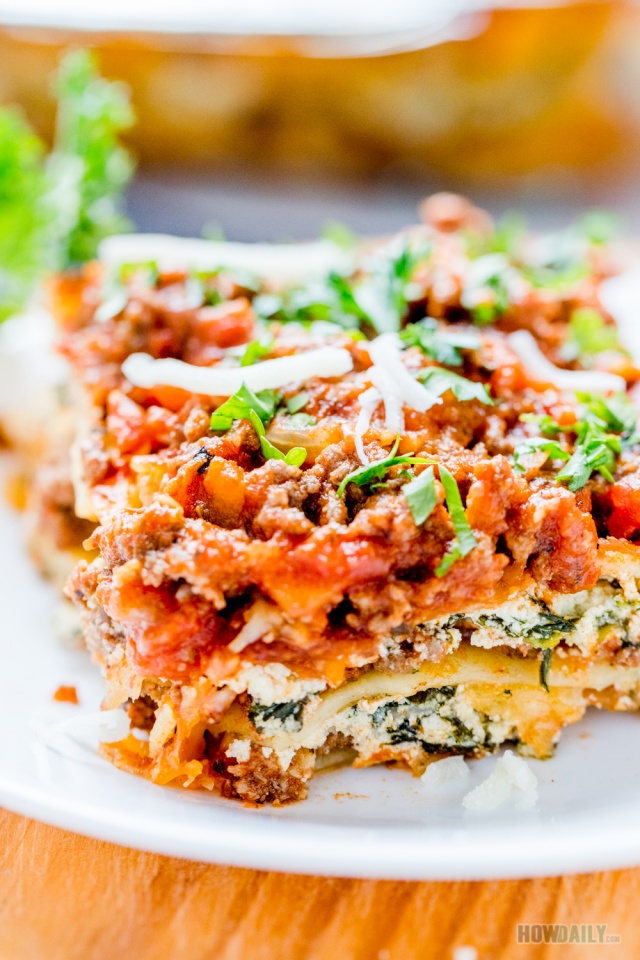 For the meat sauce, I use my homemade marinara sauce, which is quite tasty. I usually made them in batch and save for recipes like this one. If you're short on time, use a store-bought jar of pasta sauce instead. Just make sure to choose lean ground beef, less fat to skim off anyway.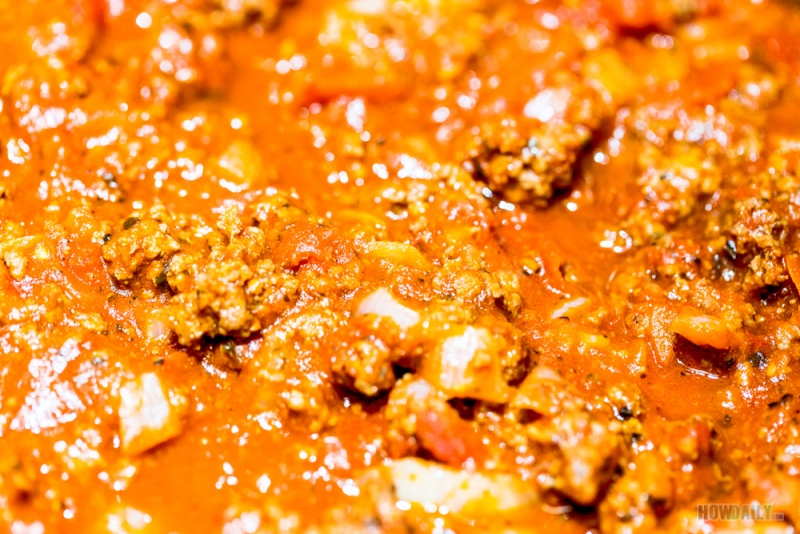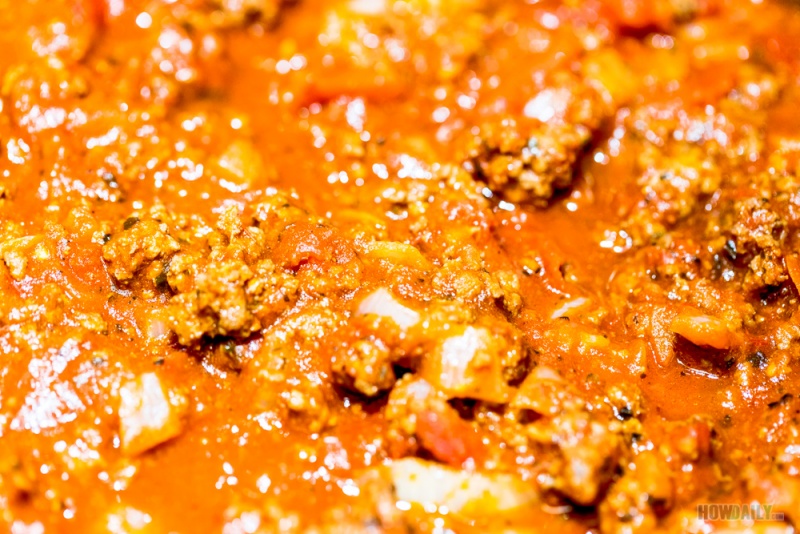 Regarding the noodles, depending on how much you want to use and how you are layering them, the number might vary. Buy the no-boil version to save you some time too if need. I would make mine in 5 layers ( 3 meaty + 2 spinach), so I would need about 12 noodles to fully cover with not much overlapping.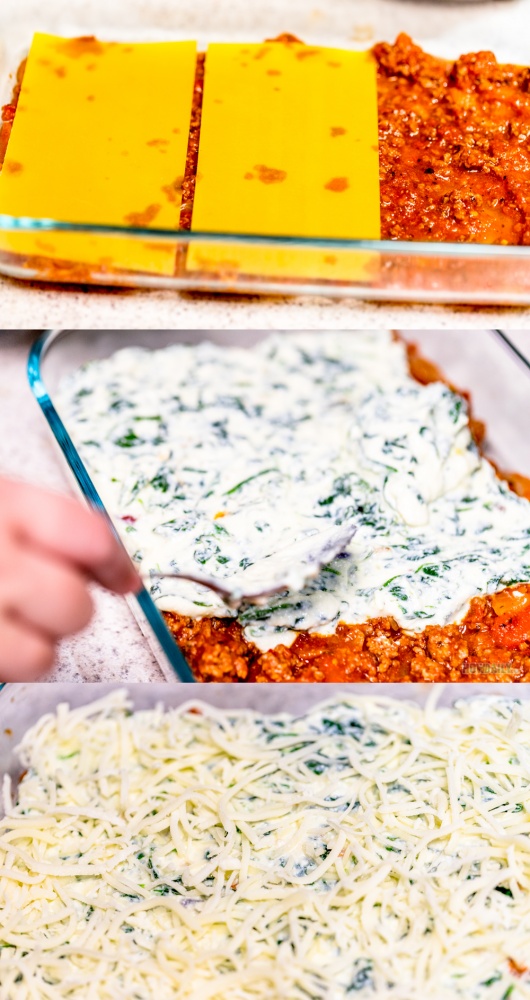 This dish, as with any party tray, can be baked (wrapped) before hand. Then once your party starts, a second bake (open) is needed to warm up the lasagna while adding delicious bubbling cheese texture.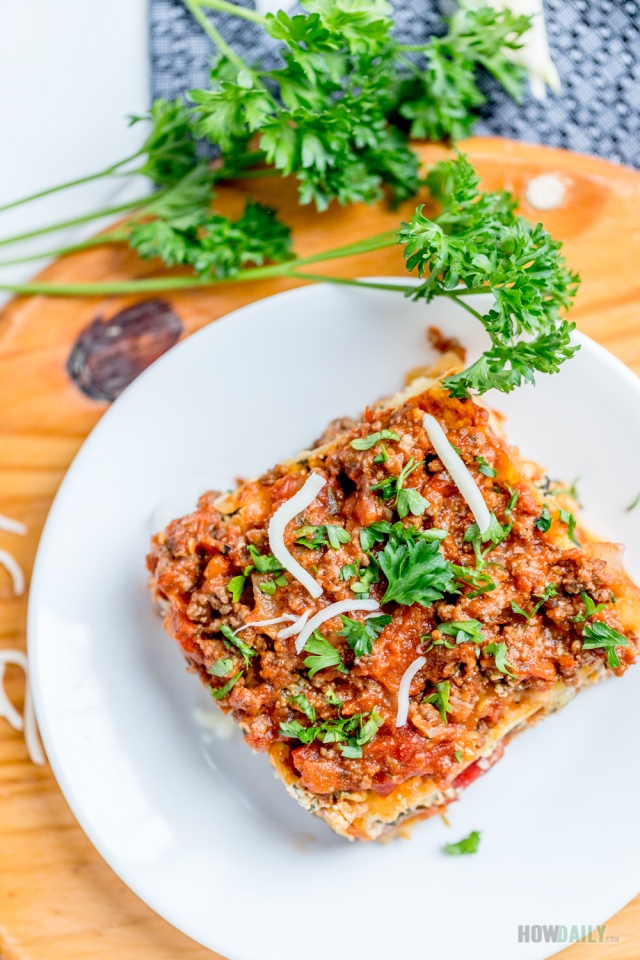 Anyhow, enjoy! Don't forget to throw in a couple bread sticks, or may be garlic bread. Yum !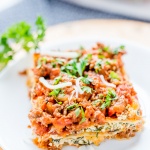 Recipe for Ground beef and spinach lasagna
Cheesy, heartily baked lasagna with layers and layers of spinach, ricotta and ground beef. Also top up with bubbling delicious Parmesan, what's a great way for one dish to feed the whole party.
Print
Ingredients
1

box lasagna noodles

9 – 12 pieces

1

pound

ground beef

1

lb

fresh spinach

1

medium onion

1

shallot

4

garlic cloves

2

Tbsp

butter

1

Tbsp

olive oil

3

cups

favorite marinara sauce

3

Tbsp

minced fresh parsley

2

tsp

dried basil

3/4

tsp

fennel seed

1

large egg

1

lb

ricotta cheese

4

cups

shredded part-skim mozzarella cheese

3/4

cup

grated Parmesan cheese
Instructions
Prep: ground beef
Dice 1 medium sweet onion and crush 2 cloves of garlic.

In a sauce pan over medium-high heat, melt 1 Tbsp butter and brown 2 cloves of garlic – crushed.

Add diced onion and ground beef, stir to brown a bit.

Add dried basil, fennel seed, and parsley, season with 1/2 tsp salt and 1/4 tsp ground pepper.

Keep sauteing until onion is translucent and soft while beef is all brown.

Skim off excess fat, then add marinara sauce or your favorite pasta sauce.

Stir well to mix, then adjust to taste and remove from heat.
Prep: Spinach & cheese
Wash spinach and chop into smaller chunk. Let sit in a colander to air dry at room temperature.

Finely mince 1 shallot and 2 cloves garlic

In a large sauce pan/stir fry wok over medium heat, melt 1 table spoon butter.

Stir in shallot and garlic until soft a bit, then add chopped spinach.

Sprinkle in some salt and ground pepper to taste, and drizzle in 1 Tbsp olive oil.

Saute spinach by stirring continuously until all spinach turn color.

Transfer spinach into a colander to let all liquid strain off.

In a separate bowl, beat one egg with a pinch of salt.

Add ricotta cheese in and beat to mix.

Now add dried spinach, mix well.
Prep: lasagna noodles
Use no boil version or cook to al dente per box instruction.

Drain and let dry at room temperature.
Assembling to bake
Preheat oven to 350F.

Spoon and ladle 1/3 meat sauce into baking pan.

Arrange noodles to cover all the sauce.

Cover the noodle with 1/2 ricotta-spinach mixture and some sprinkle of mozzarella cheese on top.

Cover with another layer of noodle.

Then a layer of meat sauce and mozzarella cheese.

Repeat with remaining noodles ricotta and meat sauce layers.

Finally sprinkle grated Parmesan on top.

Cover pan with foil and bake for 30 minutes or so.

Then remove foil and bake uncover for 10 minutes or until bubbling.

Let cool for 10 minutes and serve