Have a good catch today? Try this easy foil-wrapped oven-baked whole red snapper to light up your appetite.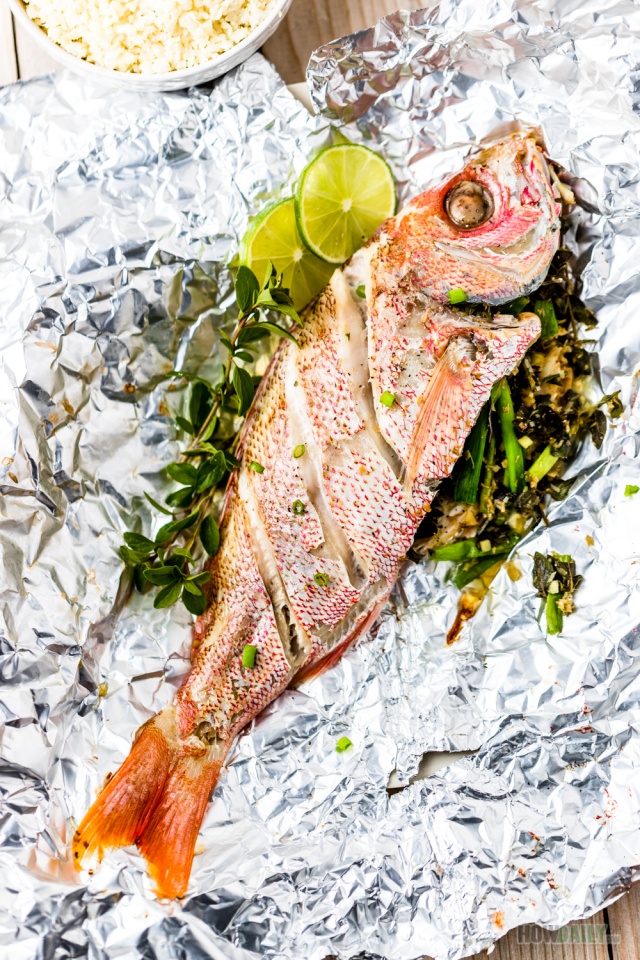 This dish is so easy to do. All you need are the ingredients, rub, and stuff them. The fish is then wrapped with foil carefully and can be baked in an oven or roast on the grill.
If you have a large party, just wrap them singly and grill/bake just like you would with the foil-wrapped potato. Sound easy enough right?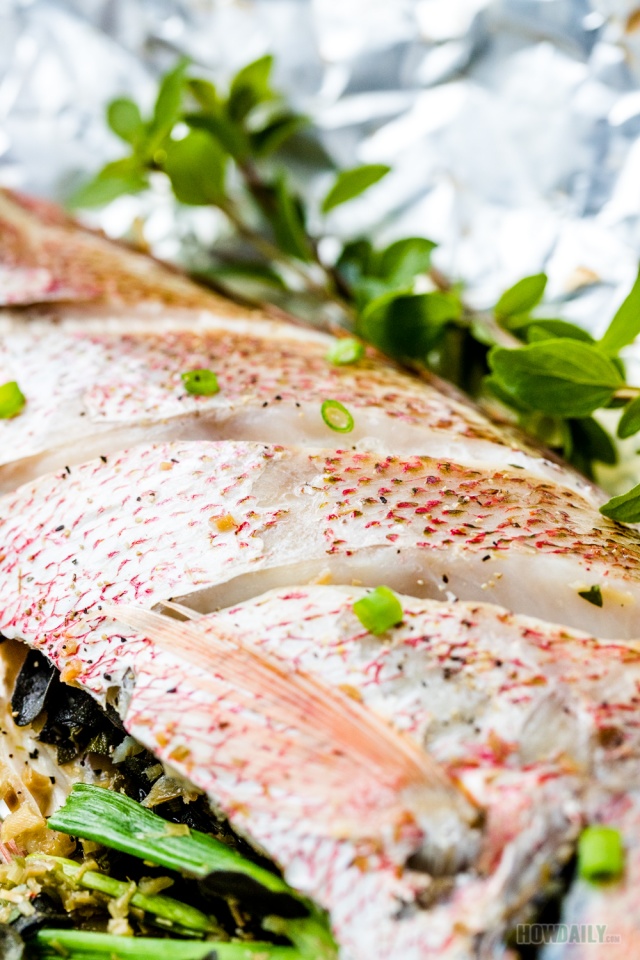 Just a note right after washing, by dabbing and soaking in white wine – ginger solution for as little as 5 minutes, the fishy smell will be removed. This leaves only juicy fish with light salty umami. Eat this alone or with some special sides and dipping like the Vietnamese fish sauce to variate the flavor.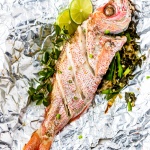 Recipe for Foil wrapped Oven baked red snapper
Baked red snapper is the perfect dish to prepare in home oven or on the grill. This dish will bring juicy fish with savory flavor and sea essence. Enjoy with a slice of lemon
Print
Ingredients
1

whole red snapper

1

Tbsp

minced ginger

1

stalk

lemongrass

2

Tbsp

white wine

2

stalks

scallion

2

lime leaves or handful of thyme

seasalt
Instructions
Clean inside & out of the red snapper if not already done so. Carve some shallow line along the body

Mix 2 Tbsp of white wine with 1/2 Tbsp minced ginger. Soaked and dab this solution all over the outside of the fish.

After 5 minutes, light rinse and dry with a paper towel.


Rub sea salt all over the fish.


Chop lemongrass, thyme/lime leaves and scallion into 1-2 inches chunks. Mix these with remaining ginger.

Have a large enough piece of foil on flat surface, oil spray or spread evenly. Place the stuffed red snapper onto foil and wrap it with this foil.

Preheat oven to 400 F, and bake red snapper for about 25-30 minutes.

Serve hot with any sides