Want some quick snacks between or during your racing session to boot out the impostors in Among Us? Or want to play with these little cuties? Try our Among Us rice balls onigiri recipe; it's quick, tasty, and can fill an empty stomach. They're fun for school or picnic packing too.
The process is simpler than you think; just mix hot sushi rice with sushi rice vinegar, which, if you don't have, replace by rice/apple vinegar plus some salt and sugar. This vinegar will leave the rice a little bit wet, making it's easier to work the color into the rice.
You can either use plain rice or smash egg whites to add more nutrition and flavor for the white crew. Yellow is also an easy color to achieve; just egg yolk for pastel yellow or add a little bit of turmeric powder for a more vibrant shade.
You can get orange from puree and strain carrot, add some dark beet juice to make it more red or crimson. I just use organic blueberry powder for blue, but if you don't have that, food color is fine. Green can be obtained through smashed edamame or puree spinach.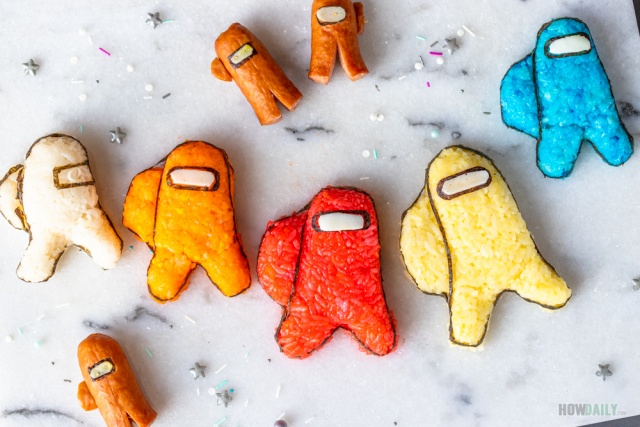 If you have purple yam or purple cabbage, that will take care of the purple crew as well.
The hardest one I found is black; you can't achieve a deep enough black color unless you have some forbidden rice on hand. Even with squid ink, regular sushi rice doesn't turn dark enough for me.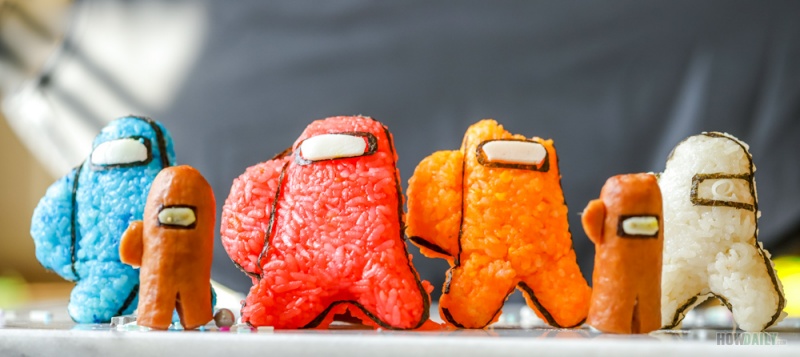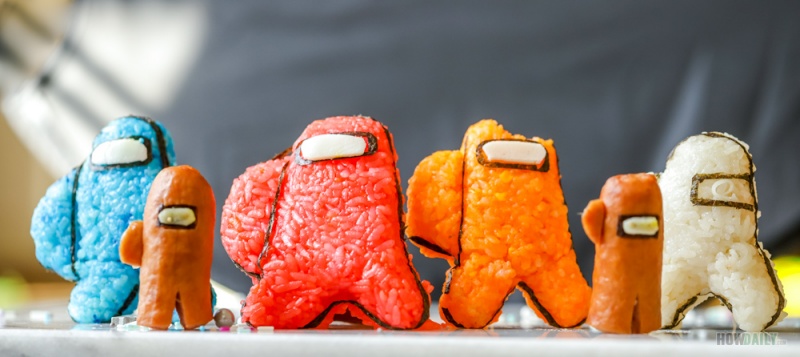 The rice ball should be self-adhesive when warm and stick to the nori strip pretty well. If you plan on stacking them together in a lunch box, might as well add a small nori piece on the back to keep them from sticking together.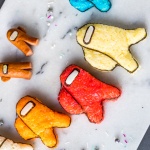 Among Us rice ball Onigiri
Fan of the trending game Among Us? Getting kicked about too much by the crews? Let's play the Impostors and eat those Crews… or not. These onigiri rice balls are easy to make and can be customized to fulfill your stomach during a heated hide n seek AU game.
Print
Ingredients
½

cup

cooked sushi rice

1

Tbsp

sushi vinegar

a few strips of nori

1 x 1/3 inch rectangle of fish cake, egg whites, provolone, or similar white

for the helmet screen
optional – Orange Crew
1

boiled egg yolk

2

baby carrot
optional – Red Crew
¼

beet

juice

1

baby carrot
optional- Gold Crew
1

boiled egg yolk

½

tsp

turmeric powder
optional – Blue Crew
a little of blueberry powder
optional – Green Crew
4

peas or edaname

smashed
optional – Purple Crew
1

small purple yam

boiled
Instructions
Cut nori into thin long strips if not pre-cut.

Depend on the crew color you want, prepare the optional ingredients: boil the egg, puree vegetable and strain them if you dont like pulp.

Mix the optional ingredients with hot sushi rice and sushi vinegar. Combine them good and let it rest for about 5 minutes.

Lay a piece of plastic wrap onto your hand, take about 2/3 of the rice and use your hands to form a half cut-off oval or oblong.

Lay it on a flat non-stick surface or plate, and sort of knead or tuck here and there so that the head area is rounder a bit.

Take about 1/4 of the remainder and form into a short cylinder for a leg, repeat for the other leg.

Use whatever left to form into a half-moon shape and stick to the body.

Now lay the plastic wrap over the rice ball, and sort of knead the legs and oxygen tank into the body. Smudge and apply pressure gently to connect parts and smooth out the connection ridge.

Use thin strips of nori (around 1/5 or 1/6 inch) to go around the side of the crew.

Then use a thinner strip (1/8 inch) to highlight between the tank and the body.

Cut a hollow round rectangle/oblong to place in over the helmet area. Use its inner cutout to measure and cut the exact piece of any white ingredient (provolone, egg whites, fish cake…)

Arrange both onto the helmet as the eyeshield.

Tadaa, you've done! Enjoy your crew or repeat for another.
Video