Celebrating this Easter with this simple Steamed Egg Custard the Japanese style (Chawanmushi), it will be perfect whether it's lunch, dinner, side, appetizer both before and after the hunt.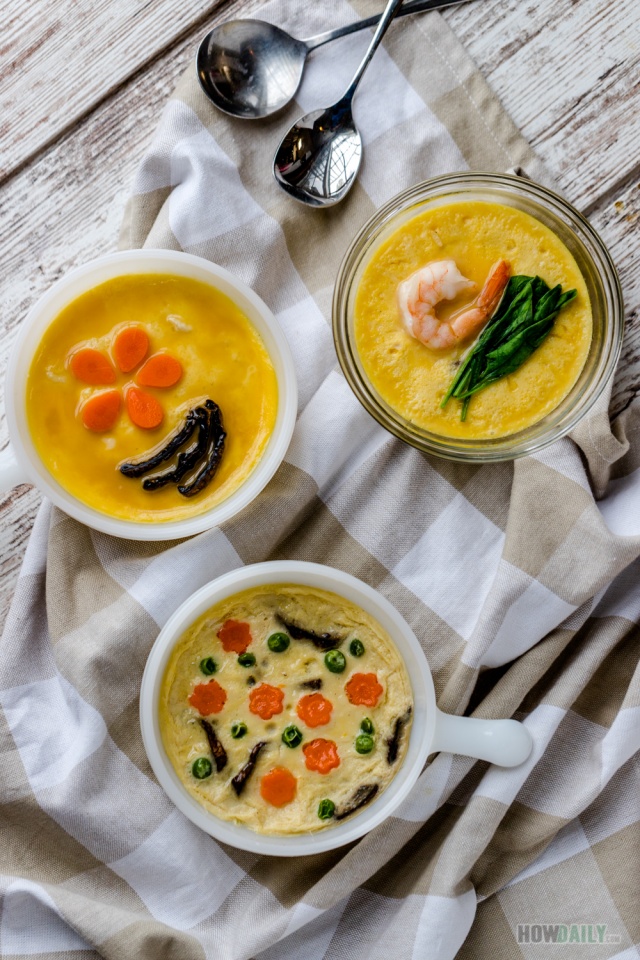 This is a simplified version of the Japanese chawanmushi, in which you can choose your own flavor and toppings to customize. Serve it with seafood, meat, fish cake, or simply veggies.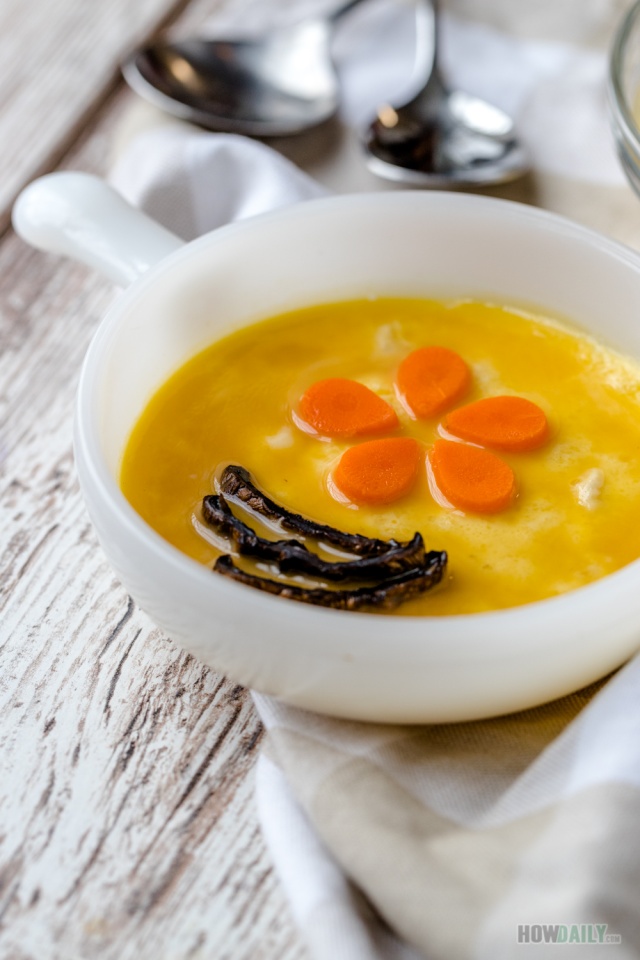 Ingredients are simple. You'll need eggs, of course, some seasoning (salt & pepper maybe) and some flavoring like dashi, mirin, and soy sauce. Soy sauce will add to the yellowish color, but please refrain from using too much unless you want your custard to be dark.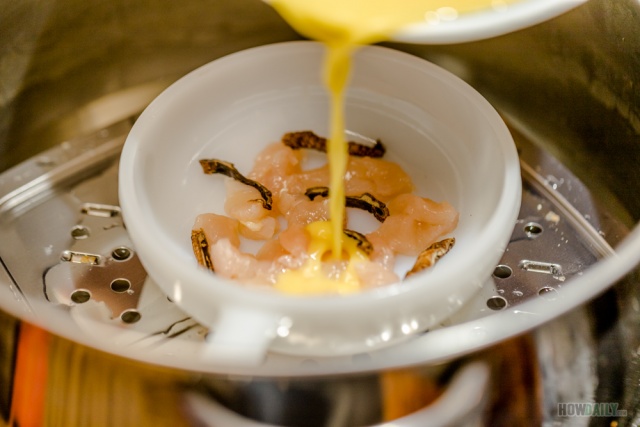 If you don't have dashi, replace it with a similar amount of chicken broth or seafood stock. Remember those clams cans, those work too, the juice can be mixed together with eggs while the solid can be topping decoration. Such a nice flavor too.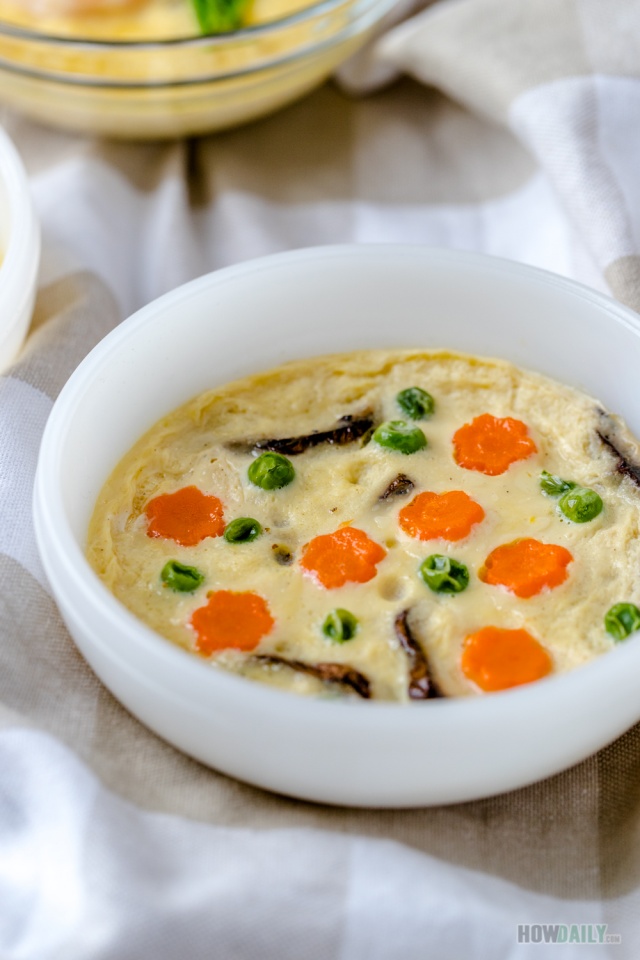 Mirin does give the Japanese authentic flavor, if not, you can substitute by an equivalent amount of white wine and sugar.
For the toppings, I would pick a few with different colors. Carrot, spinach, fish cake… will give vibrant finishing touches while mushroom, shrimp, and meat look more appetizing. Just pick your favorite and cut to size.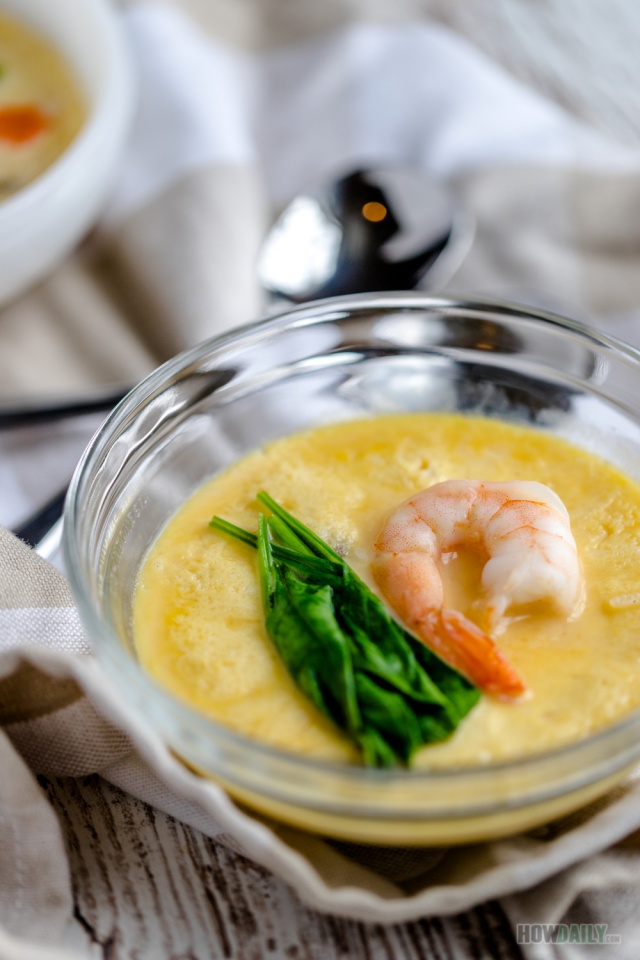 One last thing is on the steaming procedure. It's best if you have a steamer and can control the temperature, if not, steaming on the stove top is just fine. Start by steaming on high power for 1 to 2 minutes, then steaming over low heat to prevent curdling and bubbling.
Another method is to save some spoons of the egg mixture and then pour all over the top surface when the whole egg cup is near finishing. This will give a nice smooth and shiny egg layer on top of the finishing cup.
Chawanmushi is so cute and fully customizable by using various topping selection depend on what you have. This is why it is the perfect dish to make so your kids can replenish their energy after a good hunt. Happy Easter!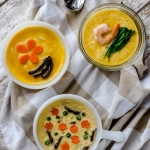 Steamed Egg custard
Light and fluffy eggs with delicious toppings that is not only protein-rich but also savory enough to satisfy any appetite. Customize by choosing different kind of protein filling to meet your diet.
Print
Ingredients
4

eggs

4

Tbsp

dashi broth

0.5

tsp

salt

1

Tbsp

mirin

1

tsp

soy sauce
Decoration & toppings options – pick one or many
4

shrimp

peeled and deveined

4

Tbsp

diced chicken

2

shitake

or other mushroom

8

spinach leaves

4

slices

fish cake

4

sticks

imitation crab

1

small carrot

flower cut
Instructions
Beat Mix all the eggs and seasoning. Adjust to taste if need.

Divide toppings used into 2 parts. Arrange half into bottom of each cup/bowl.

Pour in the eggs mixture.

Add the rest of toppings ingredients if they're light, otherwise add them when the egg are lightly set.

Steam eggs cup/bowl for 7-8 minutes or until done.

Serve warm.