If you like something crispy to go with salad, soup, dipping, or simply just a new variety of snacks, then look into these shrimp chips.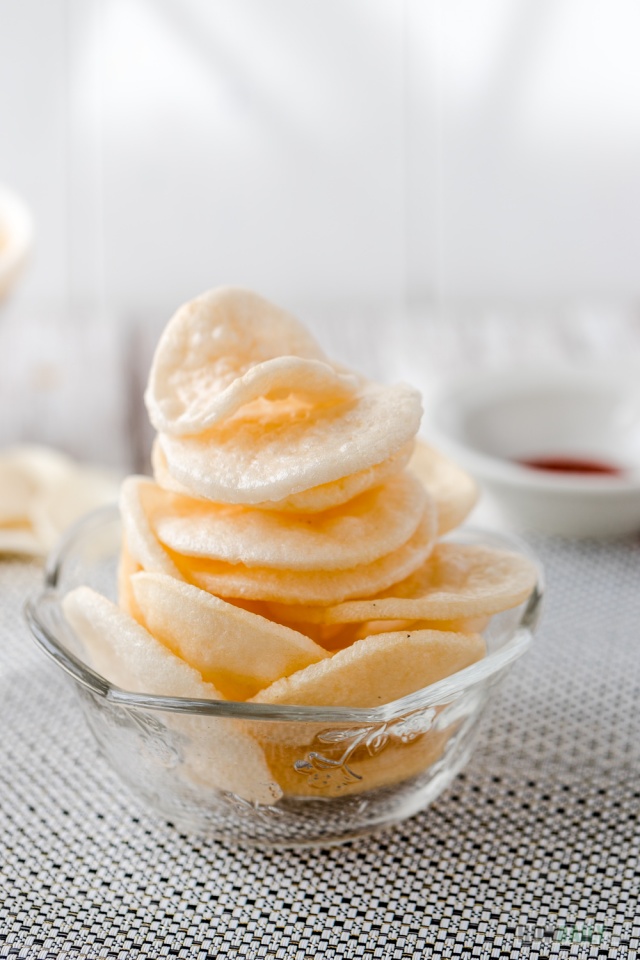 Shrimp chips often sold as dried hard chips in the rectangular packages. After frying, these chips will be inflated and fluffing up enough to create a crisp, crunch with mildly sea essence. These packages can be obtained from the oriental market or the international aisle of your grocery store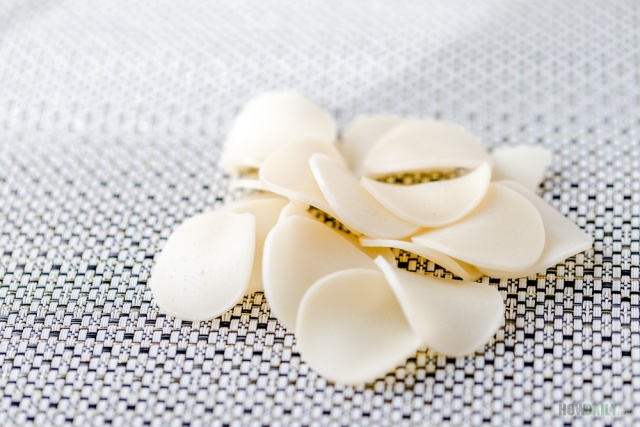 Shrimp chips are made from shrimp paste, tapioca powder, and egg whites. The process involves kneading and rolling the batter into 2-3 inches diameter rolls. These rolls will then be steam for an hour before cutting into chips. The chips are finally dried for hours and stored in an airtight bag.
There are two nominal methods for handling these dried chips to turn them into delicious snacks. The most common is to deep-frying them with vegetable oil. This method is great if you have lots of chips that need to be fried in a short amount of time, since the process is quite simple, and the quality can be easily controlled. Just make sure to have some racks to let these chips dripping off excess oil, otherwise, they would be too greasy.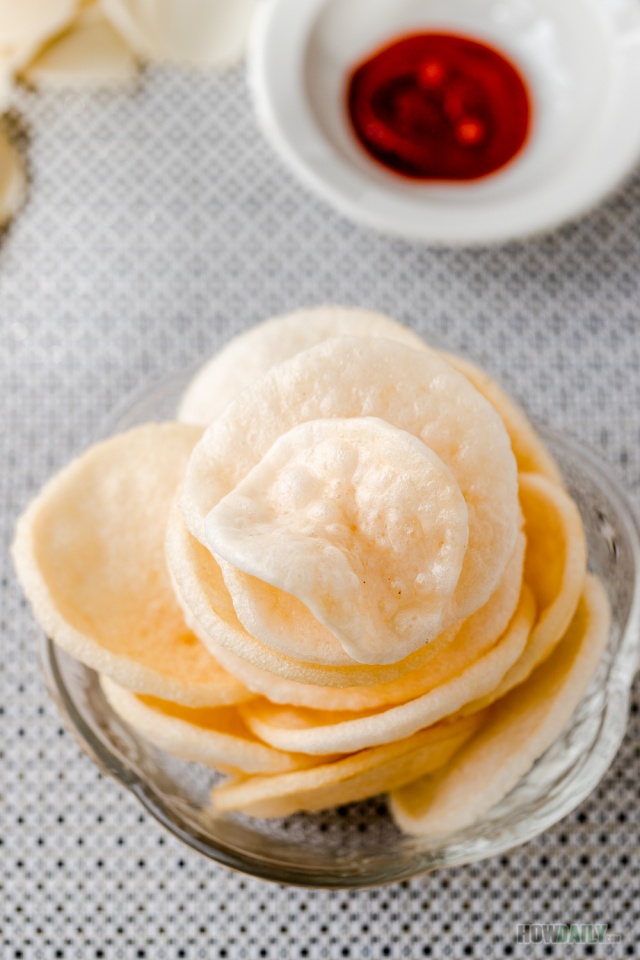 Another method is the no-oil or microwave. This method is quick to do, no clean up afterward, no greasy oil…and is perfect if you just need a small amount of chips instantly. Each batch of chips will need 40 to 60 seconds in the microwave on high power. But since most microwave powers are vastly different, a couple of wave-roasting should be tried first till you could get the hang of it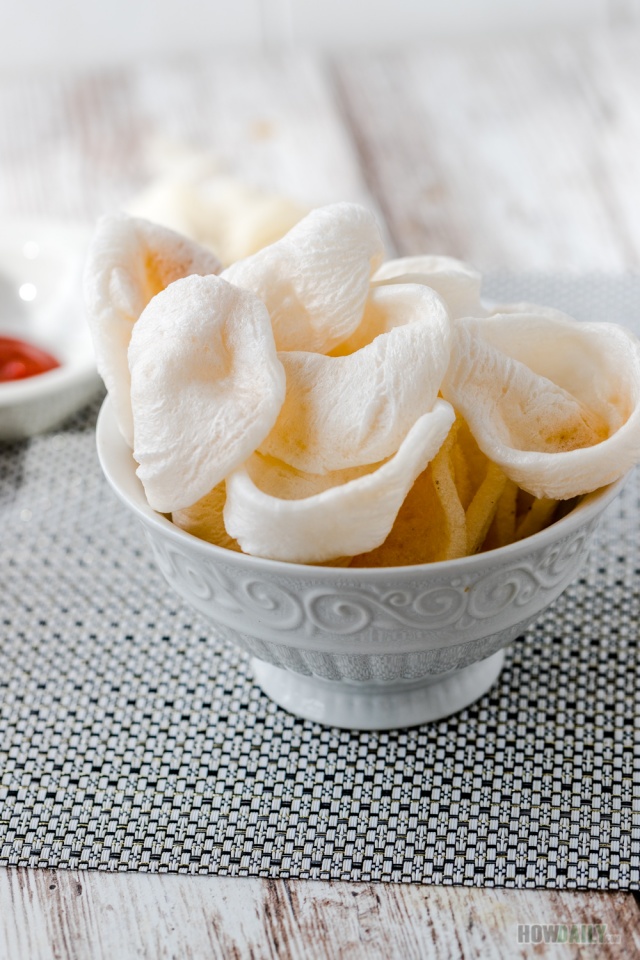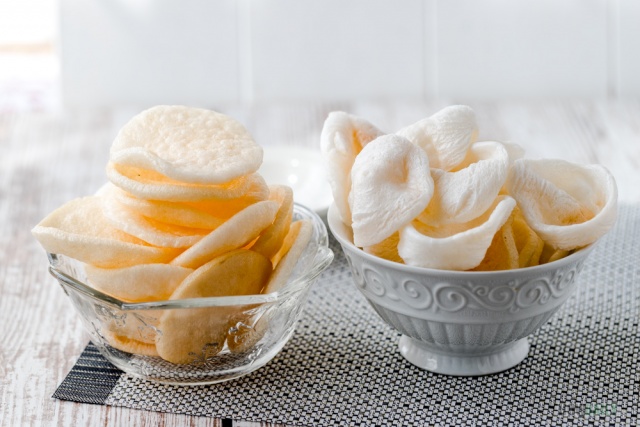 Storing: if you're making too much, just store the leftover shrimp chips in an air tight bag/container with a piece of parchment or paper towel. If you have those little bags of moisture absorber, use them to retain the crisp and freshness.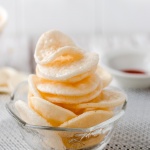 Frying shrimp chips
Crispy inflated shrimp chips can be used as snacks or sides with salad, dipping sauce or appetizer container. Here are our handling methods for shrimp chips, both with deep-frying oil and oil-less.
Print
Ingredients
1

pack

shrimp chips

1

qt

oil

for deep frying method
Instructions
Stove top Deep-frying
Use a wok or deep large saucepan, place over medium high heat.


When pan is hot enough, pour in the frying oil.


Wait a couple minutes till oil is hot, reduce heat to medium-low then carefully drop a couple shrimp chips in to fry. Use chop sticks to dip them

When all the chips' rinds are all inflated and float up, use a chop stick to turn dip them down for a couple seconds.

Now turn them over to fry the other side evenly. Do not brown.

When done, transfer to a lined/dripping rack.

Microwave
Place 5-6 shrimp chips on a microwaveable plate.


Microwave on high power for 40 to 60 seconds. Do a couple test to have exact control over the timing as each microwave produce heat differently.