Want a quick yet stylish delicacy for your party tray or group gathering? Or if you simply want a lavishing dinner at home with your beloveds, try this Salmon Cucumber Nigiri sushi, you won't be regretted.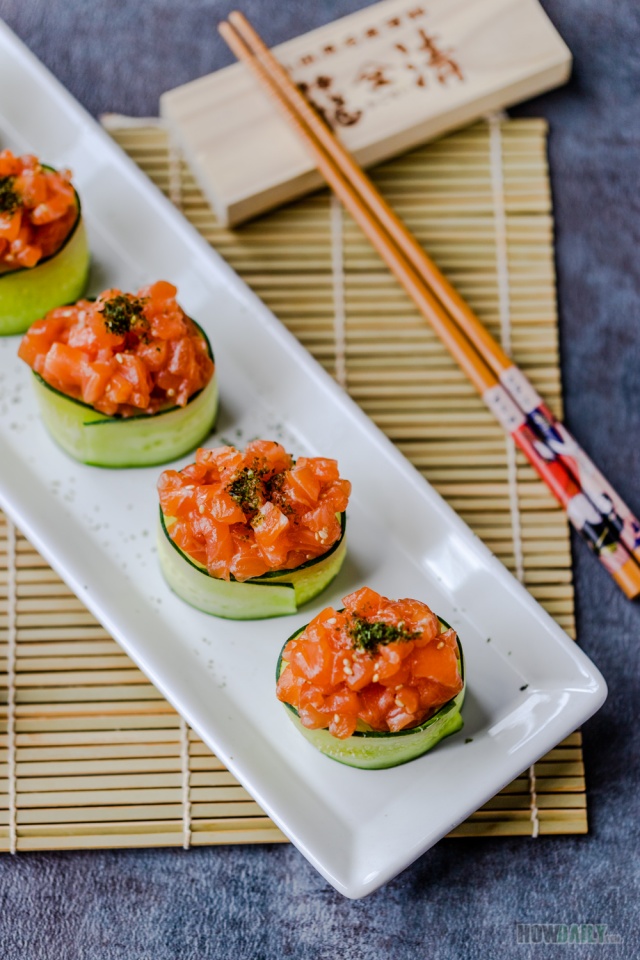 The ingredients are simple, fresh sashimi-grade salmon and cucumber along with your usual sushi components (cooked rice, seasoned vinegar, nori, etc.)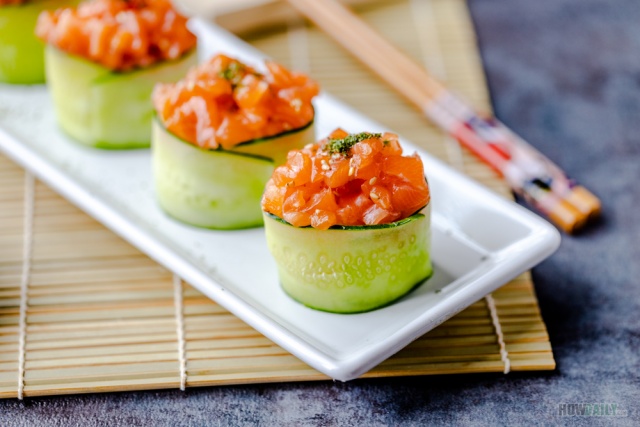 For variation, you can replace salmon with other sashimi-grade fish like tuna, escolar, yellow tail, toro or even uni (sea urchin) if you can find it.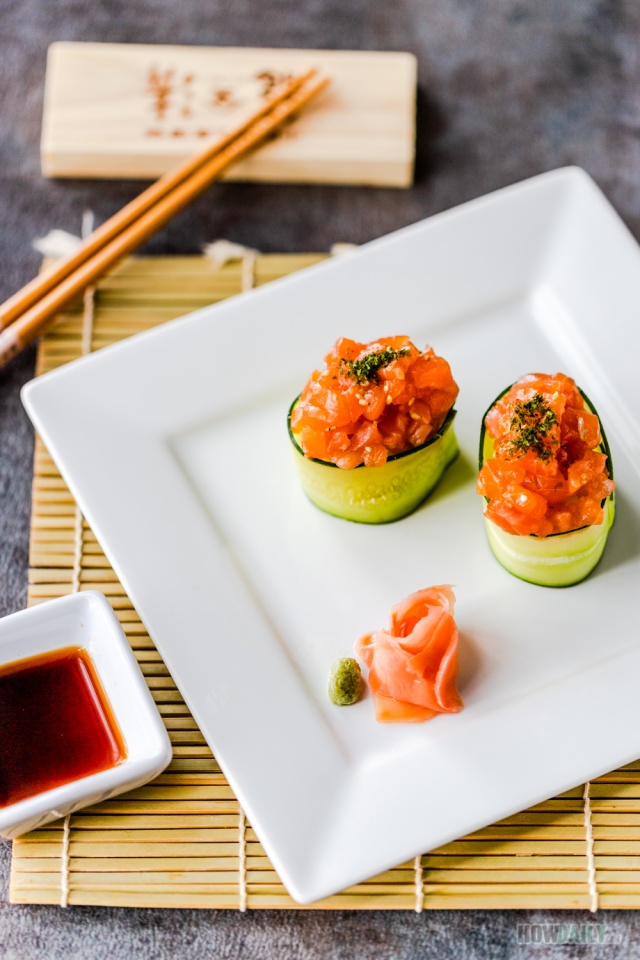 Think of it as a gunkan-maki that has cucumber instead of nori wrap-around. Go wild with the wrappers and you'll have the variety.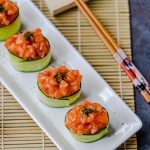 Salmon Cucumber Nigiri
Lavishly looking nigiri sushi that can be prepared as quickly as 15 minutes. Try this salmon cucumber nigiri recipe and serve your rice balls in style. All you need are salmon, cucumber and cooked sushi rice.
Print
Ingredients
6

oz

salmon

sashimi-grade

1

tsp

roasted sesame seeds

1

Tbsp

ponzu sauce

½

cucumber

1½

cup

cook sushi rice

2

Tbsp

sushi vinegar

or 2 Tbsp rice vinegar + 1 tsp sugar + ¼ tsp salt

1

Tbsp

nori bits

crush and crumble nori/seaweed
Instructions
Dice salmon then mix with sesame seeds and ponzu. Set a side.

Peel cucumber along its length into long, thin yet wide strips.

Make sure to wrap/cover cucumber container to preserve the slices' moisture. If they're dry, they wont be self-adhesive and will require additional binding strength (i.e. tooth pick)

In a container, mix sushi rice with sushi vinegar or equivalent substitution (see notes).

Take about 2 Tbsps of sushi rice and form into an oblong or oval shape rice balls.

Continue till you're finished with all the sushi rice.

For each rice ball, wrap a slice of cucumber around it, make sure to leave the top an opening creek to hold salmon filling. If 1 cucumber slice is not wide enough, layer another side-by-side.

Once all balls are wrapped with cucumber slices, spoon salmon into the opening of each ball.

Arrange into serving plates and garnish with crushed nori bits.

(Optional) serve along side some pickle ginger and extra ponzu sauce
Video