Going wild on the pumpkin patch? Yup, that was totally true this year with our little 5 years old, I mean we've been to every single harvesting festival and each time, take 3-4 trips down the pumpkin patch. Thus, it's no wonder we're ending up with so many pumpkins on our front porch.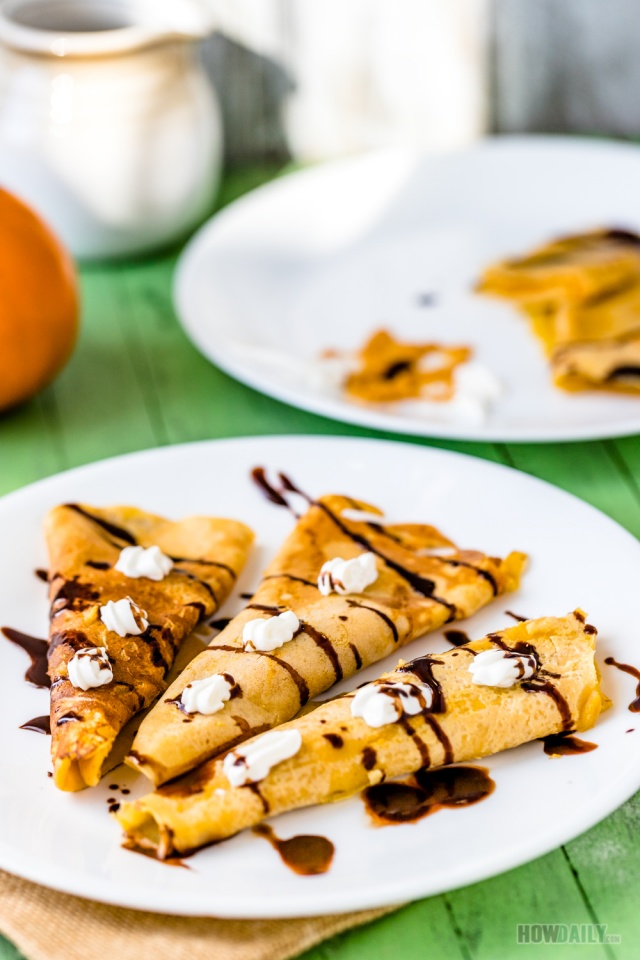 So, after carving and everything, it's mama time to turn those pumpkin into something edible, in such a way to teach the kiddo: "you eat what you get" and all. Things like soups, stew, pie, tart,…you name it are now deliciously flavor with pumpkin. One thing I noticed is that pumpkin crepes with a little spices and cinnamon seem to be popular at breakfast, brunch, packed snacks… so yes, I made load of them.
So, for your convenience, I would recommend to save a few portions of pumpkin puree in fridge, freezer or whatever, then just mix as you whip for each day. The other ingredients should be easy, and you can always opt for substitution.
For the crepes, it's always easier to use a nonstick frying pan or skillet. You would need a spatula to flip and some chunk butter to coat the pan surface.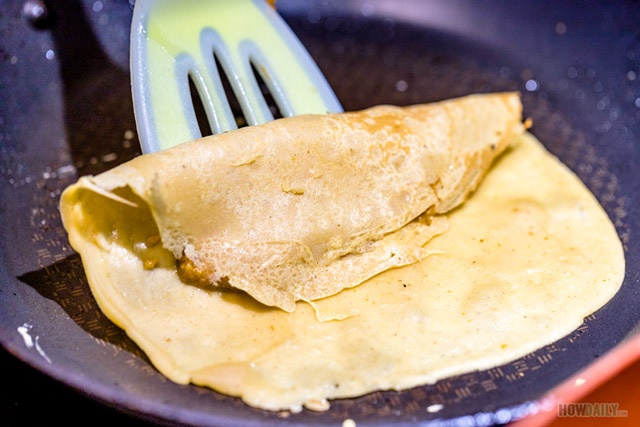 Also, I find that immediately roll/fold the crepe with filling is easier when it is hot. I would say though the recipe called for flour, you can replace with the same amount of corn starch, almond flour, … Since I use pumpkin (which is naturally sweet), I go light a bit on the sugar.  For spices, I add cinnamon since it's like the best combo for pumpkin, some nutmeg, and maybe ginger… That's totally up to you to add extras. I skipped vanilla though.
Now for the filling, I just whip up pumpkin puree with some Greek yogurt and nuts. They taste good and a bit more healthy too. But you can always use your favorite fillings like whipped cream, Nutella, fruit smash, or cheese.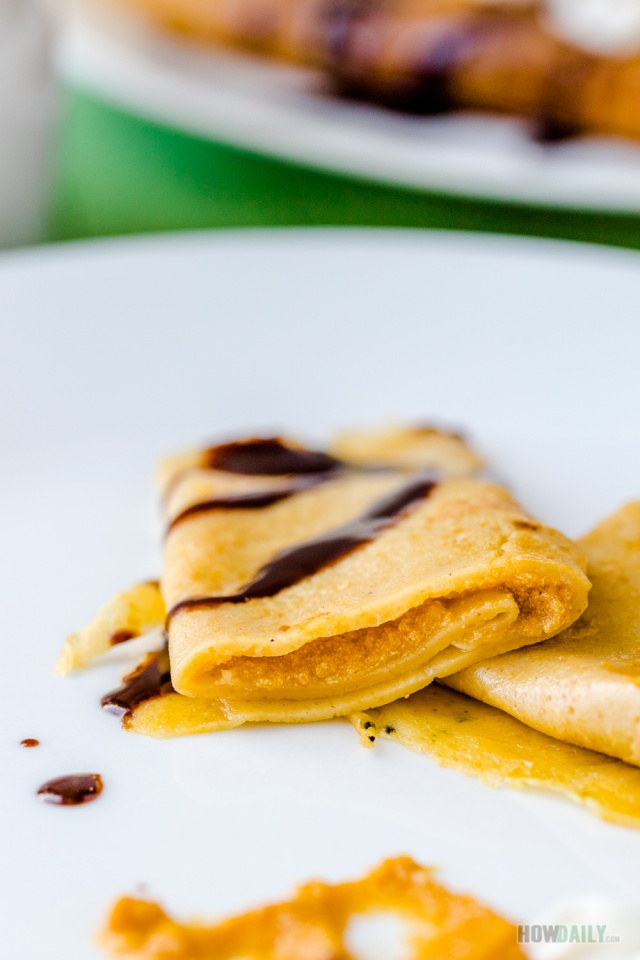 Finally, make sure to glaze them with extra chocolate fudge or maple syrup, it's just too yummilicious to go without.
This whole thing would be so welcome at your morning gathering for sure or knead them tight for some school lunch boxes.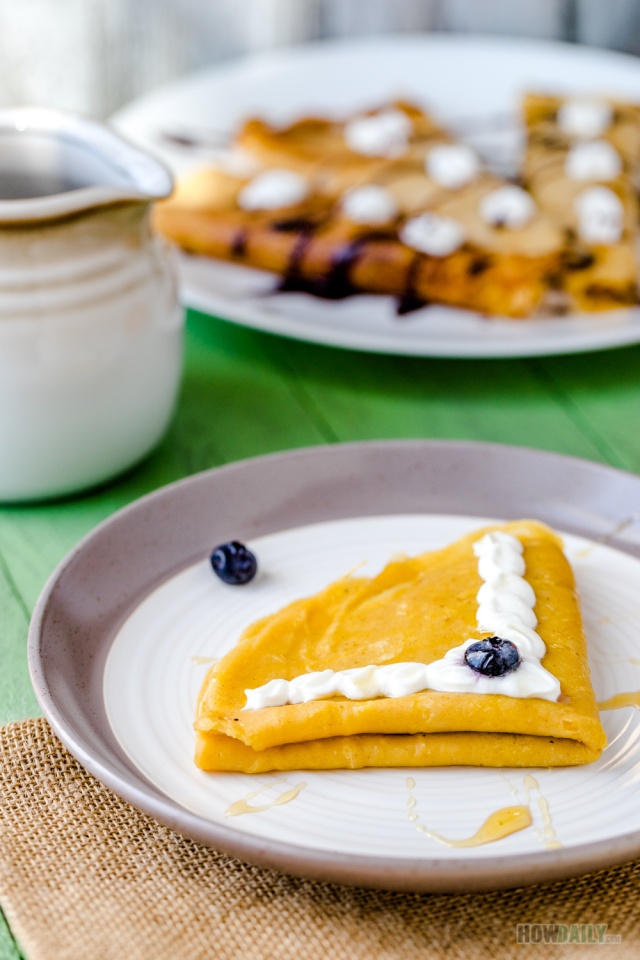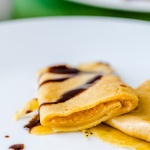 Recipe for Pumpkin Spices crepes & fillings
Niche filling and wrapping crepes in seasonal favorite: pumpkin and cinnamon flavors. Mix your today with this simple recipe.

Print
Ingredients
Crepes
1

cup

flour

2

egg

1/3

cup

pumpkin puree

1

cup

milk

1.5

Tbsp

butter

1/2

Tbsp

sugar

1/2

tsp

baking powder

1/2

tsp

cinnamon

pinch of nutmeg or spice

pinch of salt
Filling
2

cups

pumpkin puree

1

cup

Greek yogurt

plain

1/2

tsp

cinnamon

1/2

tsp

preferred spice
Garnish/Glaze
chocolate syrup

whipped cream
Instructions
In a large enough container, combine all the filling ingredients. Fully mix them and set a side.


Melt butter.


In a mixer bowl, add egg and pinch of salt. Beat to mix.


Then add sugar, milk and melted butter and continue beat to mix.


Stir in pumpkin puree and other dry ingredients: flour, baking powder and spices.


Whisk to fully mix them.


Using a crepe pan or skillet over medium heat, when pan is hot, melt 1 tsp butter to coat surface.


Let it cook for about 30 seconds or when the top is set, flip to cook the other side.


Spoon on some filling in the middle of the crepe, use a spatula to help lift up the side and roll the crepe to cover filling inside.


When all done, top with some whipped cream and chocolate syrup to serve. Probably sprinkle some extra ground cinnamon if desire.