Creamy, thick and chunky soup that is just too delicious to pass by; this season, cook up this special revamp recipe of slow cook pumpkin beef for your party and serve it in a stylish crock pot along with some witches' fingers bread to amaze those youngster.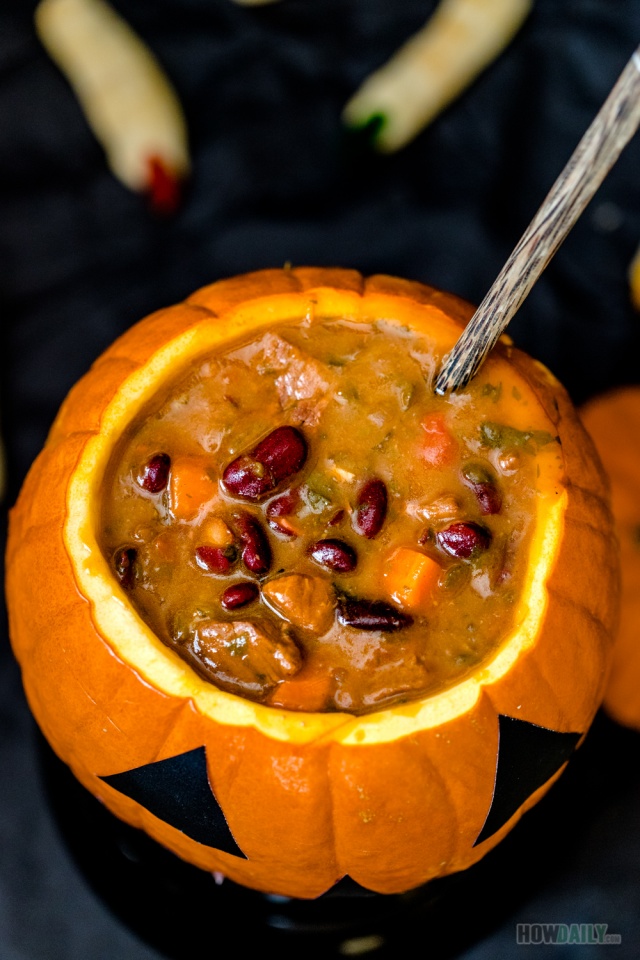 Now, don't be fear with the long list of ingredients, they're just your normal beef pot pie, very easy to obtain and available year round. The only addition is pumpkin, with both fresh cut cubes and also the smashed one.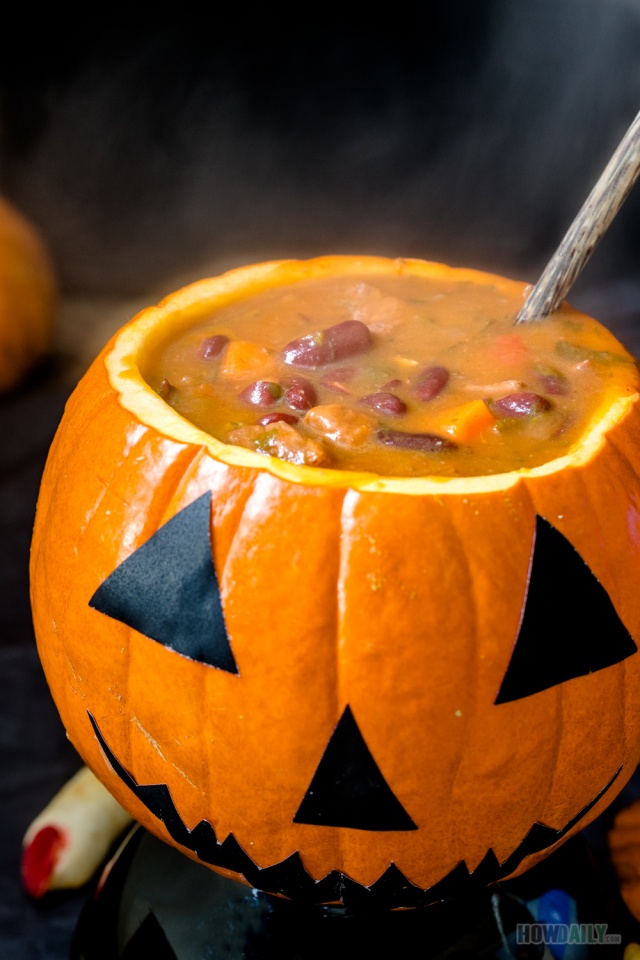 As with any crock pot recipe, it's better to brown the meat first. This time, doing so with some tomato and ketchup would save the red color, hence, make it more creepy serving next to those witches fingers.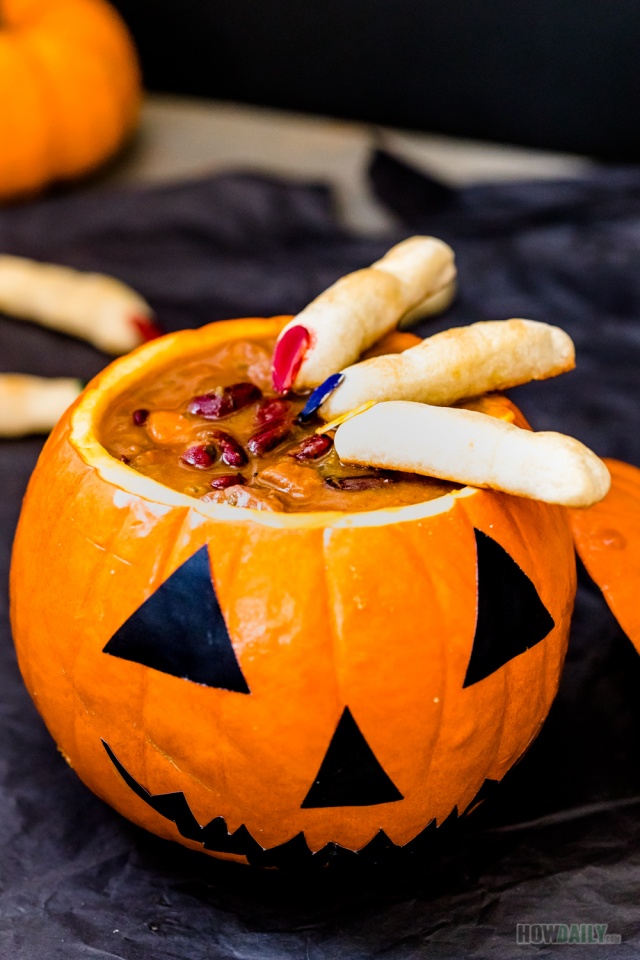 For seasoning, soy sauce is used and wine is add for that extra flavor, but you are free to replace with your normal choice of seasoning.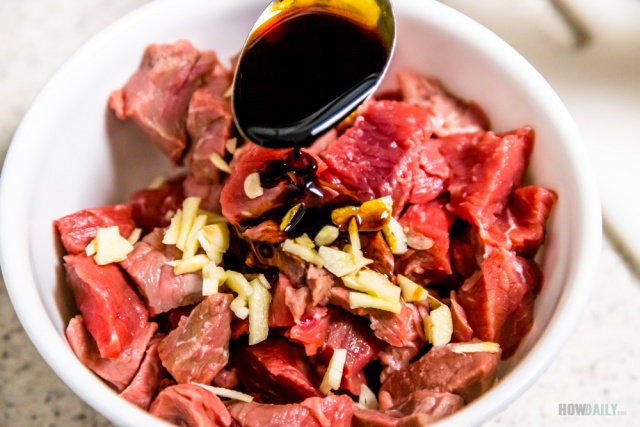 After browning, just throw everything into your slow cooker and cook on low for 6 to 8 hours. I always have this set up the night before, so that it's ready the next morning then can be heated up in a crockpot to serve for lunch party. That's why it's a good idea to go light on seasoning and wait till the last minute to adjust with some salt and freshly ground pepper.
Chili can also be added to enhance the flavor if your party is an all-adult or have some spice resistance.
Bread would be the best choice to serve along side, however, you can cook up some non-wheat pasta or noodle as well. Just make sure to have a bowl of chopped cilantro to garnish and/or sprinkle on top.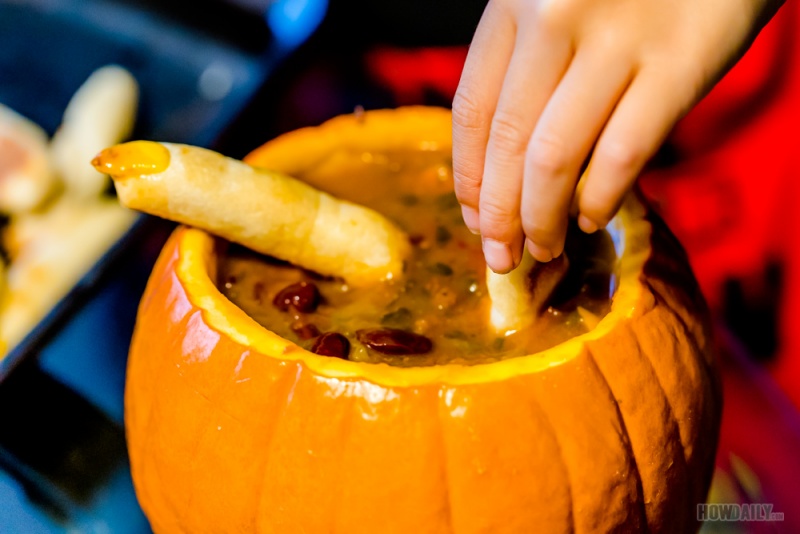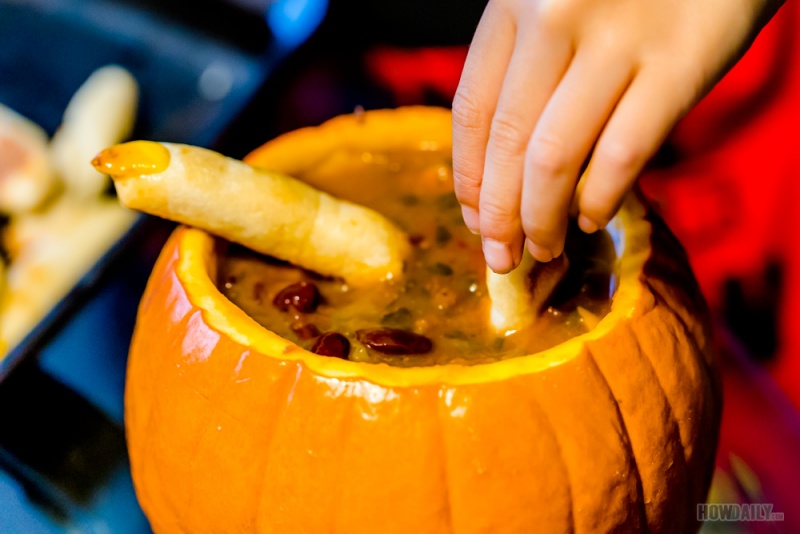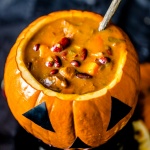 Recipe for Pumpkin beef crock pot
Savory tasting beef crock pot that is best as family meal for any cold day or party soup. Cook this recipe with this season pumpkin and treat up your Halloween gathering.
Print
Ingredients
Slow cook beef – pumpkin soup
1.5

lb

beef

stew meat – cube

1

small pumkin

2

large tomatoes

1

cup

chopped bell peppers

2

carrot

1

sweet onion

3

cloves

garlic

16

oz

kidney bean

can

15

oz

pumpkin mix

can

4

cups

low sodium beef or chicken broth

3

Tbsp

soy sauce

2

Tbsp

ketchup

2

Tbsp

red wine

1

Tbsp

chopped basil

1

Tbsp

chopped oregano

1/2

cup

chopped parsley

1

Tbsp

cooking oil

Salt & freshly ground pepper to taste
Instructions
Slow cook pumpkin soup
Cube all meats if not already done so. Crush garlic.


In a container, combine to marinade stew beef, garlic and soy sauce for 20 minutes.


While marinating, finely dice sweet onion and tomatoes. Also cut and chop carrot, bell pepper and all other herbs.


Cut pumpkin into halve, scoop out seeds, reserve them for roasting or so. Just dice/cube cut all the flesh. Note that you can warm the pumpkin a bit to soften it up for easier handling.

In a wok or large enough sauce pan over medium-high heat, add 1 Tbsp oil.


When hot, stir in sweet onion and tomato.


When soften, add ketchup and wait until they're giving off reddish juice.


Now stir in the marinade beef and then wine to brown them.


When beef is finely brown, remove from heat and transfer into your slow cooker/crock pot.

Add the rest of ingredients, mix and slow cook for 6 to 8 hours on low.


Before serving, test and adjust taste accordingly with salt and ground pepper.


Serve hot/warm on crock pot at your party with some funky witches' fingers bread.