One of the popular among fried rice dishes is the Pineapple fried rice, which is also one of the Thai favorites.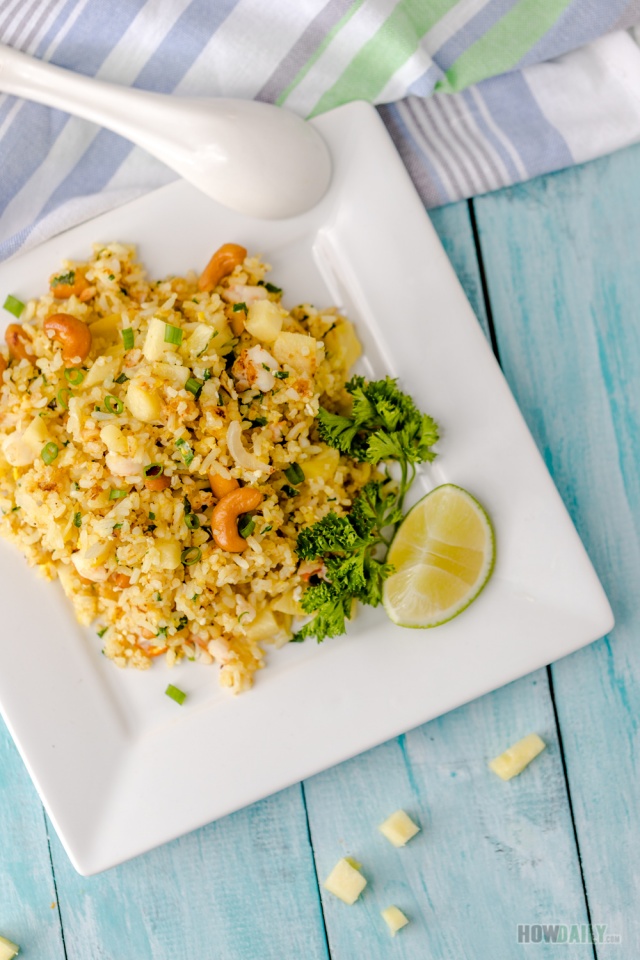 Many Thai restaurants will serve pineapple fried rice inside the pineapple itself. That can be achieved easily by carefully scoring out all the flesh, leaving the skin/shell intact to be a container.
However, if you're short on time, a quick take of pineapple fried rice is below. I promised, the taste will still be as appetizing as the original, and you can even use frozen cut/can pineapple for it, just to save time.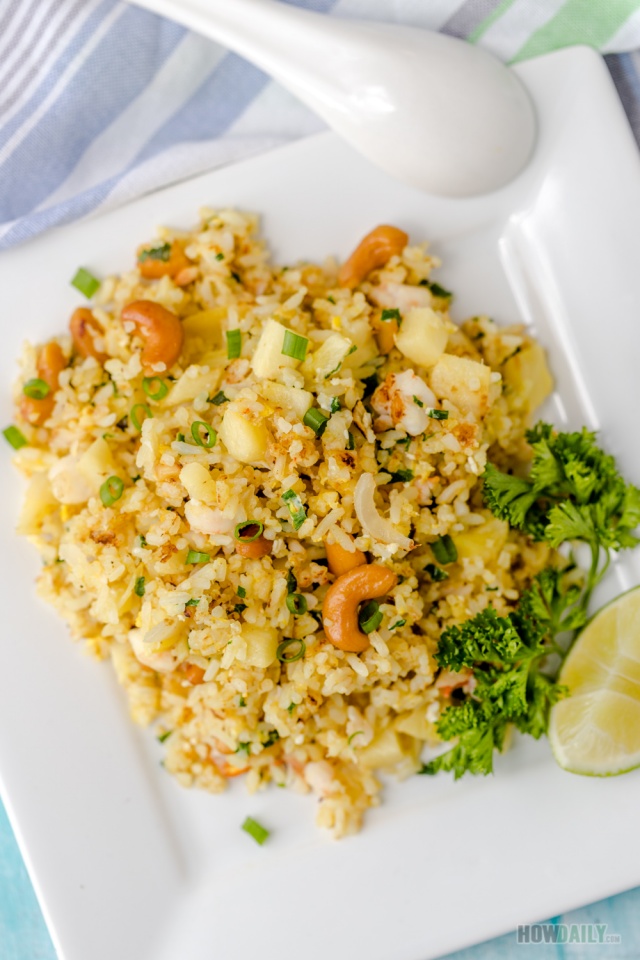 Shrimp was chosen as the main protein in this dish, as their natural sweetness and succulent texture would complement the whole flavor perfectly. However, you can replace it with chicken, tofu, or simply skip them for a fully vegetarian version. If so, instead of fish sauce, just use normal table salt instead.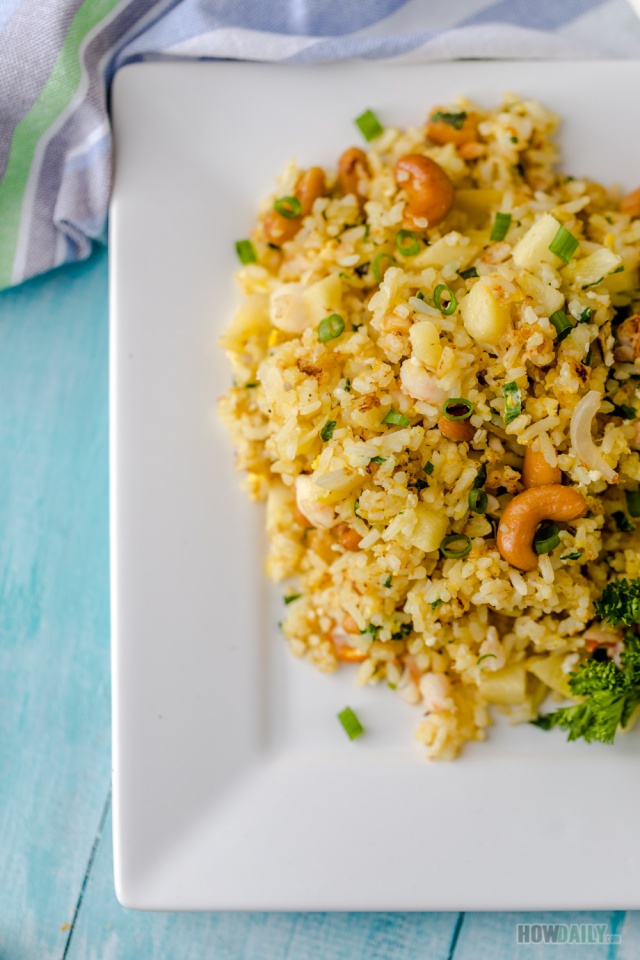 To spice up the flavor, even more, I add a very little amount of curry powder. This achieves 2 goals, one is adding a little bit of spiciness and two is to make the rice look more appealing in a yellow hue. Not big on spice and bold flavor? You can substitute by an equal amount of turmeric powder to get the same marvelous look. Nevertheless, just remember to add and mix them well with rice before any other non-yellow ingredients (e.g. shrimps).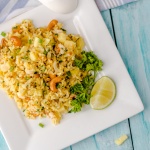 Recipe for Pineapple Fried rice
Easy instruction on Thai style pineapple fried rice. The flavor will be bolder with a bit spicier compared to other fried rice recipes. Perfect entree or side with any braised dishes. Option for a vegan version is included.
Print
Ingredients
2

cup

leftover rice

1

cup

pineapple

chopped

1

egg

6

medium shrimps

optional, skip if vegan

0.5

cup

cashew

unsalted

0.5

tsp

curry powder

3

Tbsp

finely chopped scallion

2

cloves

garlic

0.25

onion

1

Tbsp

fish sauce

2

Tbsp

cooking oil

salt & pepper to taste

a few leaves of cilantro

optional

lime wedges

optional
Instructions
Core, cut, and cube pineapple. Season with some sprinkle of salt.

Finely crush/mince garlic. Chop onion and scallion.

Bring a wok or deep large saucepan over medium-high heat.

When the pan is hot, pour in oil, whirl, and stir to cover the pan surface.

When the oil is hot enough (3-5), add garlic, onion, and cashew.

Keep stirring until fragrance is giving off, then add the chilled leftover rice.

Stir, mix and fold well. When the rice is hot, add fish sauce.

Keep Fold-stirring well until rice is dried up a little bit.

Now add curry powder. Fold and mix well until all the rice bits are lightly yellowish with a deeper scent.

Add chopped shrimp (if use) and pineapple chunk now.

Keep stir-frying until everything became dry enough(no more visible liquid/wetness).

Crack 2 eggs into the pan. When cooked, fold to mix in with the rice.

Adjust seasoning to taste with salt/pepper, then add chopped scallion.

Stir-frying until scallion wilt a bit.

Serve hot with some cilantro and lime wedge as garnishment