What's a better way to add more flavor to your BBQ, cook out or simply chill of the heat? Try this cool, refreshing yet delicious Mango Kani salad with Avocado, a perfect combination with any steaks, bbqs, pan-grilled,… or simply just eat-clean as is.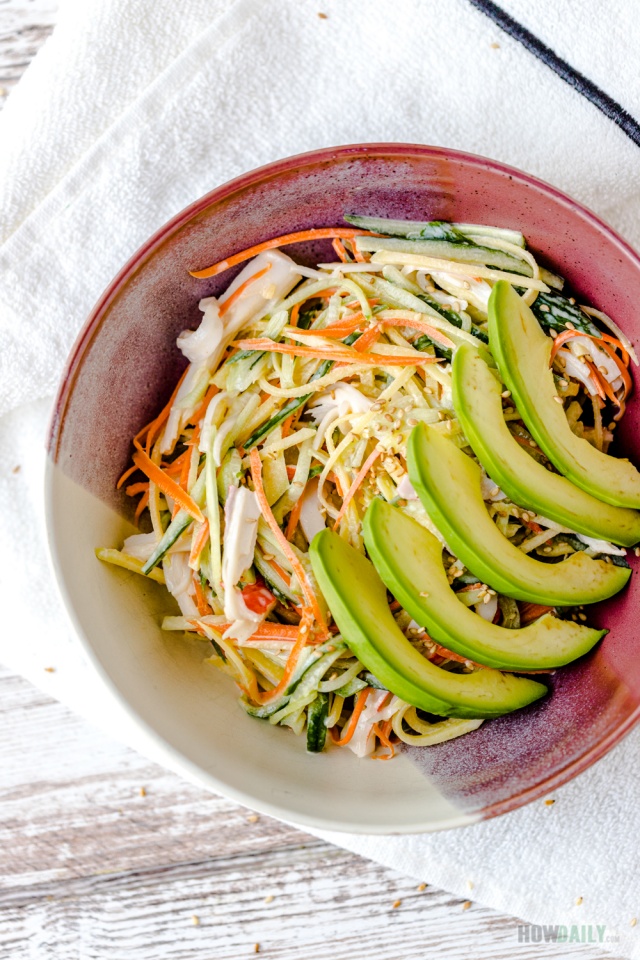 Kani salad is one of Japanese style salad that has been served in many restaurants across the States. Though vary a bit here and there, the ingredients remain the same mostly with mango, imitation crab meat and cucumber.
To add some binding and creamy, I add mayonnaise, just the regular kind along with some lime juice and bit of salt. These will help keep the vegetable and fruit from drying and discoloring also.
To add some nutritional values, I would top the salad with avocado and garnish with roasted sesame to add to aroma. The overall dish taste so cool and refreshing that would blow away any heat-flash or tiresome.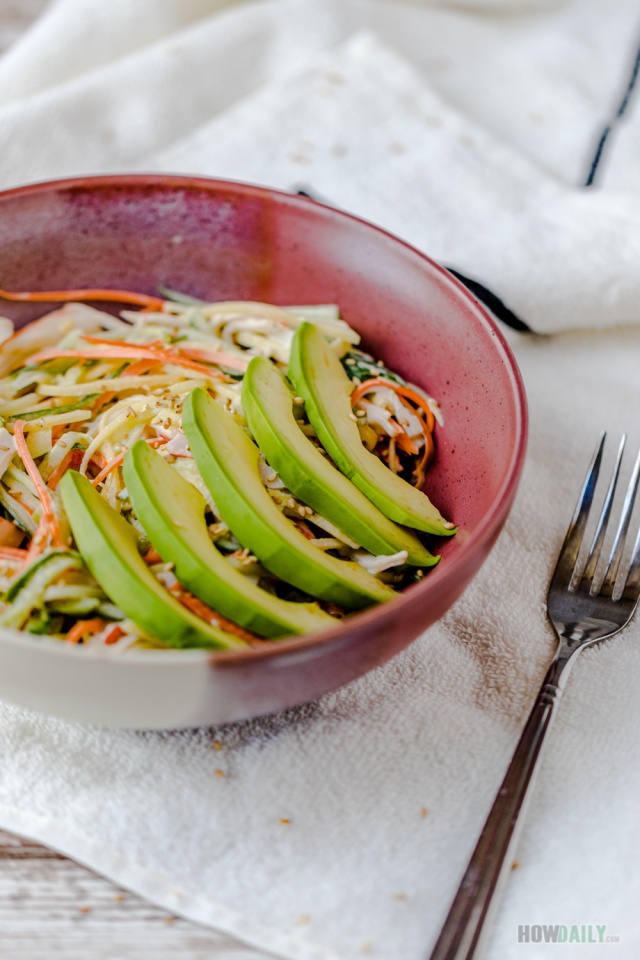 Of course salad taste better when it's call, so does this mango kani salad. With cucumber, mango, and carrots, all these ingredients are asking to be chilling good to have their crisp texture and fun to the mouth,
If you want to make this salad as a light meal, adding smoked salmon will complement the whole flavor so well. Of course any other sashimi can be added as well if you can stand raw-fishes or if not, try boiled chicken breast.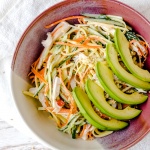 Mango Kani Salad with Avocado
Cool summer salad with mango, imitation crab, cucumber and avocado… all the easy to find ingredients but work so good in chilling down the heat. This salad can be served as side to any steaks, bbq or eat whole with some smoked salmon.
Print
Ingredients
1

mango

medium rippen

3

mini cucumber

1

small carrot

5

imitation crab sticks

1

small avocado

2

Tbsp

mayonnaise

1

Tbsp

lime juice

¼

tsp

salt

2

Tbsp

roasted sesame seeds
Instructions
Wash and cut cucumber into thin long strips, around match sticks size.

Peel skin and cut/shred mango.

Use a fork or by hand, pull crab sticks into string.

In a salad bowl, combine carrot, cucumber, mango and imitation crab.

Add mayo, salt and some lime juice. Note that you can adjust lime juice quantity depend on how tangy/sour the mango is.

Cover and chill salad bowl in fridge for at least 30 minutes or until ready to serve.

Before serving: cut avocado flesh into thin slices and arrange as topping over sald. Garnish with some roasted sesame seeds.
Video