A quick and simple mango dipping sauce that is so easy to prepare to give your sushi roll that perfect glazing looking and vibrant color. This sauce can be paired perfectly with any fruity sushi roll or served as a dipping sauce for veggies and seafood.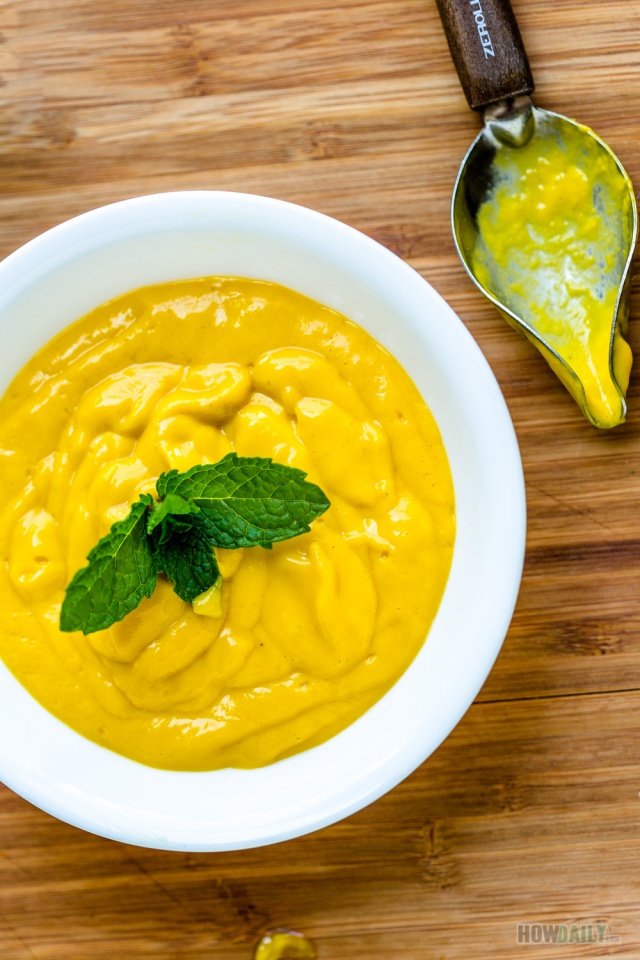 There's not much to do really. All you've ever need are just a ripe mango, some oil like olive to fluff, and seasoning ingredient. The process is actually easier than you might think. Just puree everything all together and drip directly onto your dish.
I did not use any turmeric as the mango itself is vibrant enough already. But if you want to add more colorant, adding a teaspoon of ground turmeric powder might enhance the color and alter the taste. Also, spice like ground pepper, chili powder, and other herbs can be sprinkled on for full flavor customization.
You could also try to replace chili powder or sriracha in place of ground mustard, and they just taste as super but in a different way.
I used garlic salt in mine, but there's no reason that regular salt will not work. So just play around and try it.
Another note, for this quick and easy purpose, uses a single-serve blending cup would be more than sufficient for this sauce. Plus, you get to skip on cleaning that big jar later on too.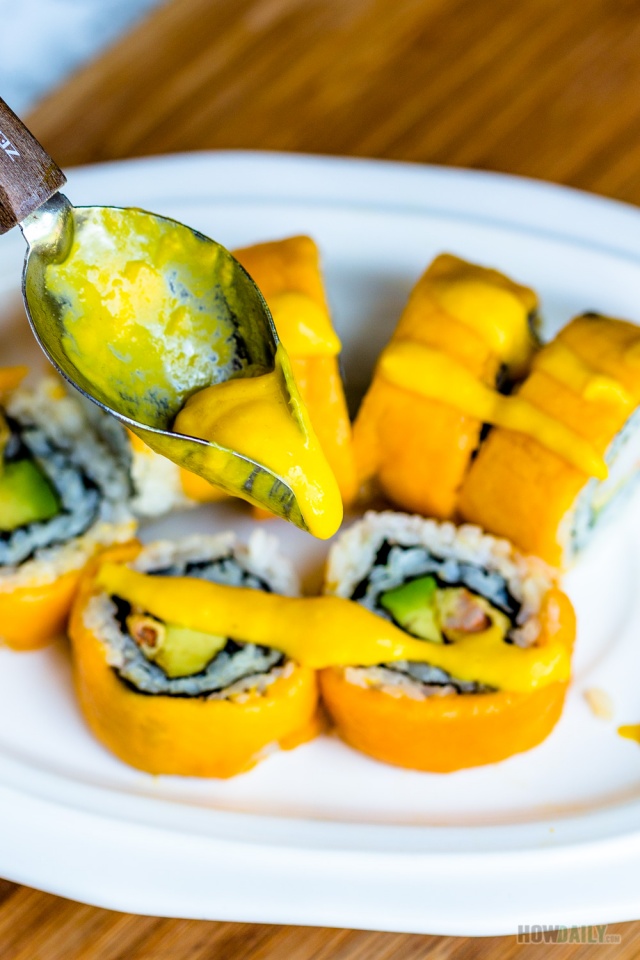 Pair this with Crazy mango roll for full flavor.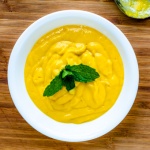 Recipe for Mango dipping sauce
Mildly sweet and sour while being tropical rich flavor, this mango dipping sauce is hand down one of the most easy-to-make and delicious that is good for sushi, seafood, and any other dipping venture.
Print
Ingredients
1

ripe mango

2

Tbsp

Olive or Avocado oil

1/2

Tbsp

lime juice

1

Tbsp

sugar or honey

1/2

tsp

salt or garlic salt

1/2

tsp

ground mustard

optional
Instructions
Cut mango into 1 inch cubes.

Put everything to your blender.

Pulse a few times, blend until fully mixed and puree.

Dripping over sushi or entree. Can also be used as dipping sauce.